Pongal Recipe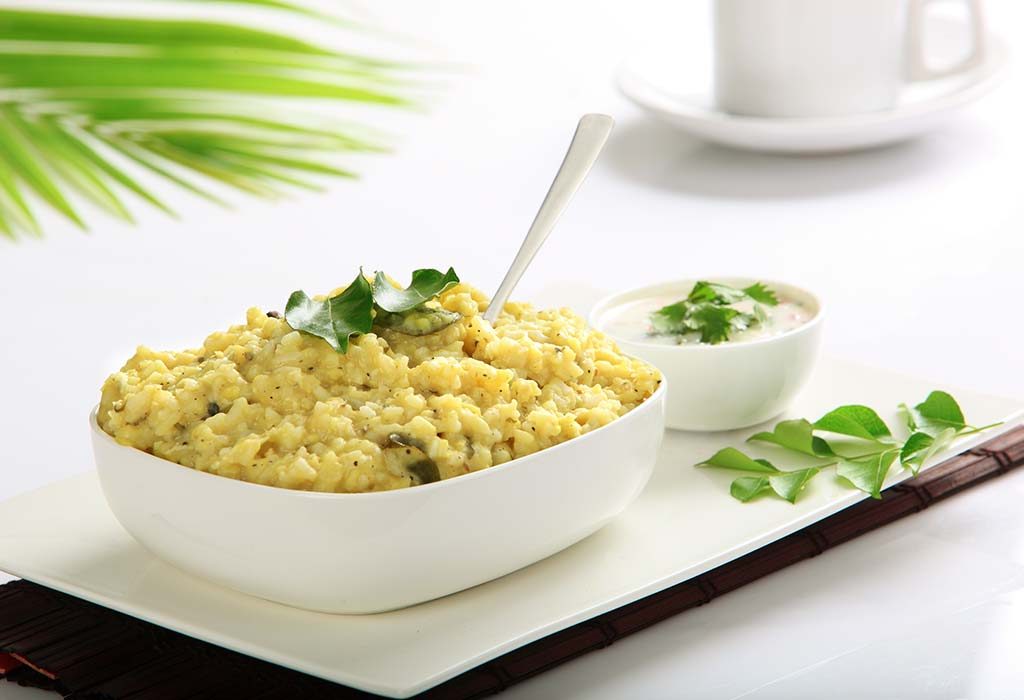 In this Article
Pongal is a commonly prepared South Indian savoury dish. It is nothing but normal dal khichdi, which is a popular food for kids. They can relish this khichdi even daily. It is comfort food and easy to chew as well. What makes Pongal different from khichdi is the ghee tempering. Ghee is the star ingredient of this recipe and is very nutritious for kids. Ghee is known to promote sleep in kids and uplift their growth.
Excited to know how to make Pongal? The following write-up will answer all your queries! So let's get started:
Cooking Time
| | |
| --- | --- |
| Type | Time (minutes) |
| Preparation Time | 5 minutes |
| Cook Time | 20 minutes |
| Total Time | 25 minutes |
Cooking Method: Gas Stove
Type of Meal: Vegetarian
Suitable For: Toddlers above 16 months of age
Meal Schedule: Mid-Morning Snack or Lunch or Dinner
Recipe Type: Main Dish
Ingredients
| | |
| --- | --- |
| Ingredient | Quantity |
| Rice | ½ cup |
| Moong Dal(skinned split moong beans) | ½ cup |
| Water | 3 cups |
| Cashew Nuts | 8 to 10 |
| Cumin Seeds | ½ tbsp |
| Black Peppercorns(crushed, optional) | ½ tsp |
| Ginger(grated or chopped) | 1 inch |
| Curry Leaves | One sprig |
| Asafoetida Powder | ½ tsp |
| Turmeric Powder | ½ tsp |
| Ghee | 2 tbsp |
| Salt | As per taste |
Instructions
Here is the step by step procedure to be followed to prepare this delectable dish for your little one:
Take ½ cup dal in a pressure cooker.
Next, dry roast the dal until it turns aromatic. This step can be avoided. But the real taste and aroma of the Pongal come from dry roasting the dal.
After roasting is done, add the rice. Now wash the dal-rice mixture properly and drain the water completely.
Add 3 cups of water to the mixture. Add salt and close the lid.
Cook the dal-rice mixture on low to medium heat for two whistles. Let the pressure release on its own, only then open the lid.
The consistency of the Pongal must be mushy and creamy. If not, you can mash the dal and rice. It should not be watery.
For the tempering, take ghee in a small pan and keep it on the gas stove. Add cashews and fry till they turn golden brown. Keep them aside.
Now add cumin seeds and crushed pepper into the ghee. Allow them to crackle. Next add chopped ginger, curry leaves, and turmeric powder. Keep on stirring until the tempering becomes aromatic. Then add asafoetida and switch off the flame.
Add this tempering and fried cashews into the Pongal and mix properly. Keep the pressure cooker on a low flame for 1 to 2 minutes post addition of the tempering. Switch off the flame.
Pongal is ready to serve. Generally, it is served with coconut chutney and sambhar, but for kids, Pongal will go without the sides too.
Recipe Tips
If you want the easy Pongal recipe to turn out perfect for your kid, follow the mentioned steps:
Do not stint on the amount of ghee. It is the star ingredient here and makes the dish less sticky.
Roasting the dal is very important before use.
Do not use basmati rice for this recipe. Short grain rice is preferred for homemade Pongal baby food recipe.
Nutrition Information (Per 100 Grams)
| | |
| --- | --- |
| Type | Value |
| Energy | 440 kCal |
| Carbohydrates | 69 g |
| Protein | 17 g |
| Fat | 11 g |
| Dietary Fiber | 15 g |
| Iron | 5.3 mg |
| Calcium | 57 mg |
| Potassium | 573 mg |
| Sodium | 8 mg |
| Phosphorous | 55 mg |
| Magnesium | 47 mg |
Health Benefits
Pongal for toddlers has astounding health benefits. Following is the list of the same:
The recipe is rich in carbohydrates and hence is a powerhouse of energy. The kid feels full for longer.
The recipe has the right amount of protein and calcium. These two serve as the building blocks of a growing child.
The high content of potassium keeps the child hydrated, improves metabolism, and boosts immunity.
This recipe also helps in resolving indigestion issues in toddlers as it is loaded with ghee!
Buying Guide
It is essential to buy the correct ingredients for an authentic Pongal recipe:
Buy short-grain rice for this recipe. Long-grained rice will not give a proper taste to Pongal.
Ghee bought should be of excellent quality. If possible, use homemade ghee out of cow's milk.
Pongal is a protein-rich food item for your kid and is delicious. It takes less than an hour to get ready and is best served hot. Prepare this comfort food at home and keep your child's gut healthy.
Also Read:
Pongal – Significance and Procedure to Celebrate the Tamil Festival
5 Best Traditional Pongal Recipes That You Can Try This Festive Season