Cauliflower Potato Mash With Some Cheese Recipe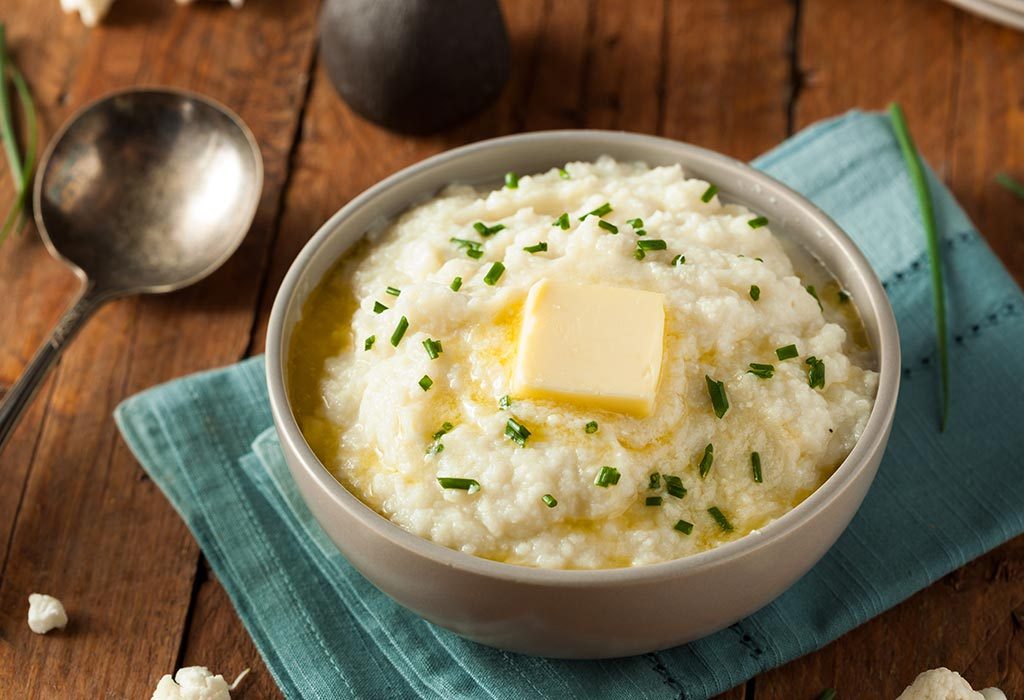 In this Article
Carbohydrates, antioxidants and calcium all packed in one dish- Cauliflower Potato Mash with some cheese recipe is the ideal one to choose for your baby. If you have just started your baby on solids, then this recipe is a perfect one to get all the nutrients and vitamins in one wholesome dish.
Cooking Time
| | |
| --- | --- |
| Type | Time (hh:mm:ss) |
| Preparation Time | 00:15:00 |
| Cook Time | 00:45:00 |
| Total Time | 01:00:00 |
Cooking Method
Gas Stove
Type of Meal
Vegetarian
Suitable For
Any toddler from 14 months onwards
Meal Schedule
Lunch or Dinner
Recipe Type
Main dish for lunch or dinner
Ingredients
| | |
| --- | --- |
| Ingredients | Quantity and Volume |
| Cauliflower | 1 head |
| Potato | 1 chopped |
| Milk | 0.5 cups |
| Butter | 2 tbsp |
| Cheddar Cheese | 1 cup, approximately 100 gms |
| Salt | To taste |
| Pepper | To taste |
Instructions
You do not have to think hard to figure out how to make Cauliflower Potato Mash with some Cheese. Follow this simple step by step guide to make it and get your baby to relish the different tastes in mashed form
Wash and chop the cauliflower heads into florets.
Wash the potato. Peel and chop into tiny pieces.
Bring a medium saucepan or vessel with water to a boil.
Add the cauliflower florets and potato bits with some salt. Cook on medium heat for 15 minutes or until the vegetables become soft.
Drain the vegetables once done in a strainer.
Empty the cooked vegetables into the pot.
Add the butter, remaining salt, and milk to the cauliflower and potato mixture.
Mash the ingredients together until they become soft and mushy.
Keep stirring it until all the milk is absorbed and the texture of the mixture is creamy.
Add the cheddar cheese and mix it well to combine.
Add some pepper before serving.
Recipe Tips
Cauliflower Potato Mash with some Cheese for babies may seem simple to make. As simple as it seems, there are a few important things to remember when you make the dish
Cauliflower may sometimes have tiny worms in them. Wash the cauliflower thoroughly before separating the florets. Once you have the florets, soak them in lukewarm water with salt for about fifteen minutes. If there are worms, they will come out at this stage. You can then discard the pieces and use a fresh one instead.
Cauliflower is a seasonal vegetable and best eaten during the winters. So if available during the winter, make sure you buy them and try this recipe.
Make sure you peel the potatoes well as the dish will not taste good when the peel is not taken off.
The recipe tastes best with cheddar cheese but you could opt for some other cheese if you like.
Whole or full fat milk is ideal for this recipe.
Boil the milk and cool down before adding it to the cauliflower and potato mash.
Nutrition Information (Per 100 Grams)
| | |
| --- | --- |
| Nutrient | Value |
| Energy | 277 kcal |
| Protein | 15 g |
| Carbohydrates | 20 g |
| Fibre | 3 g |
| Fat | 20 g |
| Cholesterol | 20 mg |
| Sugar | 4 gm |
Health Benefits
The simple homemade Cauliflower Potato Mash with some Cheese recipe has loads of health benefits for your toddler –
Cauliflower is an antioxidant and a rich source of Vitamin C.
Cauliflower is good for the growing bones, muscles, and digestive system.
Potatoes are rich source of carbohydrates, Vitamin C, fibre, and Vitamin A that will fight off diseases.
Cheese is a full-fat dairy food that contains calcium, magnesium, Vitamin A and Vitamin D.
The high calcium content in cheese will reduce the risk of your child developing cavities.
The combination of vegetables and cheese is an effective way of reducing the calorific consumption of your child.
Buying Guide
Buy good quality cauliflower and make sure that the leaves are not removed.
Buy good quality potatoes and avoid buying ones that have sprouts on them.
Buy good quality cheese that comes in packaged form. Check the expiry date on the packet.
Whole milk with full fat is the best for the recipe as it will enhance the taste of the recipe.
Once your baby has started solid foods you would need to introduce a varied food palate to them. This will ensure that their taste buds are adequately satiated and will also develop a liking for a variety of foods. Introducing foods like potato, cauliflower, tomatoes and carrots will help your child find their liking for unique tastes and will help you in the long run. It will also prove to be a great way to improve their health.