Mango Lassi Recipe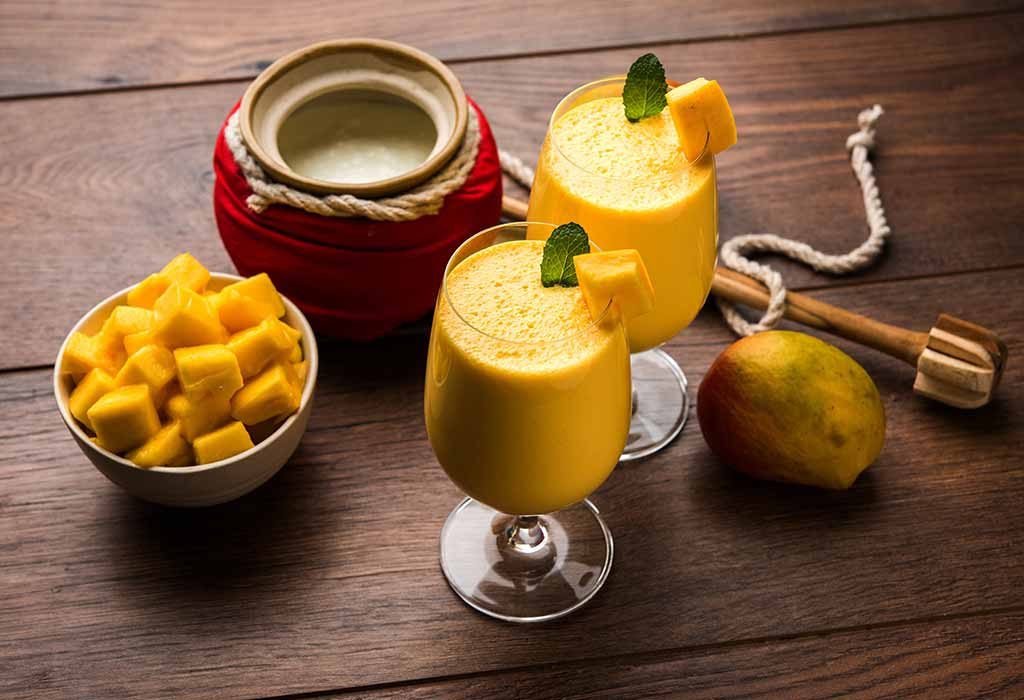 In this Article
Everyone loves mangoes, the 'king of fruits', which can be given in many ways to your growing baby. If you are looking for some fun and interesting ways to incorporate mangoes in your baby's diet, we have an easy to make recipe for you to start with! This homemade Mango lassi baby food recipe can be whipped in no time, and this refreshing drink is loaded with many essential nutrients for your baby's growth and development!
Cooking Time
You can make this yummy delight in just a few minutes, here's how much time you need:
| | |
| --- | --- |
| Type | Time |
| Preparation Time | 00:05:00 |
| Cook Time | 00:05:00 |
| Total Time | 00:10:00 |
Cooking Method
Blending
Type of Meal
Vegetarian
Suitable For
Weaning babies over 14 months of age
Meal Schedule
Mid Morning Snack
Recipe Type
Beverages
Ingredients
| | |
| --- | --- |
| Type | Quantity/ Quantity |
| Mango (medium-sized) | 2 to 3 |
| Curd | 1 cup |
| Cardamom powder | ½ teaspoon |
| Honey (optional) | 1 to 2 tablespoon |
Instructions
Here is the step by step procedure to make Mango lassi:
Wash the mangoes under running water. You can also soak the mangoes in water for a few minutes to get rid of all the dirt and grime.
Take the washed mangoes and peel the skin. Scoop the pulp with the knife and chop it into smaller chunks. Discard the seeds.
Place the chopped mango chunks in a blender jar, add ¼ cup curd and churn to make a fine paste.
Add cardamom powder, honey and remaining curd to the mango paste and churn for a few seconds more.
Transfer the contents in a glass or sipper cup and serve it to your munchkin.
Recipe Tips
Here are some recipe tips that can come handy while making Mango lassi for babies:
You can add brown sugar, jaggery or dry date powder in place of honey. If mangoes are sweet, you can skip adding any sweetener to it. Also, if you are making lassi for babies younger than one year of age, you may skip using any kind of sweetener.
Saffron can be added for older kids to give the lassi a distinct flavour and colour.
Also, make sure that you have already introduced curd to your baby before giving curd in the form of lassi or other such forms.
Always serve fresh lassi to your munchkin.
Nutrition Information (Serving Per 100 Grams)
Now that you have mastered the tips on how to make mango lassi, let us also acquaint you with its nutritional information:
| | |
| --- | --- |
| Type | Value |
| Energy | 94 Cal |
| Carbohydrates | 18 gm |
| Protein | 2.7 gm |
| Dietary fibre | 0.9 gm |
| Sodium | 31 mg |
| Potassium | 182 mg |
| Sugars | 17 gm |
This table mentions tentative nutritional values present in 100 grams of homemade mango lassi. The actual nutritional content can vary in some cases.
Health Benefits
Mangoes are naturally power-packed with the goodness of many essential vital nutrients. Feeding this yummy fruit can help you reap many health benefits for your munchkin. Here are some of the health benefits of this easy Mango lassi recipe:
Mangoes contain a good amount of fibre in them, which proves to be beneficial in improving digestive health in babies and toddlers.
Mangoes are power-packed with the goodness of vitamin A, which helps in preventing eye ailments such as night blindness, dry eyes, refractive errors, etc. and also helps in maintaining good eye health.
The presence of glutamine acid in mangoes helps in promoting good brain function in kids and also helps in improving the memory.
Substantial amounts of iron in mangoes help in preventing anaemia and other kinds of iron deficiencies in kids.
If you are looking for healthy ways of increasing your baby's weight, including mangoes in your baby's diet can help! This calorie dense fruit is easily absorbed by the body, thereby aiding healthy weight gain.
Buying Guide
Here are some buying tips that you should keep in mind when you are buying ingredients for mango lassi:
Buy seasonal mangoes for making lassi. Tinned, canned or non-seasonal fruits are a big no-no when it comes to making a dish for kids! Also, buying organic fruits is highly recommended.
Pick up ripe mangoes that are sans any bruises or marks. Skip picking pale, hard or unripe mangoes for lassi.
Be sure to check the date of manufacture and packing date on curd, if you are picking up curd from the market!