Mashed Potato Recipe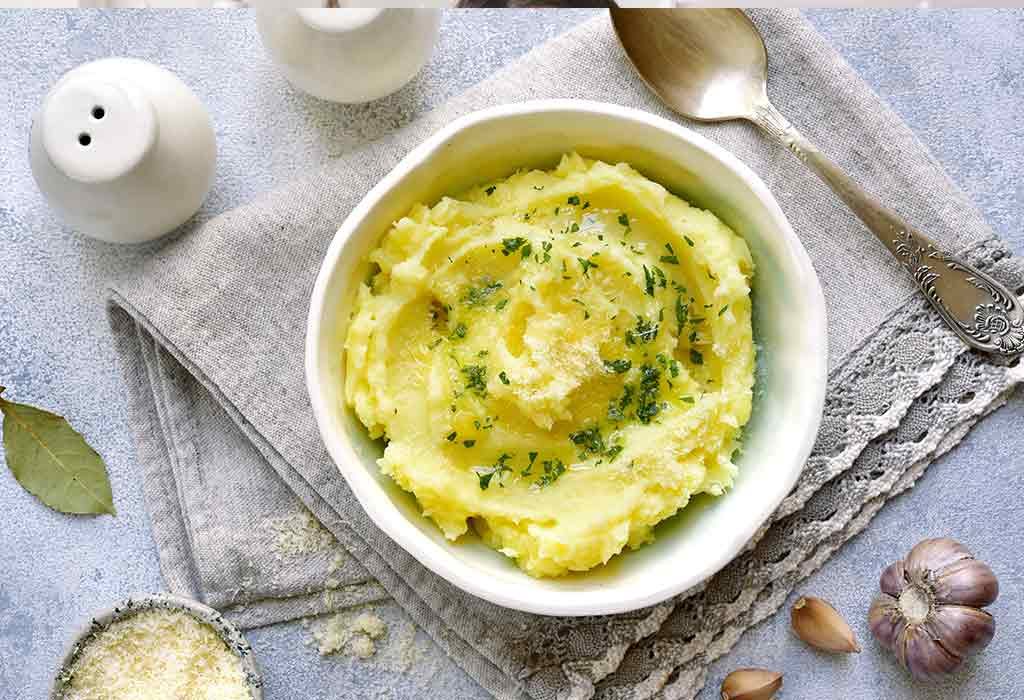 Once your baby completes six months of age, potatoes can be safely introduced into their diet. It's one of the universally loved vegetables that helps in healthy weight gain. Mashed potato for baby is one of the safest foods for weaning babies who will love its soft, buttery texture and delicious taste. Easy to digest and loaded with minerals and vitamins, mashed potatoes are the least allergenic food that can be served almost every day during any mealtime. This recipe helps all mothers to reach their goal of including veggies in their child's diet. Learn the most tried and true technique of how to make mashed potatoes for baby easily and make the perfect savoury side dish that your child will find hard to resist!
Video: Mashed Potato Recipe for Babies and Toddlers | Healthy Baby Food
Cooking Time
| | |
| --- | --- |
| Type | Time (hh:mm:ss) |
| Preparation Time | 00:10:00 |
| Cook Time | 00:20:00 |
| Total Time | 00:30:00 |
Cooking Method
Gas Stove
Type of Meal
Vegetarian
Suitable For
Weaning babies older than six months of age
Meal Schedule
Lunch or dinner
Recipe Type
Side Dish
Ingredients
| | |
| --- | --- |
| Type | Quantity |
| Potato | 1 Medium Sized |
| Butter | 1 Tsp |
| Breast Milk/ Formula Milk | 1 tbsp. |
| Salt | As Per Taste |
| Pepper Powder | 1/8 Tsp |
| Parsley / Coriander Leaves | 1 Tbsp |
Instructions
The step by step directions listed below will guide you to dish out the finest mashed potato that tastes delicious and makes mealtimes fun.
Clean the potato thoroughly with water and peel its skin.
Cut them into cubes and pressure cook them with enough water for 2-3 whistles.
Once the potatoes are cooked and pressure is released naturally from the cooker, strain out the water and place the potatoes in a bowl.
Mash the potatoes lightly using the back of a fork or potato masher.
Heat butter in a pan. Once it is melted on medium flame, add the asafoetida and potato.
Add a pinch of salt, pepper, and milk to the mixture. Stir well until you get a creamy mash.
Pour in formula milk or breast milk to make it runny and puree.
Garnish with chopped coriander leaves and serve warm in a bowl.
Recipe Tips
This simple mashed potato recipe is utterly simple to make using basic ingredients available at home.
You can use a mixer to whip up a fluffy potato mash.
Adding salt and pepper is optional as it should be avoided for children below one year of age.
You can puree the potato with milk using a mixer for small babies.
This homemade mashed potato baby food recipe can be made tastier by adding coriander leaves.
Sterilize all utensils and maintain hygiene before preparing food for your baby.
Check with your pediatrician before giving any new solid to a weaning baby.
You can bake the potatoes in an oven before making this dish.
You can add well-fried onions to enhance the taste of mashed potatoes for older babies.
Adding homemade butter lends this recipe a rich flavor.
You can add fresh garlic, sour cream or yogurt to the potatoes for extra flavor preferably for older children.
Nutrition Information (Per Serving)
| | |
| --- | --- |
| Type | Value |
| Energy | 401 Calories |
| Carbohydrates | 42 grams |
| Protein | 6 grams |
| Sodium | 468 mg |
| Fiber | 2 grams |
| Fat | 2 grams |
| Potassium | 1004 grams |
| Calcium | 81 mg |
| Vitamin C | 13.5 mg |
| Calcium | 81 mg |
| Iron | 2 mg |
| Sugar | 3 grams |
| Vitamin A | 785IU |
| Iron | 2 mg |
Health Benefits
Packed with nutrition, mashed potatoes are a wholesome food that ensures that your child stays well-nourished and grows up with healthy eating habits.
Potato is a popular vegetable that is widely available and eaten in different forms worldwide. This edible tuber protects the liver, protects the skin, improves gastronomical health and supplies essential vitamins and minerals that are needed for a baby's growth.
Red fleshed potatoes contain anthocyanins that stop the growth of influenza viruses.
Its healthy glow to the skin heals burns and reduces inflammations caused by insect bites.
Steaming is always a better way than boiling as the vitamins and minerals are lost by the latter process.
The dietary fiber and carbohydrates in potatoes help to keep your child's belly full.
The vitamin C in potatoes supports the immune system and helps iron absorption.
The potassium content of potatoes helps muscles to contract and maintains normal blood pressure.
As butter is high in calories and fat, it should be added in moderation to any recipe.
Butter contains milk fat that is rich in vitamin A, Vitamin D, Vitamin E, Vitamin B12, and Vitamin K2. Its antioxidant content keeps children protected from harmful infections.
Buying Guide
Keep these helpful tips in mind while buying good quality potatoes for your mashed potato recipe.
Look for smooth, firm-textured potatoes that are free of bruises or cuts. Buying from an organic store or a farmer's market that sell locally grown produce is always better.
Check the best before date before buying a branded pack of formula milk for your baby.
Look for a label that shows unsalted butter that is pasteurized, non-GMO or antibiotic-free.
FAQs
1. Do Babies Get Constipated After Eating Potatoes?
Babies can potentially experience constipation after eating potatoes due to their starch content and low fibre. However, individual reactions vary, and factors like overall diet, hydration, and digestive sensitivity play a role. It's important to monitor a baby's reactions and consult a paediatrician if constipation is a concern.
2. Which Potatoes Are Good for Babies?
Babies and sweet potatoes make an ideal combination! These provide essential nutrients that support the healthy development of a baby's eyes and overall growth. Additionally, their rich vitamin and mineral content is crucial for helping growing infants reach their developmental goals as they progress.
Homemade Mashed potatoes for babies can be consumed daily instead of a fried or high-fat snack. It is a delicious meal option for babies once they graduate from thin porridge to solids. Read above to know how to prepare mashed potatoes for baby and make it with love and just create memorable mealtime moments while feeding your tiny tot.
References/Resources:
1. POTATO FACTS AND FIGURES; cipotato.org; https://cipotato.org/potato/potato-facts-and-figures/
2. The Nutritional Value of Potatoes; eufic.org; https://www.eufic.org/en/healthy-living/article/the-goodness-in-potatoes
3. Potatoes, raw, flesh and skin; nutritionvalue.org; https://www.nutritionvalue.org/Potatoes%2C_raw%2C_flesh_and_skin_nutritional_value.html
4. Potatoes, flesh and skin, raw; fdc.nal.usda.gov; https://fdc.nal.usda.gov/fdc-app.html#/food-details/170026/nutrients
5. Are Potatoes Healthy?; health.clevelandclinic.org; https://health.clevelandclinic.org/are-potatoes-healthy/
Also Read: