Top 20 Food Books for Kids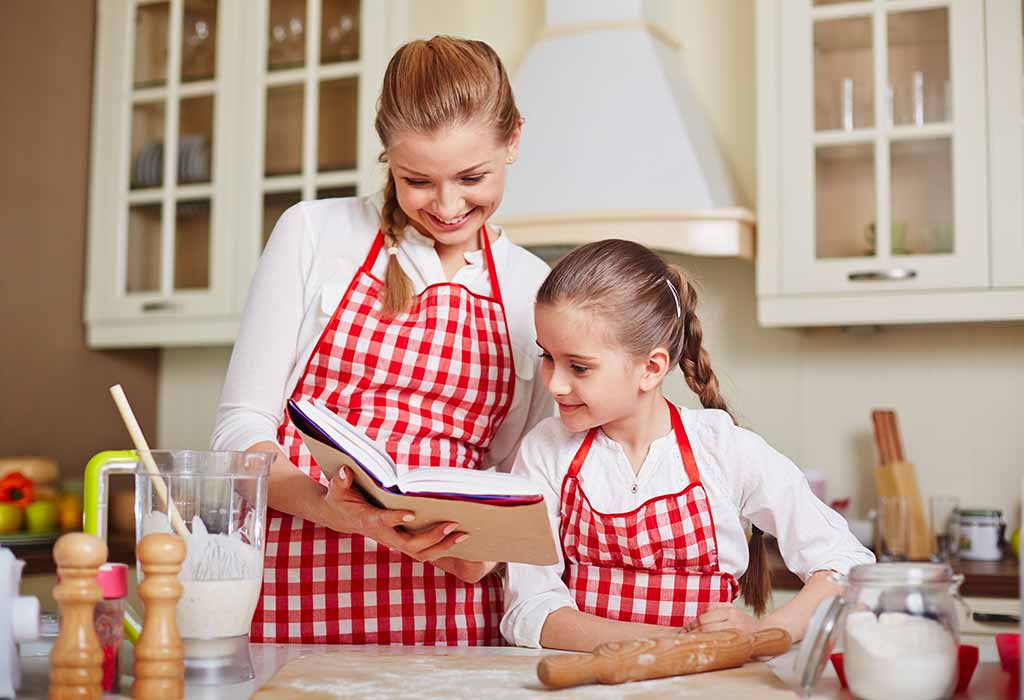 In this Article
Many children are picky eaters and it can be hard for parents to get their kids to try new foods. As children grow up, their preferences for food change and they may resist or even reject certain foods they ate fondly only a month ago. Now you may be tempted to use your parent card to force your child to eat healthy foods, but forcing your child might turn your kid into a rebel, and trust us, you don't want that.
A great way to talk to your child about food and help them develop a good relationship with food is by getting them books on food. Books on food can teach your child about healthy foods, trying new foods, where the food comes from, and more. As they read several books on food, they will learn and understand about different foods and the importance of eating them.
Best Children's Books About Food
Whether your child is a picky eater or loves to help you while you cook, they sure will like these books on food. Here are some of the best food books for toddlers and preschoolers.
1. Today is Monday
Written by – Eric Carle
Today is Monday, is one of the interesting preschool books about food. This book written by Eric Carle talks about various foods such as spaghetti, chicken, fresh fish, roast beef, and ice-creams which are served as a delicious fare during the week. The kids as they read the book learn about names of the days, food names, different animals, etc.
2. Faith the Cow
Written by – Susan Bame Hoover
Faith the Cow is one of the most adorable children's books about food insecurity. The book talks about the Heifer Project and its existence. Kids learn how a cow was gifted to a country where there were no cows, as they were killed during the war.
3. The Night Before Thanksgiving
Written by – Natasha Wing
The Night Before Thanksgiving tells the story of a family gathered for Thanksgiving. This fun-filled holiday-inspired book talks about family and festive food. Kids love the story as it progresses along with the feast prepared in the home, the arrival of guests, fun moments among cousins, and the feast. After reading this book, your child will surely ask you to prepare the mentioned children's book-themed party food and enjoy it with their friends and cousins.
4. I Will Never Not Ever Eat a Tomato
Written by – Lauren Child
This cute children's food book tells the story of Lola, a picky eater who will never eat certain foods. She actually hates certain vegetables such as carrots. Her eating habits change when her brother Charlie tells her clever stories about vegetables. He informs her that her mashed potatoes are not actual potatoes but cloud fluffs floating over the top of a mountain. Hearing such stories Lola decides to eat these vegetables. Lola though hates tomatoes the most and she says she will never eat them. But can her brother convince her to eat them? Get your child to read this book to know whether Charlie can tell a story about tomatoes to convince her to eat them.
5. How Did That Get in My Lunchbox? The Story of Food
Written by – Christine Butterworth
This food book written by Christine Butterworth and Illustrated by Lucia Gaggiotti is perfect to answer your child's 'why' and 'how' questions related to most food items. It tells the origins of basic food items such as a slice of bread or chocolate chips or cookies. Your child will learn where these foods come from with the help of this book.
6. Too Many Tamales
Written by – Gary Soto
Too Many Tamales is a cute kids' book written by Gary Soto with illustrations by Ed Martinez. The book tells the story of Maria, who is having a perfect Christmas Eve. Her favourite cousins are coming over and she gets to help her mother make tamales for Christmas dinner. She is having a perfect day until she tries her mother's diamond ring and loses it as she kneads the dough to make tamales for Christmas. Now she needs to get the ring back before her mother finds out. However, she believes that the ring is inside one of the tamales. Now to find the ring she has to eat the tamales with her cousins. Will she find the ring? Read this book to find out!
7. The Little Mouse, the Red Ripe Strawberry, and the Big Hungry Bear
Written by – Audrey Wood and Don Wood
This cute children's board book tells the classic tale of a little mouse trying to save his fresh strawberry from a big hungry bear. The picture book builds up the suspense of whether or not the mouse will be able to save his strawberry from the big, hungry bear. Little mouse loves his strawberries, so what will he do to save them? Will he be able to stop the bear from eating his red, ripe strawberry?
8. Green is a Chile Pepper: a book of Colors
Written by – Roseanne Greenfield Thong
This book explores the colors using the Mexican American culture and other traditional food. Beautiful illustrations by John Parra, snappy rhymes, and bilingual text in this book are loved by kids across the world. This fantastic book with universal appeal teaches kids about different food and their colours such as green chile pepper, yellow masa and tortillas, and red salsa.
9. Dinnertime for Chickies
Written by – Janee Trasler
This food board book is perfect for picky eaters who refuse to eat certain foods. The little chickies refuse to eat foods but once they take a bite, they love the food. Catchy rhyming words and vibrant illustrations in this book keep the kids engaged. The book will encourage young kids to eat those broccolis, peas, and carrots which they tend to refuse.
10. Happy Birthday, Cupcake
Written by – Terry Border
Happy Birthday, Cupcake is a cute picture book written and illustrated by Terry Border. This hilarious book features cupcakes, every kid's favorite dessert. The book tells the story of a cupcake planning her birthday party with several ideas. All ideas fall short as cupcake's best friend Blueberry muffin finds several reasons for them not working. In the end, Blueberry has one last idea which might actually work. This book is perfect to put a smile on every kid's face.
11. The Bagel King
Written by – Andrew Larson
The book tells the story of Eli, who on every Sunday waits for Zaida to bring him bagels from Merv's bakery for breakfast. On Sunday, there are no bagels as Zaida doesn't come. Zaida has to stay in bed for two weeks due to a big fall. Eli has to find ways to keep the bagel tradition alive.
12. Allergic Like Me
Written by – Michelle Meyer-Devlin
This adorable book is one of the best children's books on food allergies. It teaches children that kids who have food allergies are not alone and that having a food allergy does not mean the end of the world. Through this book kids also get answers to the common questions they might have about food allergies.
13. World Pizza
Written by – Cece Ming
This hilarious book is about a mother who wishes for world peace by seeing a falling star. But sneezes while wishing, which makes her say pizza instead of peace. Suddenly there is pizza floating from the sky. The story talks about how everyone's favourite pizza may be able to solve all problems of the world and unite people.
14. The Watermelon Seed
Written by – Greg Pizzoli
This picture book introduces kids to a funny crocodile who fears swallowing watermelon seeds. Adorable illustrations show his fear becoming reality and his imagination presenting him with hilarious scenarios after swallowing the seeds.
15. Mrs. Peanuckle's Vegetable Alphabet
Written by – Mrs. Peanuckle
This book is a part of series by Mrs. Peanuckle about different things such as fruits, trees, flowers, and birds. The book talks about different vegetables starting from every letter in the alphabet. Kids learn about various vegetables and vegetable facts with vibrant illustrations. Teaching the alphabet to children is so easy and delicious with this book!
16. What Can You Do With a Paleta
Written by – Carmen Tafolla
This sweet book is loved by every popsicle-loving child. The book is about a young girl who tells about paleta, a delightful frozen fruit treat. Kids will learn all the fun things they can do with a paleta from creating blue moustaches to making sidewalk masterpieces.
17. Little Critter: Good for Me and You
Written by – Mercer Mayer
This food book teaches young kids the importance of a healthy lifestyle and fun ways to incorporate a healthy lifestyle. The story is about a Little Critter who learns the importance of healthy eating at school. He learns about eating a balanced diet, fun exercises, and the food pyramid which will help him to stay healthy and in shape. After learning all this Little Critter teaches his family fun ways to stay fit and healthy.
18. Little Pea
Written by – Amy Krouse Rosenthal
This children's book is popular due to its engaging storyline and charming illustrations. The story is about a Little Pea who doesn't want to eat sweets for dinner. But if he doesn't eat the sweets, he won't get vegetables for dessert. Now, what will the young pea do? The classic book is perfect for kids who don't like the taste of vegetables. It can encourage picky eaters to eat their vegetables.
19. Why Should I Eat Well?
Written by – Claire Llewellyn
This fabulous food book teaches young kids about the importance of healthy eating and exercising. The book is designed around the natural curiosity of kids, answers questions like 'Why' which most kids ask. Fun illustrations and engaging storytelling help children understand why nutrition is important. It is one of the best children's books about food insecurity.
20. Baby Goes to Market
Written by – Atinuke
Baby Goes to Market is a popular concept book written by Atinuke with fabulous illustrations by Angela Brooksbank. The book tells a story of a mother and her baby who go to a bustling Nigerian market to shop for food. The cute little toddler is given a lot of treats by many vendors. The mother is worried that her baby is hungry but the baby is enjoying all the treats and putting the extra in Mama's basket.
These are some fun and interesting books that will teach your child about healthy eating, food, their origin, colours, the alphabet, and more! The engaging stories and cute illustrations in these food books will help your child learn about different vegetables, fruits, and other foods. So go ahead, and buy one or more of these books for your child, and watch him read and learn about food (and probably eat food without throwing a fuss)!
Also Read:
Funny Books for Children
Adventure Books for Children
Non-Fiction Books for Children