10 Healthy and Tasty Pizza Recipe for Kids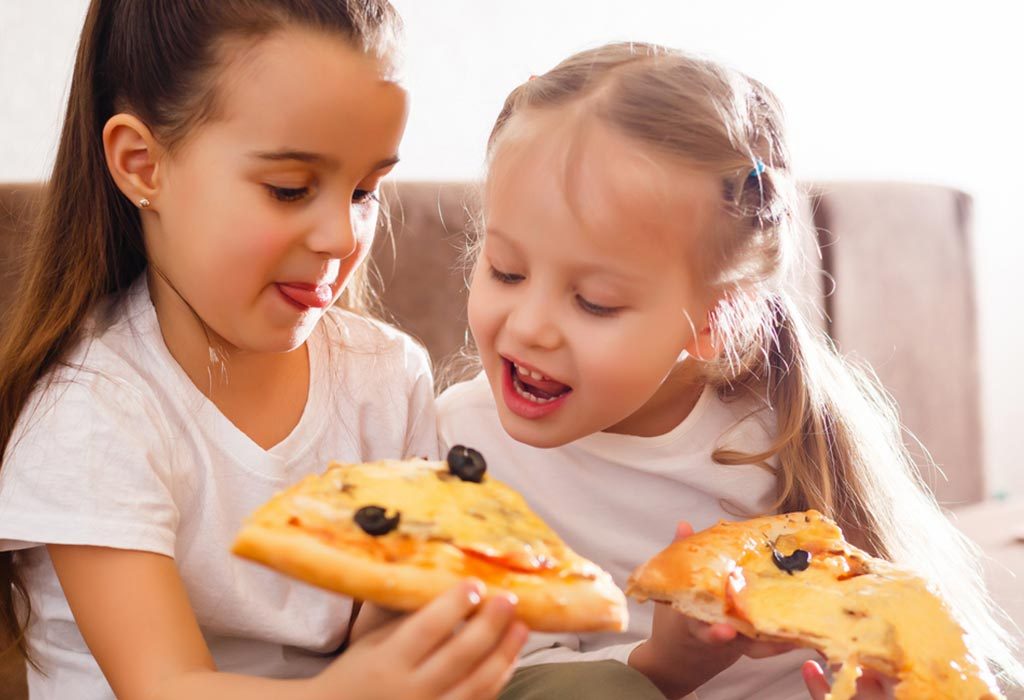 In this Article
If you like your pizzas extra cheesy, we're sure your kids can relate too. After all, nobody hates pizza and it's one of the top craved foods of this era. Tracing back to Italian times, our pizza recipes will give your dinners a culinary twist and make evenings filled with fun and joy for your kids.
Easy Pizza Recipes for Children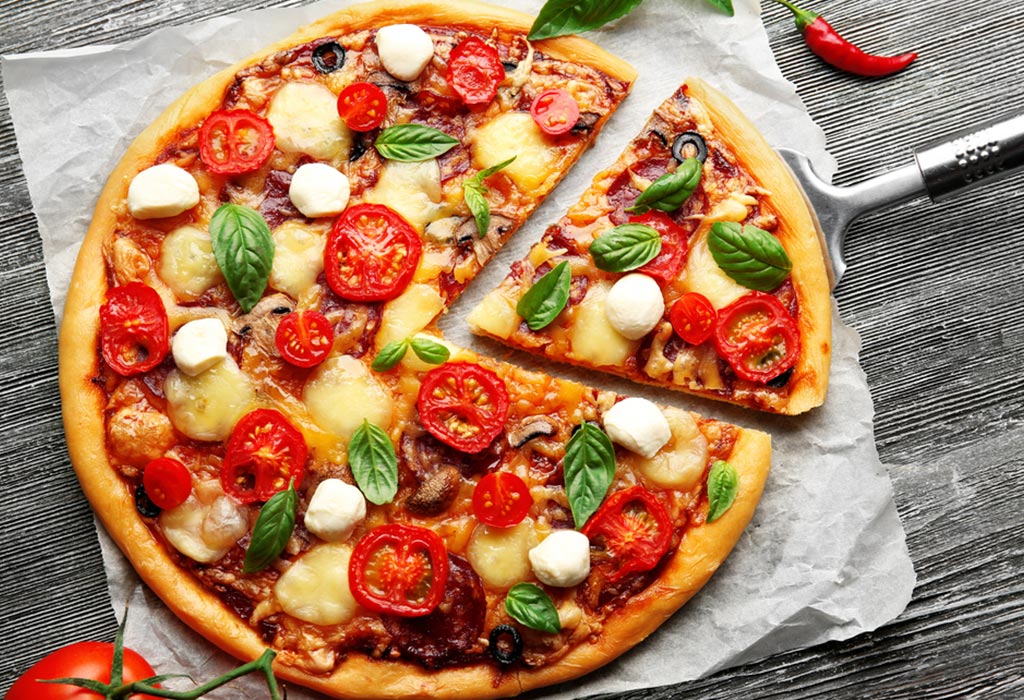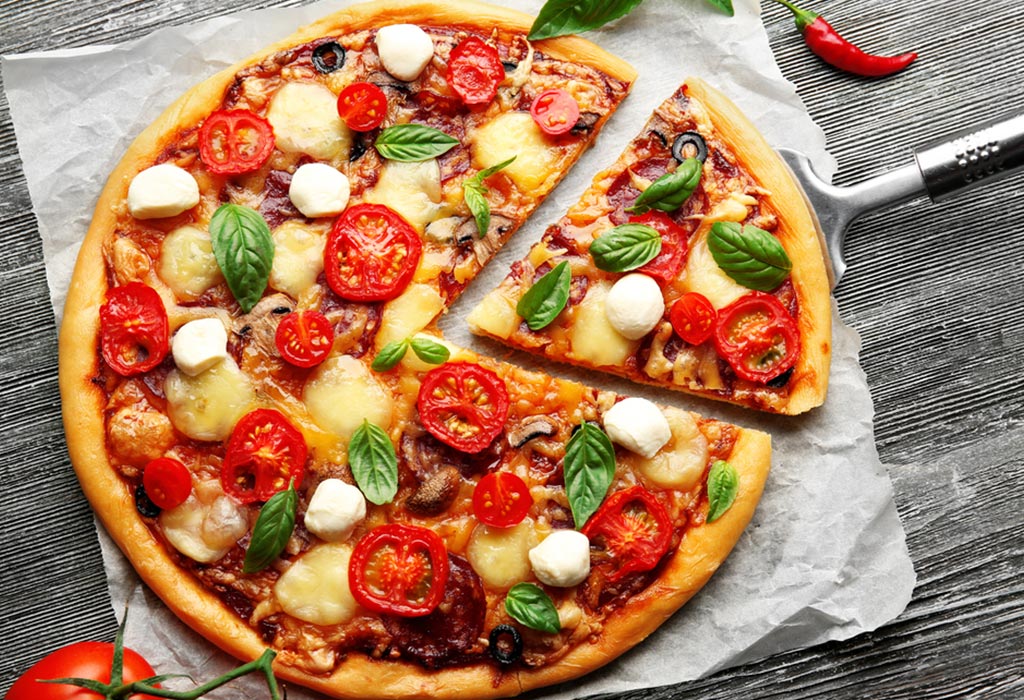 Pizzas are easy to make and don't require a lot of time to prep up. If you're the type who loves whipping up quick meals, give our easy mini pizza recipe for kids a try. We guarantee that your kids will love them.
1. Pasta-Pizza
Who says you can't eat pasta and pizza at the same time?! Here's how to make pizza for kids, macaroni-style!
What You Will Need
Garlic
Onion
Capsicum
Tomato Puree
Pasta and Macaroni Mix
Salt
Grated Mozzarella Cheese
Pizza Bread
How To Prepare
Grab a non-stick frying pan and start sautéing the onions and garlic. Add capsicum after 2 minutes and keep cooking. Throw in the tomato puree and bring the water to a boil. Add the pasta and macaroni mix, carefully adding a pinch of salt. Once the pasta's done, spread all the ingredients on pizza bread and sprinkle grated cheese for a finish. Bake for 10 minutes and your pizza is ready to be served.
2. Cheese and Apple Pizza
If your kids hate apples, then it's time to get them fall in love with the fruit. Try out this recipe and lend your pizzas a sweet twist.
What You Will Need
Sliced apple pieces
Flour
Cinnamon Powder
Grated Cheese
Melted Butter
How To Prepare
Peel some apples and slice them finely. Make the apple topping by mixing melted butter, sliced apple pieces and cinnamon powder to form a mixture. Let it simmer for 15 minutes and afterwards, melt the grated cheese slightly. Lay out the pizza bread and layer the cheese topping with the apple topping on top of it. Bake for approximately 25-30 minutes and your pizza is ready.
3. Bell Peppers And Feta Pizza
The Greeks are advocates of the Mediterranean Diet, and this pizza will bring a Mediterranean twist filled with cognitive benefits for your little one. Take our word and try it out.
What You Will Need
Pizza Dough
Cornmeal
Marinara Sauce
Sliced Bell Peppers
Feta Cheese
Pitted Kalamata Olives
Kosher Salt
Black Pepper
Fresh Parsley Leaves
How To Prepare
Add cornmeal to your baking sheets and preheat the oven to 475 degrees Fahrenheit. Divide the dough into four even rounds and top them with marinara sauces, bell peppers, feta and olives. Add 1/4 tsp of salt and black pepper for the seasoning. Bake for 18 to 20 minutes and take out the pizza from the oven only when the crust goes golden brown. Use a pizza slicer to cut into evenly-sized slices and sprinkle parsley for on the pizza for a finishing touch.
4. Noodles Pizza
When China and Italy meet, what do we get? Noodles Pizza! Your kids will love it, especially if they're diehard fans of noodles.
What You Will Need
Pizza Bread
Chilli Sauce
Boiled Noodles
Mixed Vegetables
Mozzarella Cheese
Italian Herbs
How To Prepare
Lay out the pizza bread and apply a thin layer of chilli sauce on it. Prepare the vegetable mix by combining mushrooms, onions, garlic, bell peppers, spinach and olives. Set the water on the boil and prepare the noodles. Once the noodles are done, spread it along with the mixed vegetables on the bread. Sprinkle mozzarella cheese all over the pizza and bake for 8 to 10 minutes in the oven. Use Italian herbs for a garnish and serve hot.
5. Spinach-Artichoke Pizza
Get your dips and artichokes ready; it's time for some spinach and artichoke pizza!
What You Will Need
Pizza Dough
Cornmeal
Marinated Artichoke Hearts
Baby Spinach
Grated Mozzarella Cheese
Cream Cheese Bar
Grated Parmesan
Kosher Salt
Black Pepper
How To Prepare
Divide the dough evenly and preheat the oven to 475 degrees Fahrenheit. Top your pizza with artichoke hearts (drained and quartered), spinach, mozzarella cheese, cream cheese and parmesan. use salt and pepper for seasoning and bake for 18 to 20 minutes until the crust turns golden brown.
6. Mushroom Pizza
Mushrooms are healthy and if your kids love mushrooms, then give them this awesome pizza treat by baking at home!
What You Will Need
Onion
Capsicum
Mushroom
Corn Flour
Salt
Oregano
Pizza Dough
How To Prepare
Ready the dough and apply extra virgin olive oil to a non-stick frying pan. Sautee the onion, capsicum and mushroom for roughly 5 to 7 minutes. Add corn flour vegetables and cook for a few minutes. Make sure to add the mushroom toppings and sprinkle salt and oregano. Bake for about 5 to 10 minutes.
7. Pizza 'N' Sprouts
If your kids hate sprouts, then it's time to add it to your pizza to make them eat it. Sprouts are healthy and a welcome addition to your culinary adventures in the kitchen.
What You Will Need
Different Toppings
Stir-fried Vegetables
Cheese
Olives
Pizza Bread
Pizza Sauce
How To Prepare
Ready the stir-fried vegetables and half-cook the sprouts. mix the cheese and olives and prepare the pizza bread. Add pizza sauce and spread the three toppings in sequence – stir-fried veggies, half-cooked sprouts and the mixed olives and cheese. Preheat the oven and bake the pizza in it for roughly 10 minutes.
8. Uttapam Pizza
If your kids love Uttappam, then they will enjoy this popular Indianised pizza recipe.
What You Will Need
Dosa Batter
Extra Virgin Olive Oil
Tomato Sauce
Chilli Sauce
Sliced Tomato Pieces
Sliced Onions
Sliced Capsicum
Grated Cheese
How To Prepare
Pour the dosa batter in a non-stick frying pan that is greased with the olive oil and pre-heated. Let it cook for about 180 seconds and add tomato sauce with chilli sauce on it. Add the sliced toppings of tomatoes, capsicum and onions. layer the grated cheese on top and cover the pizza with a lid for 3 to 4 minutes and wait until the cheese completely melts.
9. Spinach Pizza
Popeye didn't eat spinach for no reason, and it's time your kids start loving it. If you want to add a nutritious spin to your dishes, try out this pizza recipe and let your kids up to their spinach intake.
What You Will Need
Spinach
Onions
Green Chillies
Paneer
Salt
Cream
Pizza Bread
Grated Cheese
How To Prepare
Ready the spinach batter and set it aside. Boil the spinach and drain that. Sautee the onion and green chillis for a minute and add the boiled spinach to them. Use salt for taste and mix in the paneer and cream now. Take out the pizza bread and apply the above mixture, with grated cheese sprinkled on top. Bake it for about 10 minutes in a preheated oven, and you're done.
10. Fruit Pizza
If your kids enjoy seasonal fruits, then they will love this recipe.
What You Will Need
Pizza Dough
Almond
Sugar
Butter
Milk
Fresh Fruits
Cream
Chocolate Chips
How To Prepare
Prep the pizza base and press it into a 6-inch size. Add almonds, sugar, butter, milk and make the consistency of the dough uniform. Bake the mix in the oven till it turns golden brown and tops your pizza with seasonal fruits, cream and chocolate chips.
The trick to making great pizzas is keeping them simple and fun. Try out these recipes and see your kids meet their daily nutritional requirements by wolfing down these delicious dishes.
Also Read:
Bread Recipes for Kids
Egg Recipes for Kids
Breakfast Recipes for Kids