Thanksgiving – History, Traditions, and Interesting Facts for Kids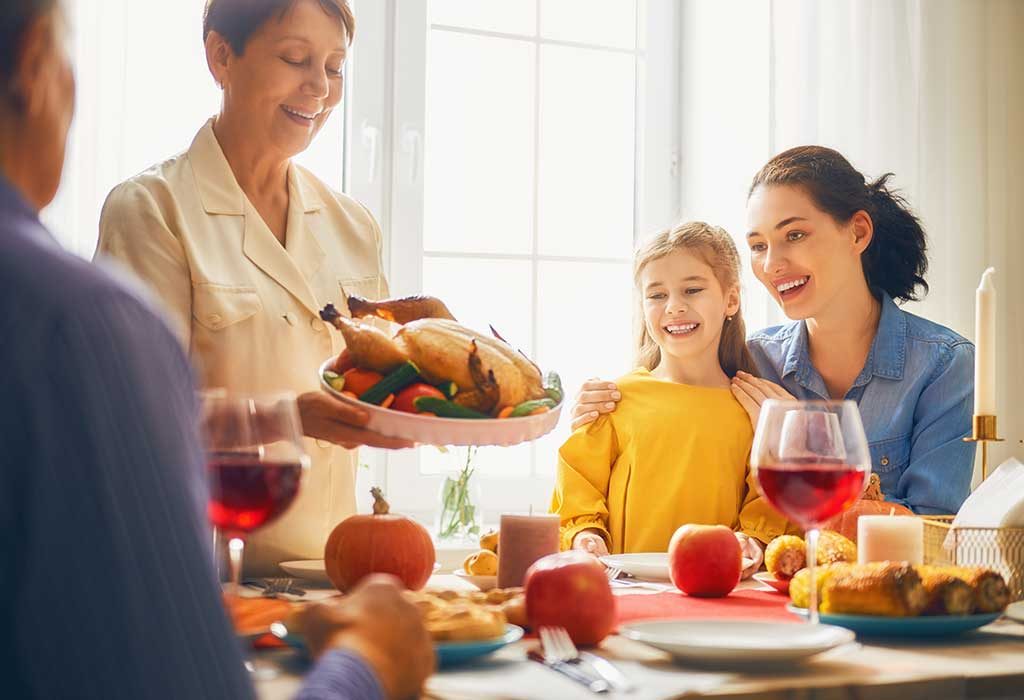 Thanksgiving is synonymous with delicious food, long weekends, shopping, parades, and quality time with family. With the season coming close, preparations for Thanksgiving day are most likely in full swing. Children enjoy Thanksgiving just as much as adults do, what with all the pumpkin pie and cranberry sauce satiating their sweet tooth like nothing else can!
But that's not all Thanksgiving is about. The day comes with a long history that dates back several centuries – a history that is important for us to know to celebrate the day the way it is meant to be. As your little one grows older, it's important for her to know the significance of this holiday. We have for you Thanksgiving information for kids that will make it easy for your child to understand and comprehend. Read on!
When Is Thanksgiving Day?
Thanksgiving Day is celebrated every year on the Fourth Thursday of November in the United States of America. Thanksgiving became a regular holiday in 1863 as declared by President Abrahan Lincoln, but it was declared a national holiday in 1941 by President Franklin Roosevelt, with the official date as the fourth Thursday of November. The day is celebrated as a way to be thankful for the bountiful harvest of the season, and to be thankful for the year that has passed.
Thanksgiving is also celebrated in Canada, on the second Monday of October.
History of Thanksgiving Day
This year, teach your child the significance of this holiday by narrating this simple Thanksgiving story for kids:
The tradition of Thanksgiving started in the 17th century when the first pilgrims (English colonialists) set foot into Native American soil in Plymouth, Massachusetts. When these pilgrims settled, they were taught how to farm and harvest crops by the Wampanoag tribe living in Plymouth. The success of the first harvest was celebrated as Thanksgiving, and it involved both the pilgrims and the Native Americans. The feast was organised by Governor William Bradford in 1621, and it lasted three days!
This is known as the first Thanksgiving story. Today, Thanksgiving is celebrated by feasting on delicious food in the company of family and friends.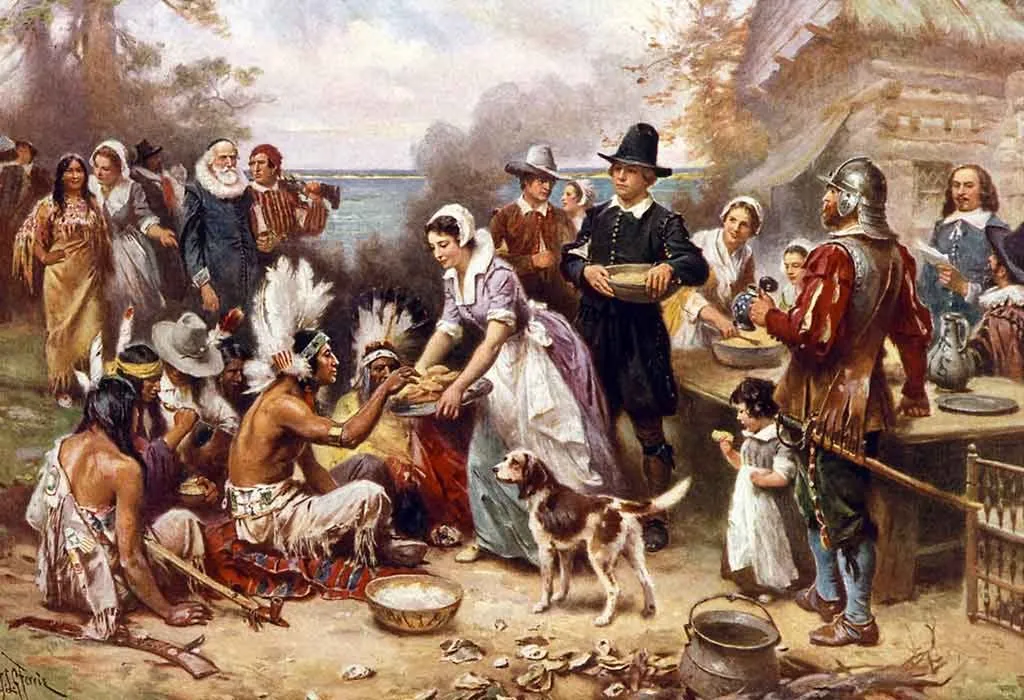 Why Is Thanksgiving Celebrated With Turkey?
Thanksgiving day is synonymous with consuming turkey, and there are a couple of reasons why:
1. Consuming turkey has been a practice since a long time – the 19th-century founding father, Alexander Hamilton, proclaimed that "no citizen of the United States should refrain from turkey on Thanksgiving day."
2. Some people believe that turkeys were chosen for Thanksgiving because they are large enough to feed a small crowd and do not serve a purpose like laying eggs or producing milk.
Traditions of a Thanksgiving Day Meal
Thanksgiving is marked by a delicious spread of food – there's something in it for everyone! From sweet to savoury and everything in between, the highlight of Thanksgiving is enjoying a hearty meal with your loved ones.
Here are a few food items that are traditionally eaten on Thanksgiving Day:
1. Turkey – The star of the show, turkey is the most important part of a Thanksgiving meal. Turkeys are bought days in advance and are defrosted, and are cooked in an oven. Turkeys take a lot of time to cook, owing to their size.
2. Stuffing – Made using bread, onion, butter, and spices, this stuffing is eaten as a side dish or stuffed inside the turkey while it is being cooked.
3. Cranberry Sauce – A popular condiment enjoyed during Thanksgiving, it pairs perfectly with the savoury turkey and stuffing. Cranberries are cooked in sugar and lemon juice and reduced until they form a sauce.
4. Turkey Gravy – This is a classic accompaniment to the Thanksgiving turkey. Made using the rendered fat from the turkey, this delicious sauce is buttery and savoury.
5. Mashed Potatoes – Another classic side dish, mashed potatoes are one of the most loved dishes during Thanksgiving. Boiled potatoes are mashed and whipped into a creamy consistency, with the help of butter and cream.
6. Cornbread – In a lot of families, cornbread is served as a dish during Thanksgiving. It is a soft, crumbly bread made out of cornmeal.
7. Roasted/Steamed Veggies – Veggies like beans, sweet potatoes, broccoli, and cauliflower are roasted and served along with the main meal.
8. Pie – No Thanksgiving is complete without a dessert! A classic Thanksgiving dessert is pumpkin pie, but apple pies, sweet potato pies, and pecan pies are also popular.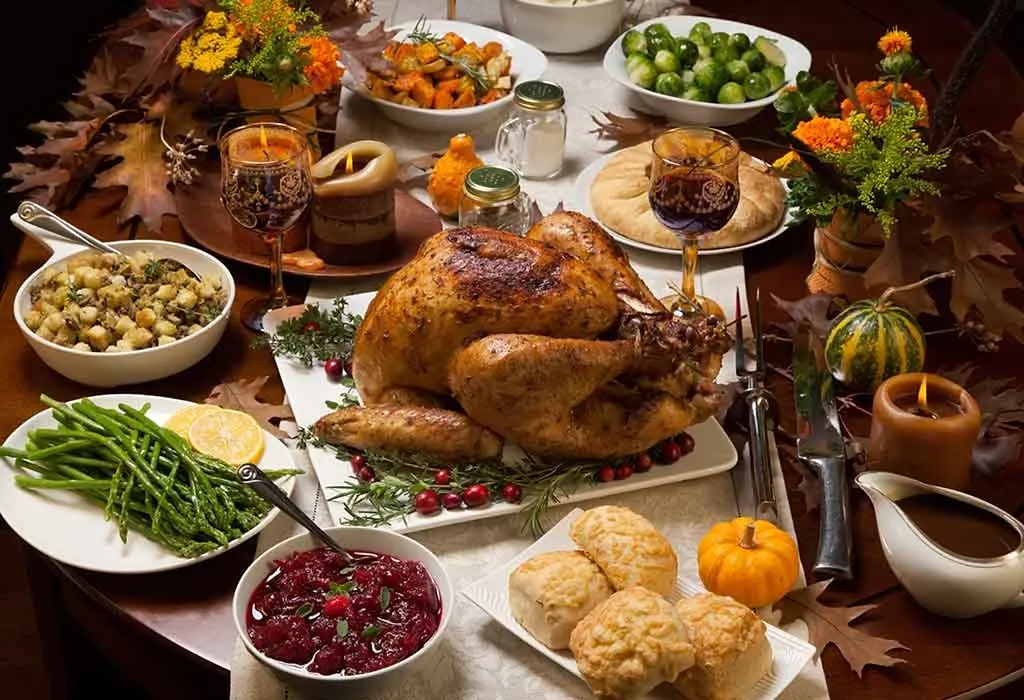 How Is Thanksgiving Day Celebrated?
Thanksgiving Day is a day spent in the company of family and friends. Most people fly down to visit their families and spend the day drinking, eating, and making merry. Before the meal, some families go around the table, asking each person what they have been thankful for. Families also pray before they begin the meal. After the grand meal, people go out for walks, play indoor and outdoor games, or watch the Thanksgiving parade together. Most people wake up early the next day on the occasion of Black Friday – the official start of holiday shopping! All in all, it is a day spent well.
Other Thanksgiving Facts for Kids
Now that your child knows the story behind the holiday, you can wow her with these Thanksgiving fun facts! Here are some of them:
1. The first Thanksgiving was celebrated in the season of autumn.
2. Thanksgiving became a national holiday nearly 200 years later.
3. The first Thanksgiving meal was eaten using knives, spoons, and hands – forks weren't invented back then!
4. Every year, as a tradition, the U.S. President 'pardons' a turkey and spares it from being eaten on Thanksgiving. The first ceremony took place in 1947.
5. The Macy's Thanksgiving parade, one of the most popularly watched parades on Thanksgiving, has been an annual event since 1924!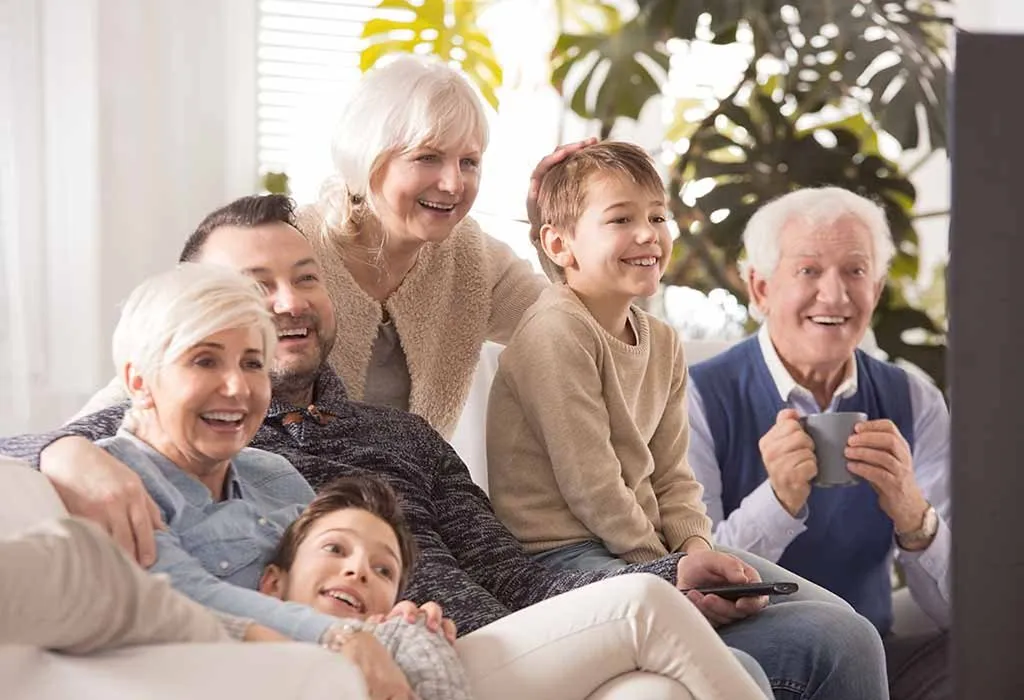 6. Americans eat 46 million turkeys each year!
7. The day after Thanksgiving, Black Friday, marks the official start of holiday season shopping. People camp out in front of their favourite stores from as early as 3 am!
8. Many people see the occasion of Thanksgiving as a time to help the needy. Lots of shelters and organisations receive a ton of donations in the form of money, clothes, food, and toys.
9. American football is often closely associated with Thanksgiving. Families get together to play or watch football on the day.
10. Several people use the opportunity of Thanksgiving to build on their traditions by making new ones – some serve different kinds of food, some practice unique ways of being thankful, and some even play games specific to the members of the family.
With this Thanksgiving information for kids, your little one is all set to be a part of the festivities! You can also involve your little one in a ton of Thanksgiving activities like cooking and decorating your home. Happy celebrating!
Also Read:
Amazing Thanksgiving Stories for Kids
Unique Ways to Celebrate Your Baby's First Thanksgiving