Interesting Facts About Christmas For Kids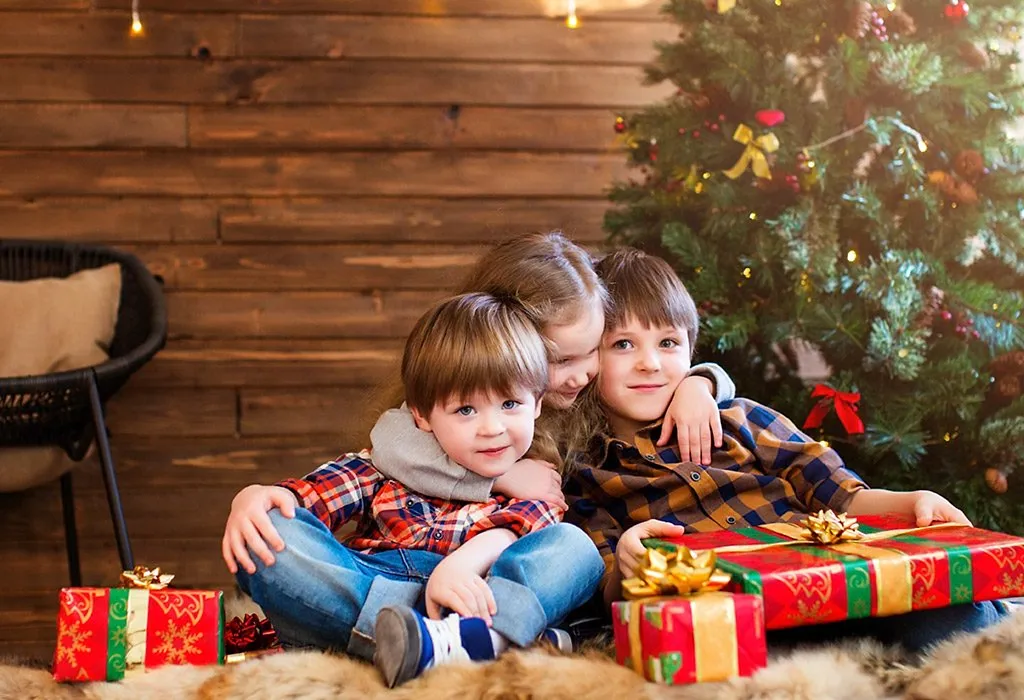 There's something special about Christmas and kids look forward to this festival the most. And why shouldn't they? After all, they get gifts from Santa Claus. But there's more to Christmas than gifts and decorating the house. Your kids will have Christmas holidays and will most likely spend their time playing. How about this time you share with them some interesting facts about Christmas? Read these Christmas facts to your kids and help them learn about this festival. They can share this amazing information about Christmas with their friends too!
Indulge in these Christmas fun facts and embark on a journey of discovery, making this festive season not only a time of joy but also of learning and sharing.
What Is Christmas and When It Is Celebrated?
Ah, Christmas – that magical time of year when the air is filled with the sweet aroma of gingerbread, the sound of carolers singing, and the twinkling of lights on trees. But what is Christmas, exactly, and when do we celebrate it? Well, my young friends, let me tell you all about it.
Christmas is a holiday that commemorates the birth of Jesus Christ, who is considered by Christians to be the Son of God. It's celebrated on December 25th every year, although the exact date of Jesus' birth is not known. But don't worry – that doesn't stop us from having a jolly good time!
Also Read: How to Draw a Christmas Tree for Kids
Why It Is Important For Children?
Ah, Christmas. That wonderful time of the year when the air is crisp, the smell of gingerbread fills the house, and presents magically appear under the tree. But beyond the gifts and the treats, why is Christmas so important for kids?
For starters, it's a time of joy and togetherness. Children get to spend quality time with their families, enjoy special traditions like decorating the tree or baking cookies, and make memories that will last a lifetime.
But Christmas is also a time of giving, and that's a valuable lesson for kids to learn. They get to experience the joy of giving to others, whether it's by making homemade gifts, donating toys to children in need, or simply showing kindness to others. Plus, they get to experience the excitement of receiving gifts, which is always a thrill for kids of all ages.
In short, Christmas is important for children because it's a time of love, joy, and giving. It's a chance for families to come together and create memories that will last a lifetime. So let's embrace the magic of the season and make this Christmas the best one yet!
How It Is Celebrated?
Christmas is one of the most beloved holidays in the United States, celebrated by people of all ages and backgrounds. While there are many different ways to celebrate Christmas, some of the most popular traditions include decorating Christmas trees, hanging stockings, and exchanging gifts with loved ones.
In addition to these familiar customs, many people also attend church services on Christmas Eve or Christmas Day, participate in holiday parades and festivals, and enjoy special meals with family and friends. From caroling to baking cookies to watching classic holiday movies, there's no shortage of ways to get into the Christmas spirit and spread joy and goodwill to those around us.
Amazing Christmas Facts for Children
Tell these jolly good Christmas facts to your kids. We are sure your children will love to know the history of everything that makes Christmas so special.
1. Christmas celebrates the birth of Jesus Christ
Christmas is an annual Christian holiday that celebrates the birth of Jesus Christ. The 25th day of December was chosen to mark His birthday by the Roman Catholic Church years after His death. And this Christian holiday is celebrated by Christians all over the world.
2. Christmas trees were first used by ancient Egyptians and Romans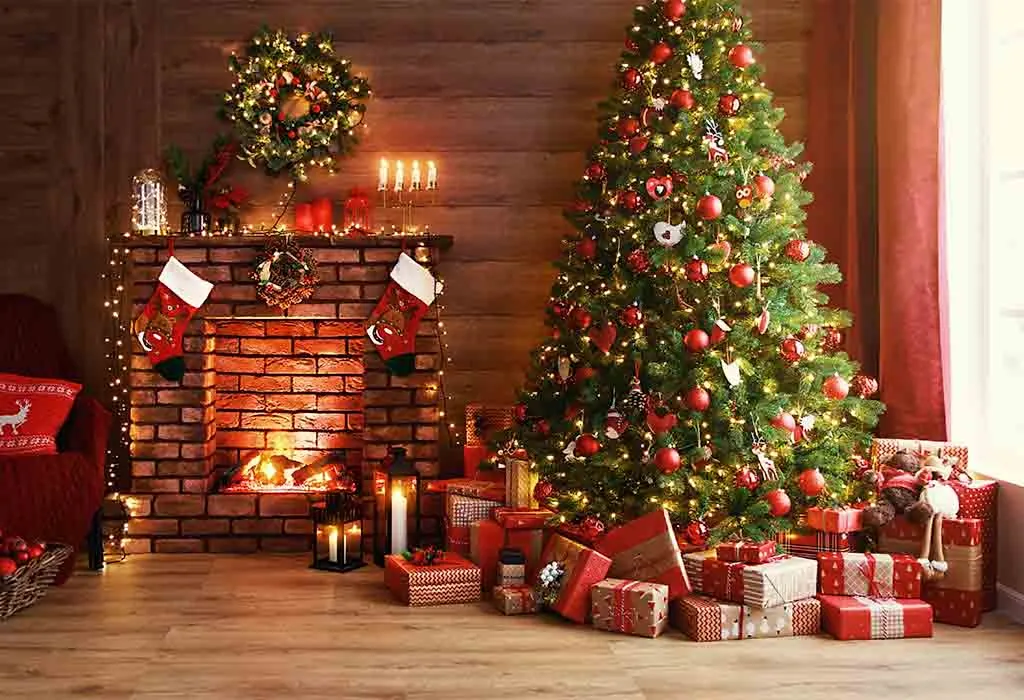 The origin or the use of Christmas trees goes way back to ancient Egyptians and Romans. They used evergreen trees like fir or pine trees, wreaths, and garlands. And the use of modern Christmas trees started in Germany in the 16th century. Instead of the glitzy decorations that we see on them today, they were decorated with fruits and nuts. Wet bet you didn't know this interesting fact about the Christmas tree!
Also Read: Fun Christmas Party Games for Kids
3. The term 'Xmas' simply means Christmas
The use of the term 'Xmas' dates back to the 16th century. The 'X' in the word Xmas comes from the ancient Greek language. In Greek, Christ begins with the letter X. So, Xmas simply means Christmas.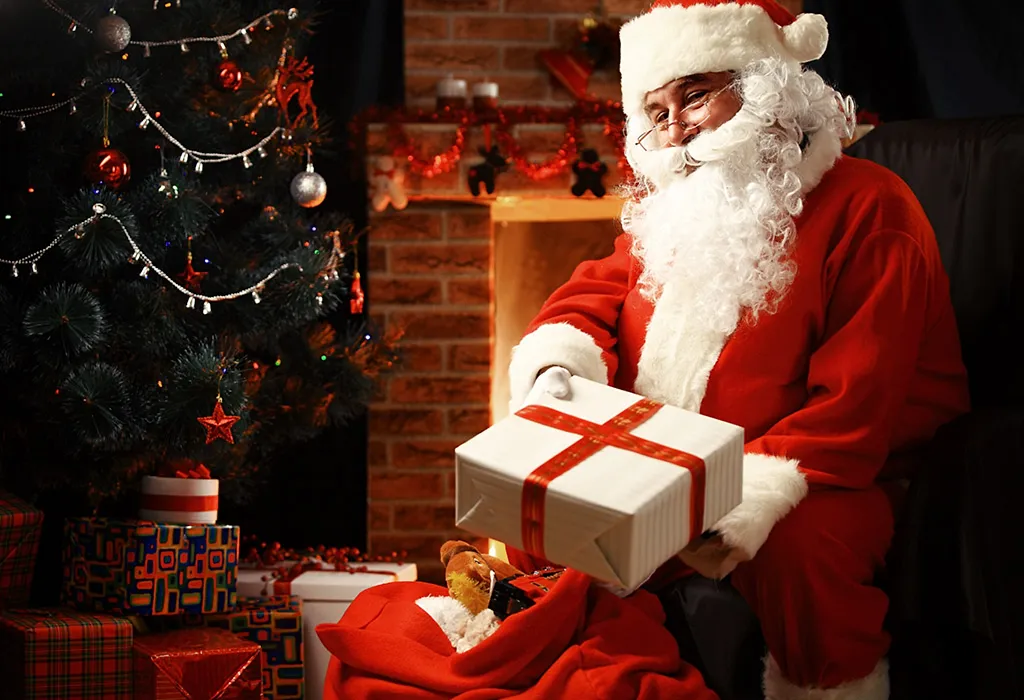 4. Rudolph, the 'Red-Nosed Reindeer' has helpers too!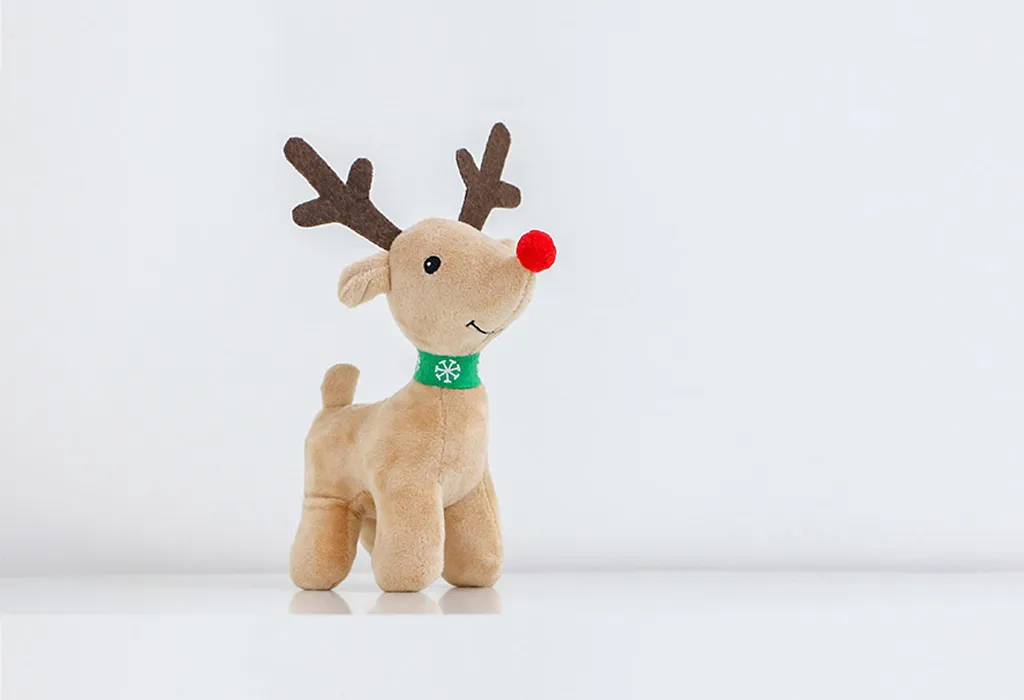 So you and your kids probably know Rudolph, the red-nosed reindeer, who pulls Santa's sledge on Christmas Eve. But do you know other reindeers? It would be impossible for Rudolph alone to pull Santa's sledge, don't you think? It is filled with gifts to the brim for every good child in the world, and Rudolph can't pull that all alone. Rudolph, the red-nosed reindeer, is, in fact, Santa's ninth reindeer. And there are eight other reindeers who help him. These eight reindeers are Cupid, Dancer, Vixen, Dunder, Comet, Dasher, Prancer, and Blixem.
5. Baby Jesus received some wonderful gifts when he was born
When Jesus was born, a bright star shone in the sky. Three kings followed this star and made a long journey to the birthplace of Jesus. They bore with them gifts of gold, frankincense (aromatic resin used in incense and perfumes), and oils.
Also Read: Best Christmas Movies for Kids
6. The Christmas wreath is a symbol of love and eternal life
The Christmas wreath is representative of the crown of thorns that Jesus wore. Eventually, the colours of Christmas – red, green, and gold were added. Red is said to represent the blood of Jesus, green is supposed to symbolise life, and gold stands for royalty and light. And the evergreen foliage used to make Christmas wreaths symbolises the continuity of life and nature even in the darkest days of winters.
7. Carolling is based on the tradition of wassailing
Have you ever wondered why people go door to door singing carols? The tradition is based on the English custom of wassailing, which was a tradition to toast to someone's good health and fortune. St. Francis of Assisi took this tradition and converted it to the modern form of carolling.
8. Christmas cakes are not really plum cakes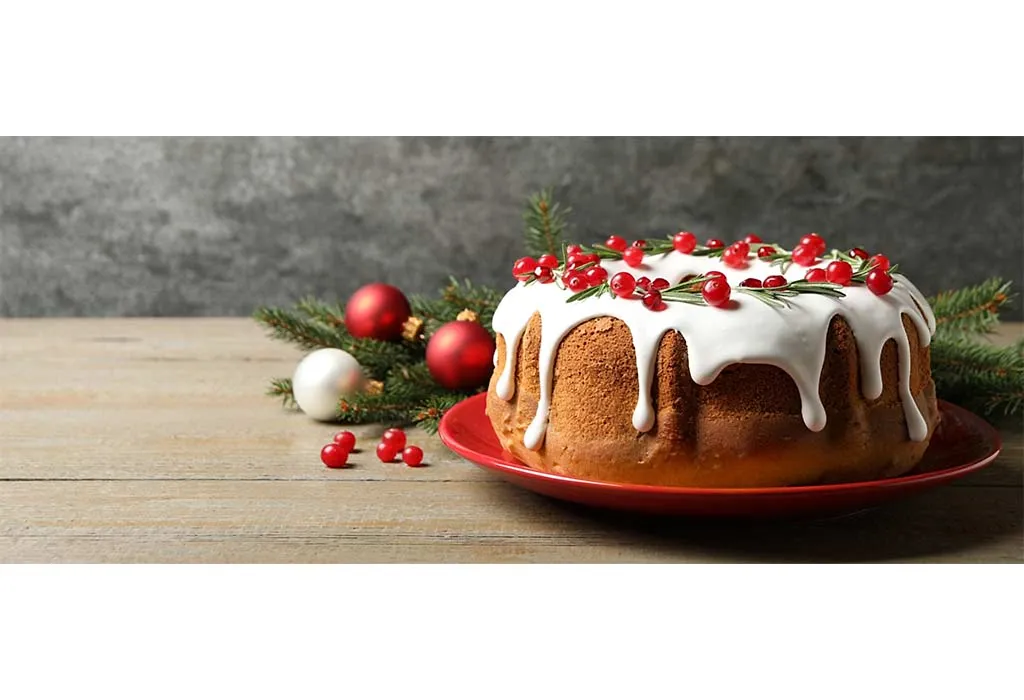 One of the best parts about Christmas is the Christmas cake, and we all love eating it. But does your child know what cakes are consumed during Christmas? It's plum cake! The cakes we get to eat during the Christmas holidays are known as plum cakes, but there are, in fact, no plums in the cake! Raisins were known as plums in medieval times, and the ingredients were stirred in an East to West direction similar to that of the journey of the three wise men.
9. The mistletoe is the symbol of love and laughter!
A mistletoe is supposed to be a symbol of love, laughter, and compassion. And the tradition of a kiss under the mistletoe is supposed to be a way of asking for the blessings of the spirits of Christmas through the mistletoe.
10. Christmas stockings are cute, warm, and spacious!
The tradition of nailing Christmas stockings near a fireplace came about in order to help Santa have a place to stuff candies and goodies for bright and cheerful children of the world. It also serves as an endless supply of socks for Santa.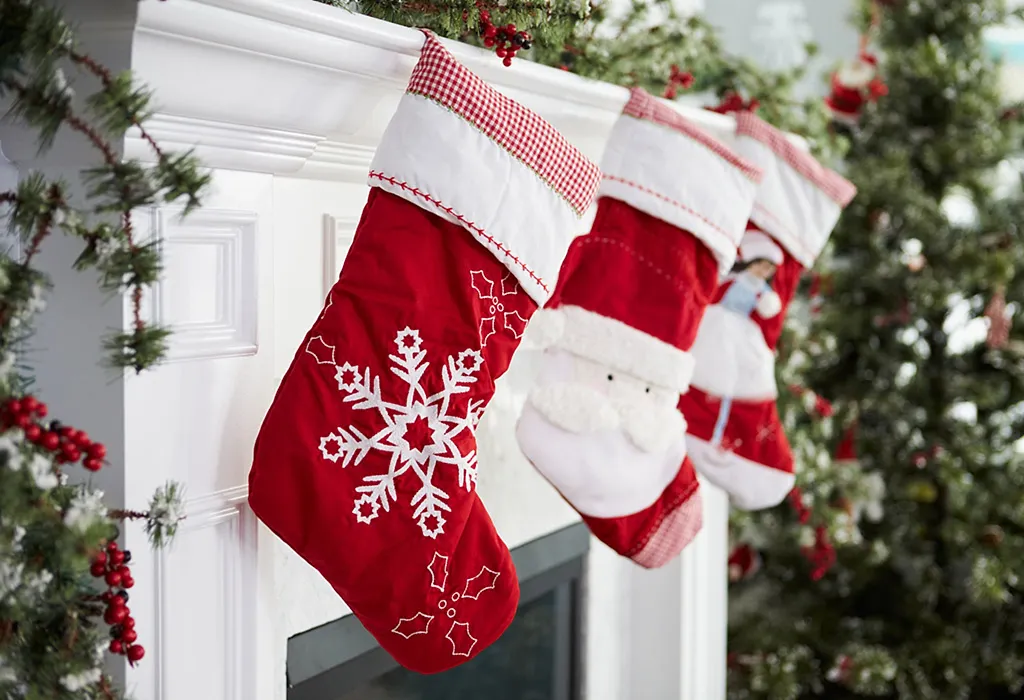 11. Wearing cute and stylish Christmas sweaters is now a competition!
No Christmas is complete if you and your kids don't wear adorable Christmas sweaters. But did you know that a large part of the world has contests like the 'best Christmas sweater competition'? When kids wear cute Christmas sweaters, they look adorable and they make beautiful memories to cherish forever.
12. Lumps of coal are gifts too!
Did you know that Santa does not simply ignore the children who have been bad throughout the year? He puts pieces of coal into the child's stocking instead of gifts! This tradition started in Italy. Yet another important reason for children to be good through the year and do as many good deeds as they can!
13. People give Christmas cards to convey their feelings to their loved ones
One of the most fun rituals of Christmas is the exchange of Christmas cards. You can ask your child to make your own cards with embellishments of his choice. By giving Christmas cards, they can convey their feelings to the person they like and wish them well.
14. Alabama was the first state in the US to have recognised Christmas as an official holiday!
Yes, you read that right! Alabama was the first state in the US to recognize Christmas as a holiday in the year 1836. We bet you didn't know this – but you know it now and so will your kids! Your kids will be curious to know about the last state too, so feed their curiosity. It's Oklahoma! Oklahoma recognized Christmas as a holiday in the year 1907.
15. There's a story behind the '12 days of Christmas'
Did you or your kids ever wonder why the holidays of Christmas are referred to as the '12 days of Christmas'? Legend has it that the three kings took twelve days to travel to the birthplace of baby Jesus, hence the holidays of Christmas are known as 12 days of Christmas.
16. The biggest Christmas gift was the gift of friendship to the US from the people of France!
Christmas is also the time of exchanging gifts. People either save up through the year to buy gifts for their friends and family or make the gifts themselves. But do you know which is the largest Christmas present ever given? It is the Statue of Liberty! The Statue of Liberty was gifted by France to the USA as a Christmas gift in the year 1886.
17. The traditional Christmas meal is not what you think it is!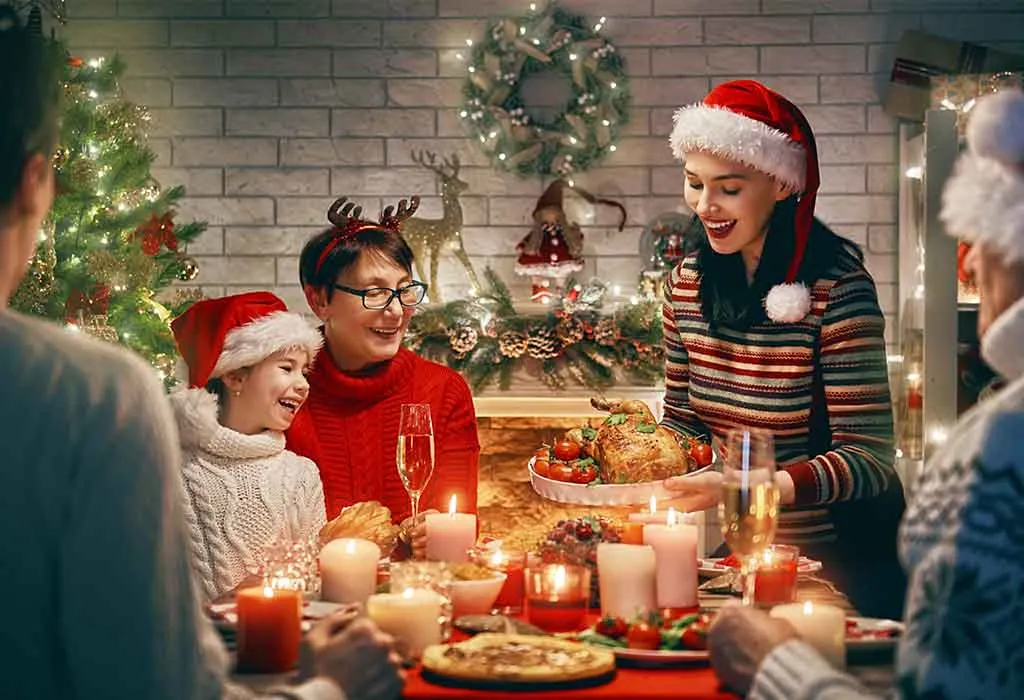 The traditional Christmas meal in England before turkey became the obvious choice of food for the holidays was a pig's head covered with mustard.
18. There's a certain respect for spider webs in Poland!
Did you know that spider webs or spiders are considered signs of good spirit during Christmas? Yes, in Poland, people believe that a spider wove a blanket for the baby Jesus. Since then, people believe in good luck and good spirit whenever they see a spider in their houses. How amazing that is!
19. An idea that took off!
Christmas crackers were first started by Tom Smith in London after he visited France and loved their almonds wrapped in beautiful paper – 'bon bon'. He tried to replicate this in England by adding sweets, pretty quotes. But, the plan didn't work out. Then, he came up with the idea of pulling apart crackers and having toys and savouries come out. This idea took off, and since then, it has been a popular Christmas celebration item used in every household and Christmas party.
20.
The tradition of putting up Christmas trees
Prince Albert, husband of Queen Victoria made the tradition of putting up Christmas trees popular. In 1848, Prince Albert brought a Fir tree into Windsor Castle and decorated it. He also sent some decorated trees to schools and army barracks around Windsor. During this time, the culture was very family-focused, and so, having decorated Christmas trees became a tradition which eventually spread all across the world!
21. Birth of the first Christmas card!
Sir Henry Cole was the first person to ever make a Christmas Card. Christmas cards are quite a recent addition to the many traditions of Christmas. Sir Henry Cole had the first-ever Christmas card designed to send to his acquaintances without having to write personalised letters for all. He, along with his artist friend J.C. Horsley, designed the first-ever Christmas card just to make it easier for him to wish his friends and family!
22. Jingle Bells, Jingle Bells, Jingle All The Way
"Jingle Bells" wasn't originally a Christmas song at all – it was written for Thanksgiving! The famous tune was originally called "One Horse Open Sleigh" and was meant to be sung during the fall holiday.
23. The Norwegian Tradition
In Norway, it's tradition to leave a bowl of porridge out for their Christmas gnomes, called "Nisse." Legend has it that if you forget to leave out a bowl, the Nisse will play pranks on you!
24. Pretty Snowflakes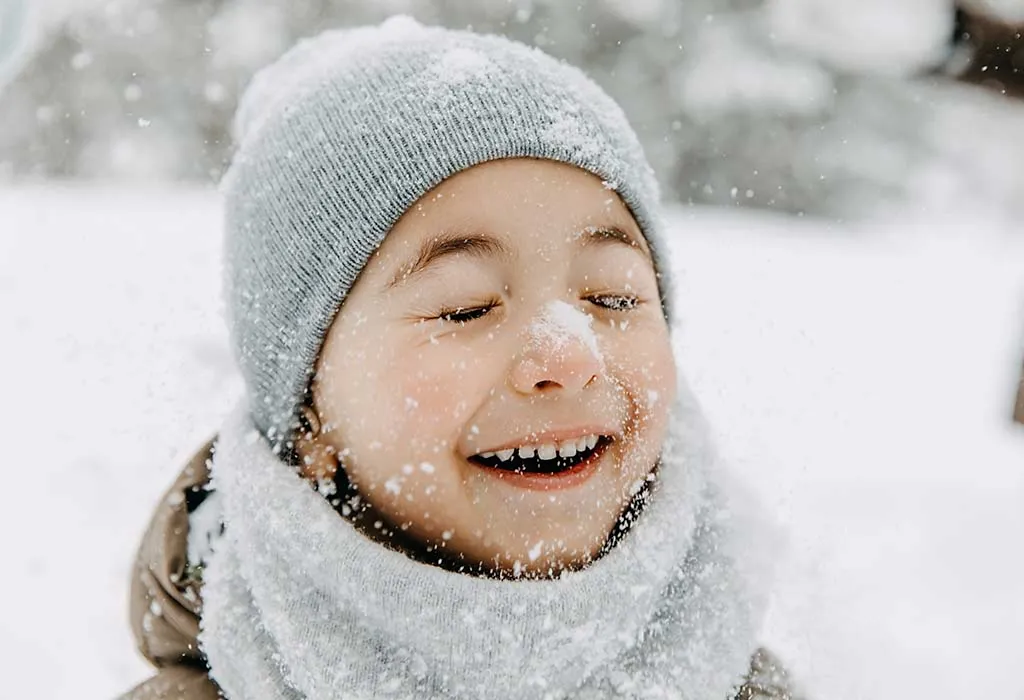 The world's largest snowflake on record was a massive 15 inches wide and 8 inches thick! It fell in Montana in 1887 and is recognised by the Guinness World Records as the largest snowflake ever recorded.
25. First Recorded Christmas Celebration
The first recorded celebration of Christmas on December 25th was in the year 336, during the reign of the Roman Emperor Constantine.
Facts About Christmas Tree
Are you ready to learn some fun facts about the centerpiece of Christmas decorations? Here are some interesting tidbits about the beloved Christmas tree!
1. The Tallest Christmas Tree
The tallest Christmas tree ever recorded stood at a whopping 221 feet tall and was displayed in Seattle, Washington in 1950. That's taller than a 20-story building!
2. The European Way
In some parts of Europe, it's traditional to light a candle on the Christmas tree to symbolize the star of Bethlehem. However, this practice is not recommended in the US due to the risk of fire.
3. Iceland Tradition
In Iceland, the Christmas tree is decorated with a variety of edible treats, including candy, gingerbread, and chocolate.
4. Simple like the Latvians
In Latvia, a traditional Christmas tree is decorated with straw, which symbolizes the simplicity and purity of the Nativity scene.
5. The Bejewelled Tree
The most expensive Christmas tree ever was decorated with over 11,000 diamonds, sapphires, and other precious gems and was worth $11 million!
6. How many is too many?
In the US, it's estimated that around 25-30 million Christmas trees are sold every year. Today, Christmas trees are grown in all 50 states, with Oregon being the largest producer.
7. The Eco-friendly Christmas
Christmas trees are biodegradable and can be turned into mulch or compost after the holiday season. While alternatively, the first artificial Christmas tree was made in Germany in the 19th century out of goose feathers that were dyed green.
8. Floating Tree
The world's largest floating Christmas tree is located in Rio de Janeiro, Brazil, and is over 280 feet tall.
9. European Traditions
In some parts of Europe, it's traditional to keep the Christmas tree up until January 6th, which is known as Epiphany or Twelfth Night.
10. A tree for a tree!
In some countries, it's traditional to plant a new tree for every Christmas tree that's cut down.
Santa Claus Facts For Children
Ho Ho Ho! Christmas is just around the corner and we all know who's coming to town! Here are some fun facts about the jolly old man himself, Santa Claus!
1. A feast for Santa Claus's Reindeer!
On the night of Christmas, many kids leave presents in stockings for Santa Claus. However, many families in European countries like the Netherlands and Germany follow old traditions. The children leave their shoes out the front door filled with hay and carrot for reindeer to eat. If children remain good and not naughty, then St. Nicholas leaves them savouries like candies and apples.
2. Santa gets a lot of work done with the help of elves!
One of the reasons Santa can make his marathon runs through the day and give gifts to the kids all over the world is due to the help of elves. The merry spirit of Christmas is because of these cheerful workers and their commitment to the kids of the world.
3. Santa Claus gets gifts too!
Santa comes bearing gifts for the children who have been good throughout the year. But do you know that Santa gets gifts too? Who gives presents to Santa? It's us! Yes, even you can give gifts to Santa! And no, the jolly old man does not want traditional gifts, but he is a bit partial to cookies and milk to keep him satisfied during his trip around the world. So this Christmas, ask your children to help you while you make cookies for them and for Santa. Santa will love eating cookies made with love!
4. Santa Claus was known as Sinterklaas in Dutch
For children, Christmas is all about receiving gifts from Santa Claus. But how did Santa Claus come into existence? The character of Santa Claus is based on St. Nicholas. As per a legend, St. Nicholas was a Christian bishop who provided for the poor and needy. He also loved children and enjoyed giving gifts to them secretly. As his story spread, he was called Sinterklaas in Dutch, which later became Santa Claus. We bet you didn't know this fact either!
5. Santa Claus did not always dress up in red clothes
Santa Claus initially wore clothes that were in green, purple, or blue. For many years, this was the common theme for the jolly old man at the North Pole. However, Coca Cola decided to dress him up in colours that matched their brand, and that stuck. So this is why he is always in red clothes now!
6. Santa Claus lives at the North Pole
Santa Claus has his very own house and workshop at the North Pole where he makes and delivers toys to children all over the world.
7. Santa Claus travels in a magical sleigh
Santa Claus doesn't use a regular sleigh, he uses a magical one that is pulled by flying reindeer named Dasher, Dancer, Prancer, Vixen, Comet, Cupid, Donner, Blitzen, and of course, Rudolph.
8. Santa Claus keeps a list of who's been naughty and nice
Santa Claus is always watching to see who is being good and who is being naughty. He keeps a list and checks it twice to make sure he knows who deserves a present.
9. Santa Claus has been around for a long time
Santa Claus has been around for centuries and his legend is based on the real-life Saint Nicholas, who was a generous bishop in the 4th century.
10. Santa Claus is known by many different names
In different parts of the world, Santa Claus is known by different names such as Saint Nicholas, Father Christmas, Kris Kringle, and Père Noël.
Christmas Food Facts
The holiday season is full of delicious food and treats. Here are some fun and interesting facts about Christmas food that you may not know!
1. Candy Canes were originally used as decorations
Candy canes were first used to decorate Christmas trees in Germany in the 1600s. They didn't become a popular treat until the 20th century.
2. Eggnog was first made in medieval England
Eggnog, a popular Christmas drink made with eggs, cream, and sugar, was first made in medieval England. It was originally called "posset" and was made with hot milk, spices, and wine.
3. Fruitcake has been around for centuries
Fruitcake, a traditional Christmas dessert made with candied fruit and nuts, has been around for centuries. The oldest known recipe for fruitcake dates back to ancient Rome.
4. Gingerbread houses have a sweet history
Gingerbread houses have been around since medieval times. They were first created by German bakers who used gingerbread to make elaborate designs and decorations.
5. Mistletoe has a surprising use in food
Mistletoe, a popular Christmas decoration, has a surprising use in food. In some cultures, it is believed to have medicinal properties and is used in herbal remedies.
Christmas Facts From Around The World
The holiday season is upon us, and it's time to deck the halls with boughs of holly and enjoy some eggnog. But did you know that Christmas is celebrated in different ways all around the world? From KFC dinners in Japan to beach parties in Brazil, there are some fascinating traditions and customs that make the holiday season unique in different cultures. In this article, we'll take a trip around the globe and explore some Christmas facts from around the world. So, grab a candy cane and get ready to learn something new!
1. The Christmas Pickle – A German-American Tradition
In the United States, there's a quirky Christmas tradition that has its roots in Germany. It's called the Christmas Pickle, and it involves hiding a pickle-shaped ornament somewhere on the Christmas tree. The first child to find the pickle on Christmas morning gets an extra present or good luck for the coming year.
2. Christmas in Brazil: A Beachy Affair
In Brazil, Christmas falls during the summer season, which means many people head to the beaches to celebrate. It's common to see people playing volleyball on the beach and eating traditional Brazilian dishes like roast pork, turkey, and fruit salad.
3. Christmas in Japan: It's All About KFC!
In Japan, Christmas is not a national holiday, but it's still celebrated in a unique way. Many Japanese people will order a special KFC meal for Christmas dinner. The tradition started in the 1970s when KFC marketed their fried chicken as a holiday meal, and it caught on like wildfire.
4. La Befana – The Italian Christmas Witch
In Italy, there's a legendary character called La Befana who delivers gifts to children on the night of January 5th. According to folklore, she flies on a broomstick and enters houses through the chimney. Instead of Santa Claus, Italian children look forward to receiving gifts from this benevolent witch.
5. Krampusnacht in Austria
While Santa Claus is known for bringing gifts to children, in Austria, there's a darker counterpart called Krampus. On December 5th, people dress up in scary Krampus costumes and roam the streets, frightening children into being good for Santa. The tradition is called Krampusnacht, or Krampus Night.FAQs
FAQs
1. How Many Gifts Should Children Get For Christmas?
Ah, the eternal question – how many gifts should children get for Christmas? While there's no hard and fast rule, the answer ultimately depends on your family's traditions and budget. Some families prefer to follow the "Four Gift Rule," which includes one gift each for "something they want, something they need, something to wear, and something to read." Other families may have a different approach, such as giving one big gift or several smaller gifts. Whatever your approach, remember that the true spirit of the holidays isn't about how many gifts you receive, but about spending time with loved ones and spreading joy and kindness to those around you.
2. When Did Santa Claus Born And Die?
Well, the jolly old man in the red suit has been around for centuries, but the concept of Santa Claus has evolved over time. The original inspiration for Santa Claus can be traced back to Saint Nicholas, a Greek bishop who lived in the 4th century. He was known for his kindness and generosity, especially towards children. Over time, the legend of Saint Nicholas evolved into the Santa Claus we know and love today. While he may not have a birthdate or a death certificate, the spirit of Santa Claus lives on in the hearts of children and adults alike, reminding us to be kind, generous, and spread cheer throughout the holiday season.