Elegant Safari-themed Baby Shower Ideas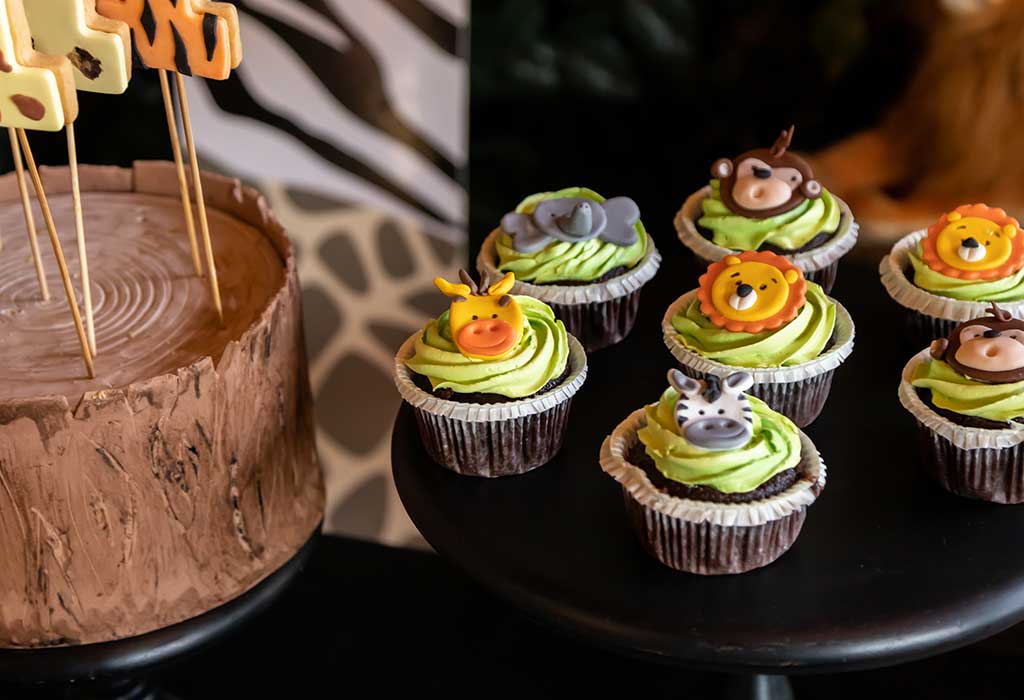 In this Article
It takes a lot of time and works to plan the perfect baby shower. Aside from finding the ideal location and guest list, you must also create the perfect theme and stick to it throughout the whole event. It is just as important as picking the right venue, inviting the right people, and deciding on a theme ensures that the entire event adheres to it. If you want a safari-themed baby shower that is worthy of being a pinnacle, you must pay attention to every detail. With that said, there are other variations to the safari baby shower decorations to choose from, whether you're looking for the most creative invitations, the most delectable cuisine, or décor.
A safari-themed baby shower along with jungle-themed baby shower games are great alternatives for a mother-to-be who appreciates nature or animals (or both). To get you started, here are some ideas.
Best Jungle-themed Baby Shower Ideas
The jungle is a beautiful spot to obtain ideas for a baby shower because of the animals, the beautiful environment, and the delicious food. In any event, giraffes, monkeys, and natural vegetation are all ideal for celebrating an impending baby's arrival, regardless of whether this is the motif of the pregnant mother's nursery. Sending out invitations is the first stage in party planning. You must choose an invite that appropriately reflects your topic since it sets the tone and tells your guests what to anticipate. Food, decorations, and party favors are just a few of the items you'll need for the event.
This post is a comprehensive reference to shower accessories inspired by the rainforest. You have ten alternatives in this situation:
1. Baby Shower Invitation With Greenery and Wild Animals for a Boy

Everything starts with the invitations, which serve as the beginning point for everything. Consequently, here is the most suitable place to begin discussing the subject. There are beautiful safari baby shower invitations of friendly animals around information about the location, the time, and the title. These include an elephant, a giraffe, an impossibly gorgeous juvenile zebra, and a cheetah, as well as an incredibly adorable monkey! Choosing a proper invitation, such as this one, might assist you in setting the tone for your jungle adventure trip. This theme is centered on a newborn boy's fascination with safari animals. The invitation may be personalized and printed on card paper or professionally printed, depending on your preferences. Jungle creatures and beautiful nature heavily influence the design. This is a fantastic option if you're planning a small safari-themed baby shower.
2. Greenery From the Wild Jungle Safari and Gold Paper Cups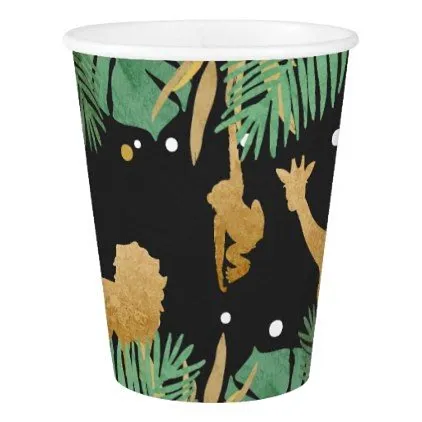 The jungle theme is a fun one to employ for a baby shower, and if you're organizing the event, you'll want to give your guests beverages in safari-themed paper cups to keep them entertained. Beautifully designed with delicate greenery and golden creatures like the giraffe and monkey, you may personalize this charming cup to suit your specific needs with soft foliage and golden animals, such as the giraffe and monkey. We propose making an uncommon punch, such as a combination of pineapple juice and sparkling water, to produce a suitable drink. Your guests will not feel bloated from the additional sugar in their beverages if they drink sparkling water and pineapple juice, a more healthful combination. Consider garnishing with a variety of fruits and gold straws in various hues, including greenery, gold, and ivory, and they elevate the overall appeal of the shower. Additionally, you can buy a choice of different accessories and decorations to go along with these adorable party cups.
3. Ten-inch Paradise Safari Hanging Paper Lanterns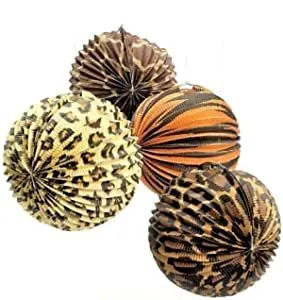 This collection of animal print paper lanterns, whether simply strung from a tree branch or artfully arranged on a tree branch hanging over an outdoor table, would provide a charming touch to a jungle-themed baby shower, no matter where they are put on the table. Every one of these ten Paradise Safari Hanging Paper Ledgers has 12 pieces. These lanterns are surprisingly simple to create and make a lovely ornamental touch to any celebration. You can get the instructions here. Even though they are made of paper, they are pretty resilient and will survive for many years before replacing them.
Moreover, they are far more nuanced than they first seemed, and they are pretty easy to install and remove. However, they do not come with strings, so you will need to purchase some on your own to complete the look. They, on the other hand, are pretty amusing to watch. We believe they'll look fantastic when combined with lots of natural greenery, maybe some pale pink flowers, and brilliant fairy lights.
4. Vintage Rectangle Small Table Cloth With Lace and Macrame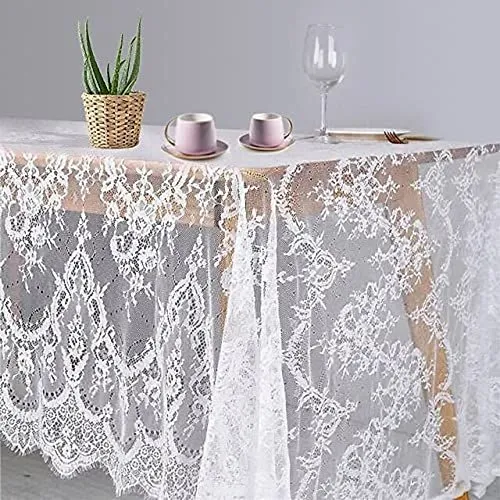 Flower centerpieces for jungle theme baby showers or sparkling fairy lights may be used with a small, rectangular tablecloth to create an even more fanciful appearance. A must for any jungle-themed baby shower, this tablecloth is available in various colors and designs. If utilized alone, antique-style tablecloths have the potential to elicit feelings of wonder and awe, especially when paired with wonderfully picked floral accents, lighting, and bright jungle animals.
5. Arch With Sage Balloons and Garland Kit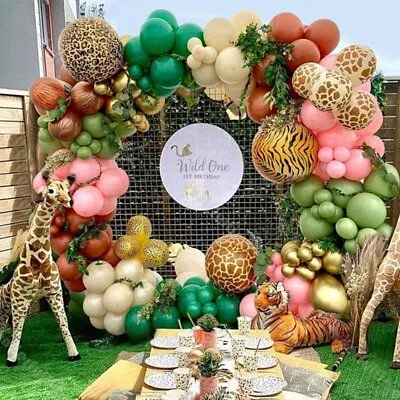 It is a lovely centerpiece for a baby shower or birthday celebration using the Sage Green Balloons Garland Kit. A balloon arch provides an excellent picture opportunity for everyone attending the event. Fill the basket with a range of exciting goods, like pacifiers, hilarious masks, and other stuff that the pregnant woman and her friends will find entertaining. These balloons are a beautiful shade of blue that will go well with the color scheme of your celebration. In this arch, we appreciate the color scheme because it is modernistic, with sage and olive green balloons, and it is accented with gold, which is a color that has been explored extensively throughout this essay. Adding a few sprigs of tropical greenery to finish the appearance is a great finishing touch. This balloon garland kit is simple and includes a decoration strip and assembly instructions. Using it to decorate a space is an excellent method of breaking the budget. The balloons arrive flat, so you'll want to put them together a day or two ahead of time, according to the directions provided in the enclosed booklet.
6. Artificial Tropical Palm Leaves in a Pack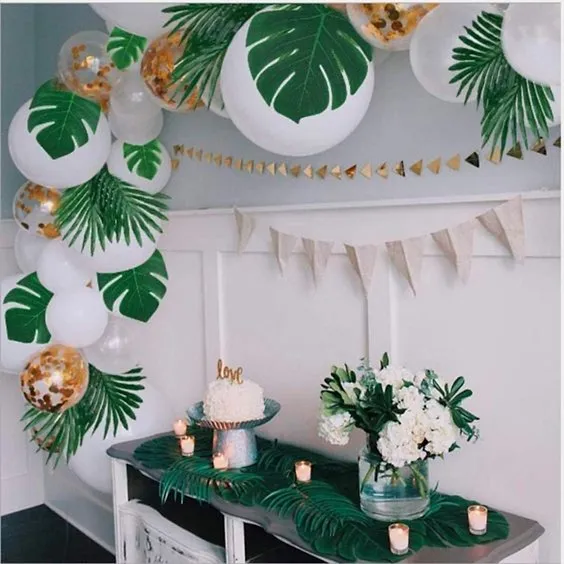 A few replica palm leaves that are reasonably realistic in appearance are a must-have for any event. In minutes, these tropical leaves can transform any party or house into a tropical haven. They are available in various sizes and may be used as single decorations or in groups to create a more detailed look. Alternatively, they may be put inside flower pots or hung from the walls. Large palm leaves are ideal for creating a jungle party atmosphere. So go ahead and mix and match, put in something unexpected, like as gardenias, and have a good time with it all. These fake leaves are composed of a long-lasting, glossy silk material that will lend a splash of color and texture to any space.
7. Lifelike Stuffed Animal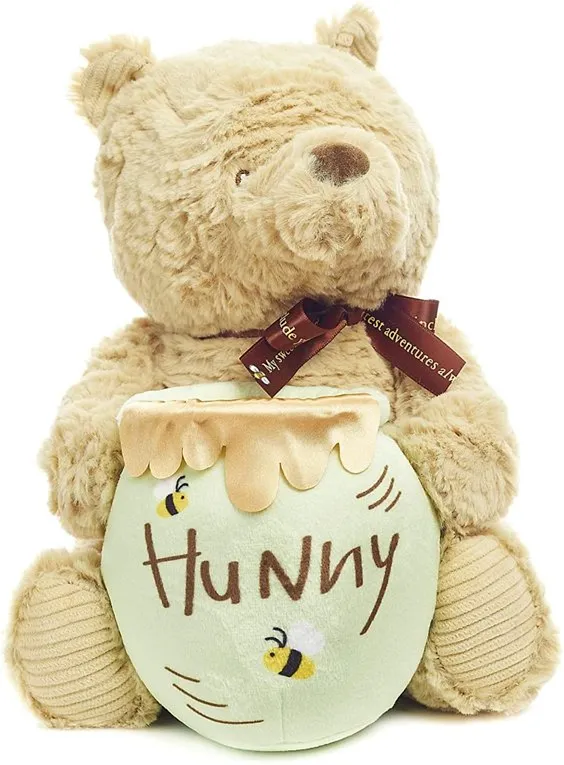 A Lifelike Stuffed Animal for a Baby Shower is a beautiful present for parents expecting their first child. Demonstration of Lifelike Stuffed Animals With a height of more than 4 feet, this enormous plush giraffe will undoubtedly be the main point (or at the very least one of the focal points) of the whole baby shower. If you want, you might wrap him in one of our gorgeous embroidered baby blankets and place a few ornaments around his neck. Perhaps you could try to include him in some baby-shower ring-throw game of some sort. Because it can be incorporated into the design while simultaneously functioning as a nursery feature, it is a win-win situation for everyone involved. You may customize these lovely plush animals with the child's name, birth date, weight, and height, as well as other information. In many cases, the enormous stuffed animals come with additional accouterments, such as a pacifier and a baby's clothes. A plush animal may be a wonderful present for a new baby or toddler.
8. Plates With a Chic Leaf Palm Leaf Design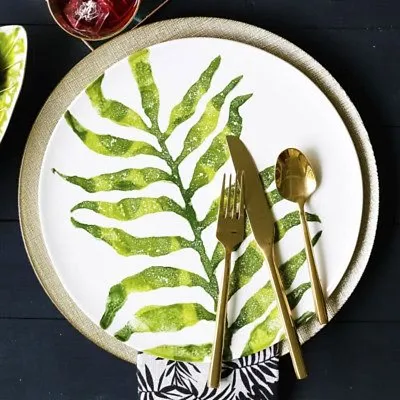 Whether you're hosting a tropical-themed baby shower or a simple BBQ, palm leaf plates will add a touch of elegance to the occasion. The blend of childlike, beautiful, and natural components has us swooning with delight. With all of the sparkling greenery and a sprinkle of dazzling gold on them, these eco-friendly, biodegradable bamboo plates could not be more lovely. You can make a difference for the environment while still looking very stunning while doing it. The bamboo table settings would look great when combined with a few pieces of flatware you already have and a candy bar for each visitor. The sturdy, shatter-resistant plates are ideal for food ideas for safari-themed baby shower parties and serving any meal, even hot dishes. Because palm leaf plates are fully biodegradable, there are no concerns about chemicals or pollutants released into the environment. Not to mention that you may microwave them for an extra-hot supper if you like.
9. Jungle Safari Animal Faces Cookie Cutter Set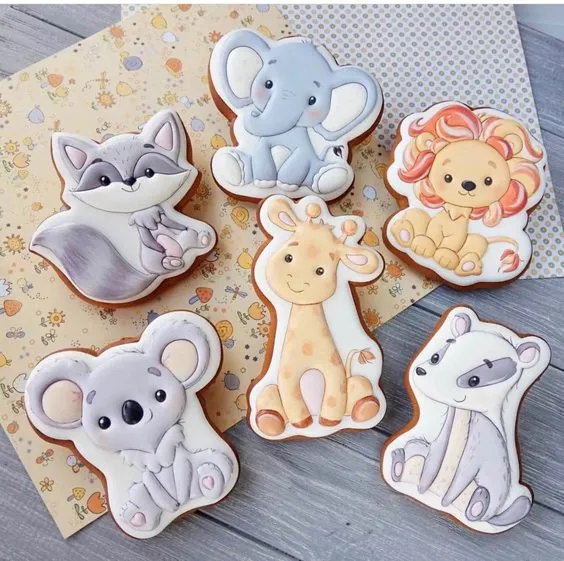 Safari baby shower cake and pimento cheese sandwiches in your homemade bread? With a pair of scissors, cut them into colorful shapes to enjoy! Are you planning on eating quesadillas for lunch or dinner? Using safari animals as decorations, make quesadillas. They come in four forms, including the new arrival, mama, and baby, allowing them to choose from a broad range of outfits and accessories. Try the safari baby shower Cookies Cutter Set for a baby shower present that is out of the ordinary. It is possible to utilize a cookie-cutter for several reasons other than just baking cookies. You may take several different ways with your jungle-themed meals. Because they're composed of tin-plated steel, they're entirely safe to eat. The animal shapes may then make a cookie buffet when the celebration is over. To put it differently, no matter which safari animal cookie cutters you choose, there will almost surely be something you can create with them.
10. Leaf-shaped String Lights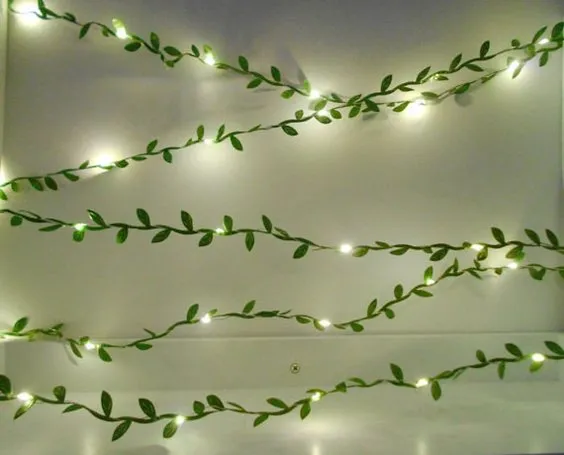 How beautiful would it be if you hung these rattan palm leaves with built-in fairy lights from the ceiling or just spread them over a table? The genuine impression of this bright garland lighting has us utterly enthralled and hooked. String lights in leaves are a lovely addition to a jungle-themed baby shower theme table. These fake leaves, which have a natural appearance, are long-lasting and pleasant to grasp. They are also reusable, and they may be programmed to turn on and off at specific intervals for a specified amount of hours. You may also use these lights to create the ambiance of a tropical island getaway. They are ideal for a summertime get-together. With these one-of-a-kind decorations, your visitors will be able to discover the mysteries of the jungle. Being battery-operated, they may be placed practically anyplace without worrying about cords getting tangled in the surrounding environment.
What unique and fun ideas for baby shower décor, gifts & desserts! Consider a baby shower as soon as possible. This stunning junior jungle theme goes beyond the conventional pink or blue hues for a boy or girl baby shower. Take a cue from our baby shower ideas, which feature adorable décor, sweets, and other touches, such as teddy bears.
Also Read:
Rainbow Theme Baby Shower Ideas
Nautical Themed Baby Shower Ideas
Woodland Theme Baby Shower Ideas