Dante Name Meaning and Origin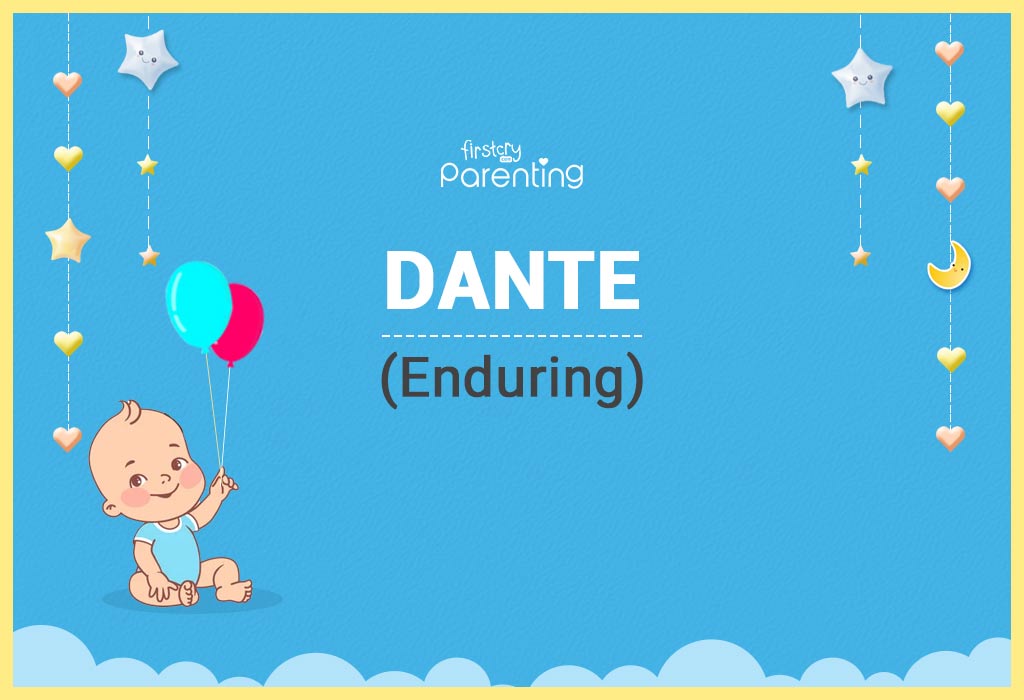 Names from the
medieval
period are some that are sure to stand the test of time – they have stayed relevant and pretty popular over the last 700-800 years; indeed, they will be popular for a few more decades, right? So, if you are looking for baby names inspired by the rich
literary
history of Italy, Dante is a name that has to be on your list! So, keep reading to know all about the name and other similar names that you can choose for your little boy.
What Does Dante Mean?
The name Dante itself is derived from the Italian name Durante, a name that holds the meaning of "lasting" and "enduring." In this regard, the meaning of Dante can also be stated to be "lasting" and "enduring." As per a different interpretation, the name can also hold the meaning of "everlasting." So, giving this name to your son is sure to give a sense of ethereal surrealness associated with eternity and timelessness. And this can also lead to the name itself becoming timeless in its appeal and charm.
Origin
The name Dante is of Latin origin and can also be considered of Spanish or Italian origins. It is a Latin variation of the Italian name Durant or Durante.
Gender
Male
Pronunciation
Dahn-tay
Dan-tay
Dawn-tay
Syllables
2 Syllables
Length/Letter
5 Letters
Name Variations/Spellings
Name variations are significant at giving you a glimpse into how a name is changed as per the cultural aspects of a particular region. And these variations also give you a more significant list of names that you can use to choose the perfect and most unique name for your little boy. So, in the case of Dante, here are some Dante name variations and other spellings for Dante that you can use to expand your search for that perfect name for your boy:
| | |
| --- | --- |
| Name | Origin |
| Donte | Italian/Latin |
| Dantae | Spanish |
| Dontay | Spanish |
| Dantay | Spanish |
| Dontae | Spanish |
| Dantel | Spanish |
| Daunte | Spanish |
| Dayntay | Spanish |
| Durante | Italian |
| Duran | French |
How Popular Is the Name Dante?
The Dante popularity index within the US can be stated to be not particularly favorable but not hugely unfavorable either. Specifically, as per the data released by the Social Security Administration, the name has ranked between the range of ranks 250 and 350 since the year 2002. In this regard, the Dante baby name ranking can be observed to be falling every year on average, with the number of babies given the name reducing every year. As per the latest records, the name stood at the rank 301 as per the birth registration details of boys born in the year 2020. However, this is much better in comparison to the similar name Dane, which stands at #835 against Dante's #301.
Interest in Dante – Worldwide
Dante has been a hugely popular search term worldwide as per the search trends over the last decade. The popularity score of the term throughout the decade has stayed firmly over 50, with the lowest score having been achieved at 57 in August 2017. Apart from this, April 2021 recorded the highest score of 100 for the search term Dante.
Interest in Dante – the US
As per the exciting trend in the name over the last ten years, Dante has been a consistently unpopular search term in the US. While the popularity score always stayed over 25, with the lowest score being recorded at 25 in August 2017, it also stayed consistently under the score of 50. The only exceptions were the score of 52 in March 2019 and the sudden increase in popularity, with a score of 100 recorded in April 2021.
Popularity of the Name Dante
URL: https://www.ssa.gov/cgi-bin/babyname.cgi
Where Is the Name Most Searched?
Search Trends of Dante – Worldwide
In the case of worldwide search interest in Dante, the name seems to have been the most popular in the country of Italy. This can be attributed to Dante Alighieri, who is considered a prominent contributor to the rich literary history of Italy. Following it, the list of the top 5 worldwide regions is completed by El Salvador, Argentina, Guatemala, and Uruguay in this order.
Search Trends of Dante – the US
Out of the 51 sub-regions of the US, New Jersey can be observed to have generated the highest search volume. It is followed by New York, Massachusetts, Utah, and Connecticut, which round up the top five sub-regions in search interest over the last ten years.
Middle Names That Go With Dante
Choosing double names with your child's first name is another task that needs immense attention. This is mainly because you need to ensure that their full name flows well and that the child has two equally attractive and charming names to choose from. So, if you are looking for suitable middle names that go with Dante, the following is a list you can consult:
| | |
| --- | --- |
| Zane | Edward |
| Tristan | Peter |
| Elliott | Steven |
| John | James |
| Levi | Alexander |
| Theo | Andrew |
| Wallace | Adrian |
| Hadley | Brian |
| Harry | Ronald |
| Gerard | Geoffrey |
Famous People Named Dante
Popular personalities in any field play a huge role in increasing or diminishing the popularity of a particular name. The same can be stated to be prevalent in the case of the name Dante as well, which has undoubtedly benefitted over the years due to celebrities with the name or celebrities choosing the name for their children. So, the following are some celebrities or children of celebrities bearing the name Dante:
| | |
| --- | --- |
| Celebrity Name | |
| Dante Alighieri | Italian Poet |
| Dante Gabriel Rossetti | |
| Dante Santiago Rosario | |
| Dante Exum | Australian Basketball Player |
| Alphonse Dante Bichette Sr. | Former Professional Baseball Player |
| Alphonse Dante Bichette Jr. | Professional Baseball Player |
| Dante R. Basco | American Actor |
| Dante Melucci | Broadway Actor |
| Dante Bonfim Costa Santos | Brazilian Football Player |
| Dante Guimarães Santos do Amaral | Former Professional Volleyball Player |
Similar Names & Last Names
While Dante has an old-world charm, you may be looking for something more modern. So, if you love the feel and meaning of the name Dante but don't like the old-school charm it exudes, then the many baby names like it can be the best option for you. So, make sure you have suitable family names for Dante's similar names listed below and choose from these other names for your child:
Names That Sound Like Dante
Apart from names that exude the same rich feel and deep charm, you may also go for names that rhyme with Dante for your child. These names surely replicate the phonetic beauty while boasting a beautiful meaning in their rights. So, if you are looking for such names, then the list below can be of immense help to you:
| | |
| --- | --- |
| Monte | Deonte |
| Denton | Deondre |
| Adonis | Donald |
| Damian | Dominic |
| Dorian | Lucian |
| Dmitri | Damon |
| Rafael | Orion |
| Darius | Vincent |
| Cedric | Cassius |
| Antonio | Lysander |
Sibling Names Related to Dante
Selecting sibling names that go with each other is another crucial task of parents with multiple children. This is mainly because you need to choose suitable brother and sister names for your other children that go well with Dante and are equally meaningful and grave in their sense and feel. So, here are some sister and brother names for Dante:
| | |
| --- | --- |
| Sister Names for Dante | |
| Alexis | Timothy |
| Alicia | Felix |
| Sophia | Liam |
| Maria | Atticus |
| Isabella | Ethan |
| Bella | Oliver |
| Adriana | Aiden |
| Bianca | Dominic |
| Kate | Nico |
| Sylvia | Noah |
Nicknames for Dante
Fun nicknames are one of the best ways of showing your love and affection for your child while also incorporating some humor in your relationship with your children. And when it comes to Dante, there is a huge vault of funny, adorable, and lovable nicknames you can choose from. Some of these are mentioned below:
| | |
| --- | --- |
| Dan | Tay |
| Danny | Dainty |
| Donny | TayTay |
| Dandy | DanDan |
| Danny Boy | Teddy |
In this manner, the name Dante is a classic name that is the perfect combination of a beautiful meaning, has a grave feel, and boasts of a timeless appeal. So, parents who choose the name for their son are sure to feel good about it, while the timeless name is sure to stay relevant and charming even 20 years down the line. So, choose the name for your son, nephew, godson, or any new male member of your family and feel satisfied knowing you have made a great choice.
Sources/References
Social Security Administration: https://www.ssa.gov/cgi-bin/babyname.cgi
Dante Name Popularity in the United States: https://trends.google.com/trends/explore?date=2012-02-27%202022-02-27&geo=US&q=Dante
Dante Name Popularity Across The World: https://trends.google.com/trends/explore?date=2012-02-27%202022-02-27&q=Dante
Dante Name Interest in the United States: https://trends.google.com/trends/explore?date=2012-02-27%202022-02-27&geo=US&q=Dante
Dante Name Interest Across The World: https://trends.google.com/trends/explore?date=2012-02-27%202022-02-27&q=Dante