10 Encouraging and Heart-touching Sample Letters to Son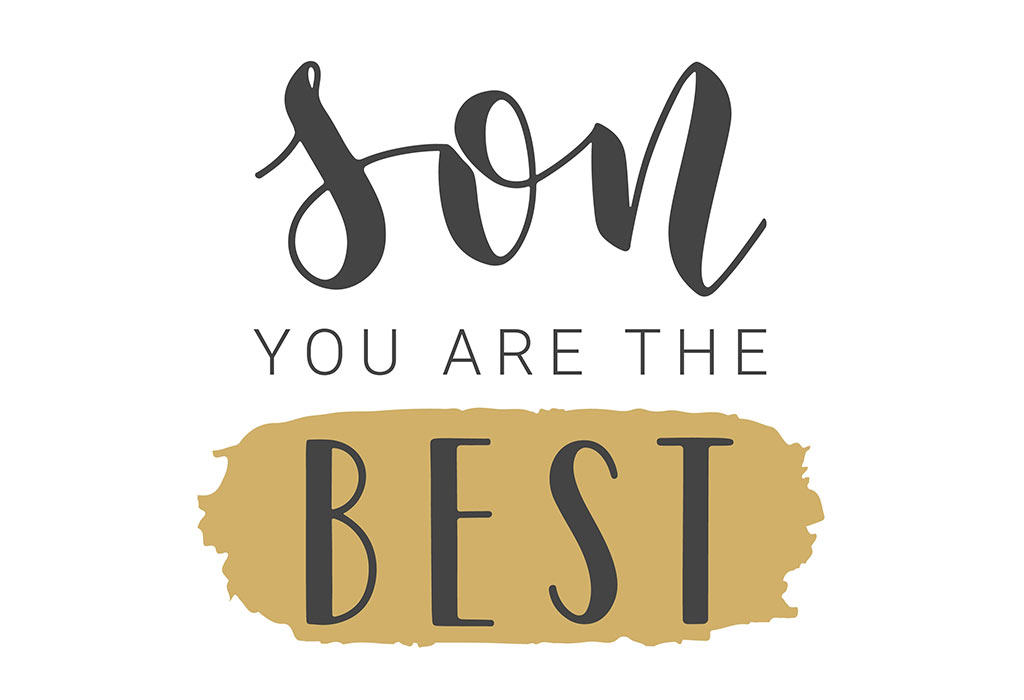 You often want to tell your son how much you love him or are proud of him or sometimes give him some advice. However, you fail to provide words to your feelings. And sometimes you do tell him, but he hears the words and forgets them in some time. One other way to express your feelings for your son is to write them in a letter to him.
Why Writing a Letter to Your Child?
Your son will always remain a child for you irrespective of his age. And, he too behaves like a child with you, however old he becomes. Most children hardly hear what their parents are telling them. The parent's advice, encouragements, reprimands, and even love words fly from one ear to another and then out of the kid's ears. Kids, especially sons, are always half-listening to their parents. They are always in a hurry to meet their friends and play games or something else. Therefore, a better way to convey your feelings to your son is to do through a letter. Your son will read it with full concentration. And written words always have more impact than spoken words. Also, he can reread it whenever he wants some encouragement, misses you, or just want to reminiscence the old days. Your letter will always be a source of strength and inspiration to him wherever he is and however old he gets.
Things to Remember Before Writing a Letter
Writing a letter to your son is by no means an easy task. To make it more impactful few things you should know before writing a letter to your son are:
1. Simplicity Is the Key
The simple language used to express our feelings for your son will be more impactful than flowery language. Try to write it like you usually talk or converse with your son. This will give him the impression that you are talking to him.
2. Format
As it is a personal letter, there is no need to follow the formatting rules. A simple letter with a salutation of "Dear Son" or his nickname and ending with an equally simple "Love, Mom/Dad" are enough and endearing.
3. Handwritten
A letter written by your hand will have a powerful impact on your son. He will treasure it as a keepsake. However, if handwritten is not an option, them mail or text your letter.
4. Use Examples
Give examples of times when your son made you happy or proud. You can reminisce about those times and tell him how special those moments were.
5. Use a Metaphor or Simile
Spice up your letter with a few metaphors or similes.
6. Length Doesn't Matter
The length of your letter to your son doesn't matter. Whether it's long or short, only your feelings count. So write as long or short you want.
7. Add Positive Words
Remember to use positive words such as joy, love, happiness, enjoy, faith, trust, etc.
8. Be honest
Be honest with your feelings to let your son know how valuable he is to you.
9. Write As Per His Age
Your letter should be written considering his age to understand it.
10 Sample Letters to Your Son
Here are some sample letters you can take inspiration from to write your letter. The letters are for different occasions, so you can choose whatever suits your need the best.
1. Letter to Son From Mother
Here is a sample letter to son from his mother:
Dear Son/name/nickname,
I got the best gift of my life on that rainy day in June. Your mere presence in my life makes it beautiful. I am eternally grateful to God for a sweet present.
You are a great son and are growing up like a good man. You always follow the things we taught you, which makes us immensely proud. Cherishing our family values, loving your family, and working hard to study to excel in all that we wanted from you, and you are fulfilling them. You will face challenges in your life, but I am sure you will conquer them with the strength of your values and our love. I am always there to guide, help and support you.
Be a great human and continue to be a great son.
Love,
Mom
2. Letter to Son From Father
Here is a sample letter to son from father:
Dear Son/Nickname,
I have always wanted to write you a letter to tell you what you mean to me.
Son, though I may not show you how much I love you, you know I love you the most. From the day you were born, my life took a positive turn. From a carefree young man, you made me a responsible father. And due to your many achievements, I am a proud father.
You have grown up as a strong man, capable of achieving his dreams. Your mom and I will always support you and cheer for you.
Your Dad.
3. Letter to Your Kindergarten Son
Looking for a sample letter to my son in kindergarten graduation? Here is a sample for writing to your adorable son graduating from kindergarten.
Dear son/nickname,
Today you crossed your first educational milestone. I still remember your first day of kindergarten. You were crying and not ready to enter the school. But here we are today, celebrating your graduation from kindergarten. How time flies!!!
From a scared toddler, you have come a long way. I was almost crying seeing you standing there in your graduation robe. Words are not enough to express my pride and joy. I hope for many such occasions.
I love you, son.
Dad
4. Letter to Disrespectful Son
At times, your son may disrespect you, but you have to guide him and show him the right way as a parent. A sample letter for such occasions.
Dear (Nickname),
I know you don't like us to tell you or advise you about your life. Today you shouted at your mom and me for telling you to stop wasting your time with your friends and concentrate on your studies. It broke our hearts.
We understand at your age, friends are essential, and you want to enjoy your life. But as your parents and with a lot more experience than you, we also know this is the time to focus on your studies to have a promising career. We won't stop you from having fun times but not at the cost of your education. Your studies have to come first.
Hope you realize your mistake and be the good son you usually are.
Love,
Dad.
5. Letter to Son From Single Mom
Here is a sample letter to son from a single mother:
Dear (name/nickname),
You may be surprised by this letter, but I wanted to tell you my feeling and nothing I thought was better than a letter.
For years we both have been the support system of each other. Your strength and love made me strong to raise you alone. I have never thanked you for loving me unconditionally and always being there with me.
Thank you!!!
Love,
Mom
6. Emotional Letter to Son
Here is a sample of emotional letter to son:
Dear Son/Name/Nickname,
I know you always thought of me as a strict mother. You have always complained about not letting you free or enjoying yourself. But son, you have to understand our side too. Your father and I came from a low-income family. We had to struggle a lot to complete our education and achieve success.
Now that you're a father, I thought of telling you all this. As soon you will also need to do things for your kid that she may not like. But as a parent, you do what's best for her.
Son, don't be as strict as we were with you. Teach your daughter discipline but also teach her to enjoy her life. Tell her to pursue her dreams and support her in achieving them. Have fun with her, laugh at her silly jokes and be a better parent than us.
Love you,
Mom.
7. Letter to Son on His Birthday
There is no better gift than a letter to your son on his birthday.
Dear Nickname/son,
Happy birthday!!!
May this day and year bring you lots and lots of happiness, joy, and success.
Son, I regret not being there with you to celebrate your birthday. But you know I couldn't postpone my work commitment. I hope to see you soon, and then we will celebrate again.
I am still the day you were born. Pink, soft and cute. You looked adorable in your mother's lap. At first, I was too afraid to hold you. But then, once I took you in my arms, it was the best feeling in the world.
You made me a proud father with your love.
Hope to see you soon. Enjoy your day!!!
Love,
Dad.
8. Inspirational Letter to Son
Looking for a letter of encouragement to my son? Here is an inspirational letter to son sample for you:
Dear Son,
Congratulations on getting your dream job!!!
You will be starting your career now. And now, finally, you are ready to take responsibility. So I am writing this letter to tell you a few things, to become a strong man.
Remember, in life; you always have to work hard to achieve success. No one is lucky. You had to study hard to get good grades and the job you wanted. One day, you will meet the love of your life, and you will get married. Even to have great relationships, you have to work for them. You will need to balance your life and work properly, so no one is neglected. I am sure you will do that and become a good husband and father.
Remember, we love you and will always be proud of you.
Your dad.
9. Proud Parent Letter to Son
Looking for a sample proud of my son's letter? Here is a sample letter that you can use to tell your son how proud you are of him.
Dear (Nickname),
Today we are the proudest parents. Your achieving the scholarship of such a prestigious university is not a small feat.
We still remember you as a baby we held in our arms or the small toddler that fell after every few steps. But you, my son, have come a long way. You dream of being a scientist, and now getting his scholarship is the first step in fulfilling your dream. Words fall short of expressing our pride and love for you.
Congratulations on your achievement, and waiting for the day when you graduate.
Love,
Mum
10. Letter to Estranged Son
Sometimes parents and sons are separated. To form the bond again, you are looking for a sample letter to my son to express your love.
Dear Son,
I know it's been a long since we last talked or met, but there has not been a day when I didn't miss you or remember you. What happened with us was unfortunate, and the misunderstanding and the ego cost us our relationship. However, it has been years, and we should all move on from that incident.
Your mother and I miss you a lot. Please come back and make our family whole again.
Take care of yourself,
Love,
Dad
These sample letters will inspire you to write a heartfelt letter to your son. Just tweak them as per your feelings and needs.
Also Read:
Life Lessons to Teach your Sons
Quotes that Reflect a Mother and Son's Bond
How to Build a Strong Father-Son Relationship