Top 129 Funny Baby Names for Girls & Boys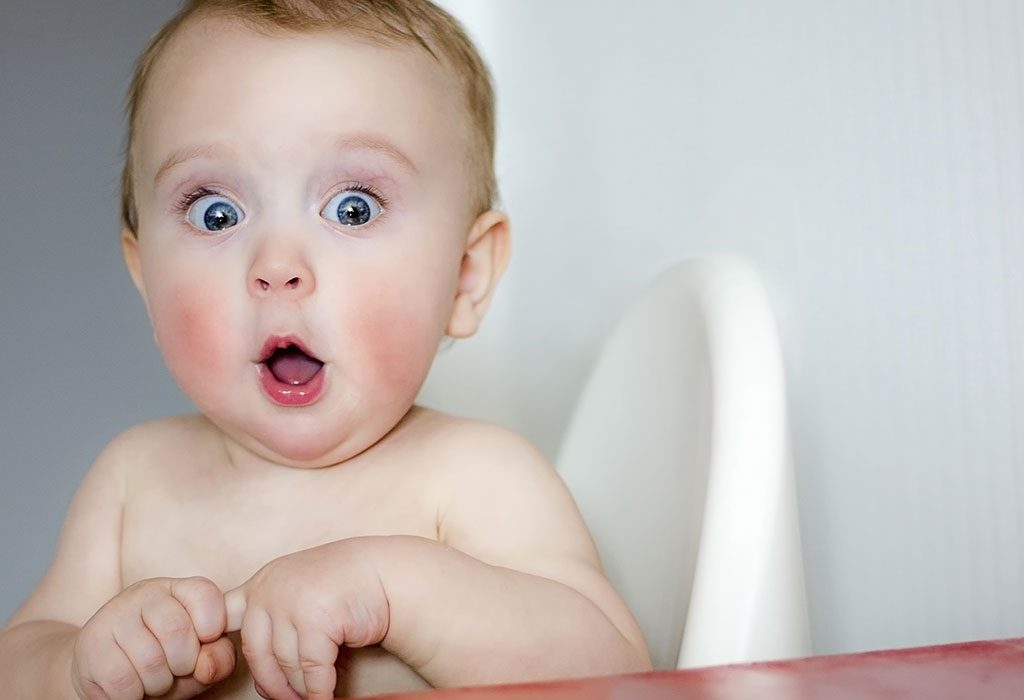 In this Article
One of the best and most fun activities when you're expecting a baby is to come up with a name for them. While most of us choose conventional-sounding names for our little ones, a few of us like to stand out with unique or funny first names for our little ones. We are not kidding; people do give funny names to their children as it gives them a chance to stand out from the common baby names. What makes these names funny is that they are quite unanticipated to be used as actual names for children.
Funny-sounding names will take everyone by surprise and also ensure your baby is always remembered wherever they go in life. There are so many options for you to choose from, and with our list of funny short names, you won't have a shortage of the funniest baby names.
Funny Names for Boy & Girl Babies
Parents who don't want their kids sharing their names with other kids is another reason we've compiled this list. These selections are unique, fun and sometimes just plain crazy, but that's how you roll.
Here's the full list for you to choose from, with their meanings:
Sansa is one of the names that soared to popularity after the popular show, Game of Thrones. You could choose it as a rare name for your little girl.
Another awesome and funny baby boy name for you to choose, Mowgli is a great option, after the protagonist of Jungle Book.
A game that everybody loves, and you too can name your child after it. Cricket is a great name that will resonate with anyone who interacts with your child.
A popular music instrument, Banjo is another rare and popular name you can give your little one.
5. Diezel Ky
Diezel Ky is the name of Toni Braxton's child and it probably struck her when she was in the jeans section. Her other son's name is Denim.
6. Kal-El
The son of the famous actor, Nicholas Cage, Kal-El was the original name of Superman before he arrived on Earth. In Kryptonian, it means the 'voice of God.'
A literal word for a small bag, Satchel is the name of popular director Woody Allen and actress Mia Farrow's son. They were inspired by Satchel Page.
The name of singer Alicia Keys and producer Swizz Beatz's son, Egypt is a rare-sounding name you can give your little one. It is a name he won't have much trouble explaining either.
9. Buddy Bear
If your kid reminds you of a cute little bear, then Buddy Bear is pretty much the best name you can give them.
10. Tiamii
An amalgamation of Amy and Thea, Tiamii is a popular name that you could opt for your daughter. It is a funny girly name people won't forget.
11. Bluebell Madonna
You can name your daughter Bluebell and she will love you for it.
12. Fifibelle
A funny name that sounds exotic, Fifibelle is definitely an option you could consider for your little girl. It mixes Fifi, a funny-sounding name with Belle – a word for beautiful.
One of the best names you could give your kid. Why? Because they're the 'apple of your eyes,' aren't they? It's a nice, easy name to remember and definitely one that stands out.
Destry is an old English name that means 'war horse.' It is a rare name for your little one that will stand out from the rest.
15. Tu Morrow
This is an actual name of a celebrity's child. It just breaks the word 'tomorrow' to make it easier for you to remember and pick up your kids.
Why not name your kid after a direction? North is always the way up and you can remind your child to always move upwards.
The best day of the week. If you'd like your child to enjoy life like every day is a Sunday, then just name them that.
How about respect anytime someone calls your child? Jermajesty is a rare and powerful name that will give your kid respect anytime he steps out of home.
One of the most popular cities in the world, Tokyo is the capital of Japan and is definitely a rare name for your little one. In Japanese it means, 'Eastern Capital.'
20. Levaeh
Levaeh is a slight variation of the name Nevaeh which is basically the word 'Heaven' spelt backwards.
Adeline is a fun and sweet name for a baby girl and it comes with French origins. But it's strange and funny when a boy is named Adeline!
The German car manufacturer has plenty of fans and you can give them the gift of this wonderful name. It's a funny name with A for your kid.
The name sure sounds spooky when spelled backward. Perhaps that's the intention?
A cute little name for a cute little baby, Sparrow is a cool option if you're a nature and bird lover. You can pass on the love to your little one as well.
25. Correspondent
This is the actual name of one of the journalists working for the BBC, so you know it is something you could consider for your little one.
A lovely number that's considered lucky for many, Seven is a popular name that even David Beckham used for his little daughter's name. She was his lucky number after three boys in a row.
Brand obsession has taken many different levels, and Puma is one name that sticks out from the rest. A renowned American Musician, Erykah Badu named her child Puma, after the lifestyle brand.
Camera is the real name of tennis legend Arthur Ashe's child, who decided on the name for his little one. Considering his time being clicked on the court, it isn't a really surprising name.
If you feel your kid being naughtier than usual, he/she could be up to mischief at all times. It's a great name to mirror their personality and Bandit is definitely one that no one will forget in a long time.
Social media has well and truly taken over every aspect of life and Hashtag is one of the names given to a baby, thanks to their love for social media.
Yes, that's a name an Egyptian couple gave their little daughter. So much love for social media they wanted their legacy to be carried on by the name as well, which played a role in the Egyptian Revolution
32. Mustard
Sandwiches are a staple for anyone who loves their food and Mustard is definitely one of the best fillings you can place to make them taste better. It's also a name you can opt for your little boy.
If you love your fruits and want your kid to be named something sweet, then Cherry is one of the best options for you to choose from. There are 12 people around the world who have the name Cherry Grant.
34. Summer Rain
A lovely name to consider – it brings solace knowing that rains can take away the heat during summer and provide the much needed coolness you desire.
35. River Rose
If you're a lover of nature, then River Rose is a great name to consider because it combines two of the greatest inventions of Mother Nature together in one beautiful name.
36. Nutella
Nutella is an actual name some parents have chosen for their little one, as a tribute for their love of the chocolate spread that the world loves.
37. Daisy Boo
Yup, that's an actual name. It is the moniker of celebrity chef Jamie Oliver's little daughter and was apparently chosen because they were die-hard fans of Disney characters.
Born to be free and wild, this is an actual name celebrity couple Barbara Hershey and David Carradine chose for their little one. Free is a great option because it showcases what you'd like your little child to be growing up!
A lovely country with a lovelier name, India is a great name for a little girl. Chris Hemsworth named his daughter India Rose as a tribute to the country and his love for it.
40. Megaa Omari
This is the coolest and funniest name and there is definitely no comparison with any of the other names on this list when it comes to funny sounding name options for your little one.
A popular and famous name that sounds like a legend. It will definitely stand out among the rest and bring out a feeling of style and substance at the same time.
42. Royal Reign
This is a popular name that the son of Lil Kim and Papers named their little one. It showcases the royalty of their little one and how proudly they can claim the name as their own.
This is a great name for your little one and is definitely one that has a lot of meaning too. Bodhi in Sanskrit means 'awakened' and it is a cool name for you to consider.
44. Buzz Michelangelo
Buzz Michelangelo is the name of two popular characters – Buzz from Toy Story and legendary artist Michelangelo together. You can combine characters for your kids' names and get a unique result every time.
45. Saint Lazslo
This is a funny name that sounds absolutely different and unique. It brings with it a sense of mystique and fondness and is an option you can give your little one at any point of time.
46. Thinn
This is a terribly funny name that your kid or anyone else who interacts with won't forget for a long time. Thinn is definitely an option to consider.
If you're a fan of the popular exercise form, then Yoga is definitely a name for you to consider giving your little one. It's a name that's easy to remember for life.
Drawing inspiration from the famous country, New Zealand, this is definitely a name for you to consider giving your little one at any point of time.
49. Burger
Love your fast-food? Then name your child Burger and watch them take over the world in style, with a name that won't ever go out of style.
50. Kix
Just for kicks? This is another funny and bizarre name you could consider giving your little one as they flaunt their stylish name for the rest of the world.
51. Pawk
This is a name that is generally given to a small lobster but it's also a funny-sounding name that your little one will love.
Another day of the week everybody loves, so why not share it with your little one. Friday is a popular name that gets everyone excited, any time of the year.
53. Fish and Chips
That's right, that's an actual name of a pair of twins from New Zealand. The government banned the name of course, but could you imagine the kids walking around with it for a while?
A woman in Norway decided to name her child Bridge and ended up going to jail for a couple of days just for the sheer stupidity of the option she chose.
Bud is a common name but when it's combined with Light, it becomes a popular beer brand in the United States that you won't really forget in a long time.
That's a name for a little one they won't really have a problem with. It's short, sweet and absolutely adorable. You can consider it as a nickname as well.
57. Jellybean
That's an actual name of a person and it's a sweet way to ensure everybody remembers his or her name, no matter the time of the day or year.
58. Fish
Fish is a popular food but as a name, it can stand out for sure. It's a name that is unique and universally loved, so you must consider it for sure.
59. Spiky
Spiky is a great option for anyone who wants to name their kid something unique, funny and different. Spiky is a popular option as a funny name and definitely something you must consider.
60. Blazer
If your child shows tendencies of power and speed, then Blazer is a great option to choose.
61. Style
That's a stylish name, isn't it?
A sweet name but also the name of a legend, you can't really go wrong with Ringo.
63. Bartho
A shortened version of the name Bartholomew, it's a great option to consider for your little one at any point in time.
Yes, Cat is an actual name and it's time you called your kid that.
A lovable name that is known all across the United States, Bubba is a great option for your kid.
66. D'Von
Completely new and a definite name that will stand out from the rest.
So, so cute and very innovative indeed.
68. Godly
A divine force that hit you when you decided to name your kid this.
69. Immaculate
Perfect and immaculate in every way.
70. Miffy
That's sounds a bit iffy, but definitely memorable.
71. Jano
A name that means love, it's something you might want your child to be associated with.
72. Pishken
A name that actually means, 'miser.' It's decent sounding though.
73. JaHova
That's an actual name of a kid who probably was witness to something terrible.
You won't have trouble locating this kid.
A beautiful yet funny name when you say it out aloud.
Just in case she does turn into one, you can say you called it first!
77. Willow Sage
A deeply divine name that actually means nothing if you look at it.
78. Banta
That's right, the capers of Santa and Banta are super famous in India.
While that's a name that rouses happiness, it's a fairly common name in India.
80. Catamaran
Yep, your child will end up sailing the seven seas in style.
81. Batman
Why not name your child after the vigilante saviour of the people. Batman is definitely a name that will stick out of the rest and strike fear in anyone who wishes harm upon your baby.
82. Stompie
If your kid is super powerful and definitely loves to make his or her mark known in the world, then Stompie is one name you could seriously consider for them.
83. Speedy
If your kid is super-fast and shows tendencies of intense pace, you could consider naming him Speedy because then it'll go well with his personality.
84. 4Real
It's a name that exists for real and it belongs to some poor kid in the USA, who still has no idea how to explain how his parents decided to call him that.
85. Grammophon
It's a name no one will forget in an instant and its definitely something your child won't forget in an instant. Grammophon can also be spelt in a different way to stand out from the rest.
86. Chow Tow
The Malaysian Government ended up banning this name as it translates to 'smelly head' and someone actually decided to name their child that!
87. Pinjo
A name that mixes Pinto and Jo, it's that easy, no?
88. Baaja
This is actually a type of motorcross race but some people take their love to the extreme.
89. Biznes
Let's just get right down to it.
90. Tokapilo
What does that even mean? Still sounds like a legit name though!
91. Galexy
In case the Galaxy ends up suing for copyright issues, just play this one safe.
The one in the sky requires a name to match its ultimate skill.
93. Moxie Crimefighter
A funny name that seems to talk about a lot but just doesn't go anywhere.
Please bear with his kid who has to live with it for the rest of his life.
95. Cricket Pearl
A name that combines the things a guy likes and the thing a girl likes in one.
The parents of this child must have been die-hard fans of the well-known sports channel. Take cue!
97. Heavenly Hirani Tiger Lily
A name that combines so many elements to become one powerful unit.
98. Xzayvian
This one's really funny! It seems like the parents were trying to squeeze as many consonants as they could in one name!
99. Talons
So you never lose a grip on that name.
100. Jigsaw
This is a name that never puzzles or confuses anyone!
101. Fifi Trixibelle
If you know her, then go for the name.
102. Ocean
This one just waved in our minds!
103. Audio Science
Only scientist parents can think about this name.
104. Seven Sirius
Do you take the lucky number seven seriously? We have a name for your baby.
105. India Rose
Chris Hemsworth named his daughter India Rose as a tribute to the country and his love for it. What are your waiting for?
106. Buzz
This name will surely create a lot of buzzz.
107. Bodhi Ransom
When parents are Megan Fox fans, they name their child what she named her child!
108. Titan Jewell
Indeed your baby is an important jewel of your life, so whyat not give them this unique name!
109. Megaa Omari Grandberry
Too much berry love, but all good names are taken!
110. Haven'T
If you haven't found a name for your little one yet, here is your pick!
111. John
Too tired to think of something else, go with this safe name.
112. Toasted
A name you can give to your child if your love sandwiches -, TOASTED SANDWICHES, – way too much.
113. Smellie
Smiley spelt by a parent who hasn't slept in weeks!
114. Darriah
We don't even want to explain what happened here.
115. Dough
When the mother is the baker, what name can you expect?
116. Justin
Ahh! Don't blame us. "Baby" was playing in the delivery room.
117. Will
Any Will Smith fans in the house?
118. Boo
The name says it all! All we can say is "sorry".
119. Razor
When parent's are not up for waxing and prefers a razor.
120. Snape
Afterall, Snape was the one protecting Harry all the way!
121. Twelve
Why pick one, two, or three when you can choose twelve?
122. Manhattan
Too much city love! Name your child the city you love.
123. South
Well, Kim Kardashian already picked North. Thank God we have South!
124. Katniss
Any Hunger Games fans in the house?
125. Huckleberry
Take permission from Mark Twain first!
126. Blaer
I just finished watching Gossip Girl. Take a cue!
127. Fox
Clever and attentive are the qualities you want in your baby? Here is a name for you!
128. Blue
Well, the sky is blue, and so is my favourite muffin – blueberry!
129. Vodka
I love it on pasta, and I love it neat too! I'll call my child whatever I love.
Thus, you can choose from these options and give your child a name no one will forget in a hurry! Don't forget to give them a surname that sounds great as well!