Cute Rubber Ducky Baby Shower Ideas to Plan and Party!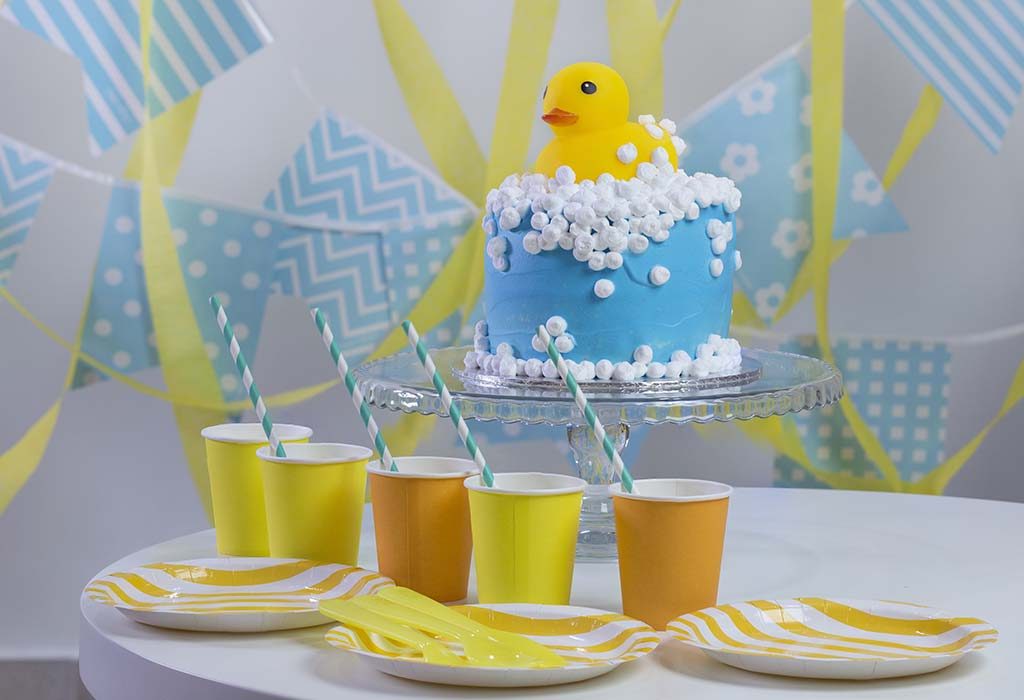 In this Article
A themed baby shower is one of the trends that are quite popular nowadays. Mermaids, unicorns, Disney characters – the list is endless! But themed parties could also end up costing a fortune. Most parents would not want to invest so much money, but they would not want to miss out on the fun of hosting a themed event, too.
One of the coolest baby shower themes is the rubber ducky-themed baby shower. Perfect inspiration for a trendy baby shower, this classic toy can be a great way to bring in the fun for the mother-to-be. Cute and cuddly, adorable duck-themed items are easily available for planning an entire baby shower. Add a little quack-quack and splish-splosh fun and the little ducky idea will keep everyone entertained!
Duck-Themed Baby Shower Ideas
Baby shower duck theme is one of the most inexpensive themes for a baby shower. You could use rubber ducks that go easy on the pocket, decorate in yellow, create a duck pond with a splash of blue-coloured items to simulate water, and so much more. From invitations, decoration, food, themed games, and party favours, we bring you some of the best ideas that will surely make your party a huge success!
Rubber Duck Baby Shower Invitation Ideas
The invitation ideas given below are festive and have a gender-neutral theme. They are perfect for getting your guests excited about the party.
Fully Customised Invitation: This idea could cost a couple of dollars, especially if you have a large guest list, but these invitations will have everything you need. Just add the guest names and send them across.
Duck-Themed Invitations: These are blank papers with just duck motifs on them. You will have to fill in the party details, either handwritten or printed.
DIY Invitations: DIY invitations could be expensive or inexpensive. If you have the time, money and creativity, then the sky is the limit for you. You could choose the material you want to use – recyclable card, A4, coloured paper, duck motifs, etc. and write rhymes along with the details of the party. Let your imagination dictate the design, and you are all set!
Email Invitation: Those who environmentally conscious and wish to save paper must go for this idea. Most applications and programs on computers can help you design an invitation and send it across via email to your guests.
You can make a few additions to make the invitation look trendy and match the theme as well. Here are a few taglines or words you can choose for your invitations:
Rubber Ducky, You're the One
Rubber ducky, you're the one,
Who makes bath time tons of fun!
Swim on over for _____ Baby Shower Celebration.
Aren't (name of the parents) lucky?
Having a baby is so ducky!
Rub-a-dub-dub
Soon there will be a new duck in the tub!
Warm, cuddly, cute and fluffy ducks are cute,
The colour is yellow and blue,
To celebrate the mom, you come, too!
If you are sending out folded invitations, you could add a nursery rhyme or poem about ducks.
Rubber Ducky Baby Shower Decoration Ideas
A rubber duck baby shower backdrop could feature yellow, green and blue as the central colours. You could choose traditional colours like pink for girls and blue for boys but keep it consistent through all the decorations. Here are a few decoration ideas to make your party colourful and vibrant.
Entrance Decorations: Decorate your entrance with yellow balloons and a banner with a duck theme. You can even have a banner with a pond or large rubber ducks cut out in felt. These could be placed at the entrance of the centre of the venue.
Table Decorations: Choose a table cloth that has duck prints. A pond or a lake would also do. You could place some duck cutouts, use duck-themed paper plates, napkins, cups and utensils. Some rubber ducks placed around the table amidst the cutlery will also look super cute.
Centrepieces: Rubber ducky baby shower centrepieces are easy and fun to make. You'll need a transparent glass bowl filled with blue-dyed water, and leave some rubber ducks or even duck-shaped candles floating in it. You could even use green colour water beads to give the effect of moss and add a few yellow flowers to brighten up the bowl. Daisies, lilies, gerberas, and sunflowers will look resplendent.
Cupcake Toppers: These are now available for practically every theme. Just buy a few cupcakes with some yellow icing or fondant on and place these cupcake toppers to add to the décor. You can even print a simple picture of a yellow duck on card paper and cut it out. Glue a cutout on one end of each popsicle stick and let them dry. Then, stick one in each cupcake. Simple and easy, they add some vibrancy to your party.
Bubble Machine: A bubble machine can add some additional fun at your duck-themed party by blowing some bubbles in the air.
Rubber Duck Pictures: Print out pictures of rubber ducks, cut them and paste them on to the walls with some blue tac. Use coloured pictures to make your party colourful. The more you add, the merrier it gets.
Fun Game Ideas for Ducky Themed Baby Shower
What is a party without games and more so a baby shower? With rubber ducks, there are loads of games that you can play. In fact, all you need to do is tweak the traditional games and incorporate the rubber ducky theme into them some way or the other. Here are a few ideas for duck-themed games.
Pick a Duck and Win: Have ducks placed in a large pool of water with numbers on them. Each guest has to pick one, and there is a corresponding prize for each number.
Duck the Parcel: Play some music and pass a stuffed toy (preferably duck-shaped) while the guests are dancing. As the music stops, the person holding the duck has to move out of the game. The one left is the winner!
Guess the Number: Fill a jar with baby-related things, such as teethers, pacifiers, rubber ducks. Pass it around and get the guests to guess the number of items in the jar. The one closest to the correct number wins.
Rapid Quackers: Dip some plastic spoons with chocolate and get guests to lick them off and then eat a bowl of yoghurt. Once they finish, they have to say "Quack-Quack" and come to the shore. The first one to do so wins.
Race to the Finish: Each guest has to have a rubber ducky floating in a tiny water pool or a large utensil. Once the game starts, each one has to blow their ducks to the finish line.
Whose Water Broke: A day before the shower, place rubber ducks in a separate jar or plastic cups filled with water. Freeze them overnight. Bring them out just before you play the game. Participants have to melt the ice and empty the duck into a pool. The first one to do so wins. Participants cannot use any heating device.
Memory Game: Write the name of an item below each rubber duck and show it to the guests one by one. Give the guests a piece of paper and ask them to write the items in the order they were shown.
Find the Lucky Duck: Have lucky duck written under one duck and float a couple of ducks in some water. Get guests to pick a duck, and the one who gets the duck with the written word wins a prize.
Rubber Duck Baby Shower Food Ideas
Rubber duck baby shower food ideas are fun and easy. There is so much you can do from cakes to finger food with this theme. Get your creative juices flowing with these novel ideas:
Punch & Drinks: Make a blue coloured punch for the party. Pour it in a glass punch bowl or a baby bathtub and place rubber duckies all around it on the buffet table.
Snacks: Take some duck-shaped bowls and serve some crackers, yellow candies, yellow M&M's, etc. in them. Place some Doritos or Quavers in a large bowl and surround the bowl with some rubber ducks.
Food Items: Pick food that is yellow, white and blue in colour. Half boiled eggs, pineapple salad, bananas, and cookies cut into duck shapes fit the theme perfectly. You could also have some crackers and sprinkle some cheese on them to add to the novelty.
Desserts: Duck-shaped cake, cupcakes, cookies are a must on the list. You can find loads of tutorials to bake duck-shaped cakes. A trifle with vanilla, banana pudding and some pound cake could also blend with the theme.
Cake Ideas for Ducky Baby Shower
Although it may seem a daunting task, you could give these a try and see how it turns out:
Duck-Shaped Cake: You could just back two cakes, one larger than the other. The large cake will be the body of the duck, and the smaller cake will be the face. Make sure you coat it with ample yellow frosting. Then, use some orange fondant for the beak and some googly eyes to make it look real. Place the cake in a tub or a cake stand and place some marshmallows to make the bubbles.
Mama and Baby's Cake: For this, you would need a couple of cupcakes with the main design on the top. Each cupcake could be glazed with some white frosting topped with a tiny rubber duck favour. The mother duck is a single layer cake covered in fondant with a cupcake for the head.
Layered, Themed Cake: The bottom layer can have fondant carved in the shape of a clothesline or washing line. On the top, you can have fondant carved like a bucket filled with water with a duck in it. Though time-consuming, it is a wonderful idea if you want your guests gushing over your party for long after it's done.
Fishing Pond Cake: This one could be covered in blue icing on the top and green fondant around it. You could have tiny ducks placed on the top, which is again covered with some green fondant to represent algae. Use a simple dowel poked in the cake to make a fishing rod.
Rubber Ducky Baby Shower Favours
Yellow duck baby shower parties would be incomplete without favours. Your guests certainly deserve a big "thank you", and these rubber duckie shower favour ideas will help to express your gratitude:
Duckie Candy Buffets: Make an assortment of toffees, treats and candies in a box. Print out some duck pictures or buy some duck stickers to stick on the boxes. If you do not have many guests, you could buy the tins available online as they could be used for storing.
Duck Hamper: Buy some yellow-coloured baskets and fill them with personal care products like soap, lotion, cream, moisturisers, hand creams, etc. Then, place a rubber duck in the centre.
Duck Cupcakes: Cupcakes are great party favours. Pack a couple of cupcakes in a decorative cake box. Make sure to top each cupcake with a rubber duck picture.
DIY Bath Set: Fill small baskets or mini tubs with blue-coloured shower puffs, some decorative soap, shampoo, and rubber ducks.
Rubber Duck Centrepieces: You could put some blue water beads in mason jars and add a rubber duck to each jar. They can be used to decorate work tables or even in kids' bedrooms.
Rubber duck themes have become extremely popular in recent times. Mothers-to-be do not want to miss out on the fun to host a baby shower. The rubber ducky theme is a relatively inexpensive idea for those on a budget. The toys do not cost a fortune, and you can find loads of pictures on the internet to decorate the invitations, favours, and even the décor!
Also Read:
Bohemian Baby Shower Ideas
Winnie the Pooh Baby Shower Ideas
Winter Wonderland Baby Shower Ideas