Best Animal Songs for Kids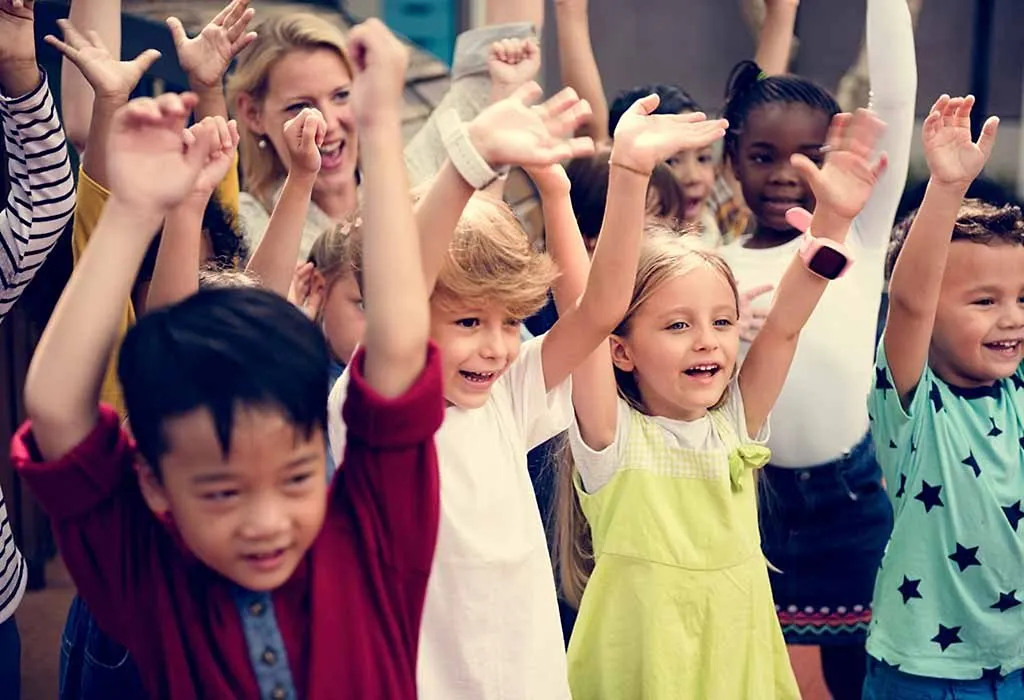 In this Article
Teaching new things to young kids is always an arduous task for both parents and teachers. Kids need enjoyment and activity to motivate them to learn new things. Just listening to new information, bores them and they lose interest. So the best way to teach them anything new is by involving them in any activity which benefits them by improving their cognitive and motor skills. By such activities, the kid not only learns new things faster but also is motivated to learn more. One such activity to teach kids about various animals is animal songs. As the kid sings and dances along with the animal songs, they learn about animals and their sounds along with mindfulness.
Top Animal Songs for Toddlers, Preschoolers and Kids
Incorporating music and movement into the teaching of kids is the best way to make them learn new things. Listening to songs, singing and dancing along with them, makes kids learn things in a fun way. New concepts, new words, new skills and other knowledge are easily imbibed by the kids as they enjoy the songs. Young kids including toddlers and preschoolers learn about various animals', develop co-ordination and their cognitive skills as they listen to animal songs. Animal songs for children are just not the means to teach kids about animals but also good for their mental and physical development. As the kids' dance and sing along with the catchy animal songs, they have fun and learn things faster.
Here are some entertaining animal songs for preschoolers, toddlers and kids:
1. Animal Farm
Animal Farm by Nancy Kopman is a sweet and simple animal song. In this super simple song, animals are introduced to kids with their individual sounds. The words and melody are catchy and are repeated many times, so kids can easily learn them. The clever animation is a bonus point as kids enjoy the whole song.
2. Old MacDonald
Old MacDonald by Patty Shukla is one of the amazing farm animal songs. The kids are kept engaged with various animal names and animal noises.
3. Pig on Her Head
Pig on her head by Laurie Berkner is a cute animal song loved by kids of all ages. The song including farm animals with other animals such as elephants have animal sounds presented in a unique and fun way. The song is good for kids to learn and dance along.
4. Mary Had a Little Lamb
Mary Had a Little Lamb is a classic animal song for kids. This amazing version by Patty Shukla has a key change from the original one. The song keeps the kids engaged in learning as they actively listen to this interesting song.
5. Baa Baa Black Sheep
This entertaining animal song sung by Raffl is full of fun for kids. The live performance keeps the kids engaged and the additional animals added to the song keeps them busy guessing the animals.
6. Going on a Bear Hunt
Going on a Bear Hunt sung by Greg and Steve is one of the kids favourite animal song. Though the song is a bit long, the engaging lyrics keep the kids absorbed in the song.
7. Five Little Ducks
Five Little Ducks sung by Bounce Patrol Kids is an animal song loved by most toddlers and preschoolers. This story song is engaging for the kids as they listen to a compassionate story in the song. The kids love to hold up their fingers to count and develop the recognition skills for numbers.
8. Mmm Ahh Went the Little Green Frog
This cute song sung by Jbrary is good for warmup for little kids. The song energises kids to get up and move as they warm up to sing along. The peppy music and lyrics motivate the kids to sing along and move in all directions.
9. Five Green & Speckled Frogs
This counting song sung by The Kiboomers is kids' favourite animal song. The catchy lyrics help the kids to learn to count as they rub their tummy on "yum yum" and jump like a frog on "frog".
10. 5 Little Monkeys
This all-time favourite and the classic animal song are full of fun for the kids. The finger play song sung by Jbrary is super exciting and kids love to sing about the monkeys swinging on the trees and the crocodile who snatches them.
https://www.youtube.com/watch?v=WRzzYmbDO1Q&feature=youtu.be
11. B-I-N-G-O
B-I-N-G-O is a classic dog song sung by The Learning Station. This song makes the kids clap to the beats and focused on the lyrics as their brain keeps track of the letters replaced.
12. Bunny Hop
This adorable animal song Bunny Hop sung by Patty Shukla is another of kids favourite animal songs. The brilliant music and catchy lyrics have the kids hopping around like bunnies as they learn to spell "hop".
13. Gray Squirrel
Gray Squirrel sung by Dr Jean is another classic animal song which teaches kids about rhyming words and builds up their vocabulary by introducing words such as "bushy" and "swish". As the kids build their literacy with the fun they also learn friendship lesson through this song.
14. The Cat Came Back
This animal song "The Cat Came back" sung by Laurie Berkner is about a pet cat. The catchy song about a silly cat who can't stay away from is loved by kids who love their pets.
15. Three Little Kittens
The classic nursery rhyme gets an adorable makeover in this Three Little Kittens animal song sung by The Wiggles. The cute story of a mother cat as she scolds her little kittens is loved by the kid in this song.
16. Baby Beluga
The cute classic song about the beluga whale is sung by Raffi. Listening to this song, the kids learn about Beluga whale and fall in love with her through sweet lyrics.
17. Baby Shark Dance
Baby Shark Dance sung by Pinkfong is known for its catchy lyrics and music. The song is still a craze among kids even after many years.
18. Penguin Song
Penguin Song sung by Jack Hartmann is a great animal song to teach about directions to little kids. Kids love to listen to this song again and again due to its peppy and easy to understand lyrics.
19. Here Is the Beehive
Here Is the Beehive sung by Alina Celeste is a charming finger play song for young kids. The kids follow the motions in this re-telling of the fun story.
20. Two Little Butterflies
Two little Butterflies sung by Jbrary is a cute finger play song to teach opposites and motor skills to kids.
Animal songs with their catchy lyrics are educating and entertaining for all kids. The kids develop their vocabulary, motor skills and cognitive skills as they sing along the animal songs. Animal songs are an entertaining way to teach new things to young kids.
Also Read:
Best Counting Songs for Kids
Best Party Songs for Children
Best Worship Songs for Children
?>