10 Best Parenting Songs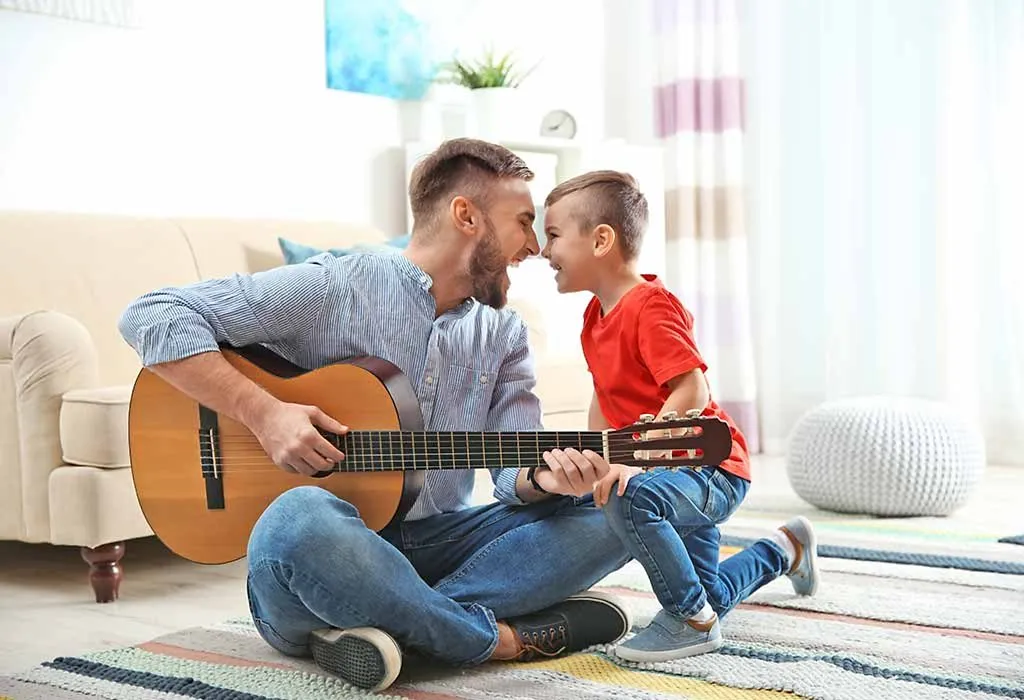 In this Article
Countless musicians have paid tribute to their parents in the sweetest possible way. Each of these songs expresses the singers' unconditional love for their parents and is a heartwarming message and dedication to the special place they hold in their hearts.
Read on to take a look at our collection of the top ten tunes that will melt your heart. They pack the indescribable journey of parenthood. These songs about parent-child relationships seal that bond that exists between parents and children.
Beautiful Songs About Being a Parent
1. 'Never Grow Up' By Taylor Swift
About The Song
An American songwriter, Taylor Swift wrote one of these heart-piercing songs from a parent to child, following the country music tradition of narrating a story. It is all about treasuring those moments of parenthood while shifting the narrative from the parent's perspective to the child's. Almost like Peter Pan who never wanted to grow up.
2. 'Isn't She Lovely' By Stevie Wonder
About the Song
Stevie Wonder wrote this song after the birth of his daughter, Aisha, and it one of those songs about a parent's love. The video recording of the song features sweet moments between the father and daughter.
3. 'I Can't Wait to Meet You' By David Ryan Harris
About the Song
One of the songs from parent to child, more like musings of an expectant father, the song is all about dreams, hope and ambitions for the new arrival. Metaphorical in nature, the song compares the future of the child to the vast, expansive sky.
4. 'Man That Hung the Moon' by Brantley Gilbert
About the Song
The song is all about being your little one's hero, role model, inspiration, philosopher and guide. It captures the joy of being everything for one's child and the enormous responsibility that comes with it. It reminds one that whatever you do, it will always be the best for your child.
5. 'Sarah's Song' By Sissell
About the Song
Sissel, a Norwegian singer who consider Barbara Streisand as her inspiration has churned this most powerful ode to motherhood. It is written from the vantage point of the baby.
6. 'The Mother' By Brandi Carlile
About the song
Brandi Carlile pays a tribute to motherhood with this song dedicated to her daughter, Evangeline. It is a wonderful song that sums everything about being a mother and how worries never cease, because this bond is everlasting.
7. 'Watch You Be a Mother' By Jonny Diaz
About the Song
This is a song dedicated by Diaz to his wife, whilst she loves, cares and sacrifices for their children and caters to their needs. It is a tribute to his wife for her unconditional love and support.
8. 'I Got You' By Ciara
About the Song
A song about the undying and never-changing love between a parent and child. It takes one through the trajectory of one's life as a parent and a child. A parent looks out to their child always, and this song serves as a reminder of that.
9. 'In my Daughter's Eyes' By Martina McBride
About the Song
It is not just children who learn from parents, but parents learn a lot through this journey too. Martina McBride's song speaks volumes about this, as she is the mother of three precious daughters. It revolves around the priceless lessons that parenthood forces you to learn and how it pushes you to spread your boundaries and evolve with times.
10. 'Beautiful Boy (Darling Boy)' By John Lennon
About the Song
John Lennon wrote this song for his second son, Sean. It has been adapted and remixed by various artists like Ben Harper and Celine Dion over the years. The song begins with words that comfort his son after a nightmare and continue to explain the love for his son. The lyrics are beautiful and very real.
Some musicians have mastered the art of expressing the profound thrill, awe, enigma and responsibility that comes woven inextricably with parenthood. The feelings of love towards a child can never be undermined and when lyrics of a song connect deep with your heart, you know you are connecting with your loved one.
Also Read:
Authoritarian Parenting
Permissive Parenting
Attachment Parenting