15 Best Baby Shower Ideas for Boys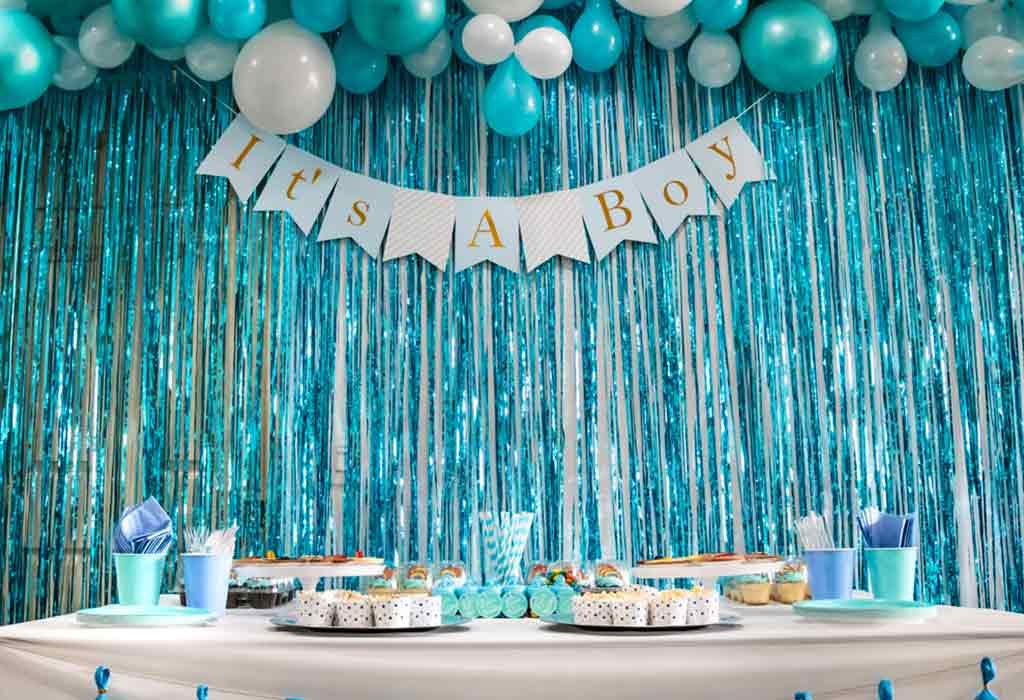 In this Article
You know you are going to have a boy and when planning for baby shower for boys, the first step is to pick a theme. Whether it is an animal theme or something more regal like kings, there are lots of themes that can be great ideas and inspirations for baby boy baby shower themes.
A baby shower is all about celebrating the mother-to-be and eagerly awaiting the arrival of the little one. All one needs to do is add a touch of reality, some elements of fun, coupled with great food to make it an unforgettable event. Baby showers are memories created for a lifetime and choosing a theme for it makes it all the more worthy of capturing those moments and reliving them later.
Awesome Baby Shower Themes and Ideas for Boys
To help you get started, here are some unique boy baby shower themes for the cutest shower. Each of them has a detailed description of how to plan a party around that theme to make it an affair to remember.
1. Prince Theme
Which mother does not think of her son as the "prince"? Well, help the glowing expectant mother to usher in her new one with a baby shower that befits a royal. Gold decorations, adorned with blue lining, regal crown centrepieces, balloon garland of blue and a cake in the shape of a crown is all you need to set the tone. The theme is sure to make your guests feeling like royalty and they will shower ample blessing to your future prince.
2. Nautical Theme
Most mothers love to dress their boys as sailors for one of their birthdays in the hope that they will travel the world and ferry across countries. One of the cute baby shower themes for a boy, there are so many variations that one can make. From making Popeye the central character for décor to pirates for a naughty aura, this one can get your imagination run wild. You could have a can of spinach as a cake or a treasure chest or just a large ship to set the pace. A palette of colours and some seafood for the menu will definitely make this party a huge success. Easy to decorate, you need just a few old buckets and all things blue.
3. Little Man Theme
White, silver and blue are the colours that dominate this theme with a moustache as its central motif. Get everyone to wear a fake moustache on that day and coordinate the theme with cookies, candies and even water bottles. Tiny cupcakes with moustaches on them will be perfect for party favours.
4. Oh Boy Theme
A gorgeous theme to let your guests know that a cute baby boy is on the way. It celebrates the femininity of the mother-to-be and you could have a floral display that spells "Oh Boy" for the guests to revel in. You could also integrate the little man theme here and borrow the colours for coordinating the perfect theme.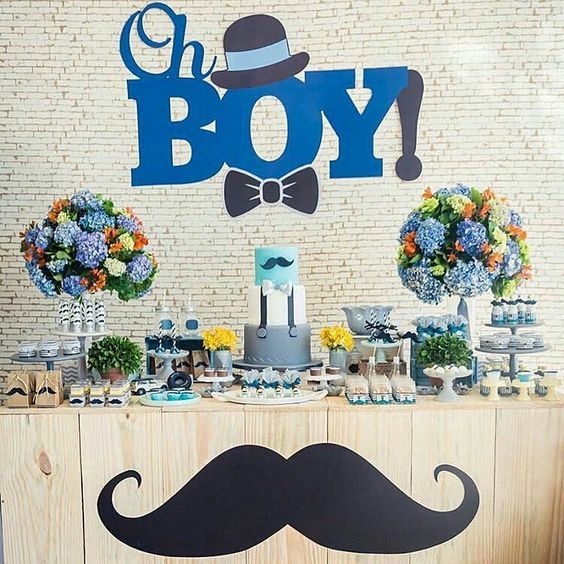 Source: Pinterest
5. Twinkle Twinkle Little Star
One of the easiest and the cutest, this one is one of the best simple boy baby shower ideas. Taking inspiration from the classic nursery rhyme, the props and décor are easy to assemble. All you need is a few stars to make your room or hall look a starry night sky. Throw in a cake in the shape of the sky with the moon and stars with some gold icing. Pack party favours in a bag with stars on them and add some star-shaped helium balloons to give it a resplendent look.
6. Woodland Theme
No guest will return disappointed with this theme that is closest to nature you can get. Combine some forest animals amidst a green backdrop to make it look like you are in the woods. A great idea for a summer baby shower, you could host it in the open with some great food and desserts. A nice cold chocolate drink would go perfectly with the theme and the weather.
7. Little Lamb Theme
If you reckon, yours is a baa-baa baby and want him to be raised as a kind and innocent soul, then this is the perfect theme. Lambs are synonymous with and symbolize innocence and tenderness. The theme is a vision of everything sweet with its pink and white decorations, a magnificent floral wreath, cupcakes that have some lovely lamb décor pieces on them.
8. Elephant Theme
Anything small and petite is always fun to celebrate as a theme. A baby elephant theme is a wonderful idea and easy to conjure up to. With a pedestal and blue, silver and white balloons for the décor all you need is a giant cut out of a baby elephant or some stuffed baby elephants places all around the room. The look will be complete with an elephant topped cake and some frosted cookies.
9. Hot Air Balloon Theme
Inspire your baby to fly high even before they step into this world by choosing this theme for your baby shower. Pastel shades, balloons and lanterns dominate the décor of this theme. The décor could also double up a room décor for your baby's nursery after the party.
10. Vintage Airplane Theme
All things vintage has its charm primarily because of the style which is inimitable. If the mom-to-be is a lover of antiques and class, then this theme will definitely be a hit. All you need is some models of planes and white balloons for the clouds. You could pick a cake shaped like an aeroplane (a vintage modelled one) with some white frosted icing on the top.
11. Heaven Sent Theme
Any nice place reminds us of heaven. As adults, we always associate serenity and calmness with heaven. An expectant mother definitely considers her new arrival as a gift from the heavens above. So why not celebrate the special day with this theme. With soft blue and white balloons for the sky and some angels, the place could look serene. The dessert table could have a plain vanilla cake with a halo on the top. Throw in some fresh white flowers to surround the baby's breath.
12. Lego Theme
Your little boy will soon be building his dream structures once he comes into the world. So if it is definitely appearing in the future, why not start the journey with the baby shower. You could borrow Lego construction from friends or family and make small miniature figures and place it around the room. Throw in some colour balloons that match the lego blocks and put your food table together with cupcakes and sweets that have Lego figures on them.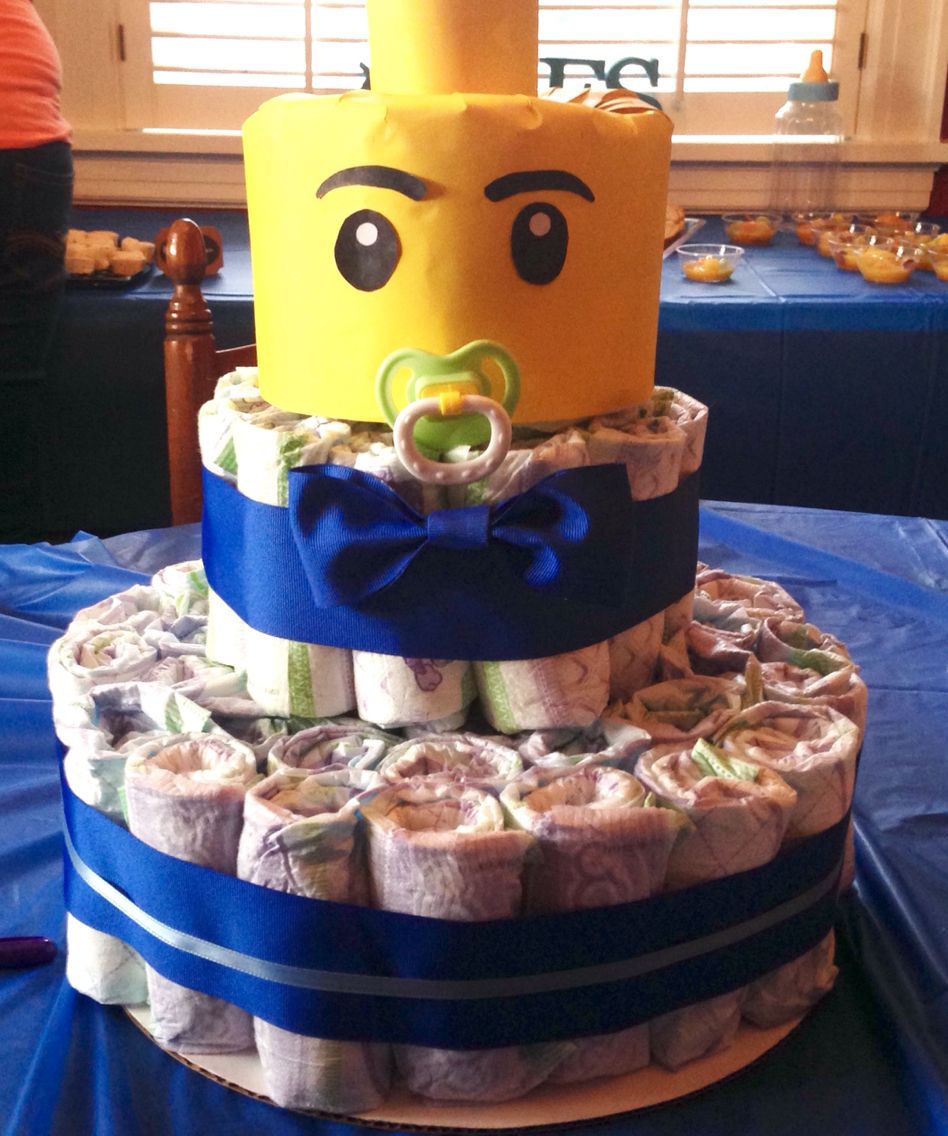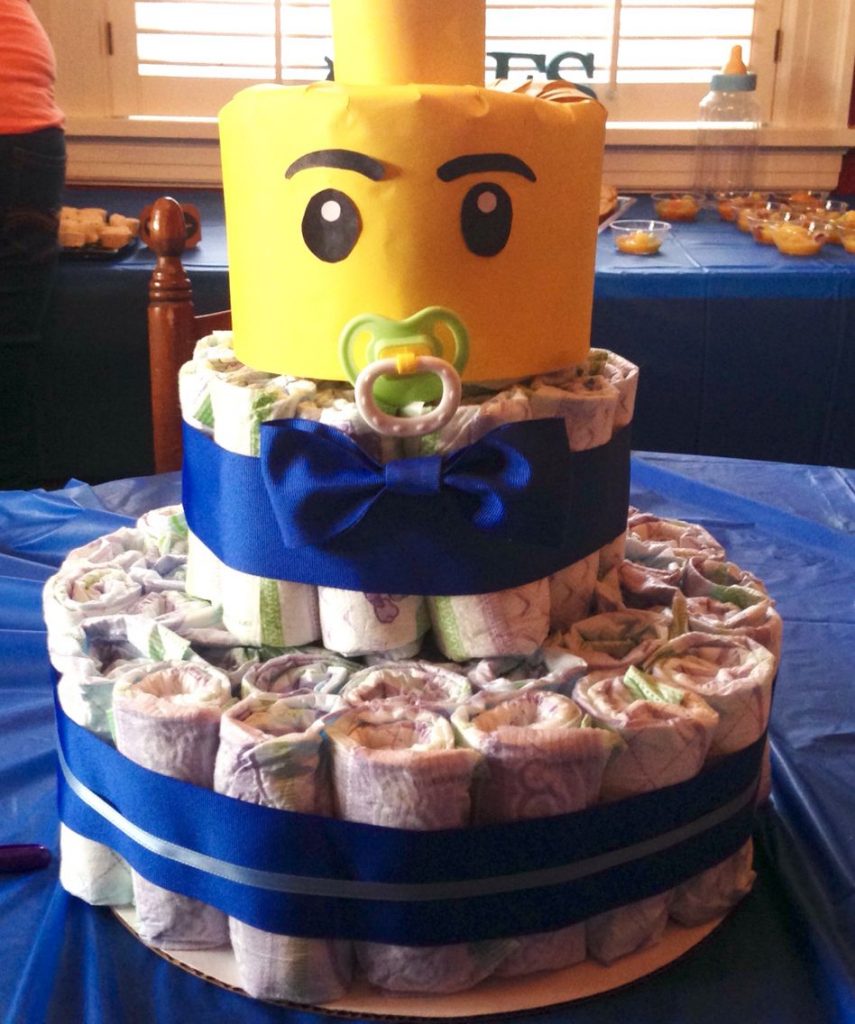 Source: Pinterest
13. Jurassic Park
Boys love dinosaurs and start your baby celebrations with a Jurassic themed party. Pick those wild shades of yellow, brown, green and orange and recreate the magic of the Steven Spielberg classic. You could have the main cake in the shape of a dinosaur or one that has the creature on the top.
14. Baby on Board
A sign that you will need on your car as soon as your baby arrives, you can feature them at your baby shower too. You could make it surfing themed party with some beach-inspired decorative items like a surfboard and a blue and white colour scheme. Fill your food table with sea-inspired cookies in the form of mermaids, islands, seashells and snorkelling equipment.
15. You Are My Sunshine
Yellow and bright, sunshine brings in all the radiance that one needs in their lives. To celebrate the new beginning and the bright glow that pregnancy has bought to your face, plan your baby shower to this theme. Just pick all things yellow, yellow balloons, bright yellow table cloth and large big sun balloon. The cake could be the sun too with some bright yellow fondant.
There is nothing more exciting than celebrating your soon to arrive baby. But like all parties and stress, a baby shower comes with its share of stress. Whether it is planning the décor, games and food, there is a lot involved. Out of all the celebrations, baby showers are a particular favourite and it becomes easier by sticking to a theme. The above ideas could help you pick a theme and make sure your party has a common thread and is enjoyable.
Also Read:
Unicorn Themed Baby Shower Ideas
Nautical Themed Baby Shower Ideas
How You Can Host A Virtual Baby Shower