10 Best Baby Sleeping Bags for Newborn Babies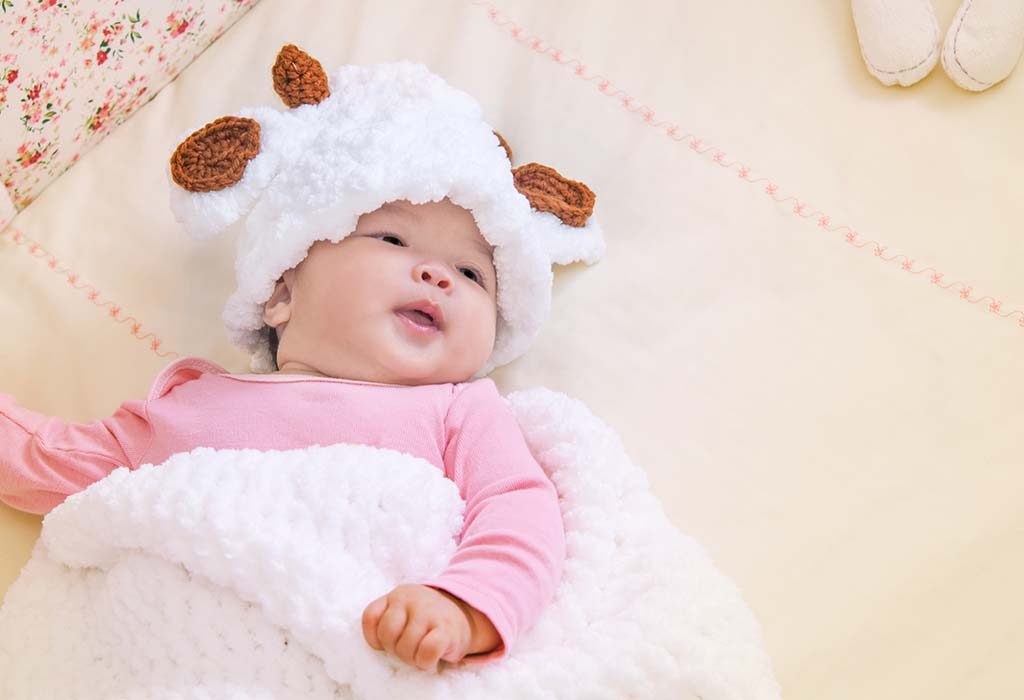 In this Article
Unless you have a baby boy or girl who is blessed in the sleep department, you can make great use of sleeping gear for your little one. While there's no product yet manufactured that can guarantee a good night's sleep to both mother and baby, a sleeping sack that can tuck in your baby just right, and create a comfortable sleeping environment for him, is worth investing in.
Now, if you're convinced that your baby needs a sleeping bag, check out our list of top ten baby sleeping bags for newborns, and find the best sleeping sack for your munchkin. And, if you have never before considered buying a sleeping bag for your baby, well, we suggest, you still check out our list, to understand why sleeping bags can be the answer to your baby's sleep problems!
List of Top 10 Baby Sleeping Bags and Sleep Sacks for Infants

A sleeping bag is an ideal starting point to ensure that your baby sleeps comfortably. Let's 'sink into' these sleep sacks, shall we?
1. Babyhug Sleeping Bag Dino Print
This sleeping bag by Babyhug is designed to keep your baby safe and comfortable at home and while travelling. You can even use it as a mattress for your baby!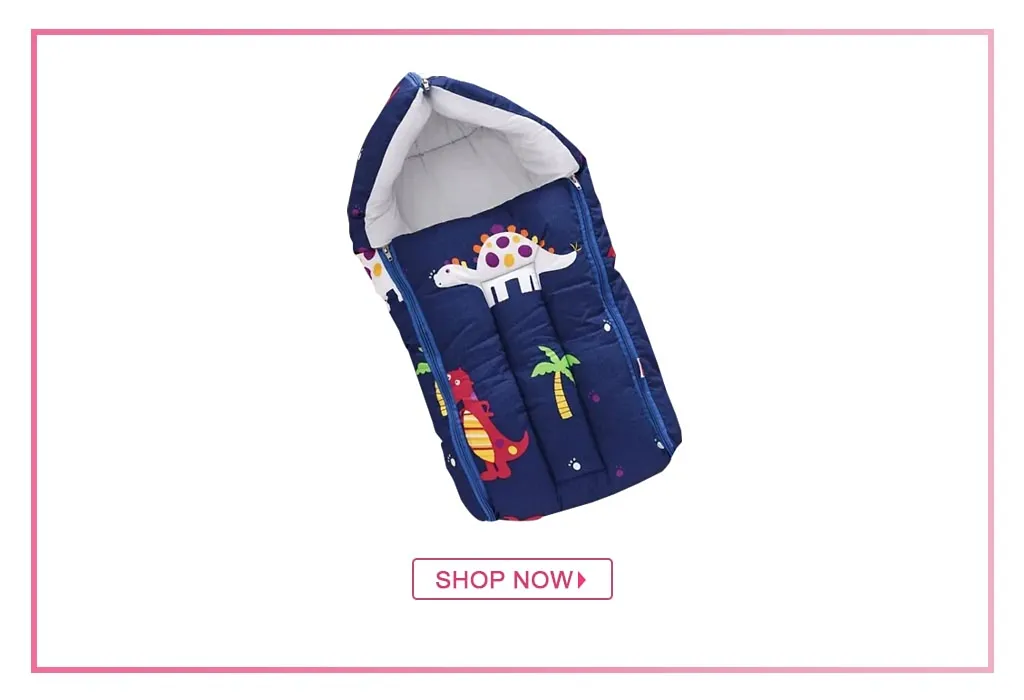 Why You'll Like This

Lightweight and handy, this sleeping bag is made from high-quality fibre, and is as comforting as a mother's arms. It's ideal for use for babies between 0 and 6 months of age. It can be used as a carrying bag or a sleeping bag. Make your little one sleep in it, and zip it up, so they won't kick it off as babies do with blankets. This sleeping bag will create a warm and comfortable atmosphere for your baby to sleep in.
2. Babyhug Unicorn Print Sleeping Bag
This pink sleeping bag with a unicorn print is simply perfect for your little girl or boy. It's one of the best infant sleeping bags on our list.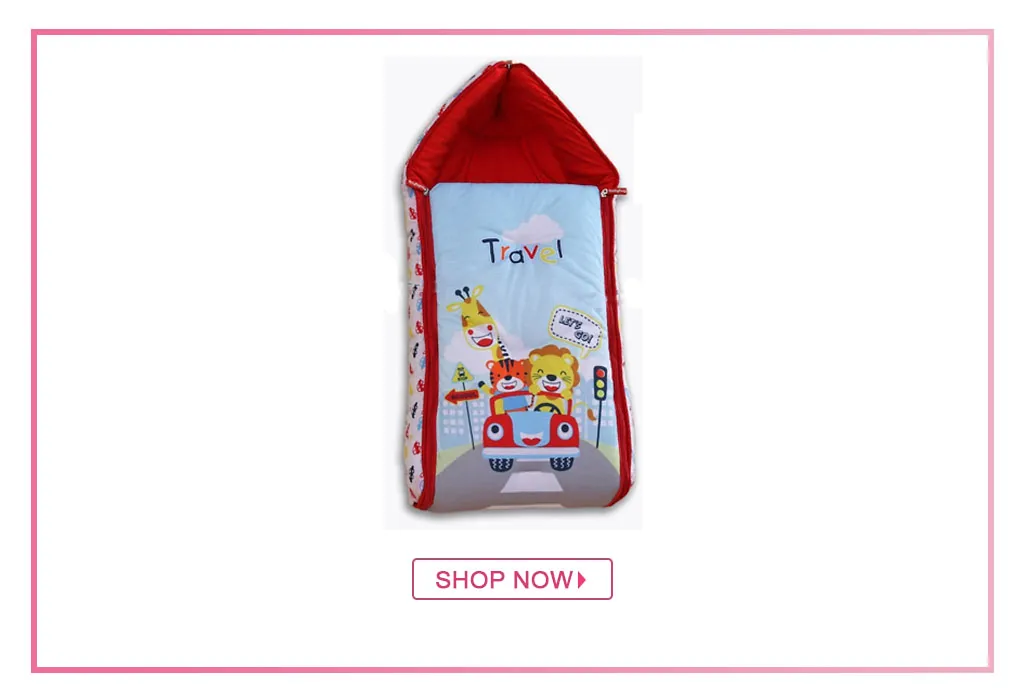 Why You'll Like This
This sleep sack is lightweight and travel-friendly. You can even use it as a sleeping bag or a carrying bag. It is made of high-quality poly cotton fabric and can be used for babies 0-9 months of age.
3. ZOE Cotton Blend Baby Sleeping Bag Dog Print
This sleeping bag from Zoe is a very attractive sleeping bag and is ideal for both indoors and outdoors use!
Why You'll Like This
If you're looking for a sleeping bag that will keep your baby safe and comfortable while at home or travelling, then look no further! This adorable carry nest is best suited for your infant's initial months. The bag's cute prints will make it a fun and playful experience for your little one!
4. Babyhug Velour Sleeping Bag With Car Print
Now, this is a sleeping bag that opens up into a full bed. How amazing is that!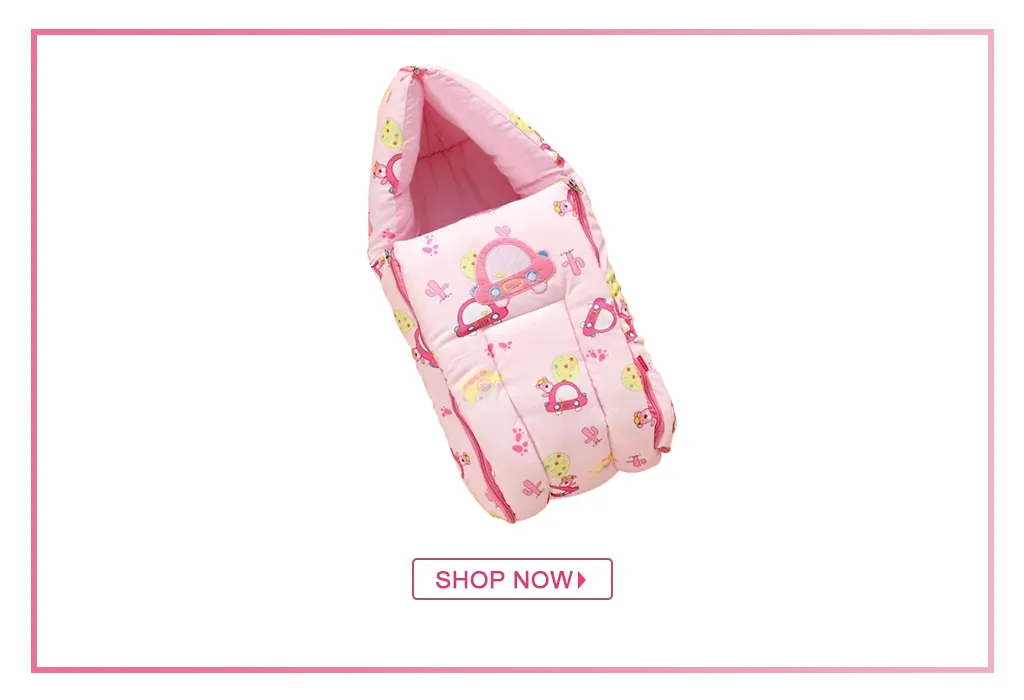 Why You'll Like This
This 3-in-1 baby sleeping bag is specially crafted for your munchkin's comfort. Made from velour, this bedding cum carry bag ensures your baby is protected from mosquitoes and insects as it covers them completely. Beautifully designed, it will give your little baby a soft and comfortable environment to sleep in. Take your pick as you place this bedding set on either the bed or floor to ensure your baby sleeps comfortably.
5. Babyhug Velour Sleeping Bag With Teddy Print
A colourful sleeping bag for your cheerful baby, this one can be used as a carry nest, sleeping bag, or baby mattress.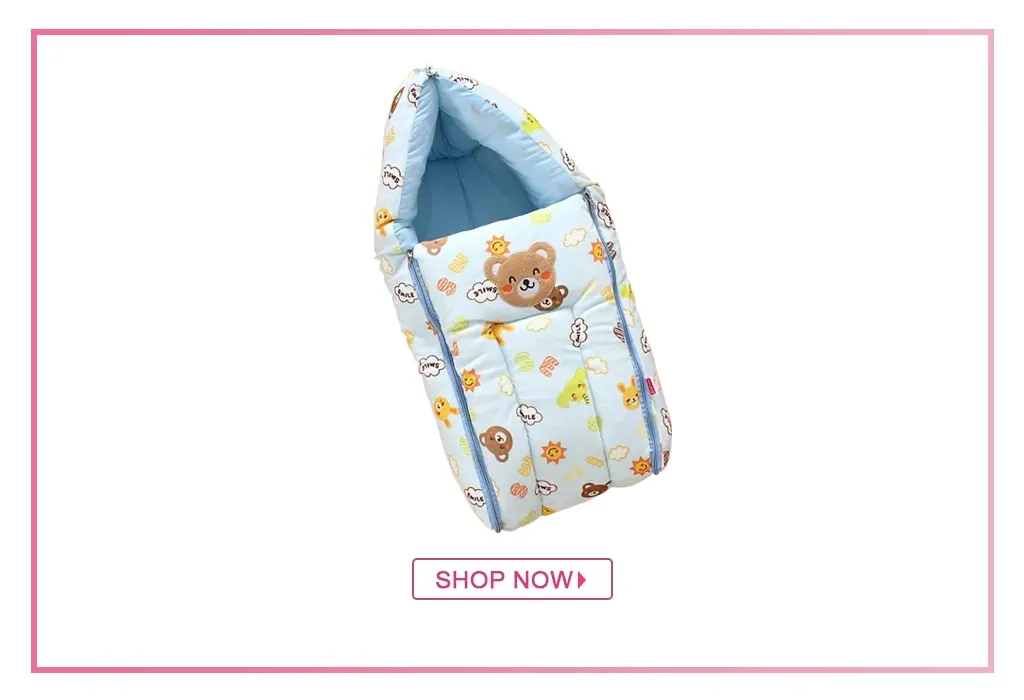 Why You'll Like This
This sleeping bag by Babyhug is as comforting as a mother's arms. It's made of high-quality fabric that's feathery soft and soothing for little ones. It's also lightweight and handy, which makes it perfect for travelling purposes. This sleeping bag can be used for babies aged 0-6 months.
6. Babyhug 100% Cotton Sleeping Bag Teddy Print
Our list contains quite some teddy bear-print sleeping bags, and all for good reasons. Teddy bear prints are attractive and cute, and the little ones love them!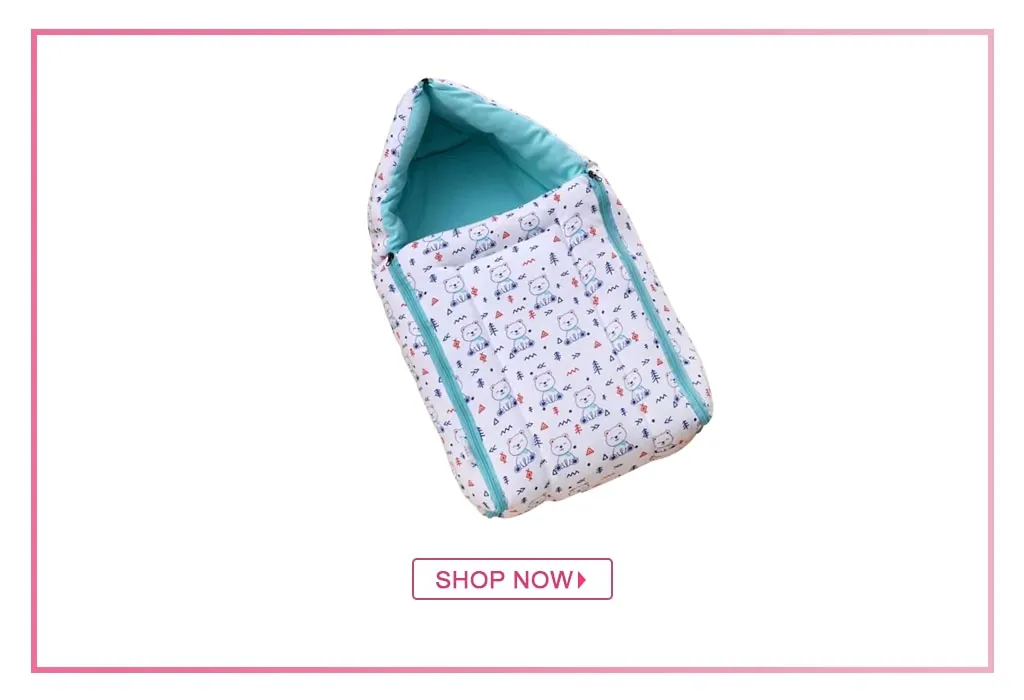 Why You'll Like This
This soft and comfy sleeping bag in lovely shades of serene white and blue will create a comfortable and cosy sleeping environment for your baby. It is lightweight, which makes it perfect to carry around. Use it on a bed or floor, your baby will adore falling asleep (and waking) in it!
7. Babyhug Cotton Sleeping Bag Cars Print
This sleeping bag from Babyhug ensures the child gets a sound sleep and keeps them comfortable. It is also a great gifting option for a loved one who has just welcomed home a baby!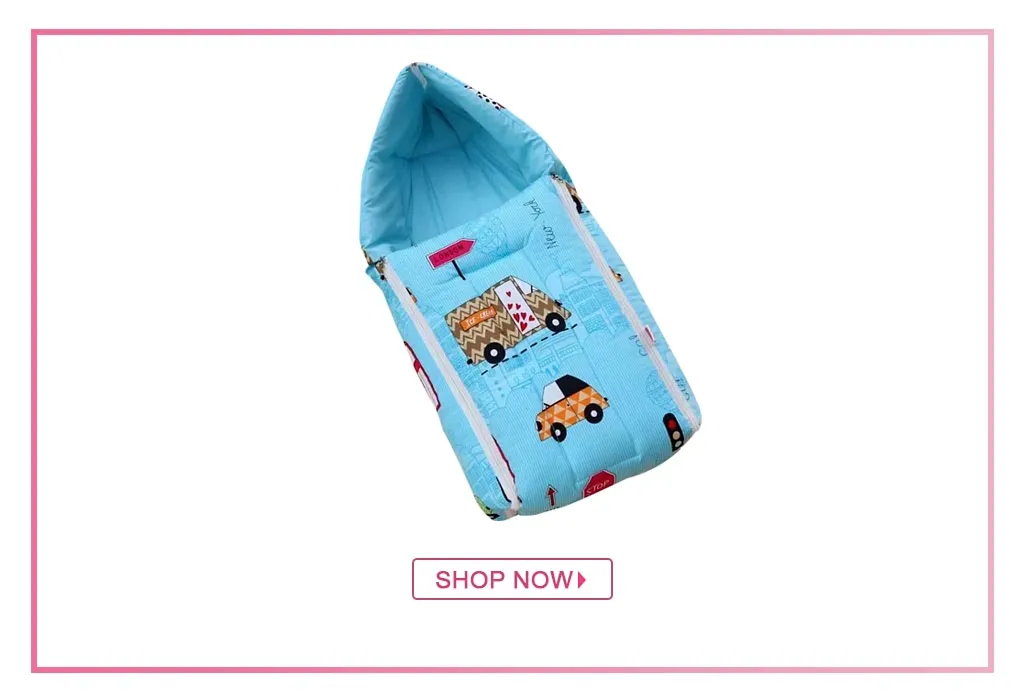 Why You'll Like This
For warm nights, this is the best sleeping bag for your child. It's made from high-quality fabric so that it offers your little one the comfort of a blanket, while still being breathable to prevent overheating. It makes for the perfect travelling companion too, due to its lightweight.
8. Mi Arcus Premium Organic Cotton Sleeping Bag
This sleeping bag is made of high-quality cotton material, which keeps the little one warm and cosy as they sleep outside the comfort of their crib.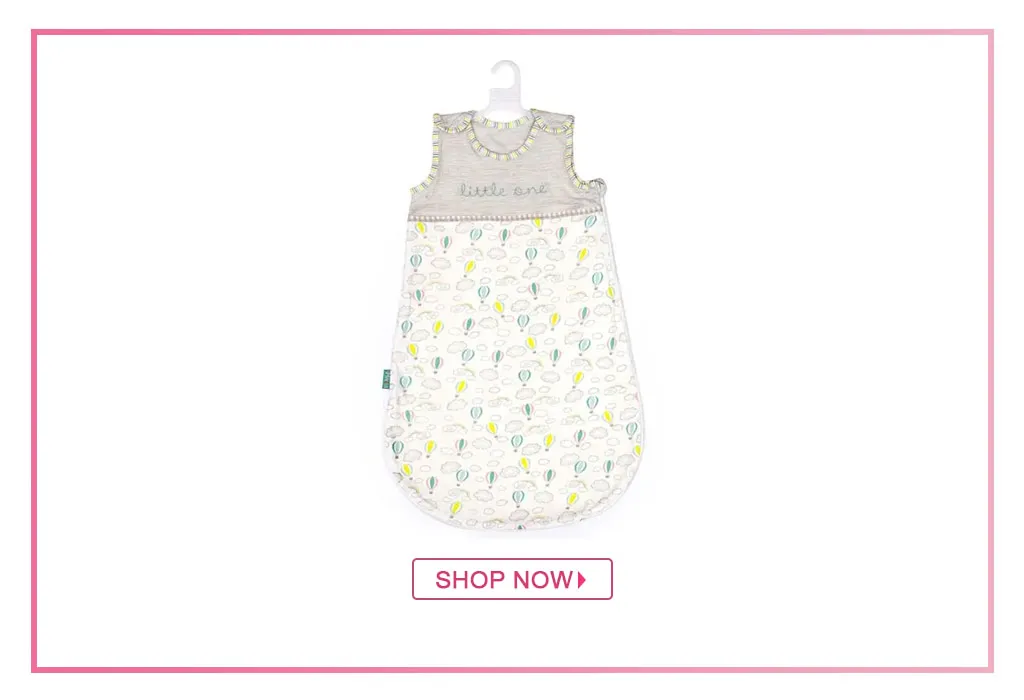 Why You'll Like This
The sleeping bag's 100% cotton material ensures it is soft and fluid for a baby's movement, with enough wiggle room at the hip, yet cocooning and warm for security. Suitable for newborns to six-month-old babies, this all-season sleeping bag also has snap buttons at the top for hassle-free use.
9. Babyhug Hooded Wrapper Lion Print
This hooded wrapper from Babyhug features a cute lion print. But that's not the sole reason for you to like it. Read below to see what more is in store!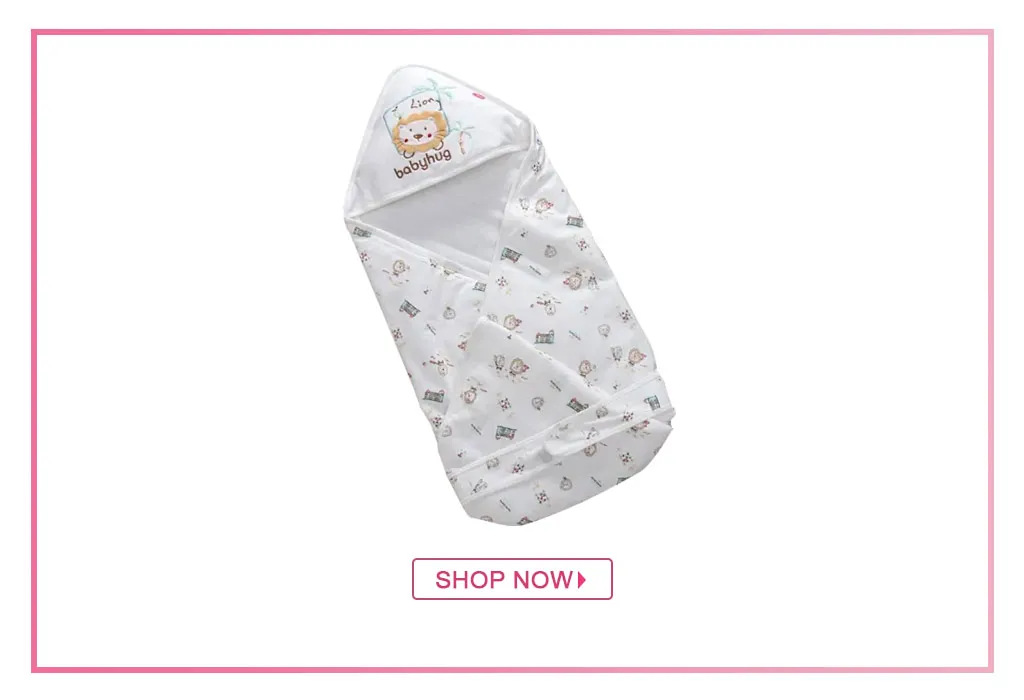 Why You'll Like This
This wrapper has a soft and smooth fabric that will help your baby sleep soundly. It comes with a little flap at a corner that protects little ones from harsh weather, which means it is ideal for travel purposes as well. It can be used indoors or outdoors, and as a baby swaddle or crib wrap. This sleeping bag is perfect for babies aged 0-12 months.
10. Babymoon Organic Knitted New Born Baby Sleeping Bag
Made of high quality soft knitted and eco-friendly crochet, this baby sleeping bag from Babymoon is warm, soft, and perfect for any season!
Why You'll Like This
What makes this sleeping bag stand out from the rest is that it is crafted from premium quality knitting wool. It doubles up as a sleeping bag and a baby blanket too!
FAQs
1. What kind of a baby sleeping bag should I buy?
A sleeping bag that fits your baby properly will be the right choice. That said, make sure your baby doesn't feel uncomfortable in the sleeping bag, and is able to move his hands and legs, and kick freely in the bag.

2. Do you use baby blankets with baby sleeping bags?
Baby blankets and baby sleeping bags shouldn't be used together, as using them at once can make a baby feel suffocated and uncomfortable, and increase the risk of sleep infant death syndrome (SIDS).
With these beautiful and affordable options of sleeping bags, we're sure you will find the right sleeping sack for your baby. Pick one (or more!), and ensure your baby enjoys a deep slumber—that way, even you will be able to catch up on some much-needed sleep!
You May Also Like:
Best Mosquito Repellent Sprays For Kids
Best Mosquito Repellent Creams and Gels
Also Read:
Safe Baby Sleeping Positions
Newborn Baby Sleep
How Much Sleep Does a Baby Need?