The Complete Pram and Stroller Buying Guide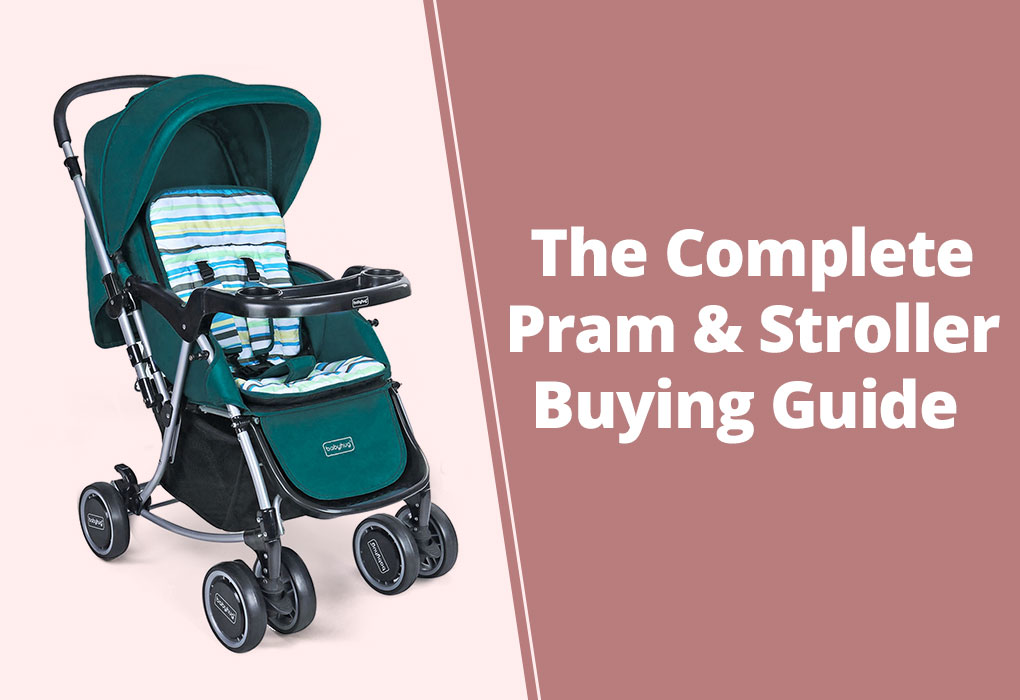 Overview
Congratulations on welcoming a new member into your family and into your life. Those little bundles of joy, how they completely change your life! Your life now revolves around your baby, and while it is joyful, you find your movements restricted all of a sudden! Even a small task like visiting the grocery shop seems a cumbersome process.
Yet, motherhood can still be a breeze. You can get back to your normal routine, take your walk in the park, go shopping or even work out, with your baby tagging along with you all the time. A Baby Carriage, such as a pram or a stroller, can help you put your life back on track, and give your body and you some much-needed breathing space.
There are numerous models of strollers available in the market, depending on your specific needs. Our comprehensive shopping guide will help you evaluate the various models and arrive at the one that is just perfect for you and your baby. This guide will tell you what to look for, and the things to remember while buying a carriage system for your child. It will also provide you with tips for buying the best Strollers in India.
What

is a Baby Carriage?

The Merriam-Webster dictionary defines any baby carriage system such as a stroller, a pram, or a pushchair as "a small carriage with four wheels that a baby or small child can ride in, while someone pushes it". While prams are typically used for newborns and infants, strollers are used to carry one year old children up to the age of 3-4, when parents have to move around for a substantial distance. When you want to go for a walk or a jog, when you want to visit the supermarket, when you want to take a stroll in the park and introduce your little love to the sights and sounds of the world, a stroller comes as a very handy piece of equipment to have. I called strollers as push chairs or buggies in British English.

Reference:- http://www.merriam-webster.com/dictionary/buggy
Why You
Need

a Pram or a Stroller?

Simply put, a pram or a stroller can make your life a great deal easier. It will help you get back to your routine more quickly, and not feel bogged down by the baby being attached to you 24*7. Choosing appropriate carriage for each stage can ensure that you and your baby can have a great time together.
For Newborns
Newborns will need a carriage to lie down flat and face you, while going out for a small walk or to the supermarket. They will soon become supported sitters and start sitting with your help. Prams with fully reclined seats or bassinets are suitable for babies at this stage.
At 6 months or so, babies begin to sit upright and become independent sitters. They don't need to lie in a reclined position anymore, and are curious to take in all the sights and sounds around them. Taking them outdoors in a stroller will help you introduce them to the world around them.
For Toddlers
Walking can easily tire children. It can put unnecessary strain on their tender feet and legs. Small children can walk only short distances for the first 3-4 years, but that shouldn't stop you from taking them to the mall or for a walk in the park. A stroller works as a perfect solution by providing greater mobility without tiring out the little ones.
Most strollers come with a storage space at the bottom, making them ideal shopping companions, while giving your child a safe, comfortable ride.
If you are itching to get back to your workout routine, there are strollers that are designed just for the purpose of jogging, so your child can accompany you as you jog around the park.
What Makes Prams and Strollers
Safe?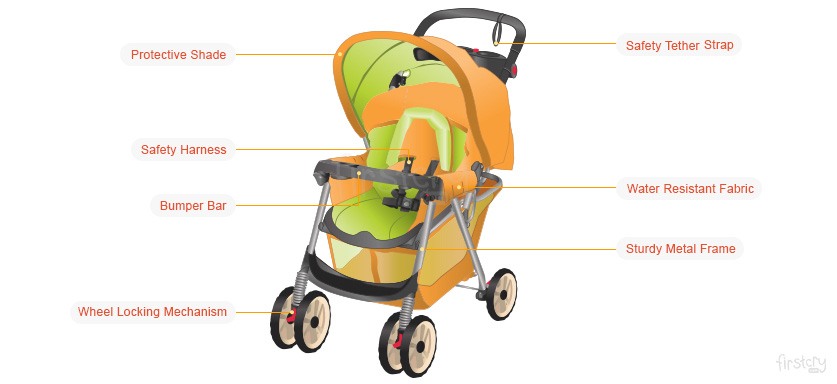 Child safety is a top priority for every parent. Strollers and prams provide a safe and comfortable environment for your little one, thanks to the number of features they come with.
Metal Frame
The protective sturdy metal frame ensures that your baby has a stable and comfortable ride.
Wheel Locking Mechanisms
Most Prams and Strollers come with locking mechanisms on the wheels. Therefore, when you take your hands off the handle to pick up an item at the grocery store, you can lock the wheels and be sure that your baby won't roll away.
Safety Harness
The safety harness and crotch straps make sure that the baby is secure inside the carriage, and does not fall over, or to the sides, while riding. They also act as protection against any sudden halts or unexpected accidents.
Tether
As an additional safety measure, some strollers also come with safety tethers, where you can tether the carriage to your hand and be doubly sure that the carriage won't roll away from you.
Bumper Bar
Some Prams and Strollers come with a detachable bumper bar, which provides additional frontal protection for the child. This bar prevents the child from falling over, in case the carriage is pushed with sudden force or the child tips forward.
Protective Shades/Canopy
The sunshade or canopy keeps the sun away, giving your child a cool place to ride under, even during summers.
Water Resistant Fabric
The fabric used to cover the frame, bassinet and canopy is usually water repellent, so your baby stays dry during the rains too.
Reference: 2-http://www.google.co.in/patents/US6671926
Features

&

Characteristics

of Prams and Strollers
Basic Features of Prams and Strollers
I based features of Prams and Strollers on safety, comfort, convenience and practicability of them.
You will find that convenience and practicability are categories that are parent-specific (ease of folding, maneuverability, etc.), whereas safety and comfort are oriented more towards the child (braking system, padding, etc.).
Height Adjustable Handle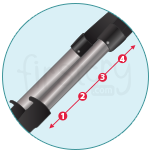 If more than one person is going to push your child's stroller then height of each person is obviously going to differ from the other. Then the height adjustable handle stroller could be ergonomically practical for you. The handle should be waist-high or slightly below. A single bar-handle is easy to maneuver with one hand, leaving your other hand free. A soft rubber/foam grip is comfortable, absorbs the sweat from your palms and helps you get a firm grip.
Brake Mechanism
Some strollers have brakes you can engage while on the move or at a standstill. Just be careful not to stub your toes while walking. Some strollers feature an optional speed control, which can be helpful in ensuring that the safety of your little one lies in the hands of the person pushing the carriage.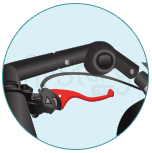 Hand brakes are convenient where pressing the brake lever by foot is not possible. Most of the Jogging strollers come with hand brake.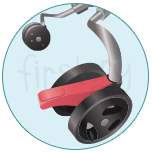 Foot-action brakes make a convenient option for when you've got your hands full.
Front wheel brakes make sure stability by controlling roll over.
Back wheel brakes are very common, are very easy to exercise quick control.
All wheel brakes gives supreme control.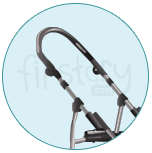 Frame should be light and manageable for you to handle, yet sturdy enough to provide ample protection to your child. There are plenty of light-weight yet sturdy-framed carriers available in the market to handle the combined weight of baby, and the contents of the storage basket.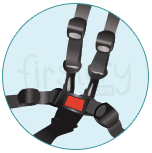 A safety harness helps secure babies in the stroller seat, even as they try to turn to their sides and peek out at the world. While the harness should be easy to unhook, it should also be comfortable and secure for the child. Some harnesses come with extra padding for added comfort.
Type of Straps
Minimum width of 20mm. It must either be directly secured to the frame, or to the back, which in turn is secured to the frame.
Minimum width of 20mm. It must either be directly secured to the frame, or to the seat, which in turn is secured to the frame.
Minimum width of 20mm. It must be attached to the front of the waist strap and must be not more than 200 mm away from the back rest.
Types of Harnesses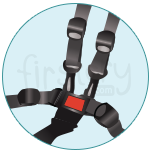 It has 5 safety straps that are 2 chest straps, 2 waist straps and 1 crotch strap available to secure your baby. A 5-point harness is considered as the safest, for smaller babies.
It has 3 safety straps that are either 2 chest straps or 2 waist straps and 1 crotch strap available to secure your baby. A 3-point harness is considered as the safest for independent sitters and toddlers.
It has 2 safety straps at waist that are available to secure your baby. A 2-point harness is considered as the safest for toddlers and older children.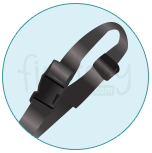 A tether strap works the same way as tethering your dog – it keeps the stroller bound to you at all times, whether or not parking brakes are applied. This acts as an extra but necessary precaution while your stroller is stationary, and will be very useful in case the brakes give away or the stroller slips away. The strap should be designed such that it is neither too long to become a potential strangulation hazard, or too short to be inconvenient.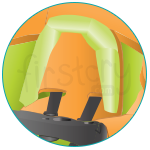 Strollers tend to have less cushioning as compared to prams. Some models have ergosoft cushioning with a fabric that can breathe, making them more comfortable for your baby. You may also notice a few strollers with padded shoulder straps, for added comfort.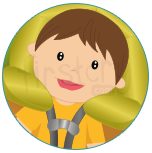 A head barrier is necessary to ensure that the child's head does not loll over and get entrapped between the frames. This is especially useful while placing small babies, who are not independent sitters yet, in strollers that have a reclining position of an angle greater than 150°. This also applies to strollers that have multiple recline positions or twin seating.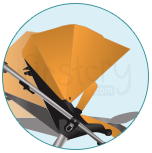 Any Pram or Stroller that bends beyond 150° should be good from newborn (their necks aren't yet strong enough to sit upright) to toddler phase (because they get sleepy). Recline options include a lever, buttons, and a strap or drawstring or a back bar- some smoother than others. The best ones can be operated with one hand and are easy to use, even with a child in the seat.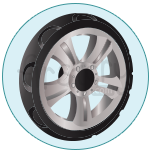 Larger wheels provide more stability, but can be a nuisance when it comes to storage space.
Tires
For giving your baby the best quality ride, ditch the plastic tires and opt for the following types of tires –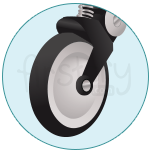 Air-filled tires are the most comfortable of all, but they can get punctured. They need time to time maintenance.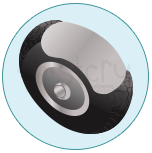 They ensure fewer jerks and shocks, especially for younger babies. They cannot get punctured.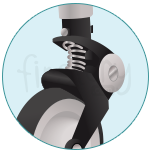 If you plan on taking your baby out for walks, you'll have to watch out for bumps (especially if it's a newborn). Look for large wheels and a good suspension, so the baby doesn't get rocked a lot.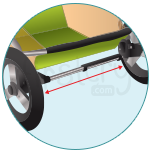 A wider base makes for a sturdier, hardier stroller; the seating is far more comfortable too. A longer wheelbase would add to stability, but decrease the turning radius, making it hard to turn in tight spaces. And of course, every inch you add will reduce that much of boot space.
Protective Shade / Canopy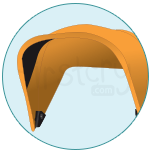 Most Prams and Strollers come with adjustable shades or canopies to protect your baby from the sun, but there are other interesting accessories you can pick up, like a rain cover or a UV-protective sun shade, to protect your baby during outdoor trips. Some canopies come with a peek-a-boo window, so you can keep an eye on your baby while on the go. You'll be especially thankful for a detachable one, when it needs cleaning.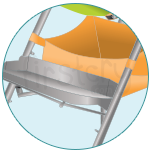 This is a feature that you won't need until your baby grows a little older. A footrest adds to the length of the seat and provides calf support for your toddler. Most footrests are adjustable, with anywhere between 2 and 6 positions, and can be adjusted at the press of a button, release of a lever or can simply be pulled into position.
Mosquito Net
Most Prams and Strollers come with an attachable mosquito net to protect your baby from mosquito bites and that of other insects.
Folding Mechanism
If you are looking for a Pram or Stroller that is easier to fold and handle, there are options that provide simple folding mechanisms. Check the folded dimensions of your carriage against the boot space in your vehicle (most strollers are between 95cm and 115cm long when folded).
A quick one-hand motion could mean that you can stow the carriage into the boot of your car while balancing your baby on your hip. It's easier to store a carriage that stands independently upright (or locks easily) when folded than one that doesn't.
Some lightweight strollers can be folded like an umbrella, so they are also called umbrella strollers.
Some strollers are made in such a way that they become very compact when folded and are easy to carry as well as store.
Parent Tray and Child Tray
To organize bottles, keys, teething rings, and other accessories for parents. Child trays give babies a place to eat, while on the go.
To keep your baby entertained.
In most modern Prams and Strollers, the direction of the seat can be reversed. Prams are typically rear-facing, while stroller frames are compatible with rear-facing bassinets or car seats for newborns.
Strollers come with reversible handles that can be positioned to make your child face you on the rear, or forward, according to the child's age and mood.
Many Prams and Strollers come with storage baskets. These baskets, of variable sizes, are situated under the seat, and when loaded, help increase your carriage's center of gravity, thereby giving it additional stability. Some strollers provide a rear pocket to store quick essentials, like your purse or mobile phones, so you don't have to bend to reach your phone or purse, every time you want to use it.
Swivel wheels make a stroller easy to maneuver, while fixed wheels make handling easier over rough surfaces. A stroller that has swiveled wheels should be locked, for extra stability. Some jogging strollers come with swiveling front wheels too, and they are more suitable for a combination of walking and jogging.
Important Characteristics of Prams and Strollers
Whether you are buying a pram or a stroller, or any of the different hybrids in between, there are some characteristics you need to look for in the carriage to ensure your convenience and your child's safety. The most important things to look out for are:
Weight
Some strollers tend to be lighter and less sturdy than others. You will find that umbrella strollers, jogging strollers and stroller frames weigh much less than prams, travel systems or standard strollers. Also, double or triple strollers are inherently bulky and occupy a lot of space, owing to their dimensions. The lack of stability in light-weight strollers makes them unsuitable for newborns, whose delicate necks need the steadiness of a sturdy carriage. Strollers are more suitable for toddlers and older kids.
Quality of Ride
Larger wheels, better suspension and more comfortable seating make a ride smooth. These are best for a newborn because newborns are delicate. Strollers for toddlers and older kids have comparatively smaller wheels.
Maneuverability
While strollers with narrower width and smaller wheels are lighter and easier to manage in crowded spaces, prams and strollers that are more sturdy tend to have larger and better swivel/locking wheels, making them easier to maneuver and more convenient over longer distances.
Flexibility
More flexibility means more comfort. Babies need not wake up when being moved from car to home or the other way around, because the stroller itself acts as a baby carrier or a bassinet.
While there may be key differences between types of strollers and prams, there are plenty of hybrids with cross-features. There are strollers with reclining seats and reversible handles and prams with larger wheels and comfortable suspension.
Reference: 3- http://www.parents.com/baby/gear/strollers/cutting-edge-strollers/#page=2
Different
Types

of Prams and Strollers Available in The Market

It is quite common to use the terms prams, strollers, buggies, and push chairs interchangeably. However, there exist subtle differences between them. Being aware of what distinguishes one from the other, will help you to better choose the right carriage for your child.
Prams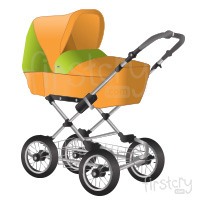 Prams allow for a flat recline, making them more suitable for newborns, since they will only be able to hold their heads upright, after they're about 6 months old. However, prams have limited reclining positions, making their use impractical once babies are able to sit upright.
Strollers
Strollers are ideal for independent sitters. Strollers are also called as push chairs or buggies in European countries. They present a lighter, less bulky travel option, which makes sense once your baby starts to grow and wants to explore the world. Strollers are lighter than traditional prams. Some strollers have multiple reclining positions that bend as far as 150°, making them appropriate for newborns too. Strollers come with a variety of features depending upon their use.
Standard Strollers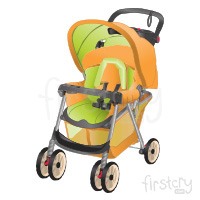 These could be front-facing, rear-facing or reversible, and come with an entire gamut of features.
Lightweight Strollers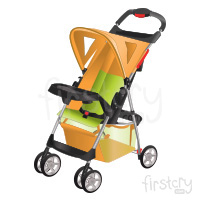 These are mostly front-facing strollers with lesser features than standard strollers, but these have an easier transportability.
Jogging Strollers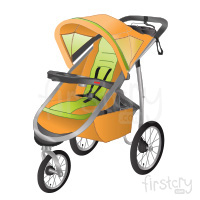 These, as the name suggests, are built to facilitate activities like jogging or hiking with the baby in tow.
Travel Systems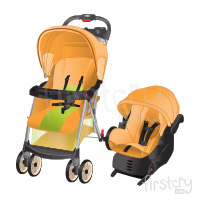 These are strollers combined with car seats and child carriers, providing a one-stop solution for all your mobility needs for your child.
Double Strollers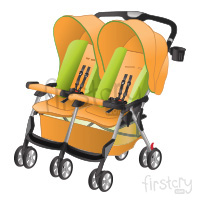 Have twins? Worry not! You can travel with both (or all) of them in a single stroller.
Stroller Frames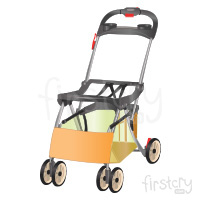 These are just the stroller frames sans the seating base (not really full-fledged strollers), into which you can attach your infant car seats, and viola! You have your stroller.
Dos

and

Don'ts
| | |
| --- | --- |
| Dos | Don'ts |
| Research a little. Before buying a stroller, search on the Internet to find out reviews about the types and models that you like. | Don't go after brands. While good brands offer a host of features, they may not all be of use to you. Take a look at all the options available and compare them with the features you need the most. |
| Take advice. If your friends or neighbors are already using a stroller, ask them about it. They might be able to throw light on some basic features that you are unaware of. | Don't look for a stroller with all the features. It might be hard to find one and might also not fit into your budget. However, you can purchase most of the parts separately. |
| Prefer safety, comfort and convenience to style. | |
| Stick to your budget. Remember, babies spend a very short time in these strollers. Hence, be wise while purchasing them. | |
| Sometimes, it's more practical to buy two strollers than to carry a heavier fullfeatured stroller everywhere and feel helpless. Think of buying a low-cost umbrella stroller along with a full-sized or jogger stroller. | |
| Tether straps must have conspicuous markings and warnings that are clearly visible. | |
| Appropriate instructions for attaching and using the tether straps, brakes, etc. should be clearly marked all over the strollers. | |
When Using the Stroller – Safety Considerations
| | |
| --- | --- |
| Dos | Don'ts |
| A responsible and qualified adult should assemble the stroller. Keep children away while assembling, as there would be a number of small parts and sharp edges around. | Never leave the stroller without applying parking brakes and holding on to the tether straps. |
| Always remove and discard the packing material before assembling, as they might cause a choking hazard. | Do not carry more than one child in a stroller meant for a single child, and not more than two in a double/twin stroller. |
| Always use the waist restraints or crotch straps to ensure that the child doesn't slide out of the stroller. | Never leave a baby sleeping in the stroller or a car seat unattended. Strollers are meant for traveling and even if you bring your sleeping baby home in the stroller, it is absolutely not safe to leave the baby sleeping there unattended. Always use a crib for unattended sleep. |
| Before using the stroller, make sure that it is fully assembled and locked in its unfolded position. | Never use the cup holders to hold hot scalding liquids such as tea, coffee etc. Even a slight jerk can cause a spill and harm your baby's delicate skin. |
| To avoid injuries to his/ her fingers or limbs, ensure that the child's hands do not reach joints or crevices that are sharp or narrow. | Never leave the child unharnessed in the stroller. Always use the safety harness. |
| Always exercise care when going over curbs or steps, and never use the stroller for anything other than transporting your child. | DO NOT carry or roll the stroller on the stairs or escalator with your child in it. |
| Push the stroller at a normal pace – a faster pace can cause a loss of control and leads to child injuries | DO NOT hang items on the handle bar or place them on the canopy as they can tip the stroller over and injure your child. |
| To avoid serious injury to the child, when a child car seat is in the stroller, make sure the car seat is securely snapped on to the car seat adapter. | DO NOT load the console or pockets with over 2.5 lbs. (1.1 kg) total. DO NOT load the main cargo basket with over 10 lbs. (4.5 kg) total. DO NOT load side/rear cargo pockets (if present) with over 2 lbs. (0.9 kg) per side/rear. The stroller may become unstable and tip over. |
| Some infant car seats have a blanket/boot option that must be removed for proper attachment to the stroller. | To avoid serious injury from falling out of stroller, DO NOT raise or recline the seat with your child in the stroller. |
| | |
| --- | --- |
| To avoid entrapment when making adjustments to the stroller, ALWAYS ensure that all parts of the child�s body are clear of any moving parts of the stroller. | DO NOT use the stroller if any of its parts are missing or broken. |
| | DO NOT allow your child to climb on, into, out of, or around the stroller. The stroller may tip over and injure the child. |
| | DO NOT allow your child to stand on the footrest. The stroller may tip over and injure the child. |
| | DO NOT place stroller anywhere near cords from window blinds, draperies, phone, etc. |
| | DO NOT suspend strings or toys from the canopy. |
| | DO NOT place items with a string, such as hood strings or pacifier cords, around your child's neck. |
FAQs
It's natural for parents to be wary and skeptical about things that their children might use. From baby food to diapers, from toys to strollers, they have questions galore.
That is the reason we have compiled a list of questions that are most frequently asked by parents while choosing a stroller.
1. Can Umbrella Strollers Be Safely Used for Infants?
Umbrella strollers are not recommended for newborns and infants up to 6 months of age. They are not well equipped to provide support to the delicate necks and backs of small babies. As such carriers have only a thin sheet of fabric and no cushioning, an infant's head will suffer jerks as the vehicle moves, which could damage the infant's vulnerable body parts. Some babies develop these muscles later than 6 months, hence parents should be fully sure of their child's ability to hold his/her neck and back, before using an umbrella stroller.
2. Can I Hang a Bag onto The Stroller? Is it Safe?
It is not recommended to hang a bag/purse onto the stroller as it may cause the stroller to become less stable, thereby increasing the risk of the stroller toppling over and causing injury to your child inside. You may stow your belongings in the storage basket that most strollers come equipped with.
3. Can I Use My Stroller If It is Broken?
For the safety of your little child, it is advisable that you do not use a stroller if any of its part is broken, torn or missing.
4. Does My Child Need to Use The Harness When Seated in the Stroller?
Never take your child out (even on short walks) in a stroller without properly fastening him first. Children get excited quickly and may act faster than you can react. A harness helps keep your little one in place and thus prevents him from falling or getting hurt.
5. What is The Difference between a Buggy, a Pushchair, and a Pram?
Buggies and pushchairs are the same thing. They are more useful when your baby can sit up (normally around 6 months) to enjoy the world around. Prams are more like a Moses basket/bassinet on wheels where your child can lie down fully and face you.
6. I was Recently in an Accident. Do I have to Replace My Child's Car Seat? There doesn't Appear to Be Any Damage.
Yes. You need to replace your child's car seat if it was involved in any kind of accident (big or small). Even though there is no visible damage on the surface of the car seat, the impact and force of a collision can cause unseen structural damage. Such a damage can prevent your car seat from properly protecting your child in the event of a crash.
Some insurers reimburse for the replacement of a new car seat if it was involved in a crash. Check with your insurance company/provider for more details on your policy.
7. Does My Car Seat have an Expiry Date?
Yes. All car seats have a suggested expiry date or "useful life". Look for the information on the bottom or the back of the seat. You need to check for the recall information. Also because of general wear and tear of a car seat, it is advisable to replace your car seat after the expiry date.
8. Do I Need to Buy a Car Seat of The Same Brand as My Stroller?
This will depend upon the brand of stroller or car seat. Some strollers may work with car seats of different brands, while other brands might want you to buy only from them, and so their strollers might be compatible only with the car seats made by them. However, several stroller brands provide you with a car seat adaptor, in addition to the stroller, that will work for select car seats. Before purchasing a stroller, check the product specifications so as to know whether you need to buy the car seat from the same brand or if you can buy it from elsewhere.
9. Are Double/ Triple Strollers Really Necessary?
Double/ triple strollers are especially useful for parents of twins or triplets. They need a stroller with the ability to carry two or three little ones of similar ages and needs. Instead of buying two or three separate strollers, such parents can decide to buy a double stroller with side-to-side or tandem facility. However, if the children are of different ages, instead of buying these double/triple strollers, parents can buy a single stroller for one child and let the older child walk alongside or get a stand-up combo, which is a stroller with a footstep for the older child to stand upon.
10. How Do You Check-in Strollers at The Airport?
This will vary greatly depending upon the airline. Some airlines treat carriages as luggage, requiring passengers to check-in the stroller at the ticket counter along with checked luggage. Other airlines ask passengers to check-in the stroller at the gate, and keep it ready when the passengers disembark from the plane. Some airlines accept umbrella strollers as hand luggage, as its folded dimension is within the hand luggage limit and it can be stowed in the over-head cabins. However, it is advisable to check with your airline before deciding on which stroller to take.
11. Do Airlines have Size Restrictions for Strollers?
Yes. Some airlines may have weight and size restrictions associated with their stroller policies. Parents of toddlers and older children are encouraged to use umbrella strollers. For newborns and infants, as umbrella strollers do not fulfill the needs, parents should take care to choose a lightweight, compact travel stroller.
12. Can I Buy a Used or Second-hand Stroller Safe for My Baby?
Not unless you know the thorough history of the stroller. It should not be more than five-six years old, should not have been involved in a crash, should not have any visible scars/ dents, and all the labels should be readable. Make sure you know the previous owner, who can tell you the history of the stroller honestly. Purchasing strollers from garage sales, re-sale shops and online portals for used goods is not recommended.
13. Should I Buy an Expensive Stroller?
Well, it depends on your needs and lifestyle. Expensive strollers may give you some additional features, but if you are buying them for their durability, then mid-range strollers are just as durable. It is advisable to buy two strollers (full-size or jogging stroller as per your needs, and an umbrella stroller for when the child grows up) instead of splurging on one
14. Can You Get Away with One Stroller or Do You Need More?
It depends a lot on your lifestyle and requirement. If you are parents who are always on the move, who love to travel or walk around the neighborhood or visit malls/zoos etc., then it does make sense to invest in more than one stroller. Buy a jogging stroller to tackle the sidewalks, bumpy roads etc., and get a lightweight umbrella stroller for the trips to the mall or zoo and invest in a good travel system for your off-road trips.
15. How Easy is it To Keep The Stroller Clean?
It is quite easy to keep the stroller clean, if it has removable, machine-washable seats. However, not all strollers have them. The seat can get really dirty over time. Make sure you are able to spot clean, if the seats are not removable. Buy a darker color stroller to hide the stains.
16. What kind of wheels should I choose for the stroller/Do I need to look for special type of wheels for the stroller?
Make sure the wheels are not air-inflated as they puncture easily. Choose solid rubber. Also, ensure that the wheels have watertight ball bearings instead of nylon ones (nylon bearings make irritating squeaking noises).
Common Stroller
Myths

Busted
1.
Myths
Larger Wheels Won't Work well for Jogging.
Fact: Typically, big wheels are more secure than smaller wheels, and are also easier to push. Most jogging strollers come fitted with 20″ wheels. However, nowadays you also find strollers with 16″ wheels with shocks fitted on then, which work as perfectly as the 20″ ones. Still, the wheels cannot be too small, like say 6″, in case you want to use the stroller while jogging.
2.
Myths
I can't Take My Child Out When it is Raining, or When There are a lot of Bugs Outside.
Fact: Most strollers come with sun guards and bug guards that allow you to keep you child dry during rains, and keep bugs from biting your child. Manufacturers also provide rain shelters that help keep your child warm and comfortable in a cool drizzle. However, it is safe to avoid taking your child outdoors during heavy rains or snow, unless you absolutely have to.
3.
Myths
I Can Use Any Stroller for Jogging.
Fact: Jogging requires faster movement of wheels and a firmer grip on the handles, so that you are always in control of the stroller, even while running. Your child should not experience too many jerks and bumps while you are running and should be comfortable during the jog. Standard lightweight strollers might not be equipped with the safety features that are necessary for the specific requirements of jogging. It is therefore better to use a stroller specifically designed for joggers in case you intend to take your child out with you while you work out.
4.
Myths
Jogging Strollers are Very Bulky.
Fact: While it is true that a completely fitted jogging stroller is bulky, the frames and the wheels are usually removable and easy to fit again. Therefore it is easily portable.
5.
Myths
The More Costly a Stroller is The More Features it Will Have. Cheap Stroller Won't Have The Necessary Features.
Fact: All strollers adhere to a minimum standard and provide all the essential features necessary to ensure the safety of a child. More expensive strollers would have more good-to-have features.
6.
Myths
It is Enough If I Ensure That My Child is Properly Restrained in The Stroller. I Need Not Keep An Eye on Her At All Times.
Fact: Restraining the child properly is not enough to ensure your child's complete safety, since dangerous parts might still be accessible to her. Your child could put her fingers between the moving parts or sharp edges and hurt herself. Make sure to buy a stroller that has the least number of potentially harmful parts.
7.
Myths
You Will Be Able to be in Control of The Stroller At All Times.
Fact: No matter how vigilant you are, there could be times when the stroller could roll away from you all of a sudden. You can never be too careful, therefore, ensure that you always have the tether straps in your grip and are holding the handles too. Make sure that the parking brakes are put on without fail.
8.
Myths
I can't Wait to Get Started on My Workout Routine Again. I Will Begin Jogging as soon as My Baby Arrives.
Fact: Newborns and infants have limited or no control over their head, neck and spine. They need to be seated in strollers that provide them with a proper reclining position and ensure their safety. However, jogging strollers are designed to seat children in an upright position only. So wait till they achieves that milestone, i.e., are able to sit upright, before putting them in a jogging stroller and taking off for a run in the park.