The Ultimate Prams Buying Guide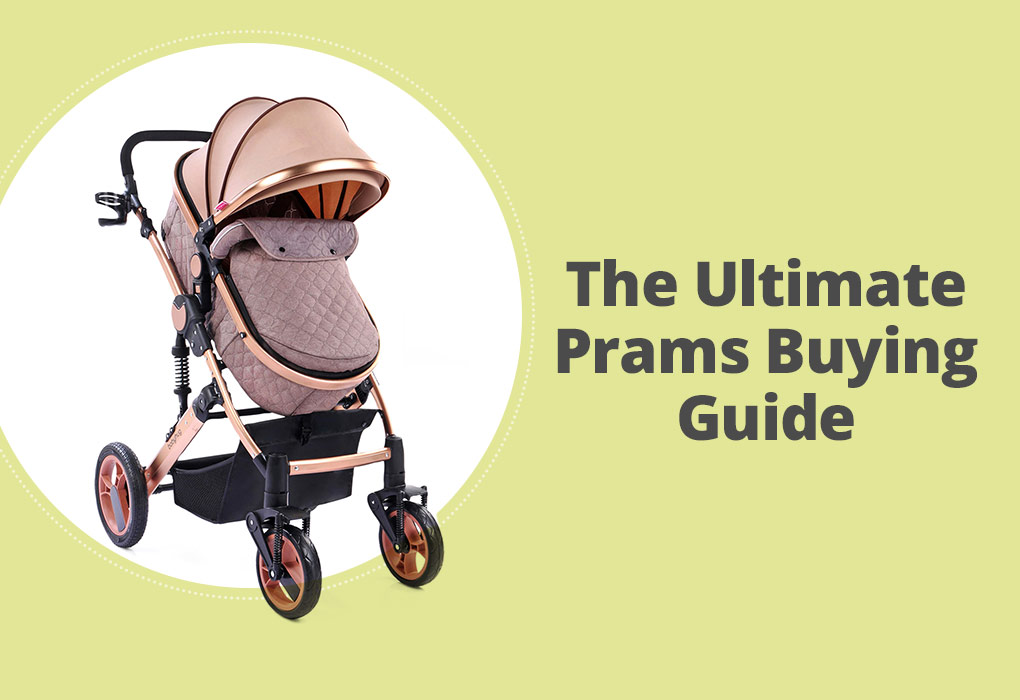 What is a Pram?
The word 'Pram' is derived from the word perambulator, more suited to carry babies from birth till they grow into independent sitters. Newborn babies do not have control over their neck, which needs to be gently held in place when the babies are lifted from their lying positions. Therefore, they require a carriage where they can comfortably lie and look at the world above them. The pram bassinets are ideal for babies to lie down on their backs, when the parents step outside. The canopy of a pram covers more than half of the bassinet, thereby shielding babies from dust and heat and giving them a cozy atmosphere. Since prams allow babies a fully reclining position, straps and harness belts are usually absent. However, you can customize your pram to add these features if you feel that they are necessary.
How is a Pram Useful?
While it is true that the bonding between the caregiver and baby increases by holding the baby close to your body, in reality, how long can you really keep your hand propped up holding up the little one? You obviously need your hands free for other tasks, and need to move around, going about your daily routine. There is the option of wearing your child, but that still constricts your movements to some extent since you cannot bend down to make swift movements. The answer to this dilemma then is, Prams!
A full sized four-wheel pram has a full range of options for bassinet, travel systems, accessories, and large wheels and generally come with rubber tires. They also have a wide canopy and usually cover up to half the carriage protecting the infant from dust and harsh light. A pram has wheels which allows you to easily push it around while strolling.
Why You Need a Pram?
Most moms prefer to use prams for their babies because –
Babies like to explore the world and all its sights and sounds, and shouldn't have to wait till they find their feet.
Taking babies in a pram and going for long walks helps them shed that pregnancy weight while giving their back a much-needed respite from strain.
With a pram, newborns get to enjoy warmth and comfort, even when outdoors.
Most prams allow rear-facing option, giving them the chance to maintain eye contact or sing to their baby wherever they go.
Features List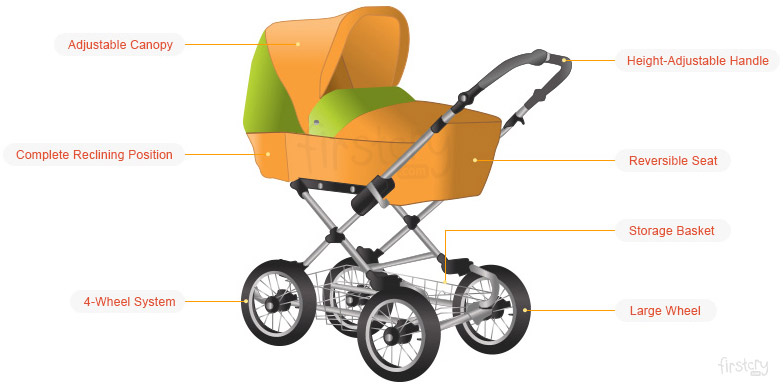 There are a few features to consider while buying a pram. The 'Must Haves' point to the essential features, while the 'Good to Haves' are add-on features you may or may not choose to go for.
Must Haves
An adjustable canopy.
Reclining Seat – Fully reclining position is best for babies who have not developed head and neck support.
3-Wheel System or 4-Wheel System – A 3-wheel pram is lighter and easier to maneuver than a 4 wheel one. This is useful for parents who wish to jog with their newborns in tow. However, the 3-wheel structure makes the pram less sturdy and stable.
Reversible Seat It lets babies enjoy the world or look at you when they are cranky.
Good to Haves
Toy Attachments – To keep your baby entertained.
I-Pad Hookup.
Height-adjustable handle.
A Storage Basket-To hold the diaper bag/ purse/ grocery bags.
Reversible Handle – Strollers come with reversible handles that can be positioned to make your child face you on the rear, or forward, according to the child's age and mood.
Reference:- 4-http://www.essentialbaby.com.au/forums/index.php?/topic/796558-reversible-pram/
Pros and Cons of a Pram
Just as there are 2 sides to a coin, prams have their advantages and disadvantages.
| | |
| --- | --- |
| Pros | Cons |
| A sturdy frame with 3 or 4 wheel options. | Can be heavy and bulky. |
| You can make the baby lie facing you or away from you. | Can be difficult to fold. |
| Storage spaces allow you ease of shopping with your baby. | Traveling through small spaces can be hard. |
| Prams can be customized with extra accessories, and converted into stroller to extended period of use. | Might not be ideal to use when traveling short distances (say, to a mall or a park). |
What to Look for when Buying a Pram?
Here are some points to keep in mind while buying a pram for your bundle of joy-
Look for quality materials and sturdy wheels.
Ensure that it fits into the boot of your car.
Look for a balanced design and suspension.
Look for durability, extra padding for babies, reversible seats and a large storage capacity.