5 Best Baby Rockers for Newborn Babies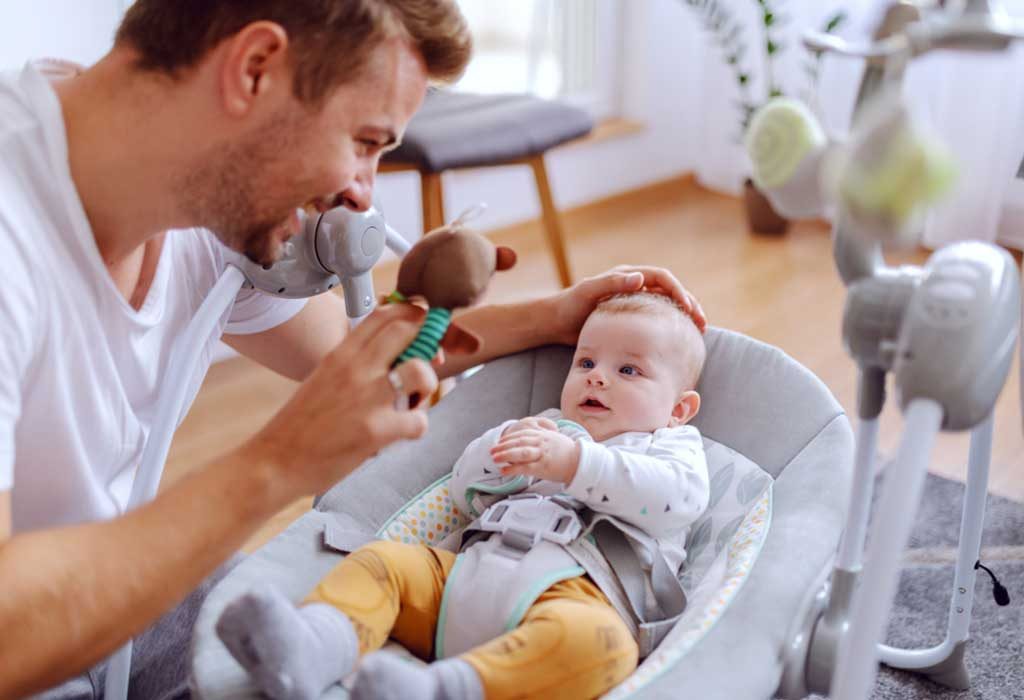 As a new parent, the arrival of your little one is truly a happy and memorable time for both you and the family members. We're pretty sure you would love to snuggle with your baby for the entire day if you could. Sadly, that's not really possible. At some point in time, you will want to take a shower, prepare a meal or get some chores done, and will wonder where you can keep the baby while you do so.
That's when a baby rocker comes in. Baby rockers are absolutely indispensable as they give new parents much-needed breathers every now and then. The next big question is, of course, which are the best baby rockers in India? This article will help you understand just that!
List of Top 5 Infant and Newborn Rockers
Every baby rocker is different. Before you get overwhelmed with the different rockers available in the market, take a look at the best baby rockers that you can consider for your munchkin.
1. Babyhug Opal 3 in 1 Cosy Rocker Cum Sleeper With Mosquito Net
Let your little one enjoy the gentle rocking movement of the Babyhug Opal rocker as it functions as a rocker, sleeper and bassinet!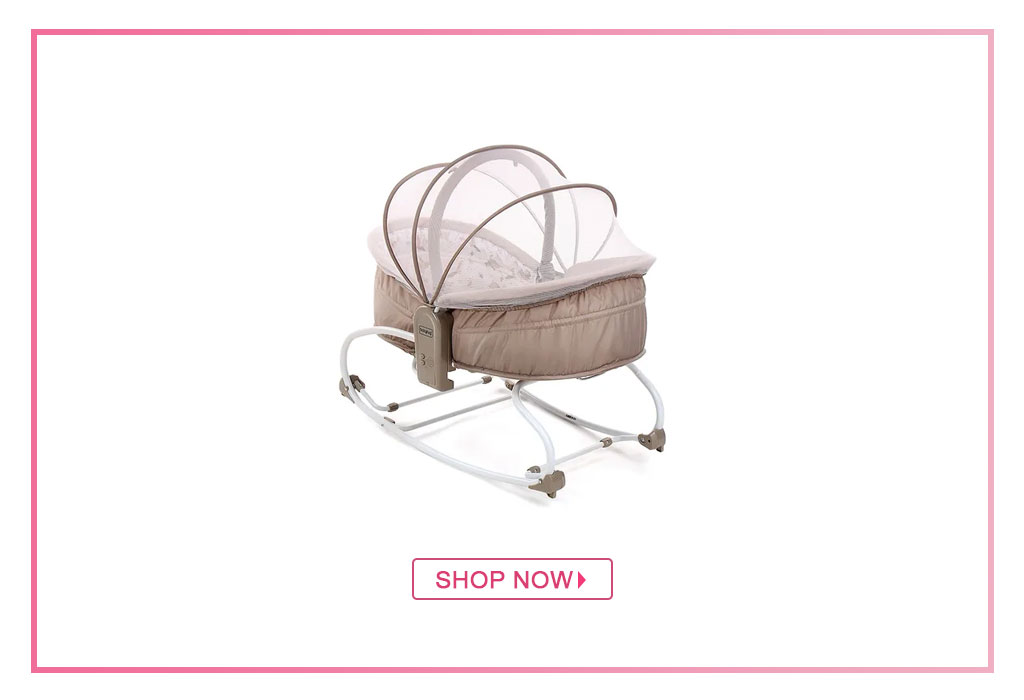 Product Description
It has three recline positions and soft three-speed calming vibrations to soothe and comfort your child, plus a fold-out stand for rocking or stationary positions. This battery-operated baby rocker plays 12 melodies to relax your baby. Your baby will also be entertained with the rocker's attractive and sturdy toy bar with two plush toys. This has easily got to be one of the best baby rocker sleepers in the market!
2. Fisher-Price Infant to Toddler Rocker
This rocker starts out as a newborn rocker or seat that is suitable for newborns. Then, as your baby grows, you can simply convert it to an infant seat!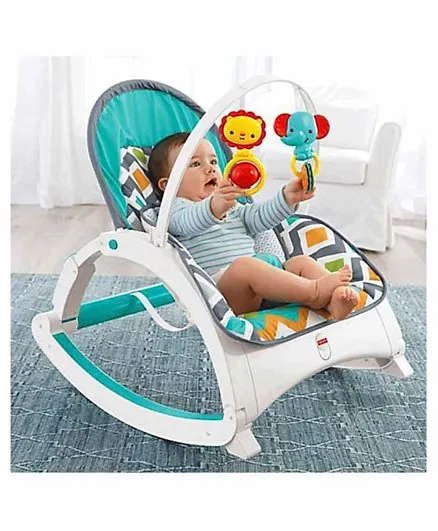 Product Description
The Fisher-Price Infant to Toddler Rocker comes equipped with an overhead toy bar which includes two hanging toys to pacify and entertain the baby. The three reclining levels allow for easy and quick adjustment as the baby grows. The rocker can be folded for easy portability and storage. Portable and foldable, what's not to love? This rocker is suitable for babies from 0-18 months.
3. Babyhug Delight 3 in 1 Infant to Toddler Rocker With Safety Harness and Reclining Seat
With amazing features like soothing melodies and calming vibrations, the Babyhug Delight 3 in 1 Infant to Toddler Rocker has been designed keeping in mind your baby's comfort!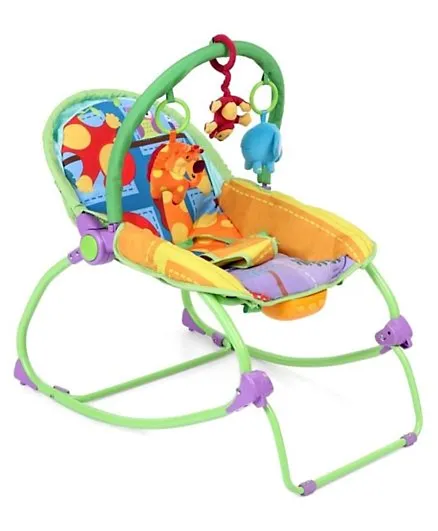 Product Description
With this rocker, you get a soothing bouncer, rocker and a chair all in one, making it an economical choice while you also save up on storage space. The overhead toy bar encourages your baby to reach out and play with the hanging toys which will help develop their fine motor skills. Since this rocker is sure to be used for a couple of years, you'll be happy to know that the removable seat cover can be machine washed!
4. Fisher-Price New Infant to Toddler Rocker
When it's time for rest, the rocker's soft, reclining seat helps your baby feel comfortable and secure. When it's time for play, the colourful toys help stimulate your baby's senses!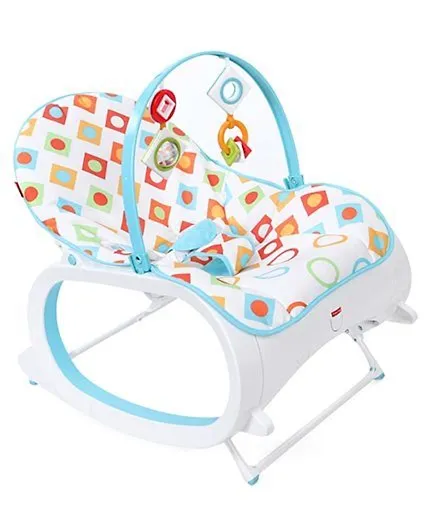 Product Description
The Fisher-Price New Infant to Toddler Rocker offers a convenient space for your baby to feed, play or rest. With a modern design and features like the two-position seat recline, fold-out kickstand, and the washable seat pad, it's not difficult to understand why this is one of the best infant rockers to be considered!
5. Fisher-Price Infant to Toddler Rocker Animal Design
The Fisher-Price rocker is perfect for newborn babies to toddlers. This rocker cum chair has a jungle animal theme and is portable.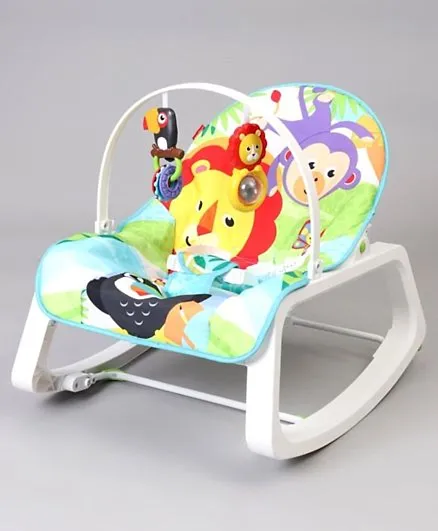 Product Description
The rocker is fully secured and is equipped with a three-point safety harness. The seat is removable and can be machine-washed. With a carrying capacity of up to 18 kgs, this rocker has been designed to convert into a stationary seat with a fold-out kickstand. The recommended age to use this rocker is 0-18 months.
FAQs on Infant Rockers
1. Is a rocker sleeper good for a newborn?
Baby rockers provide a comfortable rocking motion that soothes the child until they can fall asleep. These rockers are generally safe for newborn babies. In addition to this, it makes it easier for the new parents as they can keep their baby in a safe and comfortable space while they do their other chores.
2. Which is better – a baby bouncer or an infant rocker?
Both baby bouncers and infant rockers are good as they keep the baby calm and soothe them until they go to sleep. However, both these equipment work in two different ways. Baby rockers are a better option to consider when it comes to space because they don't require much overhead space as the baby bouncers do.
3. Can babies eat or feed in a rocking chair?
Yes, most baby rocking chairs can be used while you feed your baby. You will have to simply recline the seat and properly position the baby for feeding. You, however, should be extremely cautious as a little inattention can cause your baby to choke on their food because of improper positioning.
To select the right baby rocker, you should first consider your budget and living space. Whichever one you choose, the baby rocker can be a big help during your child's earliest days. All the baby rockers in this review will provide your baby with a comfortable space. Select the one that will calm and help your little one relax at all times!
You May Also Like:
10 Best Prams & Strollers
10 Best Car Seats
10 Best Baby Swings
Offers & Deals
Baby Gear Products
Baby Gear Products Brands
Baby Gear Products Offers & Deals
Baby Gear Products on Sale
Also Read:
Baby Gear Essentials Checklist
Are Inclined Sleepers Safe for Babies