6 Best Swing Cars for Babies and Kids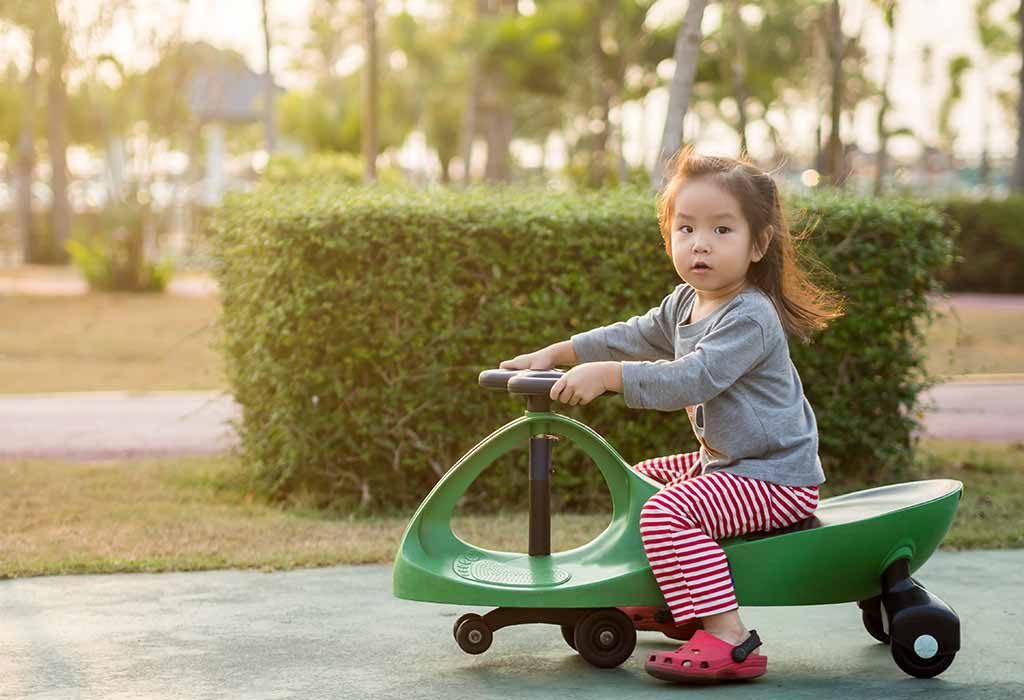 If you're honest with yourself, you will admit that you secretly envy your baby a little for being born in a decade where he has access to such cool and fancy toys and baby gear. How you wish you could play with those fine quality wooden toys or ride those cute and colourful swing cars which were popular back when you were a kid, but maybe not so affordable. Now, these are not just new and improved but they also come in various types and price ranges, making it possible for every parent to get one for their little racers. Watching your munchkin giggling and flaunting their shiny new toy is bound to get you excited!
We've rounded up our top swing cars for babies and kids, to help you buy the best one for your child!
List of Top 6 Swing Cars and Twisters for Kids
You're going to love these! Let's 'ride' right in, then?
1. Babyhug Froggy Gyro Swing Car With Easy Steering Wheel
Your little boy or girl will love this blue and yellow swing car. It guarantees many hours of fun. And when they are not riding it, they can play with cute little green froggy in the front.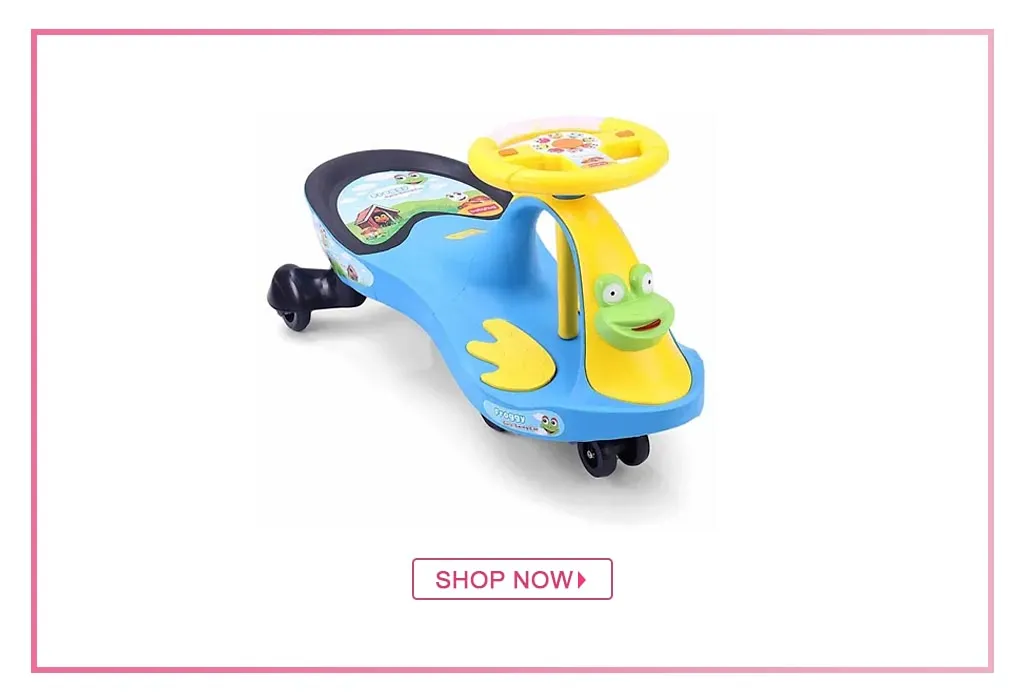 Product Description
When buying a swing car for kids, the first thing you will check is its sturdiness. And with Babyhug's Froggy Gyro swing car, you've got it. Made from high-quality rugged plastic, this strong and sturdy car will last until your baby is ready to outgrow it and ready for his next big vehicle! The steering wheel is easy to twist and operate. It is EN 71 certified, which simply translates that it meets certain safety requirements and test methods. So, no worries there about your baby's safety! It's all taken care of!
2. R for Rabbit Iya Iya Swing Car
This orange and blue swing car has a certain charm to it that even you'd want to ride it. And you certainly can—it has got a carrying capacity of 125 kgs. You and your child are going to love the smooth riding experience on this car!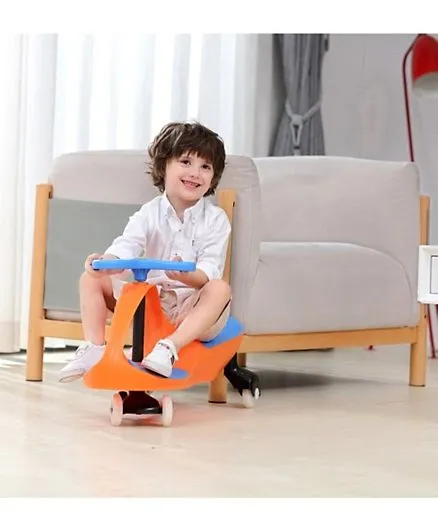 Product Description
Made of high strength BPA-free plastic and having earned the EN 71 certificate, this swing car will offer safety at its best. The PU wheels and ABEC 7 bearings installed are for a smooth and fast riding experience. The large rear seat is an advantage; even you can ride along with your baby. This car is perfect for both outdoors or indoors. Ride on any smooth surface and don't worry about the scratches on the floor (in case your baby decides to ride it in the living room), as there won't be any. The high-quality PU wheels ensure that the floor of your beautiful house doesn't turn into a well-worn racing track.
3. Babyhug Space Gyro Swing Car
A space-themed swing car for your little astronaut! The attractive colours and the graphics will instantly appeal to your child. And the music and lights will make the ride all the more fun!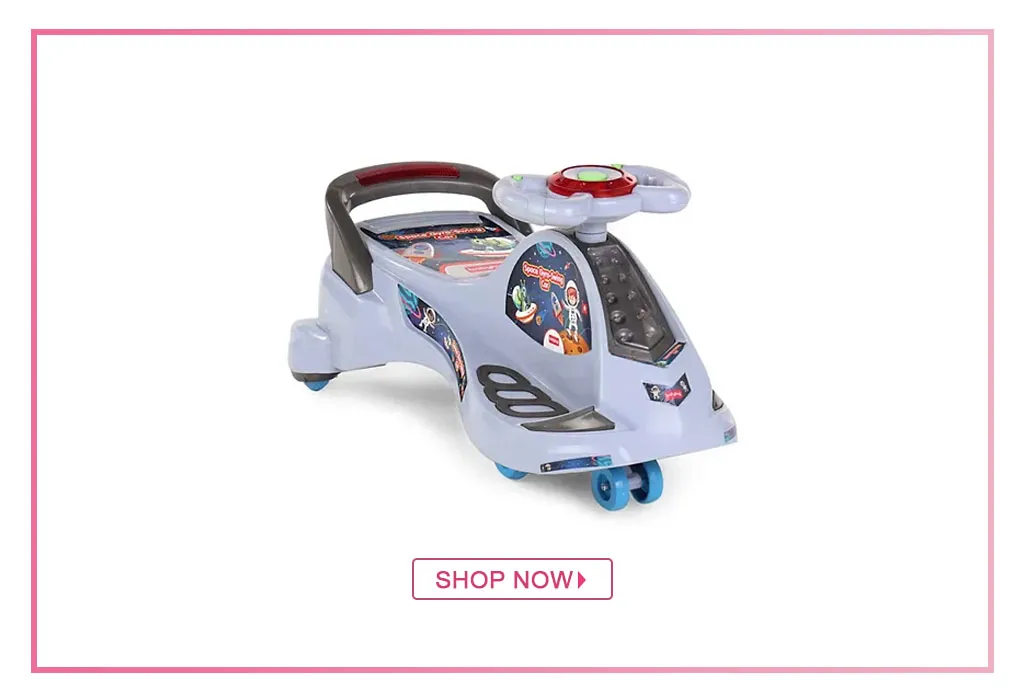 Product Description
This premium quality, space-themed car is easy to assemble. Its anti-slip spacious seat offers a comfortable ride to the child, and the wide footrest adds to that comfort! This car has a carrying capacity of 70 kgs and is suitable for kids above 18 months of age. A swing ride-on car with music, lights, footrest, and a cute theme—this car pretty much packs in everything you could ask for in a swing car for your little rider!
4. Babyhug Baby Panda Gyro Swing Car With Steering Wheel
Who doesn't love a cute baby panda? We sure do, and so does your child! Surprise him with this Babyhug Baby Panda Gyro swing car—he will spend every waking minute of his on this car!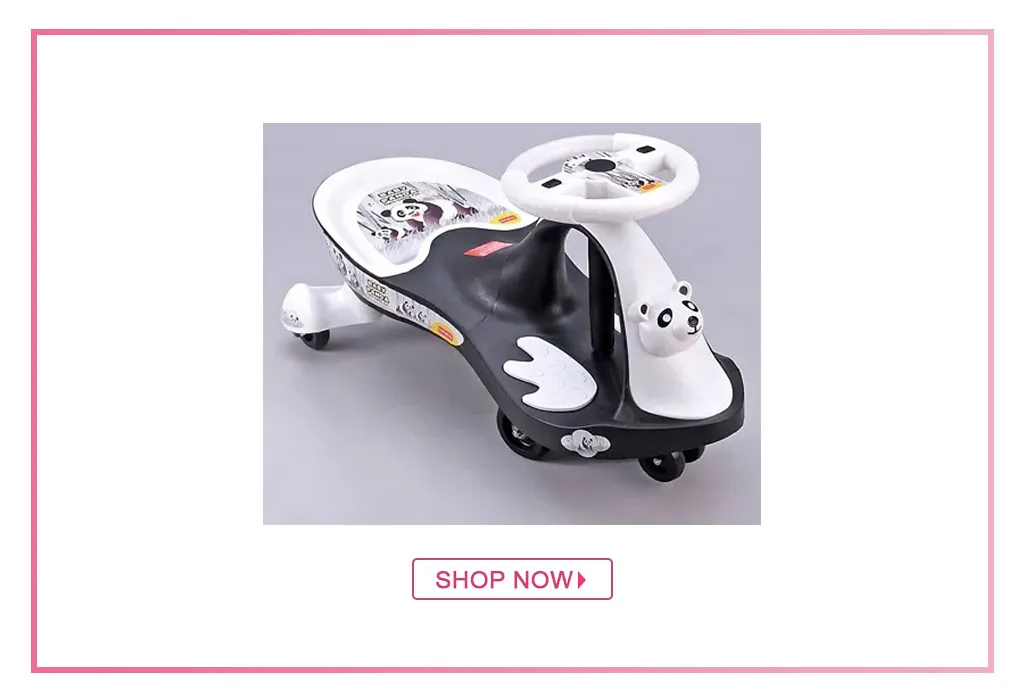 Product Description
This cute and durable swing car is made of high-quality virgin plastic and is very easy to assemble. Your child won't need pedals, batteries, or gears to ride this car. All they need to do is twist the wheel on a flat smooth surface—and off they will go! It has got a sleek, aerodynamic look, just like that of a racing car, and your child will have a lot of fun, sitting on, and riding this car.
5. Babyhug Dragon Gyro Swing Car
This red and grey dragon-themed car is just what you need for your little racer! This car is perfect for kids above eighteen months of age.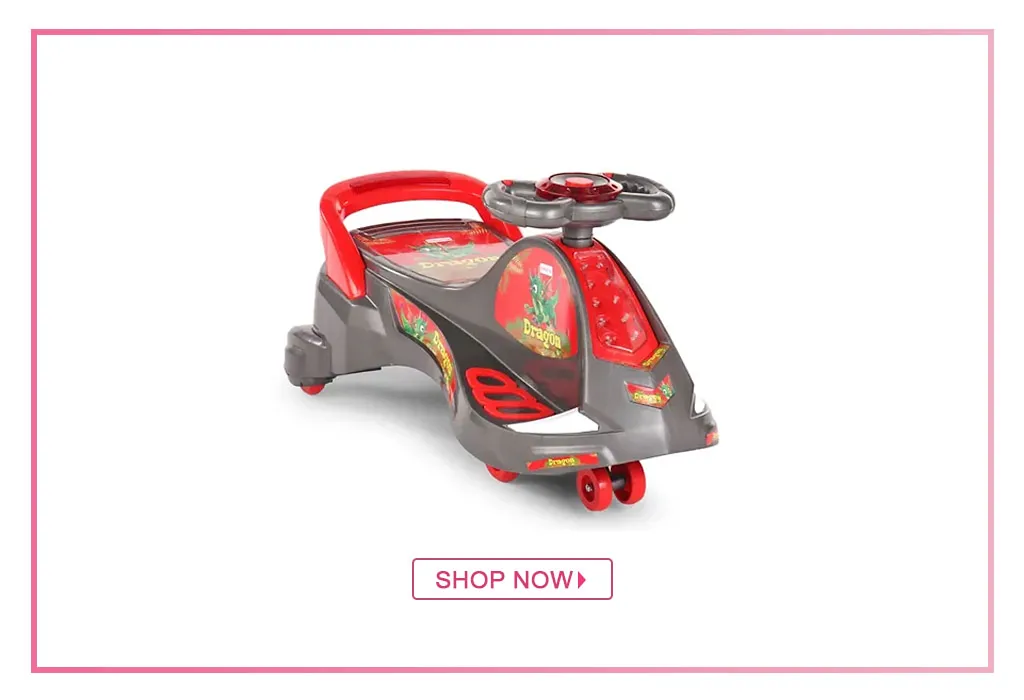 Product Description
This premium car by Babyhug has an attractive design on it. It has a spacious and anti-slip seat and a wide footrest, which will make the car ride smooth and comfy for your child. Added features including lights and music will keep them entertained.
6. R for Rabbit Super Wings Swing Car
An easy-to-ride attractive car with a carrying capacity of 110 kgs is suitable for kids between the ages of 3 and 5 years.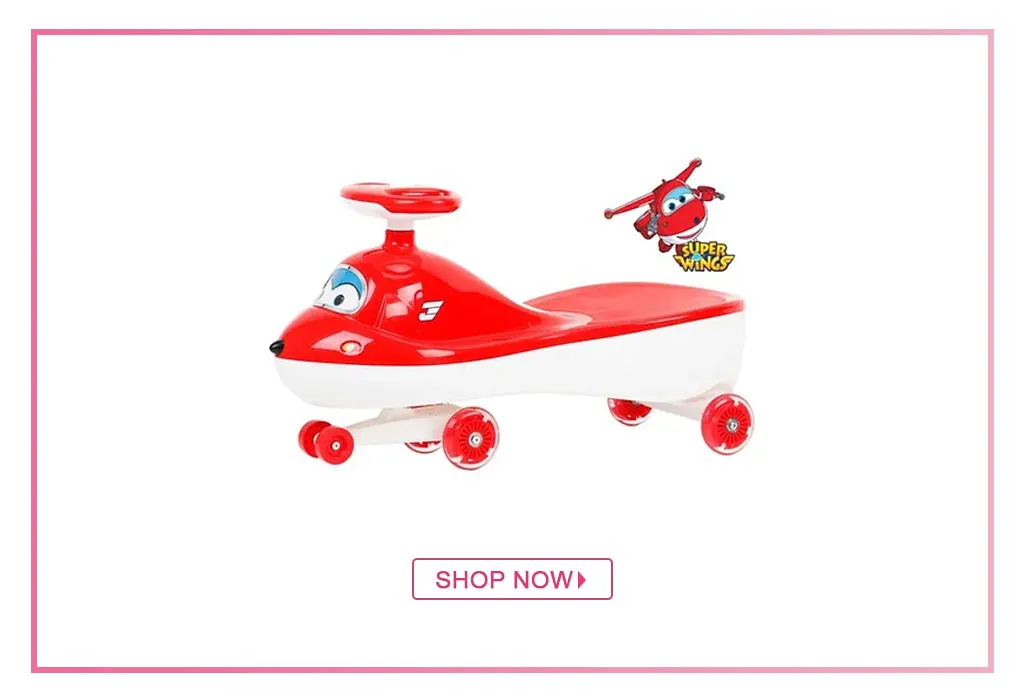 Product Description
This highly attractive red twister car can be used both indoors and outdoors. Its design is inspired by the character JETT of 'Super Wings'. This car has an EN 71 safety certificate and it is made with high strength, optimum quality plastic, so you won't have any safety concerns. What's more? The PU wheels ensure a smooth ride, around the living room and also the pavement!
FAQs on Swing/Twister Cars
1. What Surface Does the Swing/Twister Cars Work On?
Swing or twister cars work best on a smooth, flat, or plain surface such as the pavement or laminate floors, tiles, etc.

2. How Does Swing Car Work?
Swing cars work by wiggling the steering wheel, which is attached to the two wheels touching the ground. It works on mechanical power, harnessing the natural force of inertia, gravity, and centrifugal force which helps the car move forward and backward.
Swing/twister cars guarantee endless joyrides for your baby, make for great photo-ops and are certainly great for motor skill development. So don't hesitate too much, buy one from the above list and experience the sheer joy of watching your sweet little munchkin laugh away as he rides around on his favourite new toy!
You May Also Like:
5 Best Baby Swings
10 Best Baby Walkers
Offers & Deals
Baby Gear Products
Baby Gear Products Brands
Baby Gear Products Offers & Deals
Baby Gear Products on Sale
Also Read:
Guidelines For Choosing Toys For Toddlers
Toddlers Playing With Pull-Along Toys
Playing With Pull Toys in A 16 Months Old