The Complete Baby Swing Buying Guide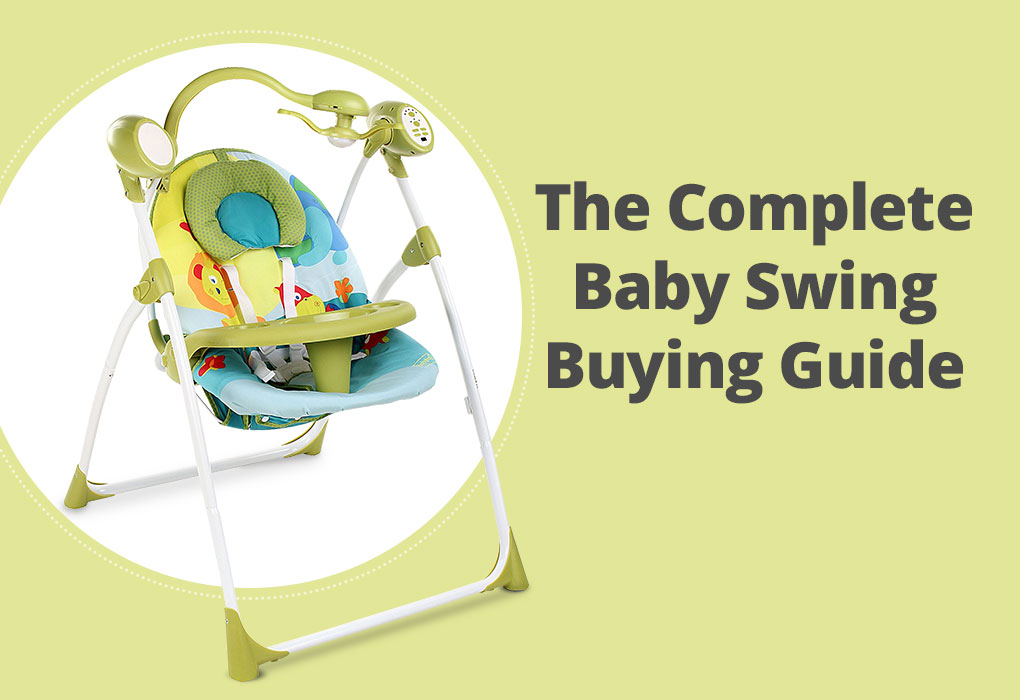 Overview

of Baby Swing Buying Guide

Baby swings are effective alternatives to carrying babies in your arms and providing them soothing movement. They have multiple uses � to secure babies while you are busy working, to soothe them when sleep or tiredness sets in, and to entertain them. Baby swings can be used for newborn babies to toddlers. There are several kinds of baby swings available in the market, based on various factors such as age, weight limits and movement types. Choosing the right swing will keep your baby safe, secure and entertained while you get your work done.
What

is a Baby Swing?
You little one is still not yet able to move around. Looking after newborns and keeping them entertained while attending to daily chores is quite difficult. Baby swings are a safe and secure place for your baby to sleep or play. Baby swings have safety harnesses to make sure your baby stays safe when the swing moves or vibrates. The ergonomic seat of a swing keeps babies comfortable in the swing while you finish off daily chores.
Baby swings have features that keep little ones entertained and occupied, such as music, dancing lights and music. Features like these attract babies' attention and keeps them stimulated as they reach for toys, watch their own reflections in the mirror, listen to soothing music or look at the dancing lights.
A baby swing can also be a comfy place for a baby to take a nap. Because of the portability of swings, parents can move their babies around the house.
When

to Start and Stop using a Baby Swing?

Baby Swings are excellent companions for babies and a friendly solution for moms looking to provide a perfect comfort zone for their infants. However, you need to be aware of their specifications and limitations, so as to not misuse them, for the sake of your child's safety. Consider the following pointers before you decide to use a baby swing for your child.
Age Limit
Baby swings can be used right from birth till your child reaches toddlerhood. However, if your baby is a preemie, you might want to consult your paediatrician to ascertain if a swing will be suitable for your child. Every baby swing comes with a prescribed age limit. Check if the age limit specified in a model is suitable for your child.
Weight Limit
Most manufacturers claim that their swings can hold up to 13.5 kg. However, it is recommended to stop using swings when the baby reaches around 11-12 kg. Bigger and heavier babies run the risk of upending the swing or breaking it and getting injured in the process.
Duration
Although there is no doubt that baby swings can be great companions to babies, you must resist the temptation to let them hang around in the swing for longer periods of time. Experts recommend not more than 15 minutes per day of swing time, keeping in mind the safety of children and the emotional and physical bonding with the parents that is so necessary at their tender age.
A baby swing can be used to:
Calm down your baby 1½

It provides the right swinging motion to keep your baby calm and comfortable.

Help your child sleep �

If your baby starts becoming restless while you are busy cooking or cleaning, just shift your baby to a baby swing and allow the baby to take a nap. You can also move this gadget anywhere around your house, so you can keep an eye on your baby without disturbing baby's nap while working.

Entertain your child 1½

You can add fun accessories to the swing to entertain your child. Features like music, toys, lights, etc. can help develop your baby's observational skills while letting the child have a great time.
Why You

Need

a Baby Swing?
As new parents, you might be finding it hard to manage both baby and house. Tending to your newborn probably consumes most of your time and energy, and those household chores just seem to be piling up. In that case, Baby Swings are the perfect solution to all your problems. A Baby swing keeps your child entertained while you finish your work around the house. It lets you keep your baby close while you're working, so you can always rest assured that your baby is safely nestled in the swing. When your baby is restless or colicky and crying inconsolably, the soothing motion of the swing will calm your little one. Its coziness helps relax and put your baby to sleep. A baby swing is pure fun, and more. It helps develop your baby's sense of sight, sound, and touch.
Don't worry, a baby swing is perfectly safe to use for your little darling.
A Baby Swing has two primary uses:
1. To Entertain Your Baby When The Baby is Awake
You probably find yourself spending the whole day entertaining your baby. Why not sit back for a while and let a baby swing do it for you? Leave your baby in the swing and take that time to either relax or finish off those chores around the house. You can even take the swing to where you're working. This way, you get to keep your baby close, know your little one is safe, and still get the work done. A baby swing comes with an assortment of accessories that will keep your baby engaged and amused.
Mobile hanging toys with light: The hanging, rotating toys with colourful dancing lights will provide the baby with visual stimulation and help develop baby's motor skills.
Built-in MP3 Player: The built-in MP3 players will let you play CDs and DVDs to keep your baby entertained.
iPhone, iPad hook up: Some baby swings let you play music and sounds directly from your iPhone or iPad. This way, you get to choose something that both you and your baby will enjoy.
Standard USB port: Many baby swings provide an option of plugging in your MP3 player or USB device to play your baby's favourite music while the baby is enjoying the swing.
2. To Soothe and Put Your Baby to Sleep
If you're struggling to get your baby to sleep or calm your little one, getting a baby swing would be a lifesaver! If your baby is colicky or crying incessantly, a swing helps soothe the baby. The semi-recline position of a swing lets your baby take short naps comfortably, more so if the baby has a stuffy nose or other breathing issues. Also, babies love the gentle, rhythmic motion of a swing.
The Types of Motions Different Baby Swings Offer,
Swinging Motion: Babies love swaying about in a swing, and thoroughly enjoy the traditional head-to-toe motion in a swing.
Vibrating Motion: The gentle vibrations of a swing calms babies when they are erratic or unable to sleep.
Gliding Motion: A gliding motion ensures that the swing moves smoothly, without any jerks, and calms the baby.
Cradling Motion: In addition to the swinging, gliding or bouncing motion, some swings come with a typical cradle-like motion too.
Bouncing Motion: Many baby swings have an add-on bouncing feature to further make the baby's experience enjoyable. A detachable swing seat converts into an independent bouncer.
Rocking Motion: Many baby swings come with a detachable swing seat that converts into an independent baby rocker.
Canopy:

A canopy provides your baby with a cozy environment and creates the necessary ambiance for baby to fall asleep.

AC Adapter:

While some swings come with a built-in DC battery slot, others have an attached cord to connect them to an AC power source. So if the swing stops due to the batteries running out, just plug the power cord into a socket and let your baby continue enjoying the swing.

Portability: A foldable nature makes the baby swing movable within the house and outside too.
A baby swing is incredibly handy for new parents. You can place your baby in it and know that your little one is safe. With a baby swing at home, you'll no longer have to spend all your time and energy in keeping your baby engaged. Let the baby swing entertain your baby for some time and finish off your daily chores meanwhile. Allow the swing to soothe your baby and let your little one take short naps in it during the day. All in all, a baby swing will not just make your life a lot easier, but also keep your baby happy and occupied. So what are you waiting for? Take a baby swing home and gift yourself and your child an exceptionally amazing experience.
Basic
Features

of a Baby Swing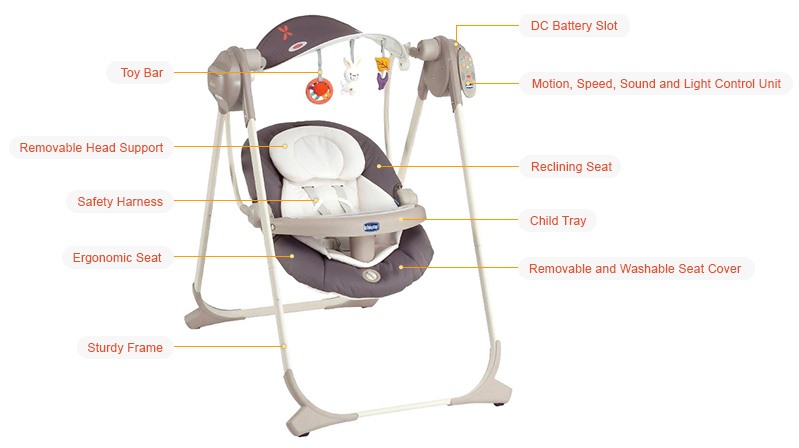 Basic Features of a Baby Swing
Baby swings are not a new concept when it comes to baby care, but they certainly have undergone a sea of transformation over the past decade. You can now choose from a range of features while buying a swing for your little one. From the simplest designs to the most accessorized models, the choices in the market are numerous. Knowing the features that will best suit your child's needs can help you decide which swing to buy.
Ergonomic Seat
Although most swings are designed in a standard cradle-shape, a good baby swing will have an ergonomic shape to ensure complete support to the baby's head, neck, and back. As a baby uses the swing in very early stages of development, it is essential to select a swing that has the right shape, to ensure the baby's safety.
Safety Harness
Swings come with safety harnesses, such as 5-point harnesses or 3-point harnesses to keep your baby secure inside the swing's seat.
Removable Head Support
A removable head support will help your baby comfortably recline when playing with the toys hanging overhead. Since baby swings can be used right from a baby's birth, it is necessary that they provide adequate head and neck support till the baby develops neck balance.
Reclining Seat
Most swings provide at least 2 reclining positions -an upright one, a lying down one. These can be used according to when you baby wants to sit or sleep.
Child Tray
A child tray is a handy feature for when you want to place something in front of your baby to eat or play with while swinging slowly.
Removable and Washable Seat Cover
Most baby swings come with removable, machine-washable seat covers. Ease of washing the seat cover is of utmost priority since it is inevitable that there will be some spillages or soiling when you are using the baby swing.
Toy Bar
A toy bar is an arch-shaped fixture that runs above the child seat, from which you can hang your baby's favourite soft toys, colourful dancing lights, etc. to amuse your little one. Almost all good brands of baby swings provide a toy bar.
DC Battery Slot
Some swings come with a built-in DC battery slot. Most of the battery-operated swings offer portability. As you will have to spend a lot on the batteries later, look for a baby swing that is battery-operated and can run with electrical power.
Motion, Speed, Sound and Light Control Unit
Most baby swings offer a control panel which allows specific Motion, Speed, Sound and light settings in accordance to your baby's preference.
Sturdy Frame
Most swings come with a sturdy, stable structure, that is capable of supporting your baby's weight and staying firm on the surface you place them. Even in portable or lighter versions, you can choose designs that provide greater stability to the entire swing.
Pros

and

Cons

of a Baby Swing

Baby swings are a staple equipment for parents struggling through their children's development stages. The reassuring swinging motion of a baby swing not only soothes fussy babies, but also provides a brief reprieve to parents. But while it is a tried and tested contraption for babies, there are both positives and negatives associated with the usage of baby swings.
| | |
| --- | --- |
| Pros | Cons |
| The ergonomic shape and design of baby swing better suits the developing spine of babies and supports them well, while they are resting or playing in it. | Babies start preferring baby swings over cribs and beds, forcing you to let them stay in it for longer periods than advisable. |
| They are available in a wide range of prices, depending upon the added accessories and features, allowing for parents to select the swing best suited to their needs. | As babies use swings only for a few months, pricier swings can leave a burning hole in your pockets. |
| The additional musical features and soft toys keep babies engaged for a long time. The music tracks create both an exciting mood and a soothing atmosphere. | The humming noise of a swing in motion, plus the add-on musical distractions can be quite noisy when you need some quiet around the house. |
| Most baby swings can operate on both AC and DC power sources. | Baby swings consume a lot of power – be prepared to change their batteries every so often, or for elevated electricity bills. |
| Baby swings are sturdy. They can sustain swinging motions in varied speeds and still ensure that babies don't topple out of the swing. | The sturdy frame makes them quite heavy. Some large baby swings are as heavy as 27 kilos, making them less portable. |
| Baby swings are designed with safety harnesses and have inbuilt weight limits. You can start using them for babies as young as 8 months old without the fear of them being uncomfortable in the swing or falling out. | As baby swings are designed for average baby sizes, taller babies may find their feet scraping the ground within few months of using the swing. |
| Many branded baby swings have built-in timers, allowing parents to regulate the amount of time their baby should spend in the swing. | |
What to
Look
for in a Baby Swing?
The baby's comfort and safety is what every parent looks for in any baby product. Understand the features of a baby swing before making the purchase for your little one.
Size
Baby swings come in various sizes. If you have a lot of space in your house, go for a full-size baby swing. If not, choose a small-sized baby swing.
Portability
If you are the travelling type, opt for a portable baby swing. The compact fold makes it easy to carry or store. It will also help you if you have space constraint in the house.
Operational Mode
Baby swings are either battery-operated or run with electrical power. All portable baby swings are battery-operated. However, frequent change of batteries could be expensive. So look for the type of baby swing that would save your money on the batteries.
Safety Harness
All full-size baby swings come with a mandatory three-point harness, to prevent babies from slipping out of their seat. However, a five-point harness with over-the-shoulder straps is considered to be a safer option.
Multiple Recline Positions
All baby swings should have a reclining position for the baby's comfort. Put your newborn in a reclining position during rest and in an upright position during play.
Speed and Motion
Most baby swings offer a back-and-forth motion, some offer a side-to-side motion, and the rest offer both. Choose one that will easily soothe your baby. Also, some swings offer up to eight speeds. Starting from the lowest speed, find out the suitable speed for your baby.
Entertainment
If you want your baby to stay awake and entertained, go for a baby swing with special features like sound, light, toys, etc.
Easy to Clean
Your baby's spitting, drooling and overflow of the diaper can cause you extra work. So look for an easy to clean and machine washable seat cover.
Safety Standards
Check whether the product meets all safety standards and has a seal of approval from a recognized authority.
Types

of Baby Swings

Swings can broadly be classified into two categories – for babies and for toddlers. Baby swings can be used up to 18 months (or 14 kg), starting from birth, while toddler swings are usable from 6 months to about 2 years. Swings for smaller babies can be further classified based on their sizes and functions, into:
1. Full-size Baby Swings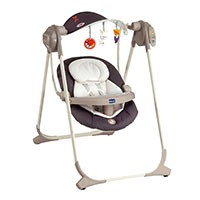 Full-size baby swings come loaded with various features and provide the best comfort and swinging motion for your child. These swings are what parents opt for when space is not an issue and they are looking for something that is roomy, with more options for speed and motion and a longer life span.
2. Portable Baby Swings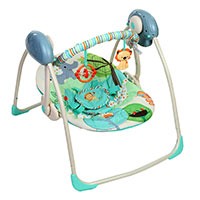 Portable swings can be carried along wherever you go. They are simple, devoid of the entrapments that come with full-size swings, are lightweight and easy to carry around. Placing babies in it to calm them down is a definite plus. Portable swings can be used for babies weighing from 2.5 kg to 12 kg (newborns to 1 year olds). Some portable swings convert into stationary seat to enable baby feeding.
3. Combination Baby Swings
A combination swing is a dual-purpose swing that can double up as a bouncer, rocker, glider or cradle. As the name suggests, the main attraction of these swings lie in the combination factor – they save space, are more convenient and can be put to use better. Combination swings integrate the best of two features to provide parents with relief and some time away to complete other chores. They are compact and occupy very little space. They are mostly battery-operated, so they generate a low churning noise that can affect the baby's sleep patterns. These can be used for babies up to one and half years of age.
4. Glider Swings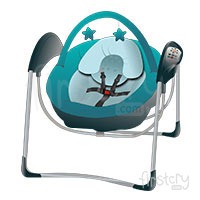 Glider swings are innovative baby products designed to comfort the baby in a soothing manner. They move in a gentle manner akin to that of a soft cuddle of a nursery glider. They are very easy to move around the house or along with you and help keep your baby near you at all times.
5. Cradle Swings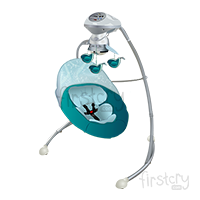 Motherly warmth and care are ascertained when babies are placed in cradle swings. Cradle swings aptly entertain infants when they are awake and tenderly sway them to sound sleep when needed. Comprising of a delicate interior made of soft materials and protective pads, your child stays fully safeguarded in this baby swing.
6. Bouncer Swings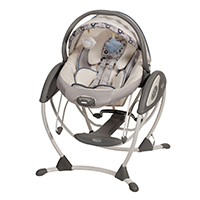 Entertaining little ones while still ensuring their safety is the biggest challenge for any parent. Baby bouncers provide solutions to both these requirements while also providing you relief for a short duration. Bouncer swings combine the bouncy fun of bouncers with the serene motions of a swing to bring babies a perfect companion through their different moods and preferences.
7. Rocker Swings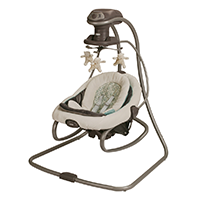 If there were a simple solution to soothe colicky babies and give parents a breath of relief, it would be nothing short of a miracle. Rocker swings are just that. Their dual function of rocking and swinging makes them your baby's favorite place on earth. You can have a swing as well as a rocker in one space saver bundle.
8. Toddler Swings
When it comes to soothing babies, swings make life a lot easier and convenient for parents. Toddler swings are for the children aged between 6 months to 3 years old. They are the best place for your baby to play while you complete your tasks. Toddler swings are mostly of the hanging type.
9. Hanging Swings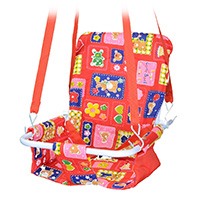 A hanging swing is a toddler swing that can be used both indoors and outdoors, by attaching it to an overhead support.
Each type of swing has its own age/ weight specifications. Depending on the flexibility and comfort your baby needs, select swings with different functions. Combination swings offer gliding, cradling, bouncing or rocking functions along with the usual swinging. You can select a swing that offers multiple speed settings, different seat positions, etc. for greater comfort. Online purchase remains one of the best choices to probe into the options available and to make a safe and relaxed purchase of baby swings.
Dos and Don'ts
While Buying a Swing
Dos
Make sure that your baby falls under the age and weight range specified for the model.
Check that the seat is spacious enough for your tot to have sufficient breathing space.
Always go for a baby swing that best suits your usage patterns – indoors or outdoors, small size or big, etc.
Go for swings with harnesses attached. A five-point harness is best. Swings with no harnesses or straps might turn out to be a risky proposition for your baby.
Look for sturdy frames, posts and legs to ensure that the swing remains stable when in operation.
Check the seat texture and ensure that it is well-cushioned and easily washable.
If you go for a cradle swing, make sure the cradle part gets firmly fixed to the frame.
Always choose to buy new, unused swings over second-hand ones.
Check for safety certifications on the baby swings from the appropriate authorities, like the JPMA or CPSC.
Baby swings with musical accessories are a great option, but make sure that the sound adjustment and settings
aren't a disturbance to your baby.
If you prefer to buy baby swings online, try to check forums and get some good suggestions about the right type of baby
swing to buy.
Don'ts
Do not buy a baby swing with limited recline positions for newborn babies, as it may cause the baby to experience
breathing problems.
Although a budget is important, do not allow it to take precedence over your baby's safety and comfort. There are several
choices that are of good quality while still fitting modest budgets.
Don't buy a swing that has been recalled by the certifying authority.
While Using a Swing
Dos
Always use the instruction manual provided with the product and follow the guidelines for assembling infant baby swing parts. Be sure to attach all necessary components. Ascertain that the necessary parts, like hooks on elastic straps, seat tubes, etc.,
are adequately fixed.
Make sure that a newborn is placed in the swing in a reclined position so as to avoid chances of a slump over. As the baby grows older, an upright position is preferable.
Always use shoulder straps in case the swing has an adjustable seat, to protect the baby from coming out.
Closely watch the baby's comfort and safety during the initial days. Make sure that the baby gets familiar with the swing.
Regularly check for any unfastened screws and tighten them instantly. Repair or change any damaged parts.
Wash the seat pad regularly as per the instructions provided. Put on a diaper to ensure that the seat pad doesn't get messy.
Avoid using the swing after the baby outgrows its age / weight limits.
Don'ts
Don't let your baby sleep in the swing for a long time. Move the baby to a bed soon after falling asleep.
Don't switch on a high-speed motion before checking the baby's comfort level. Start with a low speed and increase it till the baby is comfortable.
Don't place the swing on a wet surface. It should not be used near wet areas like washroom, basin, shower, bathtub, etc.
Harness covers provided with the swing should not be used for any other purpose.
Don't use bleach to wash the seat pad.
If the product is anticipated to be idle for some days or weeks, don't let the batteries remain therein. Batteries lying unused in the swing may leak and invite operational issues.
Don't move or shift the swing with the baby in it.
Swings are good, but not to the extent of becoming a habit. Don't keep your baby in the swing for long durations. Let the baby play on the floor or bed too.
FAQs
1. When Should I Use a Baby Swing?
Use a baby swing to soothe, comfort or manage your baby when you have chores to do. However, keep an eye on your baby from wherever you are working. Also, baby swings that can double up as bouncers are good for babies who can't lie down completely owing to breathing problems or a puffy nose. They will help babies stay in a semi-erect position.
2. Is It Safe to Leave My Baby Unattended in The Swing?
Most swings are battery-operated. It is not advisable to leave babies unattended for long in them, as they may end up feeling dizzy.
3. What Should I Keep in Mind While Buying a Swing?
Most swings are battery-operated. It is not advisable to leave babies unattended for long in them, as they may end up feeling dizzy.
4. Are Baby Swings Secure?
Baby swings are secure and come with safety harnesses to ensure that babies don't slip from the swing seat. The CPSC1 has given its nod and approval for new safety guidelines for baby swings to improve their security standards and prevent accidents and fatalities. A 5-point harness is recommended by the CPSC to ensure your baby's safety.
5. Can I Let My Baby Fall Asleep in The Swing?
You can let your baby take short naps in the swing. Make sure the swing is not operational, causing discomfort or dizziness to your baby.
6. How Long Can I Use a Swing on a Given Day?
It is recommended that you use the swing for not more than an hour every day because a baby needs to be held and played with to develop an emotional connection, and also to grow physically.
7. Till What Age Can My Baby Use a Swing?
Baby swings are recommended for infants to babies up to the age of 18 months. You might have to go in for an upgrade or move to another baby product for older babies.
8. Where Can I Buy Baby Swings?
You can buy them in stores that specialize in baby products or in supermarkets that sell baby products. However, if you find online shopping more convenient, there are many websites dedicated to selling baby products online. You could purchase them there after going through various reviews, feedback from other customers and product ratings. With the online medium, you get to leverage the advantage of the internet and use it to suit your shopping purposes.
9. How Long Will It Take to Assemble A Baby Swing?
Some products are easy to assemble and can be done within 15 minutes while some take around half an hour. Check out the installation guide before getting the swing set up.
Reference:– 1- http://www.cpsc.gov/en/Regulations-Laws–Standards/Voluntary-Standards/Topics/Baby-Swings/