Simple Baby Bouncer Buying Guide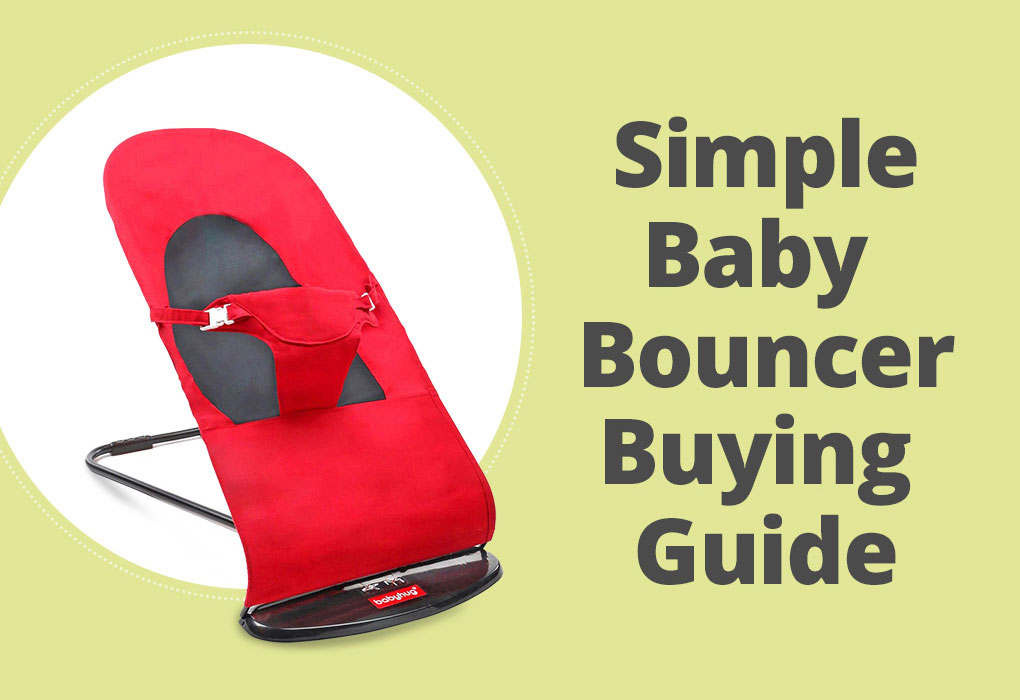 What is a Simple Baby Bouncer?
It is a bouncer with a simple back and forth movement and is suitable for babies who can enjoy it on their own. It needs some manual effort to get the right bouncing movement. It helps babies actively move their limbs about and expend energy, without you having to keep rocking them.
Covered with a soft, removable, washable pad that conforms to a baby's shape, bouncer seats are springy and bounce or rock when your baby moves. Most models have a detachable, bent-wire play bar (sometimes covered with padding) or an overhead mobile of toys.
Features of a Simple Baby Bouncer?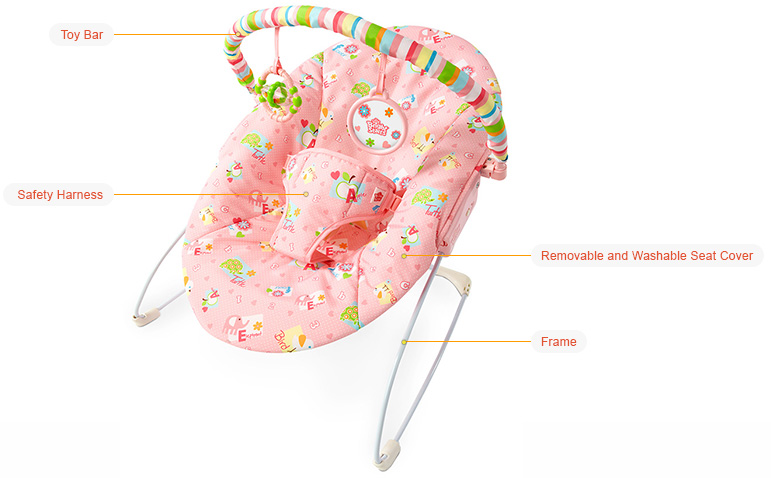 Simple Baby Bouncer
Must Haves
Frame: A sturdy frame to support both the baby's weight and the gentle up-and-down motion.
Safety Harness: Safety straps to secure your baby in the bouncer seat and keep the baby from rolling or slipping out of the seat.
Reclining Seat: To put the bouncer in a semi-upright position when the child is awake and in a reclining position when the baby has fallen asleep.
Removable and Washable Seat Cover: A removable and machine-washable cover, that is also dryer-friendly, is easy to clean and maintain.
Canopy: To protect your child from the harsh sun when taking the child out to the park or garden.
Fabric: Children have a tendency to lick or chew anything, so it is best to ensure that the bouncer fabric is not toxic and non-hazardous.
Good to Haves
Handle: A strong handle to safely carry your baby and the bouncer around the house or even outside.
MP3 player/iPhone/iPod hook up: To listen to soothing music, sounds of your baby's choice while you take a relaxing shower.
Removable Head Support: A head rest attached to the bouncer seat to support the baby's delicate head and neck. It also helps to avoid any head injuries by cushioning the hard frame of the bouncer.
Toy Bar: To hang up your child's favourite toys or mobiles for the child to play with.
Pros and Cons of a Simple Baby Bouncer
| | |
| --- | --- |
| Pros | Cons |
| Provides babies with physical exercise since they have to kick to rock the bouncer. | Has a limited range of motion. Does not offer the same rocking motion of a swing, that is more calming for babies. |
| Can replace a baby seat and baby swing, thus reducing the clutter of baby gear in your home. | Can't be used for longer periods. |
| Lighter and easier to move than swings. | It is designed according to an average baby size. Thus, babies who are born big in size may not fit in the bouncer after 2 months of age. |
| Perfect for storage and transport and require little space to set up. | Need to use a head rest for babies under 6 months of age. |
| Helps develop the child's motor skills and balance. | |
| Easy to assemble or dismantle. | |
| Easy to clean. | |