10 Best Baby Powders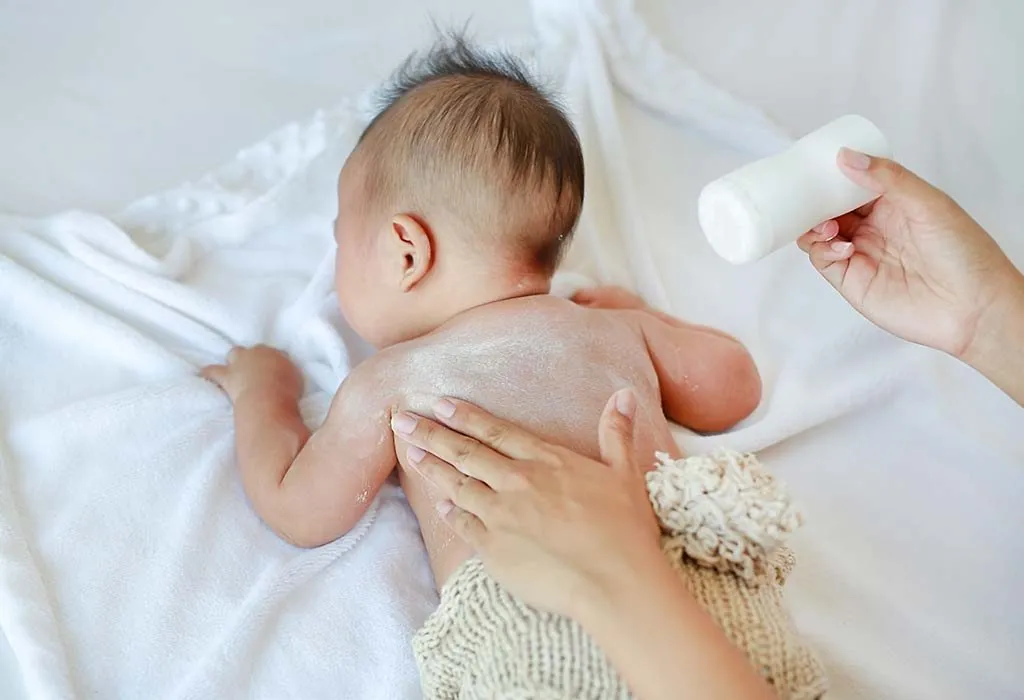 Baby powders work like magic to provide relief from diaper rashes, excess moisture, and irritation on the skin. Baby powder can keep your baby rash-free and dry, as it absorbs sweat and bad odour. But if you're a new parent, you will obviously want to consider different baby powder brands before settling for one. And we're here to help! We've compiled a list of our top baby powders available today. Go through their descriptions and decide the one you'd like for your baby.
List of Top 10 Best Baby Powders in India
Browse through this list of best baby powder brands in India. If you are looking for something season-specific, this list also has the best baby powders for summers too. Read on!
1. Himalaya Herbal Baby Powder
Himalaya is a trusted brand and is among the top natural skin care product manufacturers in India.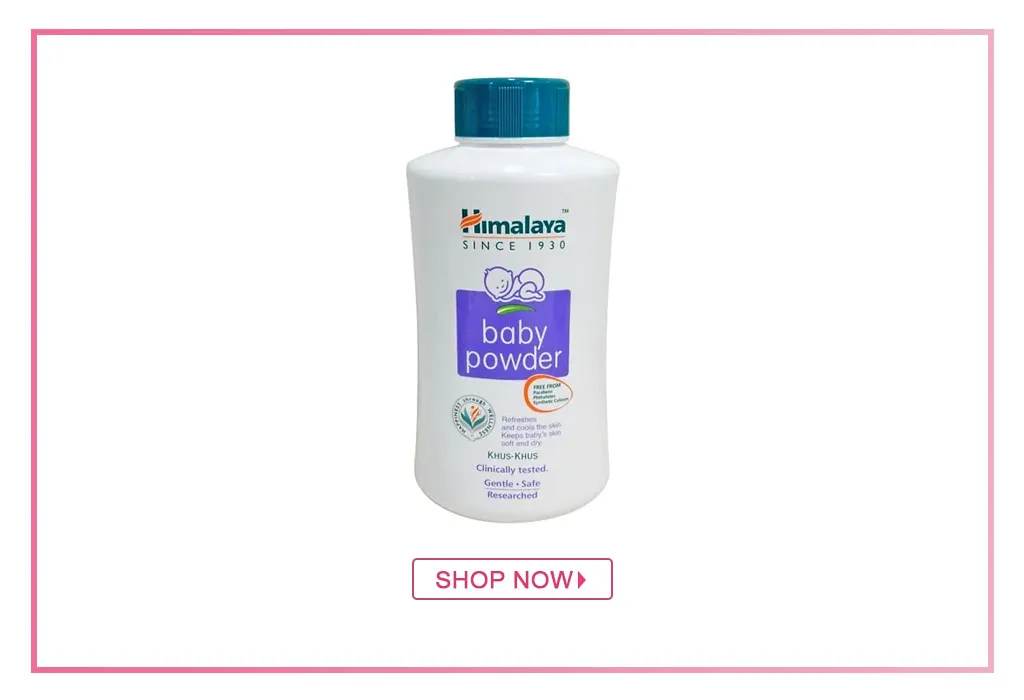 Product Description
Himalaya Herbal Baby Powder is infused with the power of various herbs. The gentle formulation of zinc oxide keeps the baby cool, fresh, and happy. It is enriched with cooling extracts of khus-khus which refreshes the skin, and yashada bhasma keeps the skin dry and smooth. It helps prevent body odour and keeps the skin smooth and comfortable.
2. Himalaya Herbal Prickly Heat Baby Powder
This prickly heat baby powder by Himalaya Herbals provides relief from prickly heat and keeps a baby's skin from infections and inflammation.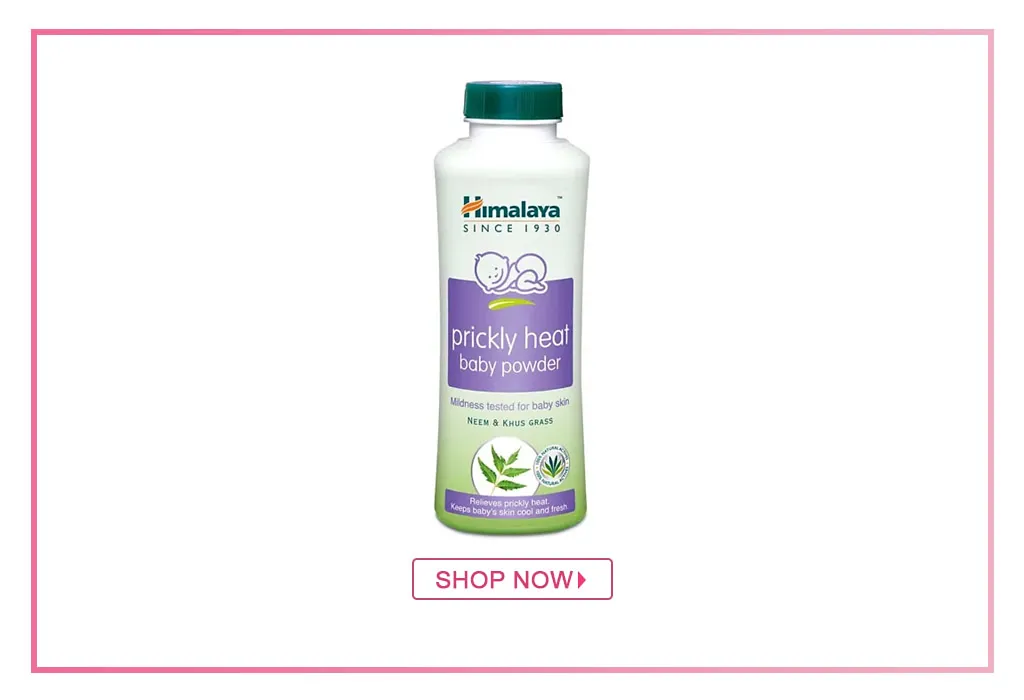 Product Description
This prickly heat powder is enriched with neem and khus grass. Neem has anti-inflammatory properties which protect a baby's skin from rashes, inflammation. Whereas, khus grass has astringent and antiperspirant properties, which help keep baby's skin fresh. Another ingredient that this baby powder consists of is natural zinc, which owing to its antiseptic properties, heals wound quickly.
3. Sebamed Baby Powder
Sebamed is a German brand established by Sebapharma GmbH & Co. KG. One of the best selling products of this brand is the Baby Sebamed Baby Powder, which is a must-have for your little one.
Product Description
This powder has been specifically formulated to strengthen the resistance of the baby's skin. The extra soft formulation of the powder helps in soothing the layers of the skin that are prone to friction, thus, protecting the baby from the effects of chafing and rubbing.
4. Chicco Talcum Powder
Chicco baby moments talcum powder is a soothing and refreshing powder that is dermatologically tested.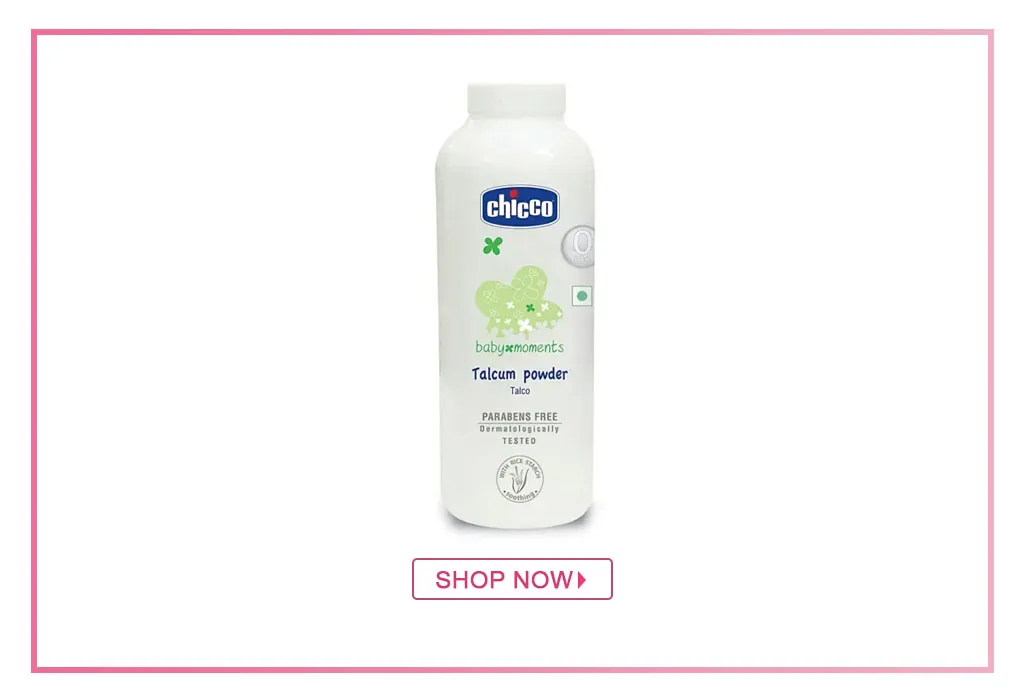 Product Description
This baby powder by Chicco contains natural active ingredients like rice starch that refreshes and protects baby's sensitive and delicate skin. It is free of allergens, parabens, mineral oil, dyes, alcohol, and other such ingredients which are harmful to baby skin. Its enriched formula creates a breathable layer on the skin and does not clog pores.
5. Mamaearth Dusting Powder
This dermatologically tested dusting powder is free of talc and prevents diaper rashes.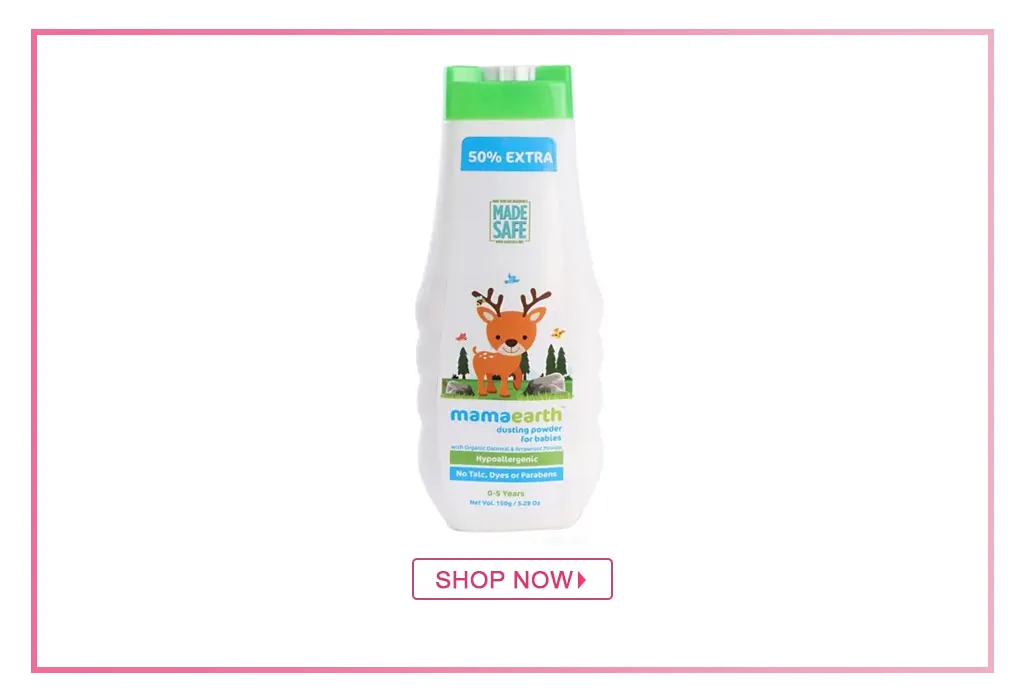 Product Description
This dusting powder contains natural ingredients which help in retaining moisture in the skin and oatmeal prevents diaper rashes and prevents diaper dry, itchy, and irritated skin. The cornstarch present in it absorbs extra moisture and contain no harmful chemicals like parabens, phthalates, SLS, or artificial fragrances.
6. Mee Mee Baby Powder
Your baby might feel uncomfortable due to the changes in weather and temperature, but worry not – Mee Mee's velvety soft baby powder is light and will help keep your baby's skin fresh and dry.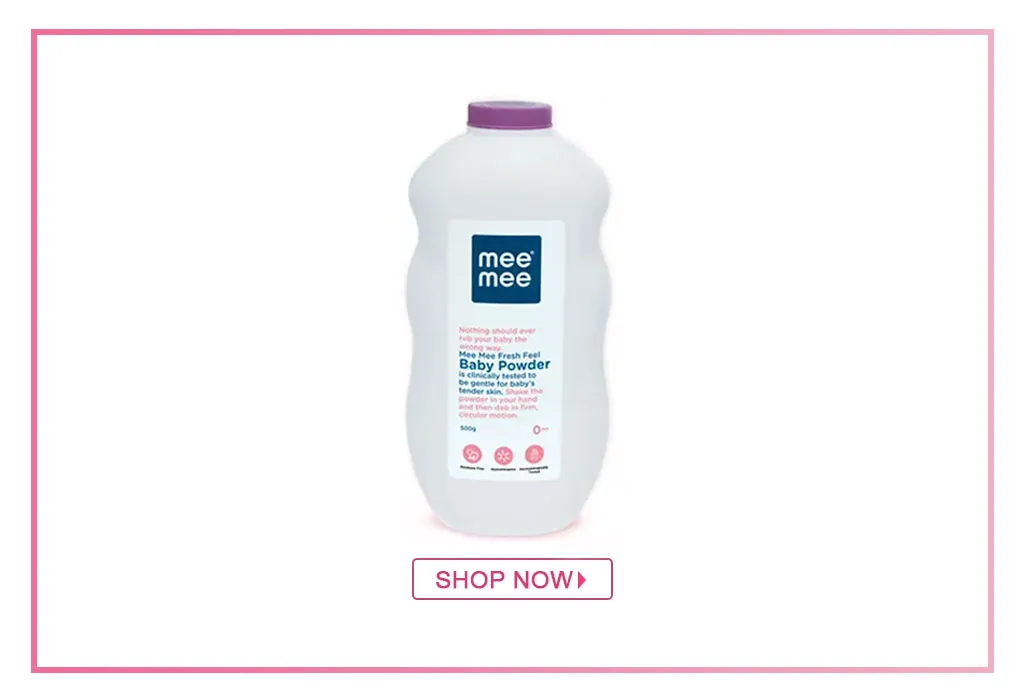 Product Description
Mee Mee's baby powder is safe to use on newborns and is microbiologically tested. The powder can be used after a bath, diaper change, or to just freshen up anytime during the day. It is clinically safe, hypoallergenic, and is gentle on the baby's tender skin. It has been tested by dermatologists.
7. Mothercare – All We Know Baby Powder
Keep your baby's skin dry, fresh, and comfortable with this baby powder by Mothercare.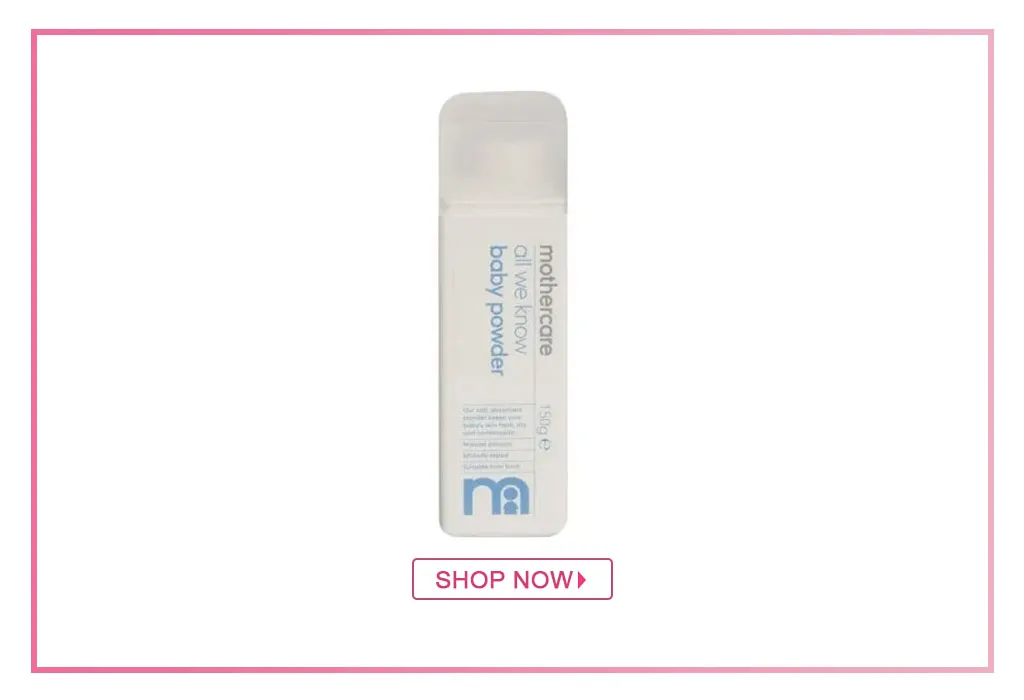 Product Description
This Mothercare baby powder is hypoallergenic and is dermatologically tested. It is tested by midwives and is gentle enough even on newborn skin.
8. The Moms Co. Talc Free Baby Powder
The Moms Co. Talc Free Baby Powder contains cornstarch which helps absorb excess moisture from the skin. This is one of the baby powders for sensitive skin.

Product Description
This powder is good at keeping the skin dry without the use of talc. It contains organic chamomile, jojoba, and calendula oils. The chamomile oil helps soothe and ease irritation and moisturises the skin while protecting it. This powder does not contain mineral oil, talc, synthetic fibres, and other harmful chemicals. This powder is dermatologically tested.
9. Pigeon Baby Powder
Pigeon baby powder is one of the best organic baby powders for newborns. This powder is ideal to use after a bath and diaper change.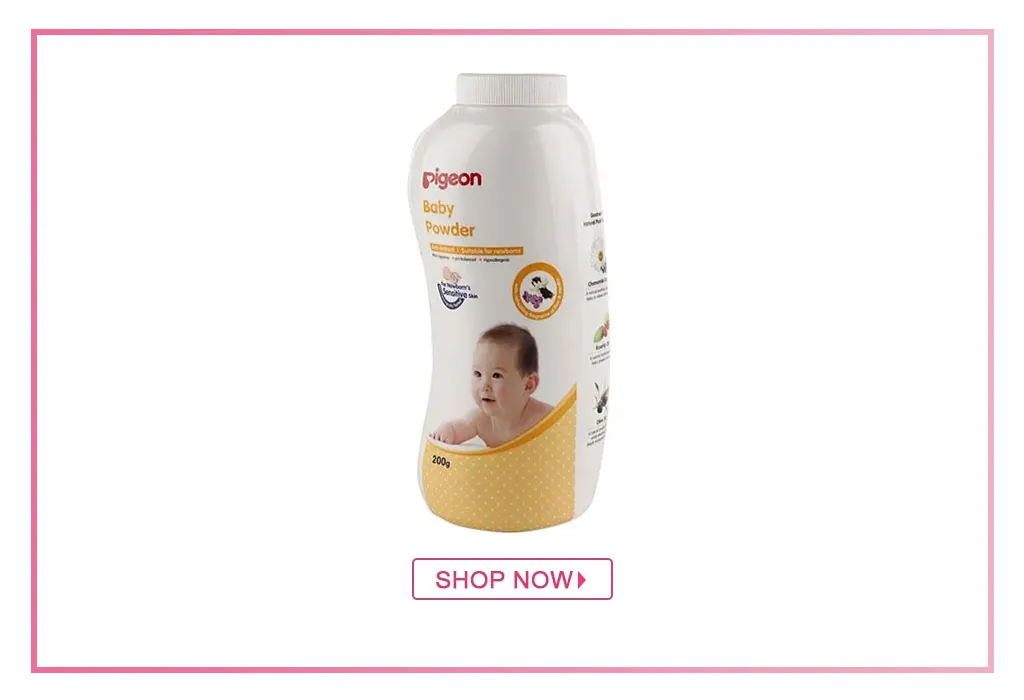 Product Description
Pigeon Baby Powder is mild and gentle on the skin. It is enriched with organic extracts of rosehip, chamomile, and organic olive oil. It comes with a refreshing fragrance of lilac and milky fragrance of the powder keeps the baby smelling fresh, and the formulation keeps the baby's skin smooth and soft, giving it a dry and comfortable feeling. The key features of this powder are that it is an anti-irritant, hypoallergenic, and dermatologically tested. It is perfectly suited for newborns.
10. Mother Sparsh Talc-Free Natural Dusting Powder for Babies
Mother Sparsh talc-free powder contains all-natural ingredients that are totally safe for baby skin.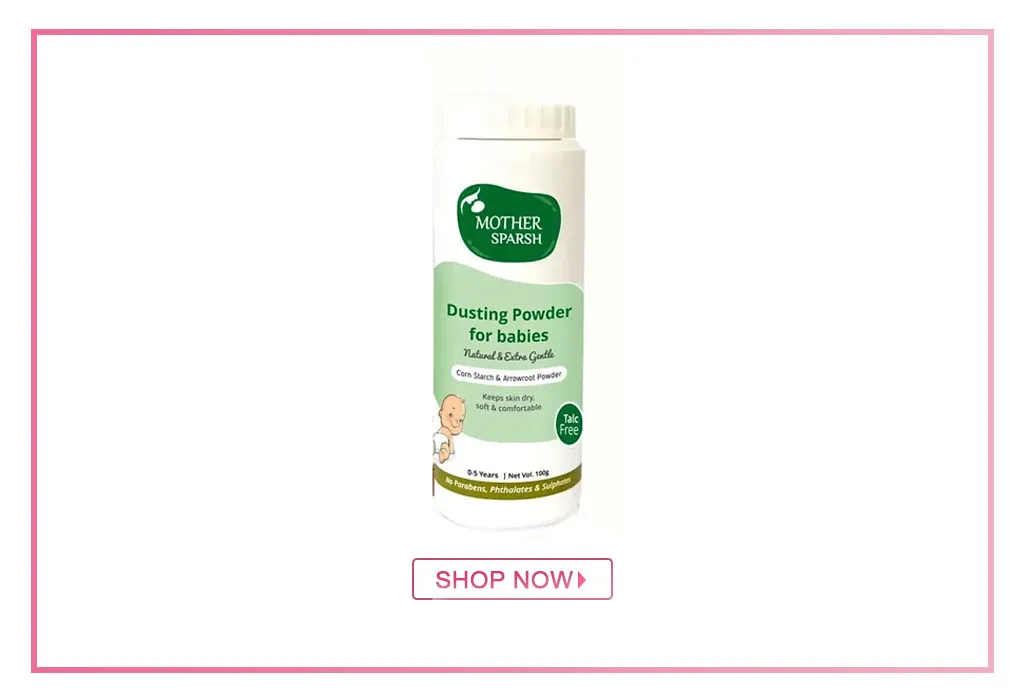 Product Description
This hypoallergenic powder has anti-microbial properties which help prevent fungal and yeast infections by absorbing excess moisture. It contains arrowroot powder and cornstarch that help nourish and soothe the skin by absorbing excess moisture. It is also free of parabens, dyes, phthalates, and sulfates, which makes it safe to use for babies.
FAQs on Baby Powders
1. Which Powder Is Good for Newborn Babies?
All powders listed above are good for newborns. These powders are available in the market or online, and you can purchase them easily.
2. How Do I Safely Apply Baby Powder on My Infant?
Sprinkle some powder on to your palms and gently apply it on the baby's skin. While applying, keep the powder away from the baby's mouth and nose to ensure that your baby does not inhale it. Tightly close the bottle after use.
3. Can I Use Baby Powder on My Infant's Face?
It is best if you do not apply powder on the baby's face. Applying the powder to the face might cause breathing problems.
4. Can a Diaper Rash Be Treated With Baby Powder?
Yes, powders can help soothe the baby's sore skin by creating a protective layer that prevents and eliminates rash. Use powder before putting on a clean diaper, but make sure to keep it away from the baby's face.
5. What Is Talc-Free Baby Powder?
Talc-free baby powders are powders that are not made of talc—a mineral made up mainly of silicon, magnesium, and oxygen.
6. Is Baby Powder With Cornstarch Safe?
Yes, you can use baby powders with cornstarch instead of talc-based ones.
Powders have always been a routine part of a baby's skincare regimen. Gentle baby powder can keep her skin smelling fresh and prevent rashes. The baby powders mentioned above can be very useful in keeping your baby fragrant while keeping her comfortable, dry, and happy.
You May Also Like:
10 Best Baby Hair Oils
10 Best Baby Massage Oils
10 Best Baby Sunscreen
15 Best Baby Lotions & Creams
Baby Powder Offers & Deals:
Baby Skin Care Products
Baby Skin Care Brands
Skin Care Products on Sale
Also Read:
Baby Powder for Infants – How Safe is It?
Baby Skin Care – All You Need to Know
Newborn Bath and Skin Care Checklist