10 Best Baby Food Feeders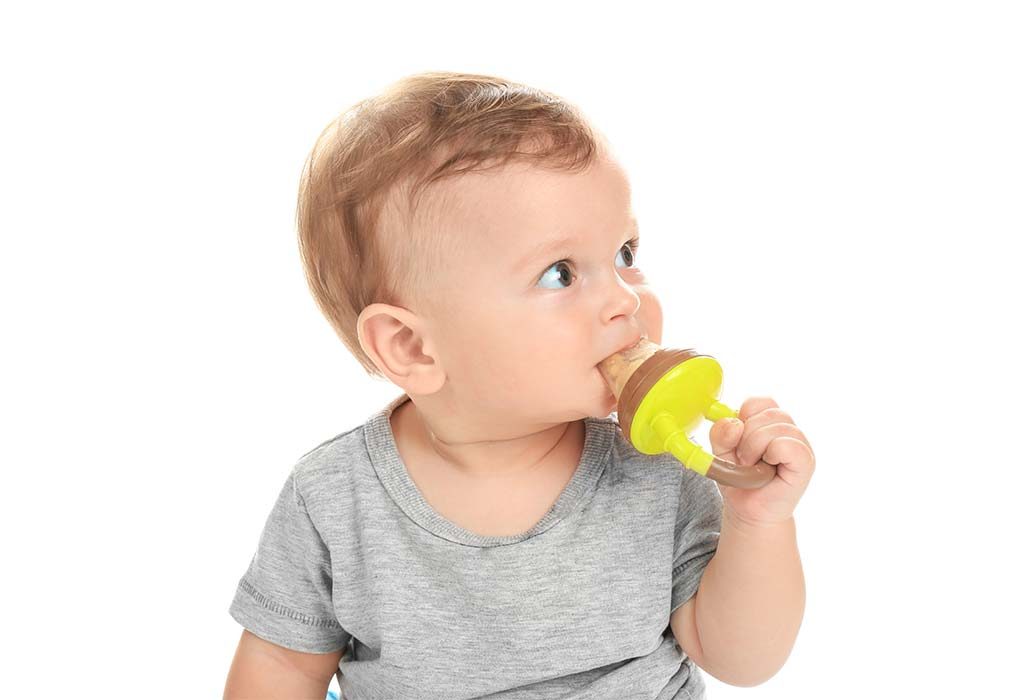 In this Article
Wow, has it been nearly six months already since your bundle of joy came into the world? Congratulations, parents, you've now been ushered into another phase of all-new milestones! The most important milestone of your baby's 6-month birthday is that he is now ready for a diet change – from only milk to semi-solid foods!
Now, most babies are notoriously fussy, so making the switch over to a heavier and more diverse diet can be a bit of a tantrum-filled experience. Coupled with teeth growth and their accompanying pains, babies need to have a comfortable transition over to semi-solids and solids.
Here's where baby feeders come in! In case you're wondering, a baby feeder is a super-handy pouch or spoon-like device that dispenses food in very small amounts through small holes. The baby can hold it and squeeze the food out, and suck on it. Baby food feeders reduce the pain and hassles of teething, prevent choking risks, and are altogether convenient and user-friendly!
Let's take a look at the different types of feeders you can get for your baby.
List of Top 10 Best Baby Feeders in India
Check out this curated list of the top 10 baby feeders, and choose the best one for your little one!
1. Babyhug Cereal Feeder With Spoon Orange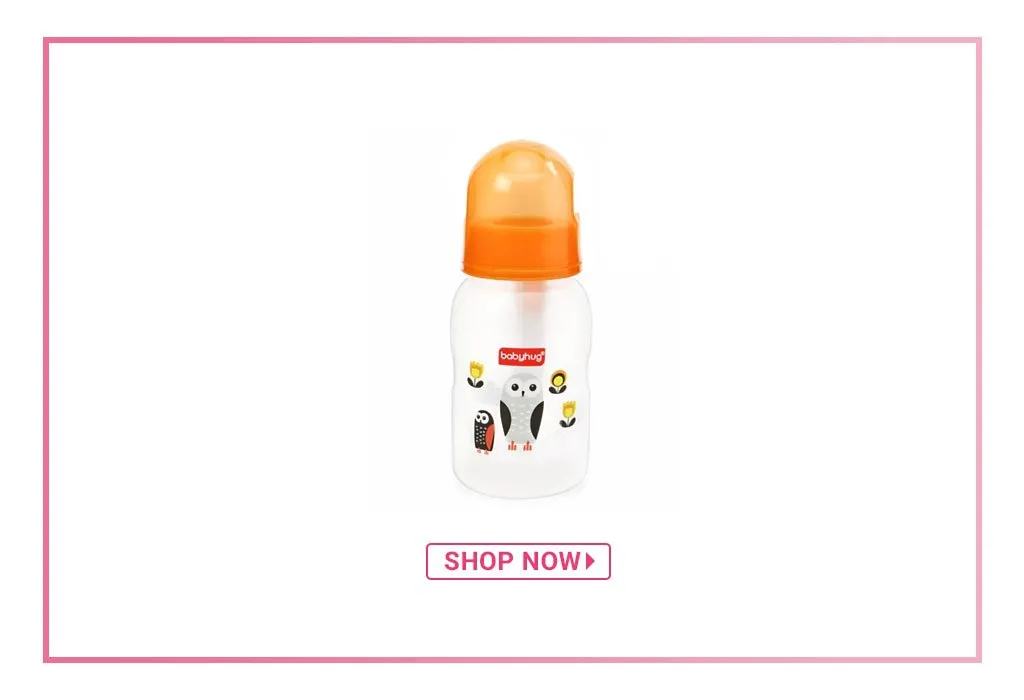 This bird-themed feeder is an adorable option!
Product Highlights
This Babyhug feeder is specially designed for feeding cereals to your little one, as cereal is a super-nutritious food option for toddlers when they are starting their new food journey. The feeder lets out the baby food in small amounts through a hole in the spoon. It is easy to hold and clean, and both you and your baby are sure to love it!
2. Babyhug Baby Stainless Steel Feeders Pack of 2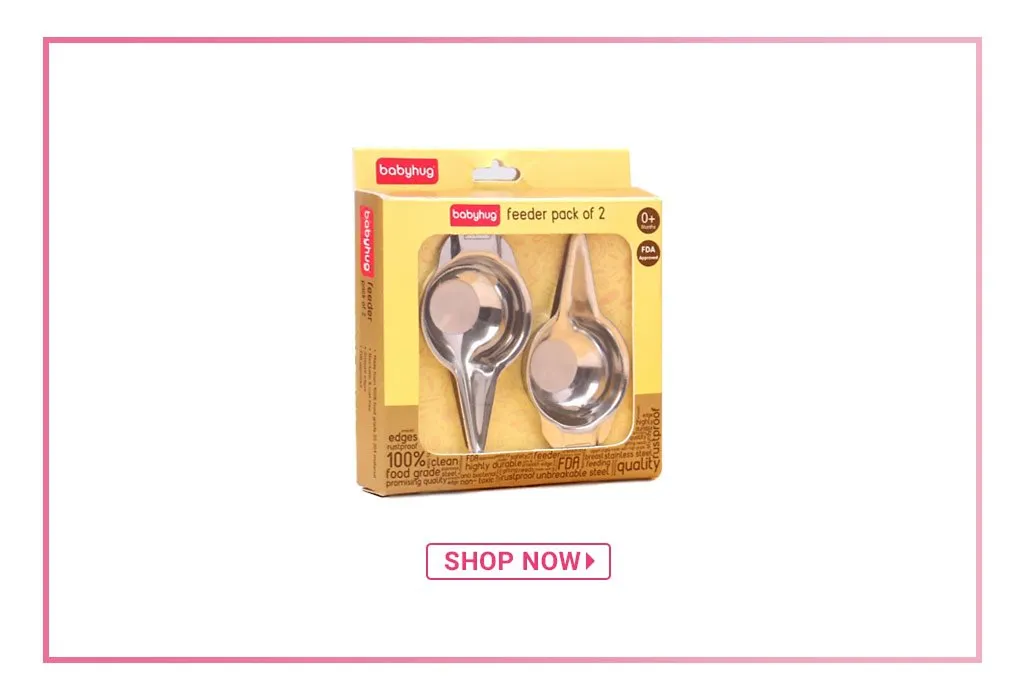 This economic set is perfect for parents of newborns.
Product Highlights
These Babyhug stainless steel feeders are adorable – they're super easy to hold and clean, are great for feeding newborns, and are quite spill-free. The feeders are also non-toxic, and are a classic addition to your baby's first set of utensils!
3. Mee Mee Squeezy Silicone Food Feeder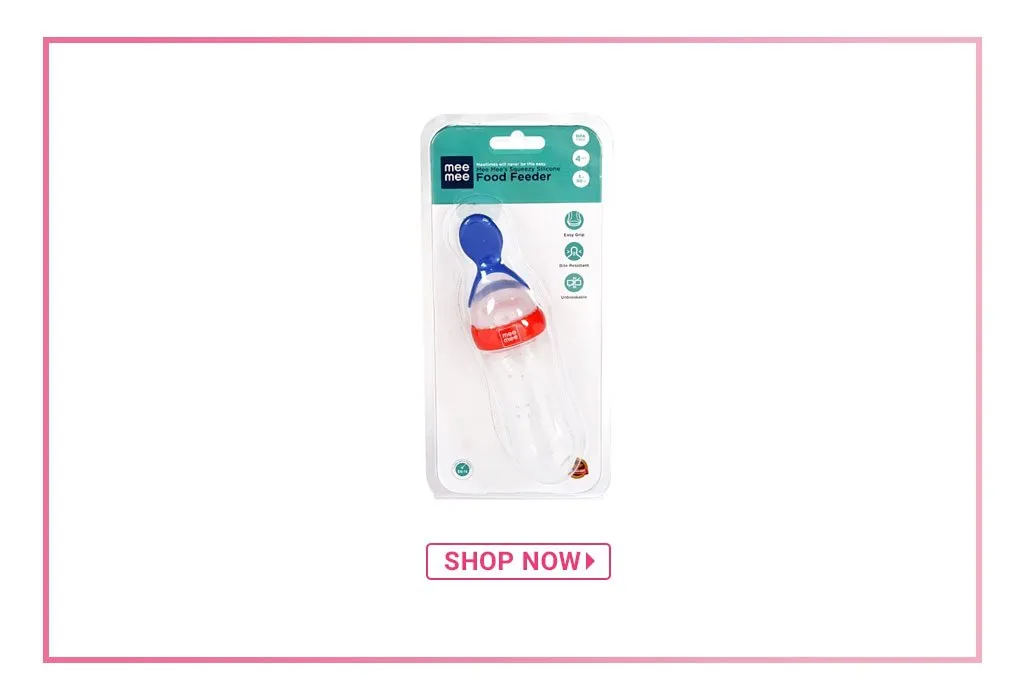 This BPA-free feeder is great for weaning!
Product Highlights
The Mee Mee Squeezy Feeder can be used for all sorts of yummy semi-solids for your little one. It can be squeezed to let out the food onto the spoon, which makes for both easy feeding and eating. The spoon is designed to help your baby eat safely and mess-free, and as a bonus, this feeder is also travel-friendly! It's quite the package, isn't it?
4. Mee Mee Squeezy Silicone Food Feeder Blue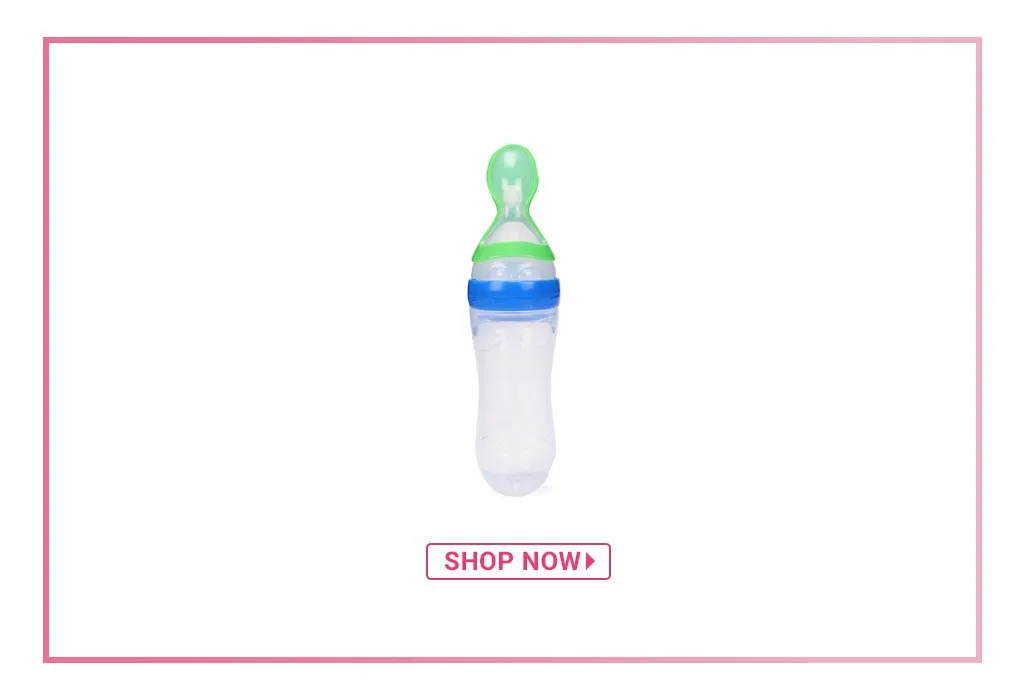 Your toddler is sure to enjoy using this colourful feeder!
Product Highlights
This Mee Mee Squeezy Feeder also accommodates different semi-solids and liquids, and is super easy to use by both mother and baby. The spoon will not be damaged by your baby's teething activities, and the feeder is designed to provide stress and mess-free feeding by responding to pressure applied to release the food onto the spoon.
5. 1st Step Non Spill Silicone Soft Squeeze Food Feeder – Blue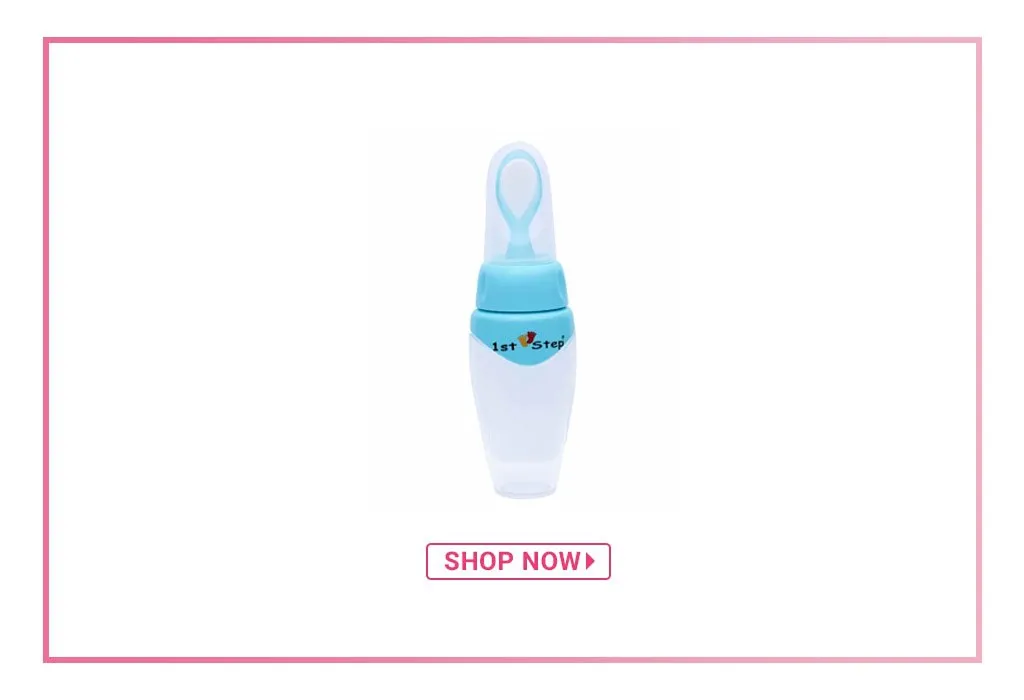 This classic feeder is sure to be a favourite with you and your little one.
Product Highlights
The 1st Step Non Spill Feeder can fit in your little one's little palm! It can be used to feed liquids and semi-solids through a spoon made specially for your toddler's mouth and teeth, and it ensures hassle-free feeds. This feeder is efficient, BPA-free, and great to use when travelling!
6. 1st Step Non Spill BPA Free Soft Silicone Squeezy Food Feeder – Blue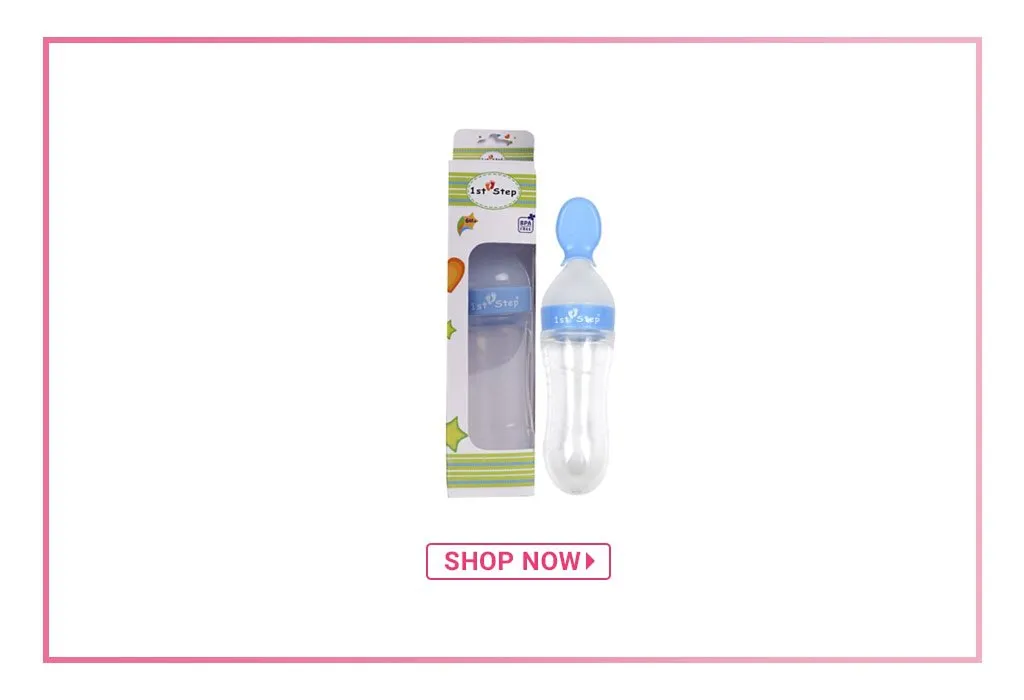 This all-in-one feeder is a time-saver for parents!
Product Highlights
The compact shape of this squeezy feeder makes it easy to hold, use, and squeeze. It's great for introducing your little one to spoon feeding and eating, and it responds to pressure applied and releases small amounts of food onto its spoon. It is BPA-free, holds all kinds of liquids and semi-solids, and comes in two classic colours!
7. 1st Step Easy Squeeze Cerelac Feeder Blue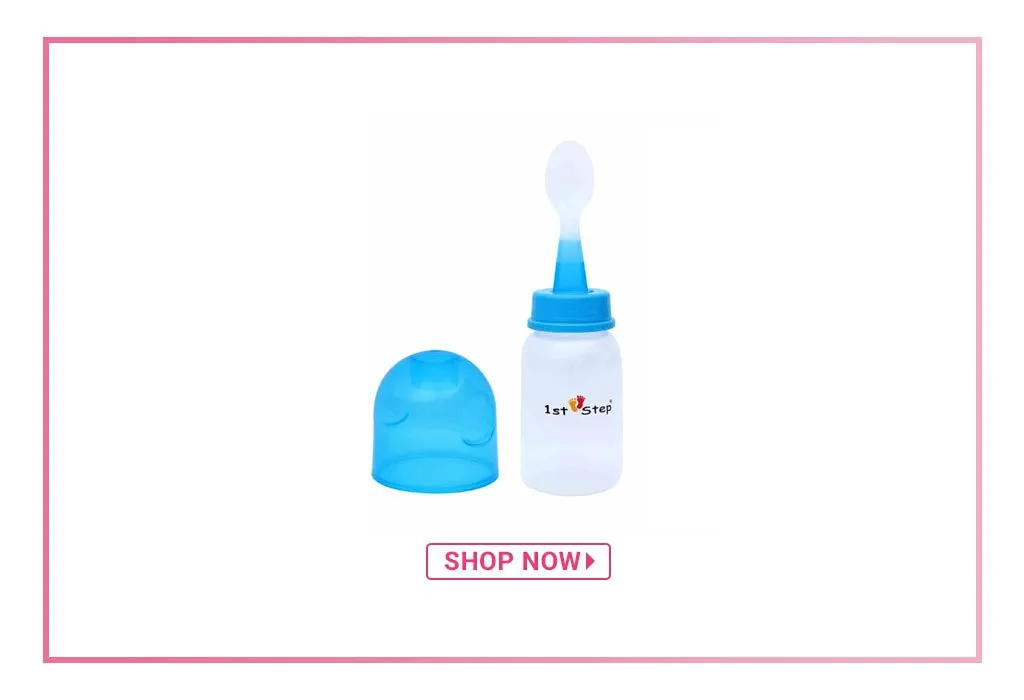 This cool and adorable variation of the 1st Step Feeder is a must-have for your tiny tot!
Product Highlights
The cartoons on this squeezy feeder are one of its highlights! And, like the other 1st Step feeders, it offers hassle-free feeding and eating, a classic, BPA-free container for all your yummy baby food recipes, and a safe feeding spoon for snack times!
8. Fisher Price Squeezy Silicone Food Feeder Blue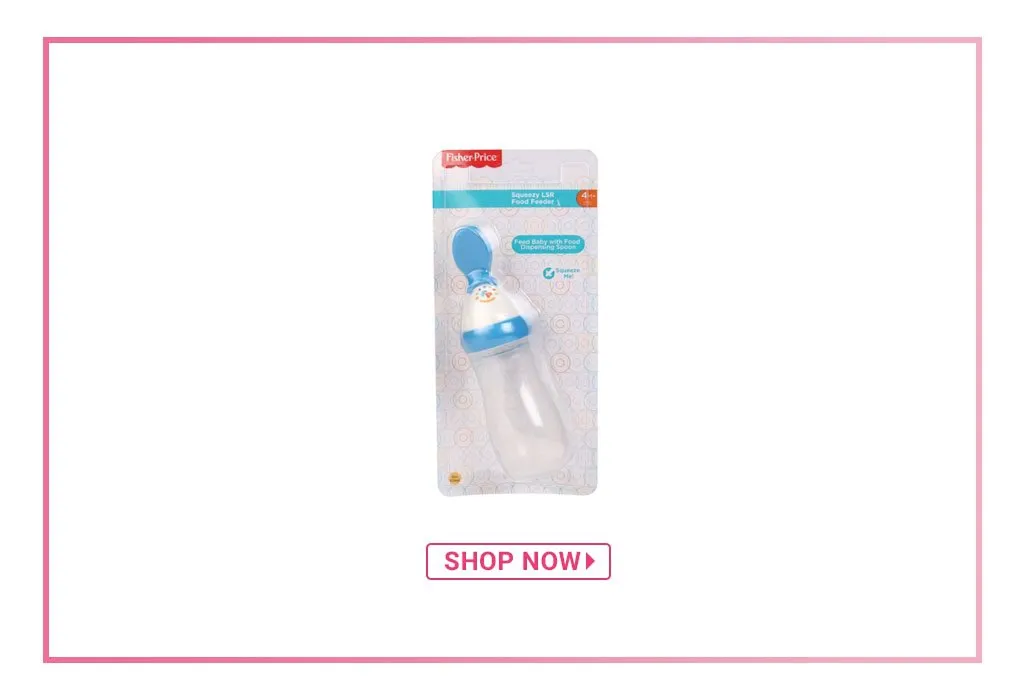 This is yet another classic feeder that all parents and babies will love!
Product Highlights
This Fisher Price Squeezy Feeder is an adorable and compact little feeder that can be used by one hand for relaxed and stress-free feeding. It can also hold various types of liquid and semi-solid baby food, and is travel-friendly, thus being a great choice for jet-setting little ones!
9. Beebaby Silicone Squeeze Food Feeder Bottle With Spoon Green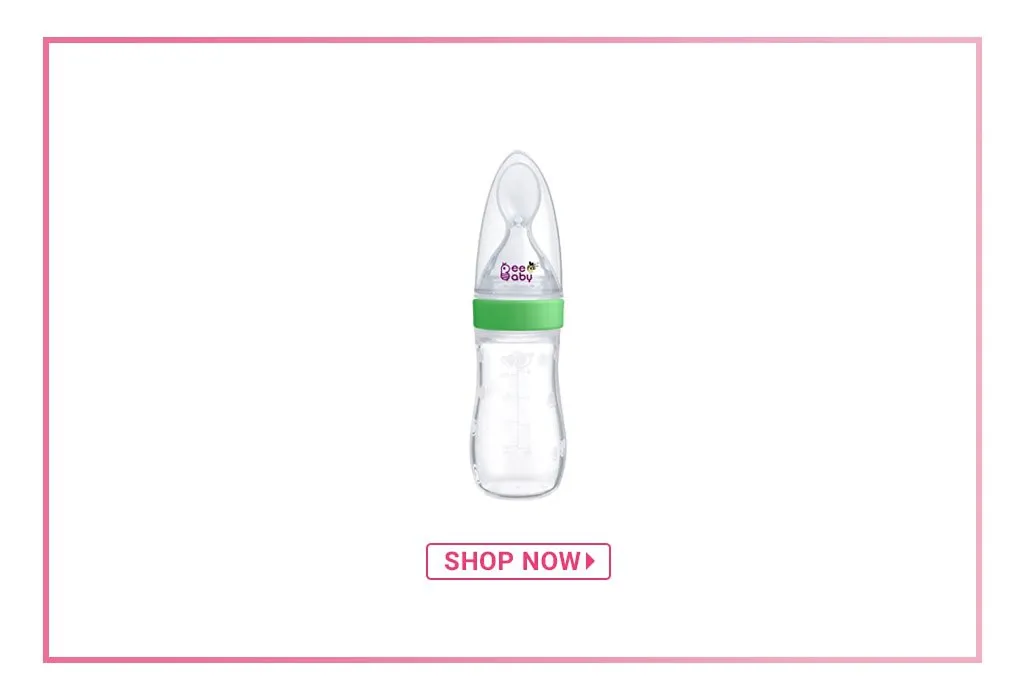 This simple little feeder is perfect for everyday use for your hungry little toddler.
Product Highlights
The Beebaby feeder is cute and compact, and offers hygienic and mess-free feeding! It works for all types of delicious and pulpy baby food, is BPA-free, and all in all, is super efficient and user-friendly.
10. R for Rabbit Premium First Feed Feeder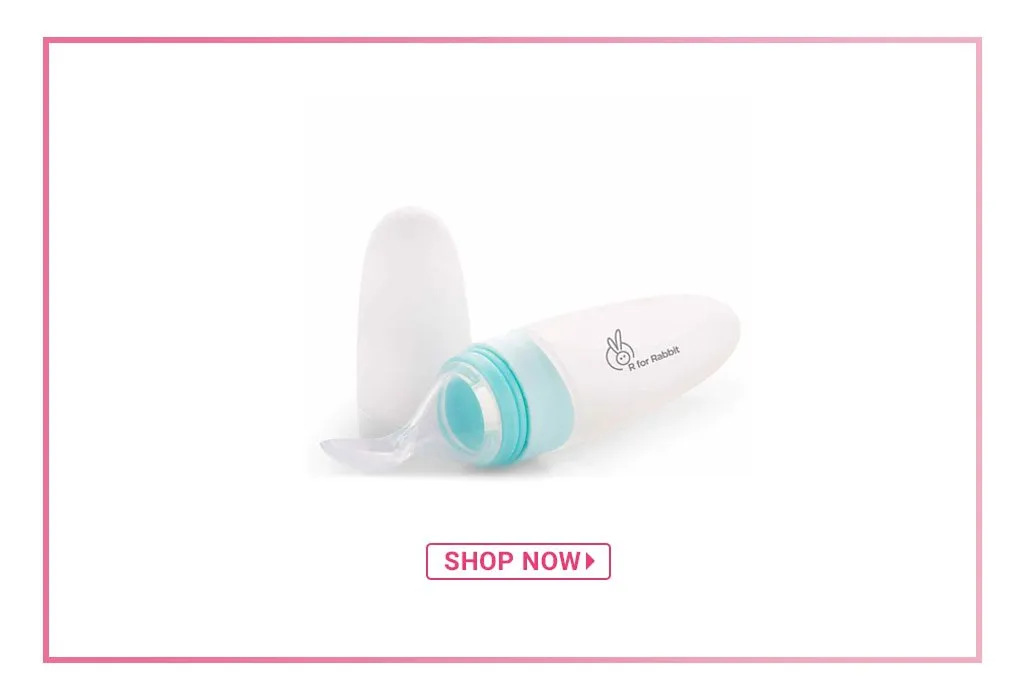 This cute little feeder is indeed great for your baby's first set of utensils!
Product Highlights
The R for Rabbit feeder works on the squeezy mechanism, and provides hassle-free feeding for the convenience, safety, and happiness of your little one. This is yet another feeder that can house all kinds of liquids and semi-solids to suit you and your toddler, so that he has a smooth start to his solid food journey!
Babies need plenty of love and support when they begin transitioning into the phase of eating solid foods. Equipment like feeders can help them get comfortable with new flavours and textures, and you will be glad that you got a good, strong feeder for your little one's food journey!
You May Also Like:
Best Baby High Chairs
Best Spout Sippers for Babies & Toddlers
Best Straw Sippers for Babies & Toddlers
Best Baby Feeding Spoons and Cutlery Sets
Also Read:
Finger Food Recipes for Baby
Healthy Vegetable Purees for Baby
Best Fruit Purees for Babies