Best 5 Homemade Vegetable Purees for Baby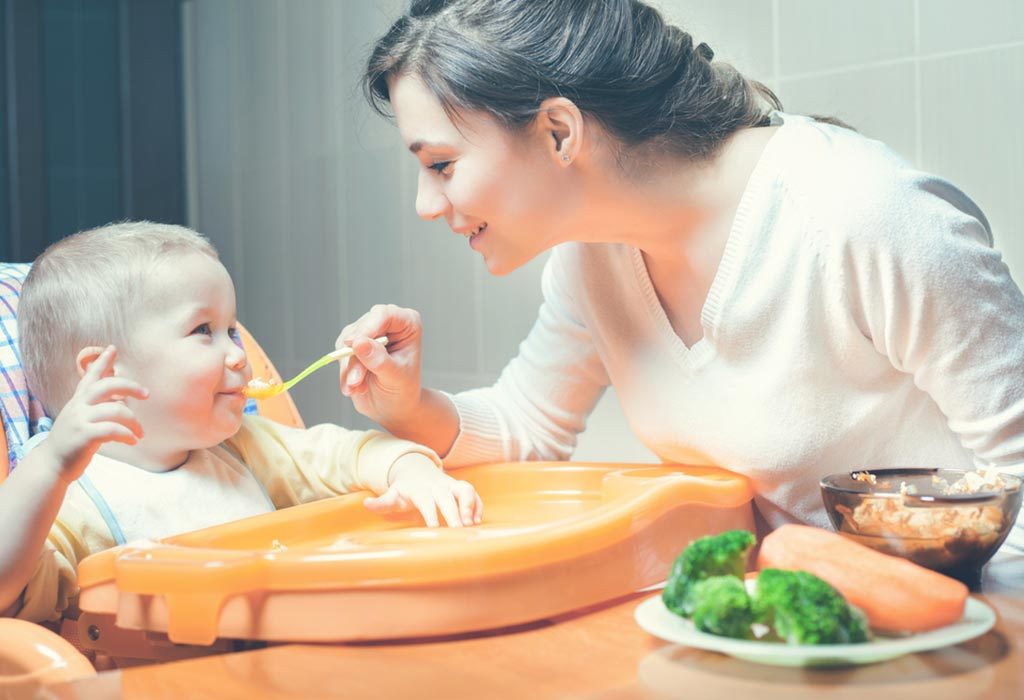 Feeding solids is an important milestone. As your baby is stepping into the world of solid food, it's good to start with healthy options. Paediatricians advise starting with vegetables. The joy of choosing the right veggies, lovingly whipping them to the right consistency, and feeding them can be totally satisfying.
Video: Easy and Healthy Vegetable Purees for Babies – A Step-by-Step Recipe Guide
How to Make Vegetable Purees for Baby
Although there are various baby foods available in the market, it's healthy to make a meal for your baby by using fresh vegetables at home. Vegetables are filled with the required nutrients especially with vitamins and minerals that are essential for your baby's growth. So, making homemade vegetable purees is the best way to introduce them to the world of vegetables.
You can steam, boil, or bake the vegetables. Following are the baking instructions for some vegetables:
You can bake sweet potatoes at 400 degrees F for 40 to 45 minutes. You must cover the sweet potatoes with a foil and prick holes before baking.
You can bake potatoes by preheating the oven to 425 degrees F. Ensure that you prick holes on the potatoes before placing in the baking tray. Bake for 45 minutes and then peel the skin after it cools down.
You can use an idli steamer or any special steamer or a cooker to steam the vegetables as they are the best ways, or you can boil the vegetables.
Now, let's look at how to make the five best, nutritious and colourful vegetable purees for your little ones.
Before preparing the purees, ensure that you sterilise the bowls and spoons using hot water and keep it immersed in the water until you use it.
1. Pumpkin Puree Recipe
Pumpkins are a good source of beta-carotene, proteins, iron, Vitamin C and antioxidants. They also help in preventing constipation as they are rich in fibre. They help in building a strong immune system and have an antibacterial quality which helps in killing intestinal worms. As pumpkins are sweet, babies would relish it. You can start it when your baby is six months.
Ingredients
Pumpkin – ½ cup peeled, small chopped pieces
Water – as required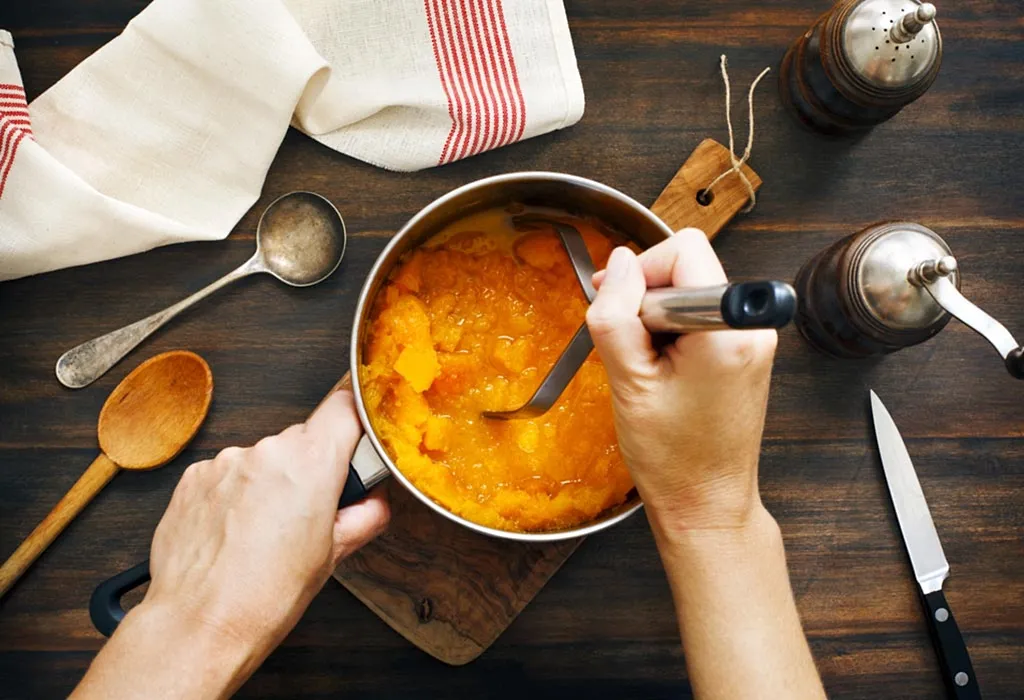 Method
Use running water and wash the pumpkin well.
Peel the skin off with a peeler.
Remove the seeds.
Chop the pumpkin into small and equal-sized cubes.
Steam the chopped pumpkin cubes in a steamer for 15 minutes or until the pumpkin pieces are well cooked and soft. You can also pressure cook it with a cup of water.
Mash the cooked pumpkin well manually or blend it into a smooth paste using a blender.
Serve when it's warm.
2. Potato Puree Recipe
Potatoes are rich in carbohydrates and also have an adequate amount of potassium, iron Vitamin B and C. Although it's filled with nutrients, potatoes might cause gas in babies. The baby can be given potato puree as early as six months or so, and if gas occurs, it's better to dilute it or make a thinner consistency.

Ingredients
Potatoes – 1 medium-sized
Cow's ghee – 1 teaspoon

Breast milk/formula milk/ cow's milk – 1 tablespoon
Asafoetida (hing) – a pinch
Salt – as required
Pepper powder – as required
Water – as required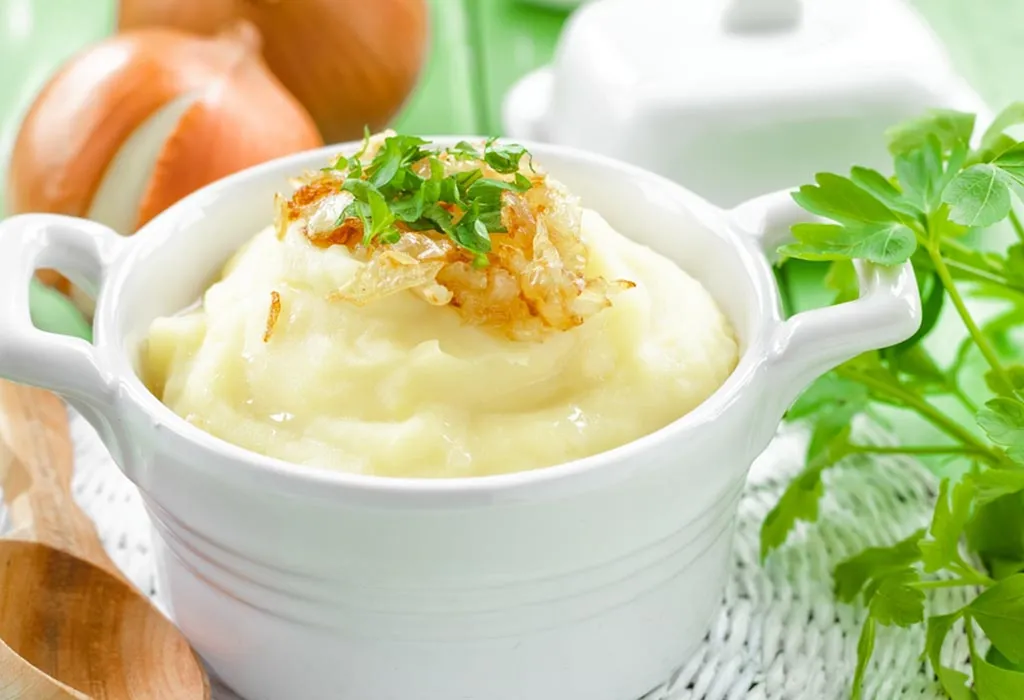 Method
Wash the potatoes in running water.
You can either:
Cut the potatoes into small cubes after peeling or
Cut the potatoes into cubes with the skin
Boil the potatoes in a pan with a cup of water. You can also steam or pressure cook it with water.
After the potatoes are cooked, strain the excess water, if any.
Peel the skin off (in case you chose to boil potatoes with the skin).
Place the potatoes in a wide bowl, add butter and asafoetida.
Mash the potatoes
Add the following:
salt
pepper
Mix well to form a puree or blend it using a mixie or blender.
3. Sweet Potato Puree Recipe
Sweet potato puree is popular as it has a soft texture, sweet in taste and less allergenic or less prone to allergies. It can be given when the baby is six months or above. It is rich in fibre and prevents constipation. It's also rich in Vitamins A, C, E, calcium, iron and potassium. These nutrients help in maintaining good eyesight, healthy skin and a healthy digestive tract.
Ingredients
Sweet potatoes – 1 medium-sized
Butter or homemade ghee – 1 teaspoon
Cardamom powder – 1/8 teaspoon (optional)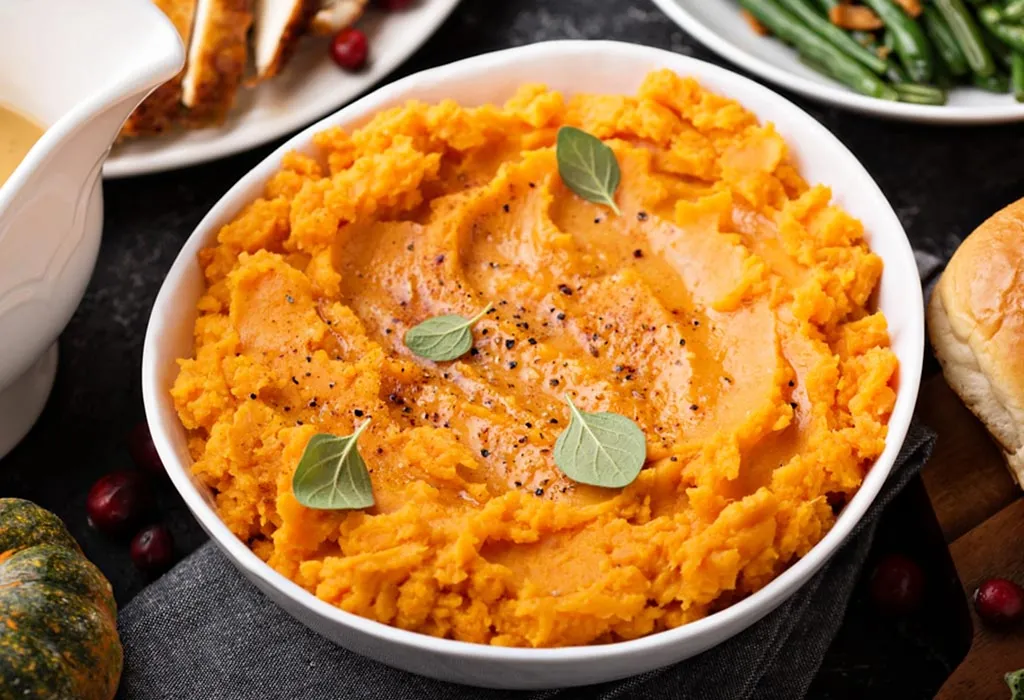 Method
Wash the sweet potatoes in running water.
Cut the sweet potatoes into pieces.
Pressure cook the sweet potatoes with water for three whistles. You can also boil, steam or bake the sweet potatoes.
Peel the skin off with your hands.
Place the cooked sweet potatoes in a wide bowl.
Mash them well with a fork or blend them using a blender or mixie.
Heat ghee and add the mashed sweet potato mix with cardamom powder(optional).
Fry for two minutes in a low-medium flame. You can remove it from the flame when the mixture has blended well with the ghee.
You can change the consistency by adding water, breast milk, formula milk or cow's milk (to be used after 10 months of age).

4. Pea Puree Recipe
Green peas are rich in iron, proteins, Vitamins A, C, K, and fibre. Peas are good for the growth of baby's bones and muscles. You can start it when the baby is around six months or above. It's good to use peas that are mild as they are soft and sweet. It's better to avoid canned peas and choose fresh peas. You can choose shelled and frozen peas.
Ingredients
Green peas – a handful
Water – if required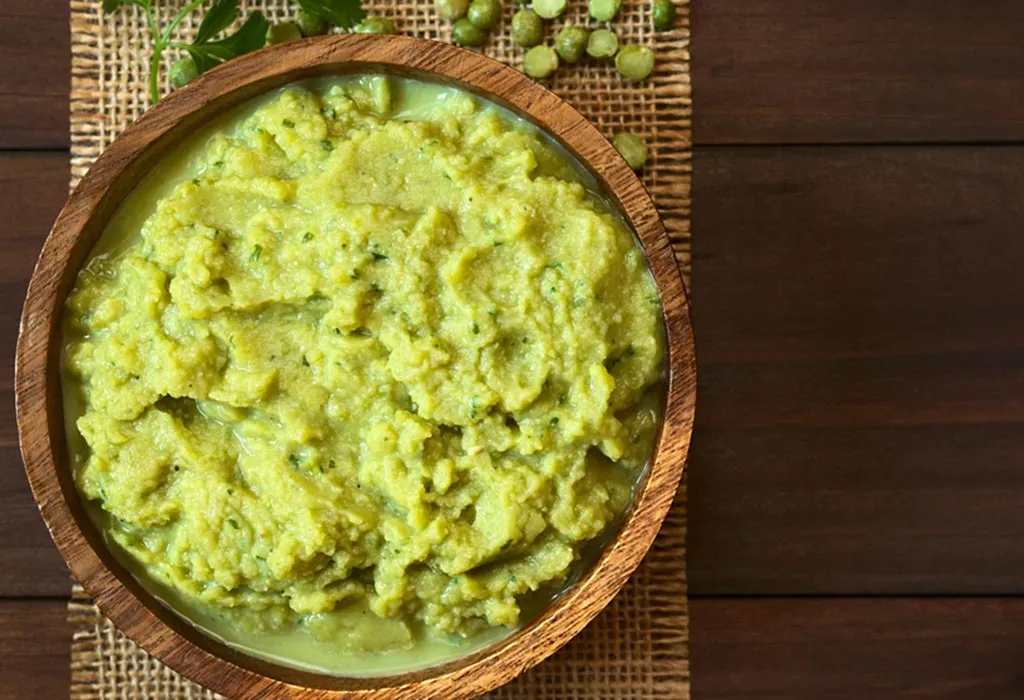 Method
If you are using fresh peas, open the pods and shell out the peas.
Rinse the peas in water.
Use a steamer to cook the peas until they are soft. You can also boil the peas in water until it is cooked.
Mash the peas well or use a blender to make a fine paste of the cooked green peas.
If required, you can use a mesh strainer to remove any skins.
Add water, breast milk, formula milk or cow's milk (to be added only after 10 months of age) to adjust the consistency of the mixture.
5. Carrot Beetroot Potato Puree Recipe
Beetroots are rich in iron, and Vitamin A, fibre, and potassium. Carrots are rich in beta-carotene and Vitamin A. It is good for the baby's eyesight and also helps in the body resisting infection. Some babies do not like beetroot puree, so you can try a combination of beetroots, carrots, and potatoes. You can start giving this mixture when the baby is around eight months.
Ingredients
Carrot – 1 medium-sized
Beetroot – ½ of a small-sized beetroot
Potato – 1 medium-sized
Water – as needed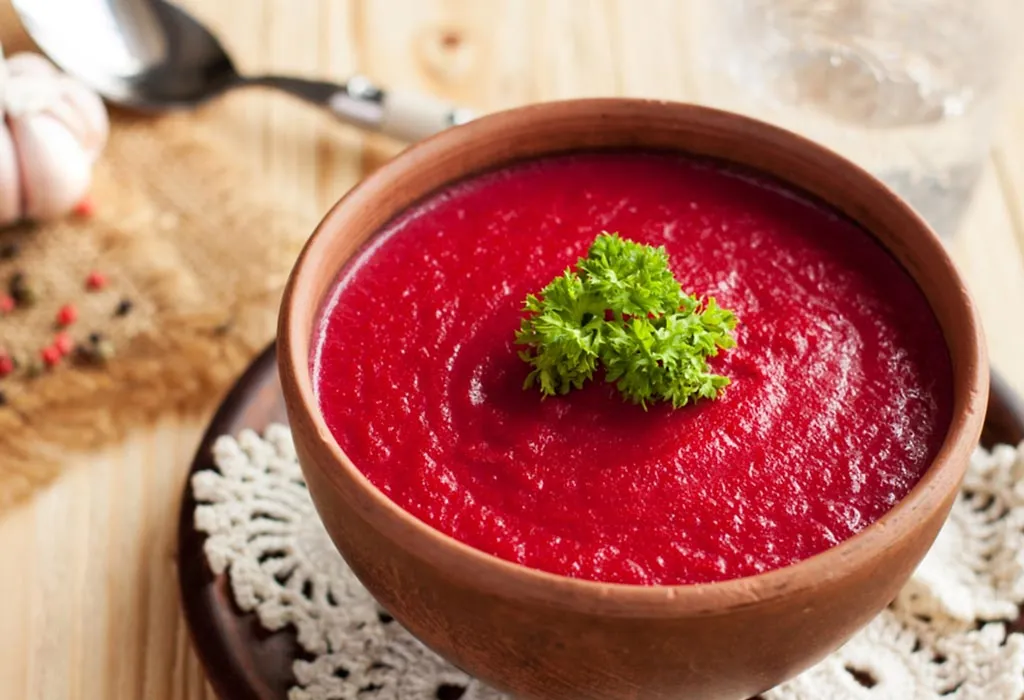 Method
Wash the vegetables in running water and peel the skin off the vegetables using a peeler.
Chop them into equal-sized small cubes.
Steam the chopped vegetables for 15 minutes. You can also pressure cook it with a cup of water for two whistles.
After the vegetables are cooked, blend it to a smooth paste in a blender.
You can add water, breast milk, formula milk or cow's milk (Specifically to be given after 10 months) and adjust the consistency of the blended mixture.
Things to Keep in Mind
Vegetable puree is a wholesome and nutritious meal. Although we have discussed a couple of vegetable puree recipes for babies, using your creativity, you can try to mix vegetables of your choice and the ones that your baby loves the most and whip a mixed vegetable puree for baby accordingly.
Following are some important pointers that you must keep in mind while making these nutritious vegetable purees:
To retain most of the nutrients, experts recommend steaming vegetables, instead of boiling them.
It is advisable to serve fresh and warm purees. Feed the baby within two hours from the time of preparation.
Select good potatoes, especially ones that do not have blemishes and cracks. Do not choose potatoes that have sprouts or the ones that have soft spots.
Although you can use a blender, you can mash the steamed vegetables with a masher or a fork.
To adjust the consistency of the puree, you can add breast milk, cow's milk (recommended after the age of 10 months), formula milk or warm water to the prepared mixture. Do not boil the puree after adding the milk.
If babies are allergic to any of the ingredients used in preparing a puree, please do not include it.
It is highly recommended to use sterilised bowls and spoons for feeding the baby.
Although it's not mandatory, it is a good practice to try the 3-Day Rule for starting solids. Introduce these solid foods slowly so that it's easier to detect any intolerance to food items or allergies. You can follow this procedure:

Day 1 – 1 tablespoon one time a day
Day 2 – 2 tablespoons twice a day
Day 3 – 3 tablespoons twice a day
Approximately, 1 tablespoon is 15 ml. So, after three days, you would have given around 90 ml.
When you introduce a new meal, ensure that you track the baby's tolerance towards the meal. If you observe any abnormal conditions, please stop the meal and consult your doctor.
It's tricky to come up with healthy, wholesome and tasty meals for your baby, but it is a joyful experience. You might get over-enthusiastic, but remember that your baby can't easily digest, so take baby steps to introduce your little one into the world of tastes, textures and colours.
Also Read: Healthy Porridge Recipes for Babies