Stroller Frame Buying Guide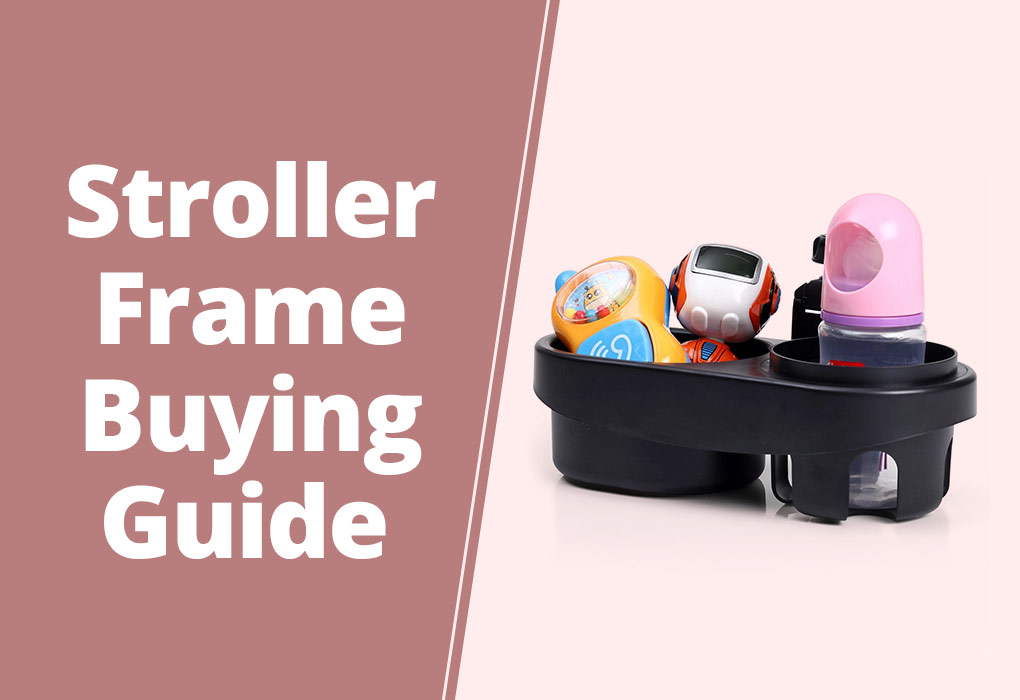 What is a Stroller Frame?
Stroller frame is a lightweight metal frame designed to carry specific types of infant car seats. You just need to separate the car seat from its base, snap it onto the stroller frame, and voila, you get a stroller. This is very convenient, especially when you need to take a sleeping baby out of the back seat.
Types of Stroller Frames
These strollers have a minimalist design and rely completely on the car seat to hold the baby. It can attach the car seat to the frame using either a click-in or a strap-in system.
Stroller Frames with Car Seat Adaptors
These stroller frames come with adaptors to attach the car seats to them, using either a click-in system or a strap-in system.Let us now look into how the car seats attach themselves to the stroller frames-
Car Seat Attachment Methods
The single most difference between frame strollers is how the car seat is attached to the frame. There are two types of attachment methods
Click-In Systems
These systems are designed in such a way that they automatically latch the frame and seat together when the seat is lowered onto the stroller frame. These systems can be used with one hand and are characterized by an audible click to alert the user that I have made a connection. These systems provide the benefit of speed, simplicity and reliability.
Simple and easy to use.
Strap-In Systems
These systems utilize a belt or strap to retain the car seat. The strap is fed through the seat belt notch in the car seat, which is then tightened down to secure the car seat. This system is widely compatible with many models of car seats. However, it is lot more complex and cumbersome than the click-in system.
Complex to use. Involves too many extra steps at every transition in/out of the frame.
Reference:- 7-http://www.babygearlab.com/Car-Seat-Stroller-Reviews/buying-advice
How is a Stroller Frame Useful?
Stroller frames are a great choice if you'd like to use your baby's car seat as a travel system, but don't want the large, bulky stroller that comes with one. These lightweight stroller frames are easy to fold up, thereby giving you all of the convenience of a travel system, at a fraction of the weight and trunk space. The only downside is that once babies hit 12 kg or so by their first birthdays, they would outgrow the infant car seats and you won't be able to use them anymore.
Why You Need a Stroller Frame?
Stroller frames are right for you if –You are looking for an alternative to a travel system, or to separately buy a pram, stroller and car seat for your child.
Features List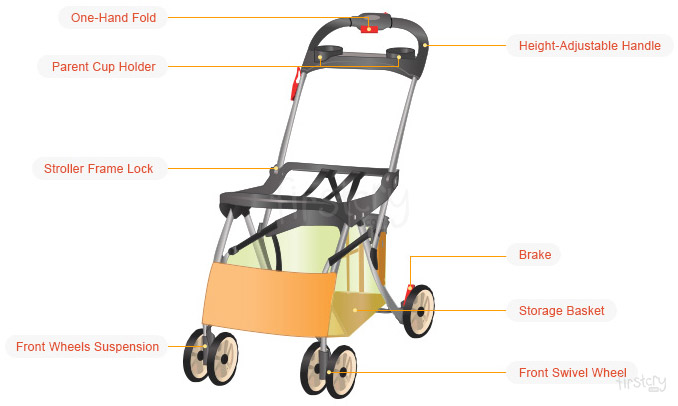 Compiled here are some features you should look for when you buy a stroller frame. The 'Must Haves' point to the essential features, while the 'Good to Haves' are add-on features you may or may not choose to install.
Must Haves
Metal Frame – The protective sturdy metal frame ensures that your baby has a stable and comfortable ride.
Frame Locks – Check that the stroller frame locks into position naturally, and that this mechanism prevents it from accidentally collapsing.
All Wheel Brakes – Make sure that the brakes work properly, and that the wheels lock when the brakes are engaged.
Front Wheels Swivel – Some jogging strollers come with swiveling front wheels too, and they are more suitable for a combination of walking and jogging.
Adjustable Canopy – to provide sun shade when the baby is resting.
Car Seat Adapter – For ease of connecting with car seats.
Click-in System – To connect the car seat to stroller frame.
Good to Haves
Child Tray and Cup Holder.
Adjustable height handle – The stroller frame's handles should be at the pusher's waist level. Remember that most of the strollers are built for a woman of average size. If you do not fit this description, you might want a stroller with adjustable handles. You can also buy stroller handle extenders.
Strap-In System – To harness the car seat to stroller frame.
Pros and Cons of a Stroller Frame
Know the advantages and disadvantages of a stroller frame, so you can make an informed buying decision.
| | |
| --- | --- |
| Pros | Cons |
| A lack of seat mechanism and padding makes stroller frames lightweight and easy to fold. This makes them smaller and more compact. | The convenience of a stroller frame depends on the ease of taking the infant car seat out of the car. Once your baby is past 9 kg, moving the infant car seat around can get tiring, and you may prefer to just take the baby out of the car instead of the entire car seat. |
| Lighter weight translates into better steering, provided the overall quality of the frame is good. | Stroller frames have lesser storage space when compared to full-sized strollers. |
| Most infant car seat manufacturers also make stroller frames to go with their car seats. This arrangement works out very well for new parents, who are inexperienced and don't want to invest in a sophisticated travel system. | The lack of a seat limits the useful life of a stroller frame. Once your baby outgrows the infant car seat, the stroller frame would be of no use. If your baby's car seat is designed for babies up to 13.6 kg or a higher weight limit, the stroller frame would only last for a year or so. |
| Most of these stroller frames come with detachable cup holders, canopies and baskets. | |
What to Look for in a Stroller Frame?
Here are some pointers to keep in mind while buying a stroller frame for your bundle of joy-
Maneuverability – A standalone frame might be a bit clunky to move around. Ensure that the frame moves easily with/ without the car seat in it.
Compatibility – Some frames are compatible with only certain brands of infant car seats. Make sure your frame is compatible with the car seat you are using or planning to buy.
Car Seat Attachment – Make sure that there are no crevices or sharp edges jutting out, after the car seat has been attached to the frame.
Frame – Make sure that the frame is free of sharp edges and protrusions.
Bumper Bar – Bumper bar is a must but make sure that the infant won't accidentally slip through the leg opening.
Extra Features – Consider the number of extra features the frame provides. Does it have cup holders, parent trays and side storage?