The Ultimate Car Seat Buying Guide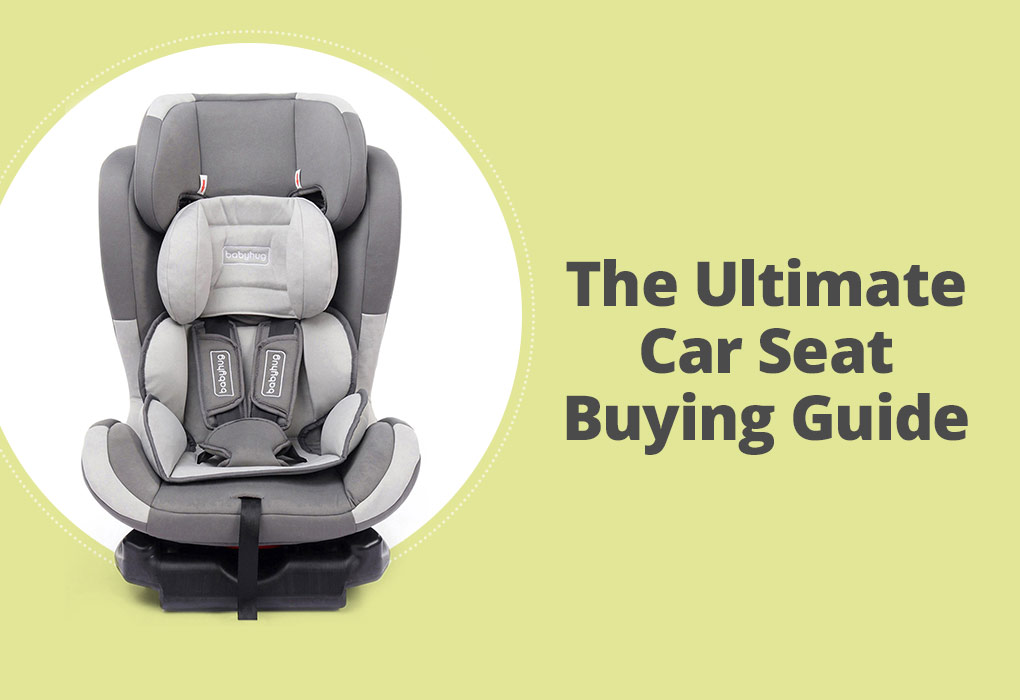 1. Overview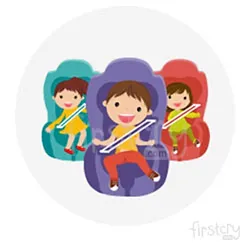 When your baby coo-chi-coos and smiles at you with love, all you want to do is make the world a safe place for your bundle of joy! You childproof your home, but what about when you take the baby out in your car? Mishaps don't come with a forewarning, and you wouldn't even dream of harm coming your child's way. A child car seat is an indispensable aide to help you secure your child's car travel. The motive of this guide is to act as your trusted friend and ready reckoner for everything you need to know about car seats for your child.
2. What Exactly is a Car Seat?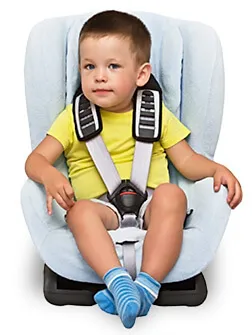 Car Seats for children, also referred to as child safety seats, are seats which are designed to protect your child from possible car crash injuries. A Car Seat comes equipped with a restraining system, which helps absorb the impact of the crash to a large extent, thereby protecting your child in the event of a collision. Car Seats have various features which help you provide not just safety, but also comfort for your child while traveling in a car.
3. Do I Really Need a Car Seat?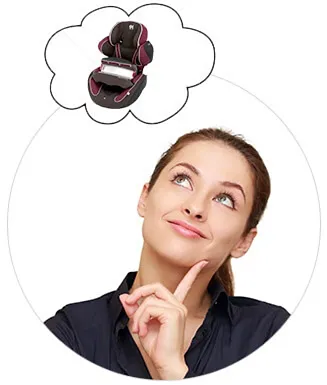 Child car seats are a relatively new phenomenon in India. Chances are that you're thinking, "When we never knew the need for a child car seat during our childhood why should we bother about it now?" That's a good question.
As a parent, safety for your baby is, no doubt, one of your primary concerns. Extensive testing indicates that the force of impact during an accident, is thirty to sixty times stronger when the passenger is unrestrained, compared to when using a child car seat or a seat belt (in case of adults). Since a baby has no way of exercising self restraint, it's at a greater risk of being hurtled around the car or even worse, thrown out of the vehicle. Using a child car seat helps you overcome these risks and ensures that your child is safely restrained when travelling by car.
Did you know India has the dubious distinction of the record for the worst road safety in the world, and that at least one death occurs on Indian roads every six minutes1? Of these, the National Crime Records Bureau reports that nearly 20 children under the age of 14 die daily in the country2. Scary, isn't it? But this is the unfortunate truth a parent in India faces today. If you travel by car, using a car seat for your child is the best thing you can do to ensure that your child doesn't become a part of the unfortunate statistics.

4. What Makes Car Seats Safe?
Car seat manufacturers perform intensive crash tests on their products before putting them through a certification process to ensure quality. This means that you can be sure of your child's safety when restrained within a car seat. These seats are designed after careful research and contain a number of safety features that play a vital role in ensuring your little one's safety. The most important features that render car seats safe for your child are: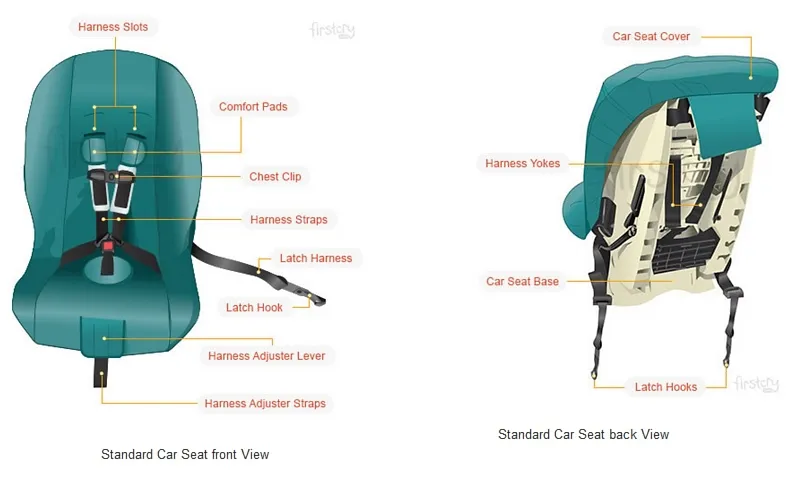 5. Other Safety Features of a Child Car Seat:
Seat Belt Guides
In some car seat models, you can secure your child via the car's seat belt system. The seatbelt guides in such models ensure that the seatbelts are threaded through the seat so that your child is in the best possible position.

Car seats with side impact protection, maintain the alignment of the baby's head, neck and spine, in case of an accident. The energy-absorbing foam evenly distributes the force of the crash, keeping the baby safe.

An impact protection shield is equivalent in safety to a 5-point harness, but is shaped like a bar, and is placed across the chest and midsection of your baby. In case of an accident, it disperses the force away from your child, reducing the risk of injury.

In addition to dispersing the energy in case of a crash, these pads ensure that the baby is held securely and does not lurch forward.

The lateral headrests cushion the baby's head from the sides, while keeping it in a central position- this is all the protection you'll need when you hit those potholes.

A pitch control system helps reduce your child's forward movement in the seat3. This is especially useful in heavy traffic, where a lot of braking is involved and passengers are subjected to a lot of jerks. Also, in the event of an accident, this ensures that your child is not thrown forward.

A baby's head is extremely sensitive to shocks. A pillow offers added protection, so the back of his head remains protected no matter what the condition of the road.

Side wings are those padded sections on the car seat that are about the height of the baby's chest and shoulders. When seated, the baby gets to rest snugly between the padding, which means longer rides just became more comfortable.

When choosing a taller model, look for well-spaced harness slots which can be raised as your baby grows. It is utmost important for the safety of the child to check that harness should be fitting your child snugly and is not too tight or loose. Some car seats feature as many as 3 sets, placed 1-2 inches apart.
Many car seats come with head impact protection, maintain the alignment of the baby's head and neck in case of a collision. The energy-absorbing foam evenly distributes the force of the crash, keeping the baby's head safe.
All car seats are essentially equipped with safety harnesses. There are several kinds of harnesses – padded, un-padded, height adjustable, etc.
5-point safety harness: This is to secure the baby through five straps. Two at the shoulders, two at the hips and one at the crotch, all connected through a buckle release mechanism.
3-point safety harness: This is a Y-shaped straps arrangement. Two straps securing both shoulders and one at the crotch. All are connected through a buckle release mechanism.
2-point safety harness: This is a lap belt that goes over the waist.
The safest one for your baby among these is the 5-point harness, as it ensures that your baby is restrained at shoulders, hips and pelvic region. This will take away the impact of the crash from baby's more delicate parts.
Adjustable Multi-recline Position
Any angle less than 150 degrees will be unsafe for an infant, since babies can't sit in an upright position until they're about 6 months old. Be careful to note the various reclining angles before making your purchase.
Extra Padded Inner Lining
Considering the many naps your baby will be taking in the car, you might want to spend a little extra attention on the car seat's padding, especially if you're considering a convertible, which you will end up using for a longer period.
The padding in some car seats are made of breathable fabric, so whether it's hot or cold, your baby will be dry and comfortable. (You'll thank us later when you take that long road trip out of the city.)
The general thumb rule is – the taller the model, the longer it's likely to be in use. It's only as your child grows older that weight becomes a primary consideration.
All factors, like build material, foam quality, etc., have an impact on the longevity of a car seat. When making your choice, consider the fact that plastic is less sturdy than metal, and EPS foam more brittle than EPP foam. However, all child car seats have an expiry date- 6 years on average- and will vary from manufacturer to manufacturer.
As your baby grows older, he will start to get heavier, and not all car seats are designed to handle that equally well. If you're buying a convertible/booster, it makes sense to look for higher weight capacity. All car seats come with a defined weight capacity, and it should be considered while making a choice.
It made some covers of more durable fabric, which will increase the life of your car seat. Some even feature extra padding and extra protection for your car, with additional pockets for storage.
Some car seats are built to double up as carry cots, rockers, can be integrated into pushchairs or used inside aircraft (although not all applications will be possible within the same model).
EPS(Expanded Polystyrene) / EPP(Expanded Polypropylene) Foam
EPS or Expanded Polystyrene foam (also found in bicycle helmets and portable freezers) absorbs energy, protecting the baby in case of a crash. Its more modern variant, EPP or Expanded Polypropylene foam, is more durable and flexible, making it the safer of the two options.
Babies can get messy wherever they are, and the car is no exception. So whether you're dealing with spilled fluids, wet pants or sweaty backs, an absorbent material for the base will ensure that your car seat stays dry, and the baby stays comfortable.
Combination of Baby Seat & Child's Car Seat
Convertible car seats combine the features of both an infant carrier and a toddler car seat, although they lack the portability offered by an infant car seat.
Some car seats have contoured, narrow bases, while others are flatter and broader. While broader is sometimes better, preferably the ones in the back. You'll be better off if you first check the specifics of your car seats, before making up your mind.
This feature applies to infant car seats, since those are likely to be the only ones you will be transferring to and from the car. But be careful when choosing an infant car seat for its weight alone. While lighter is more convenient, the sturdier, safer models are generally made of a tougher, more durable material.
Adaptable to Wide Variety of Cars
The car seat should compatible to variety of the car, if the baby travels in your car, or your dad's or your friend's car, or for that matter in a cab. It helps to have a car seat that adapts well with multiple cars.
Some car seats are built to airline specifications, so the baby won't have to deal with an ill-fitting seatbelt, and you won't have any worries should you encounter turbulence.
Retractable ISOFIX Connectors
ISOFIX – International Standards Organization Fix
This is a standard for attachment parts in a car. An ISOFIX connector is a fixed point on your car's seat that anchors your child's car seat. Since not every car has this facility, retracting them allows you to install the child car seat even in non-ISOFIX cars.
Most boosters are built to integrate with the car's seat belt system. Before making your purchase, just make sure that your booster seat comes with seat-belt adjusters, which will ensure that the belt is always in the right position, as your baby grows.
The 5-function handle is especially handy for a carry cot-car seat combination, as it enables mounting, reclining, sitting, rocking and carrying.
Integrated Diagonal Seat Belt
This feature is exclusive to boosters, particularly backless boosters that use the car's seat belt system to secure the baby. They provide a slot to insert and position the seat belt, so the car seat stays in place.
The harness retainer secures the harness in place, so you can get your baby in and out of the seat without the buckle and harness getting in the way.
1-Pull Frontal Harness Adjustment
A frontal harness adjustment is a strap that lets you adjust the harness from the front. The single-pull mechanism makes it easy to adjust your baby's position even while seated in the front seat (provided you can reach it, of course).
Some car seats have an extra lock that engages with the car's seat belt to secure the child more firmly. If you're getting a booster seat, you won't have to worry about this feature- the integrated diagonal seatbelt should do just fine.
Single-hand Recline Adjustment
If your car seat comes with the recline facility (boosters generally don't have this feature), you would want something that's easy to handle. Look for recline adjustments that mention ease of use, like single-hand recline adjustment.
Single Button Shoulder Belt Adjustment
Seat belts can get tangled, especially in case of booster seats. To fix this problem, some car seats have a shoulder belt adjustment, which while adjusting the harness for your child's changing height, also helps keep the seat belt from twisting.
Easily Removable Washable Covers
Babies are messy, and over time, the car seat's covers will accumulate food crumbs, stains, dirt and eventually germs. So look for removable covers that are machine-washable.
Detachable Seat Cushioning
Some car seats take the detachable bit a step further, with removable padding that can be machine-washed at will.
The LATCH system (Lower Anchor and Tethers for Children) is a kind of car seat standard in western countries. A metal bar is mounted between the lower back portion of the car's seat and cushion, and can be attached to the child car seat with special buckles.
Reference: 3- Defination of Pitch Control System
6. Different
Types

of Car Seats

Car seats come in diverse models, pertaining to the various age groups of children and according to their height and weight. Some of the major types of car seats you will find available are:-
Rear-facing Infant Seats

This is the car seat you should ideally bring your infant home in, for the first time, from the hospital. As the name suggests, the child is seated facing the rear in this model, which provides maximum protection to the highly vulnerable and extremely fragile body of your newborn.
Forward-facing Toddler Seats

When your little one enters toddlerhood, he is ready to turn about and face the world – literally! This forward facing model allows your toddler to explore the world racing past through the window, while still restraining him firmly from unwanted movements and unnecessary injury.
Booster Seats for Older Children

Booster seats do not have any restraints to hold children in place. Instead, they only raise their position such that the car's seat belt fits them properly. These are best for preschoolers and older children- those who have outgrown the forward facing seats.
Convertible & Combination Car Seats

I designed some car seats to work in both rear-facing and forward-facing modes. However, these seats are not suitable for newborns, are heavier and less portable.
Please note:– all car seat models discussed here are made by manufacturers in accordance with the regional norms prescribed by that particular state/region. Most adhere to United Nations & European Safety Standard ECE R44/04. I design these seats to meet the specific safety needs for every stage of your child's early years.
While the types mentioned above are based on the characteristics of various car seats, norms in US and UK classify the child car seats into various groups, as shown in the table –
| | | | |
| --- | --- | --- | --- |
| Approximate Weight Range | Approximate Age Range | Group | Stage |
| From birth to 9 kg (20 lbs) | Newborn to 9 months | 0 | Infant |
| From birth to 13 kg (29 lbs) | Newborn to 15 months | 0+ | Infant |
| 2-3 kg to 13 kg (4-6 lbs to 29 lbs) | Newborn to 24 months | 0+ & 1 | Infant |
| 09 kg to 18 kg (20 lbs to 40 lbs) | 9 months to 4 years | 1 | Toddler |
| 15 kg to 25 kg (33 lbs to 55 lbs) | 4 years to 6 years | 2 | Toddler |
| 22 kg to 36 kg (48 lbs to 76 lbs) | 4 years to 11 years | 3 | Grown up Child |
7. Choosing The Best Car Seat for Your Child
We have discussed in brief the different types of car seats available in the market and the features you should look for in the one you buy. In this section, let us venture deeper into the various types. We will explore each type in all its detail, and consider all you need to know about a particular model before you're ready to make a buying decision. We will also help you choose the model that suits your child best through our Buyer Recommendation Form (link to the form). Make sure you go through all the details thoroughly before arriving at the model you think is perfect for your little one.
8. How to
Install

a Car Seat?

All child car seats come with their own instruction manuals. Keep the manual safe at all times, preferably along with the car seat, so that you can refer to it whenever you have any doubts. Fitting instructions might vary from manufacturer to manufacturer, so be sure to follow the instructions specific to the car seat you've bought. In case you lose the manual, check the manufacturer's website to access necessary information.

Most cases of discomfort when using car seats occur because the instructions are not properly followed. In fact, many organizations claim that at least 8 out of 10 car seats are installed improperly. Therefore, you need to pay great attention to the fitting and upkeep of your child's car seat.

Here are a few general guidelines for installing child car seats –
Fitting a Rear-Facing Car Seat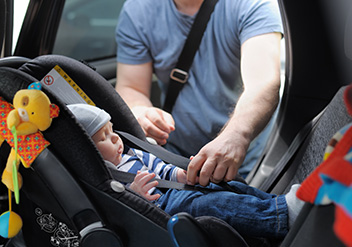 Place the child car seat in the back seat, facing the rear window of the car. Avoid fitting the rear-facing car seat in the front passenger seat. In case you absolutely must, make sure the passenger airbag is turned off.
Attach the seat belts to the car seat's base. Usually, there are guides on the child car seat for the car's seat belts to pass through it. Make sure the belt passes through all the right slots. Ensure that the car seat is tight when you attempt to pull it from side to side. It must not shift more than an inch.
Recline the seat enough to ensure that the baby's head doesn't flop forward during a jerk.
Ensure that the shoulder straps are away from the neck. You can place a towel between the crotch strap and the baby so that the baby does not feel any discomfort.
Fitting a Forward-Facing Car Seat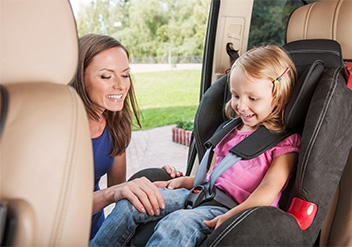 Place the child car seat on the rear seat, facing the front. The base should sit firmly on the rear seat and the back should be firm against the cushion.
Pass the tethers through the belt path on the child car seat and attach them to the car's tether anchor.
The lap belt must go over the child's thighs and not over baby's tummy.
Installing Booster Car Seats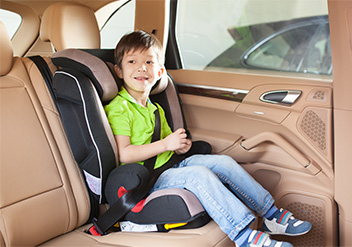 Ensure that the booster seat has both shoulder and lap belts.

Make sure the seat belt goes over the child's shoulder. It should not cut into your baby's neck.

The lap belt must go over the child's thighs and not over baby's tummy.
Position the car seat such that the child is sitting in an upright position.
9. Things to Remember When Installing Child Car Seat
It is recommended you get the car seat installed by the manufacturer for the first time. If this is not possible, then ask for a demo from the manufacturer.
Whether you are using a rear-facing child car seat or a forward-facing one, the best position to place it is in the middle of the rear seat of your car. However, in case it does not fit properly there, try securing it behind the front passenger seat and finally behind the driver.
Make sure you don't fit the car seat anywhere near the airbags, either the ones on the side, or the ones installed for the passenger seat in the front. In case of an accident, the force from the airbag can cause injury to the child.
Always check the car seat's compatibility with your vehicle. For example, if you have a car seat that works on the LATCH system, your vehicle needs to have the necessary anchorage and tethers too. It's best to buy a car seat that is compatible with the make and model of your car.
Keep the instruction manuals handy in case of a combination or convertible car seat. You may need them when changing positions.
Never make any modifications by yourself in the car seat. In case you need something changed, approach the manufacturer.