5 Best Straw Sippers for Babies & Toddlers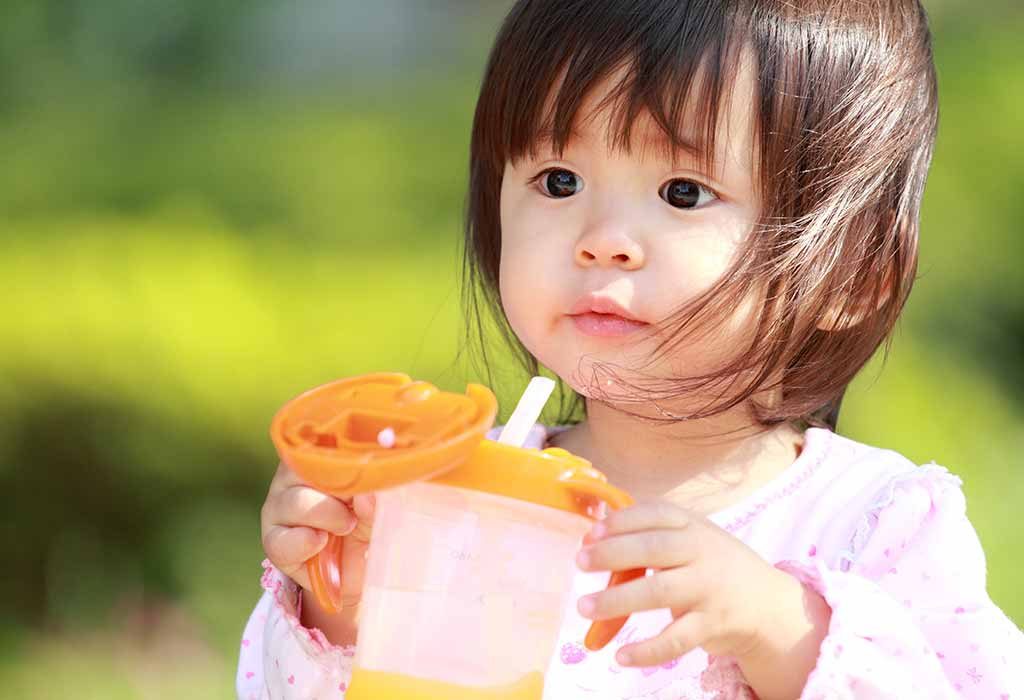 Your baby reaches yet another milestone in his life when he shifts from feeding from the breast or bottle to feeding from a cup. This transition allows him to exercise his tongue, face muscles, and soft palate, all of which are connected to speech and feeding.
Straw sippy cups are perfect for bridging this gap between the bottle and an open cup, as they prevent spilling while allowing your child to be more independent. These cups are a lifesaver and will help your little one adjust with ease. The big question is, of course, which are the best straw sipper cups? This article will help you understand just that!
Top 5 Straw Sippers for Babies
If your child is ready to transition from a bottle to a straw cup, and you don't know where to begin, you've come to the right place. We have listed the best sippers for babies and toddlers to help you choose the right one!
1. Babyhug Swipey Straw Sipper Elephant Print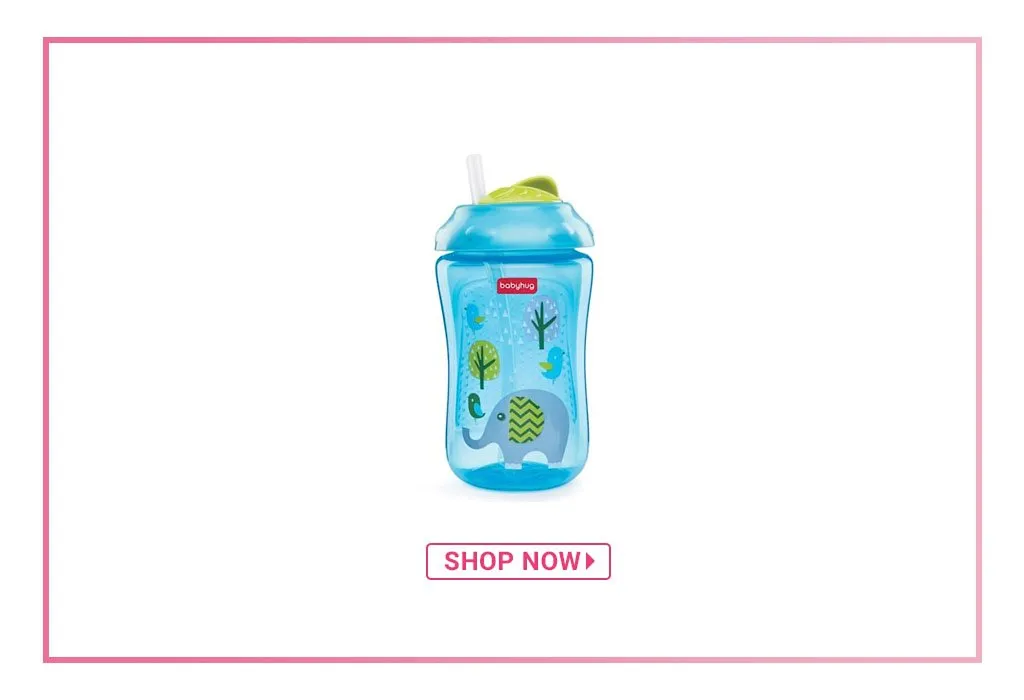 This specially designed straw sippy cup is perfect for your baby to use while at home or on the move.
Why You'll Like This
What's not to love about this brightly coloured, adorable straw sippy cup? This product from Babyhug has an ergonomic grip that makes it easy for little hands to hold. It also has a swipe lid that keeps the straw covered when not in use. The sippy cup is also dishwasher-safe, making it a great buy.
2. Avent Bendy Straw Cup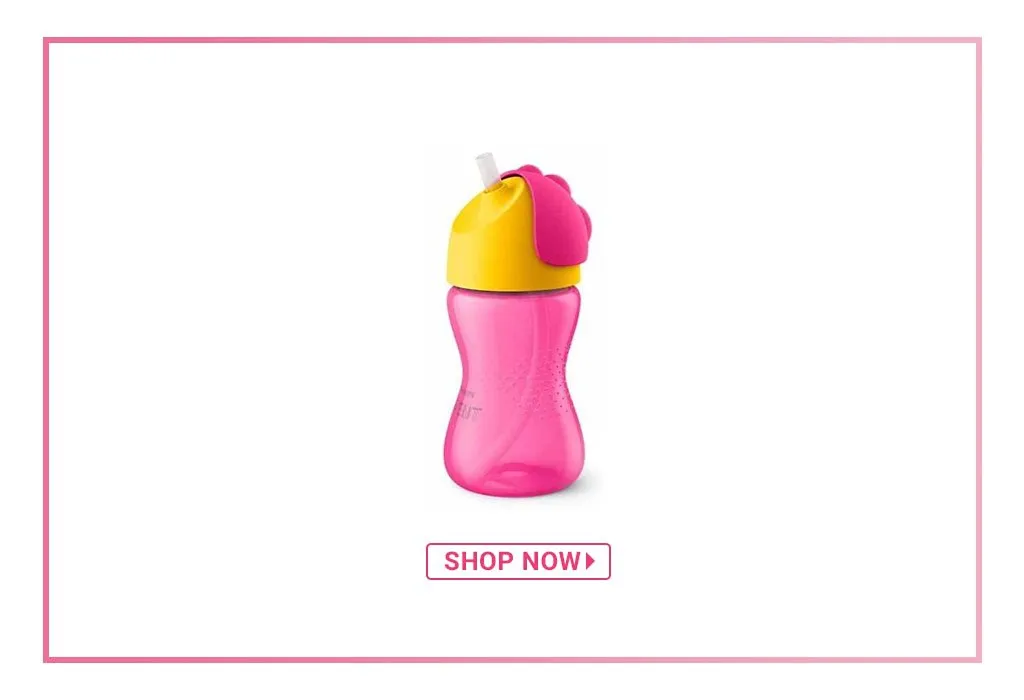 This sippy cup boasts of a unique 'bent straw' technology that enables your child to drink till the very last drop as he tilts the cup!
Why You'll Like This
When you're looking for a good straw sippy cup for your growing and active toddler, wouldn't it be great to use one that's a 100 percent spill-proof? That's what the Philips Avent Bendy straw cup is all about. This sippy cup is great for many reasons, the significant one being that it's dentist recommended and has been developed alongside experts to make it the best sipper for toddlers that allows for healthy oral development.
3. Babyhug Weighted Straw Sipper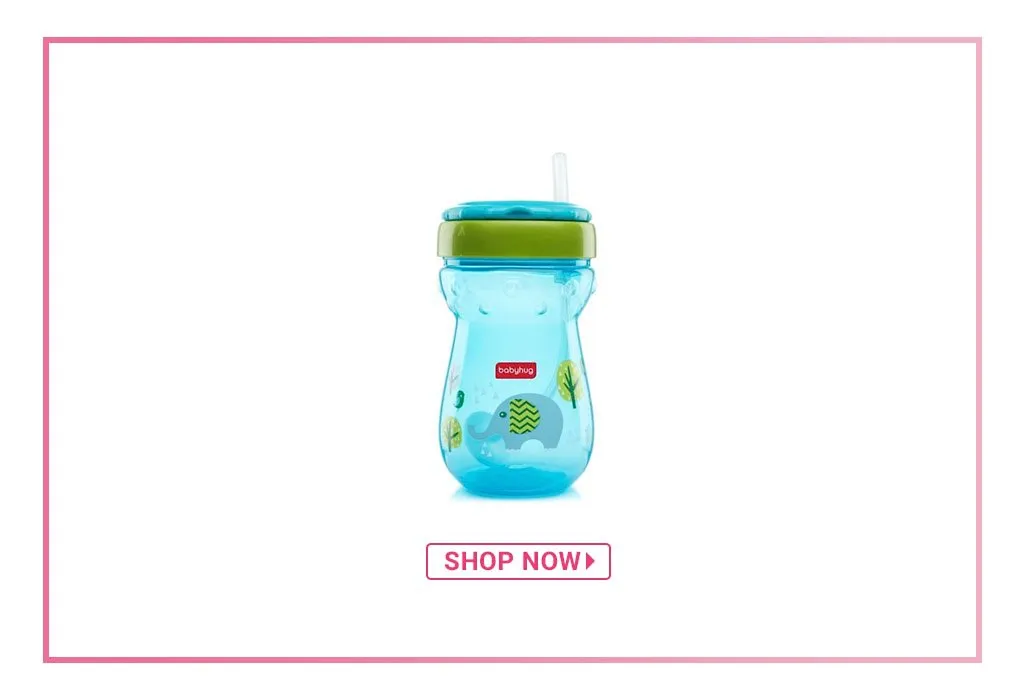 Looking for a sipper cup for daily use? Look no further, when you have the Babyhug Weighted straw sipper cup!
Why You'll Like This
Featuring a weighted straw that moves towards the liquid, this straw sippy cup from Babyhug can withstand all the wiggling and jiggling your toddler sends its way, ensuring he'll still be able to take a sip no matter how he holds the sippy cup. The cup is great for new sippers as well as more experienced ones, and it has a swipe lid cover to protect the straw and keep it hygienic.
4. Avent Bendy Twin Handle Straw Cup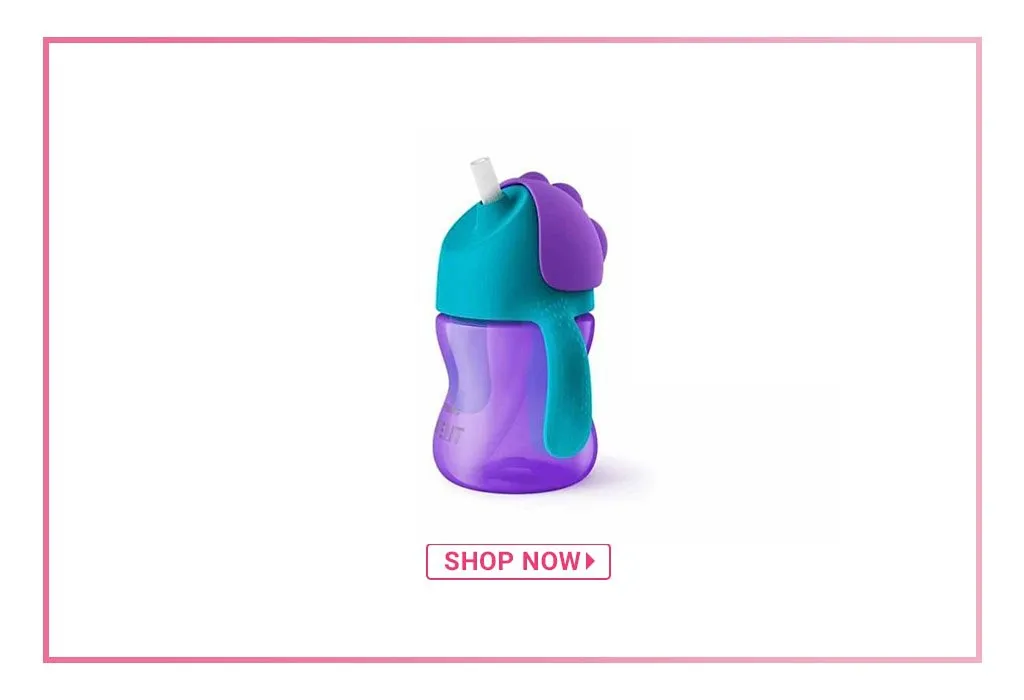 This sippy cup is perfect to carry while travelling with your munchkin, due to its compact size and light weight!
Why You'll Like This
The sippy cup from Philips Avent is the perfect size to keep your toddler hydrated throughout the day, especially during his playtime. Now, no more worrying about cleaning up spills and leakages, as the straw sipper cup has an integrated anti-leak valve that helps prevents spills. The sippy cup is also a good option for carrying drinks for your little one while travelling, as it doesn't feel like yet another heavy item of luggage to tag along with you!
5. Chicco Insulated Sports Cup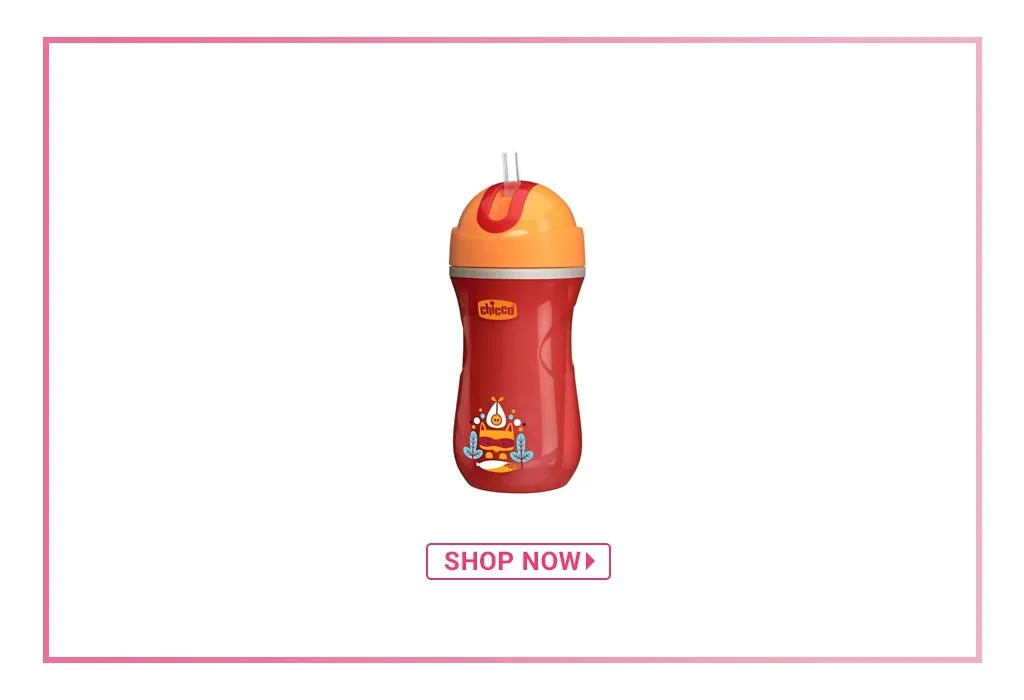 A sippy cup with insulated walls that keep the liquid inside fresh and at the required temperature – now, who wouldn't want that?
Why You'll Like This
The Chicco insulated sports cup has all the features you're looking for in a great sippy cup for your child! It has a practical drinking straw and a lid that covers the straw when not in use. Its cool and hip design will be an instant hit with your munchkin! The sippy cup is suitable for kids aged 14 months or older.
FAQs on Straw Sippers for Babies and Toddlers
1. Can babies drink through a straw sipper?
Yes, it is safe for babies through a straw sipper cup. However, make sure you introduce it at the right age. The best age for your baby to make the shift to a straw sipper cup is between nine and 15 months, but this may vary depending on the baby. Some parents prefer introducing their child to sippy cups at around 12 months of age.
When you first start giving your baby the sipper cup, ensure he's seated, as it can get difficult for him to manage the multiple tasks of walking, sipping, and swallowing all at once.
2. Is a straw sippy cup better than a spout sippy cup?
A straw sippy cup is the best choice when considering the development of your child's speech, oral motor strength, oral structure, and movement.
A spout sippy cup, on the other hand, will encourage a forward tongue resting position, which often leads to a frontal lingual lisp. This leads to the upper incisors being pushed forward by the tongue, often resulting in the requirement for braces in the future.
Making the change from breastfeeding or a bottle to a straw sipper cup can be daunting in the beginning, for both you and your baby! But, stick with it, be consistent, and give your little one enough time to get accustomed to this new way of drinking. Don't fret if it takes a while – it's all part of the learning process! You can choose one or multiple straw sippers from the list, to better understand which one your munchkin likes the most, or is most comfortable with. Happy shopping!
You May Also Like:
Best Bibs for Babies
Best Spout Sippers for Babies & Toddlers
Best Baby Food Containers and Dispensers
Also Read:
Breastfeeding your Baby: How to Get Started
Exclusive Breastfeeding – Benefits and Tips
When and How to Stop Breastfeeding a Baby