15 Things You Need if You're Travelling With a Baby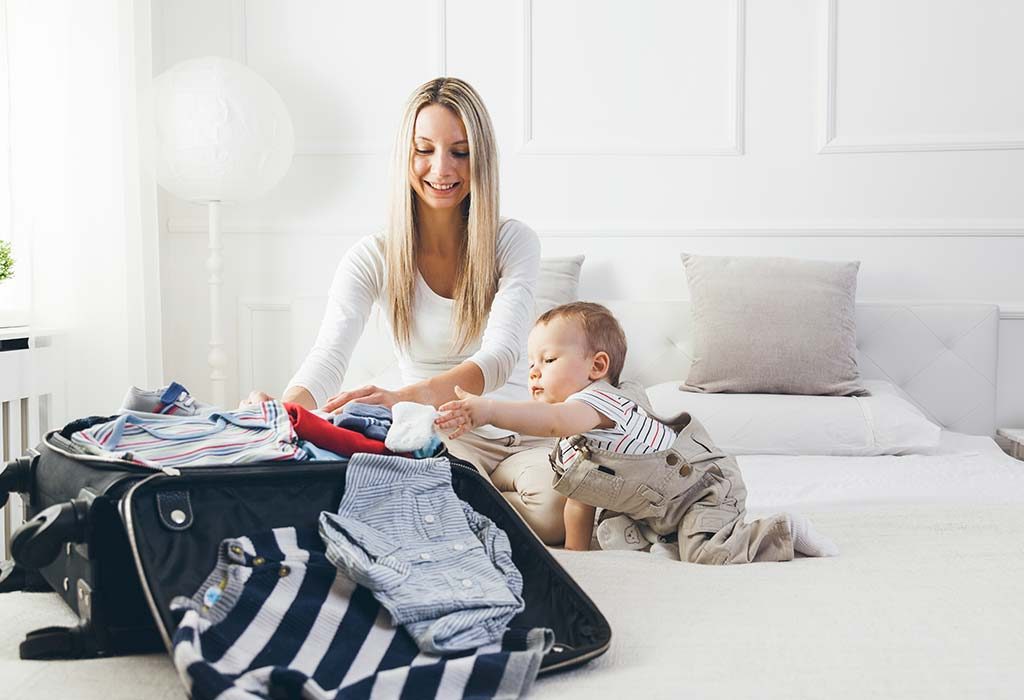 In this Article
Travelling alone doesn't need much preparation, especially if you're used to last-minute plans and short getaways. But no trip, long or short, can go smoothly without proper preparation and packing when you have a baby in tow. Travelling with babies can be a tricky affair, but making a checklist of everything you need to pack beforehand- and sticking to it- will ensure that it doesn't need to be a struggle. Here's a checklist of everything your little one may need on his trip so that you don't under-pack (or over-pack)!
Things to Pack for Your Baby While Travelling
Here are some necessities for your baby, that you should definitely include in your packing checklist!
1. Diapers
It goes without saying that diapers are the most important item to carry, as you don't want any last-minute messes and unnecessary washing of clothes. If you are travelling to a city, carry exactly how many diapers you will need (counting them by the hour) and any extras can be bought last minute. However, if you're travelling to an isolated area, be sure to carry a few extras as well. Also, carry diaper rash cream, just in case.
2. Extra Clothes and Ziplock Bags
Pack two sets of clothes for each day, as well as some extras in case of spills or messes. Carry ziplock bags to store worn clothes. This reduces the hassle of washing and drying clothes while on vacation, so you can actually enjoy your holiday! P.s- Don't forget to check the weather in your destination before you begin packing.
3. Baby Wipes
If you're on the go and planning to do some sightseeing during the trip, baby wipes are a lifesaver for cleanups. Keep a pack in your carry-on bag at all times, and you can travel stress-free!
4. Sanitisers and Disinfectants
These come in handy while you're on the road, in the hotel room and when out and about. Disinfect any surfaces your baby (or you) will touch, and sanitise your hands to kill germs. However, make sure to pick baby-safe products.
5. Baby Food
It's best to keep baby food at hand to avoid any tummy upsets.. These are often easy to prepare and make for a great snack as well, in case your little one gets fussy or hungry on the way. Baby food usually varies with city and country, so if you're opting for store-bought baby food, pack the brand your baby loves, in case you don't find it elsewhere!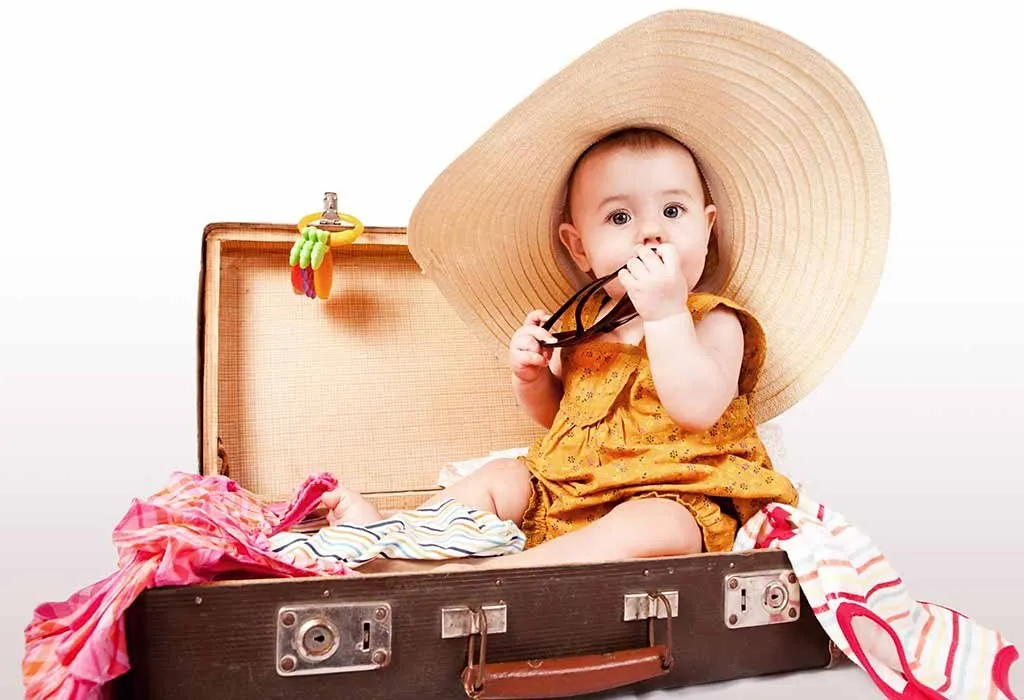 6. Toys
These will keep your baby occupied when he's bored or fussy, or you just want to lay back with a book and enjoy your vacation. Carry a toy for each day, so your little one gets something new to play with every day!
7. Blankets
A thick blanket or quilts has many uses. You can use it to lay your baby down or as a comforter. Too much sunlight? Cover the windows of your vehicle with the blanket, and your little one can travel without the sun hitting his eyes!
8. First Aid Kit and Medication
Carry bandaids, pain relievers, ointments, cold medicine, and any other emergency medication your baby will need in case he hurts himself or falls sick. Also, make sure you carry enough supply of any medication he may need to take everyday.
9. Sling or Foldable Stroller
If you're going to be on your feet a lot during your travel, carry a sling or foldable pram. A sling is great to keep your hands free, but a pram is perfect if you're carrying heavy bags and have to walk long distances. Another option- carry both!
10. Baby Monitor
If you're looking to spend some quality time with your partner or family, carry a baby monitor so you can put your little one to sleep in another room while still keeping an eye on him. This way, you can watch a movie, talk for hours, or do as you please, while your baby sleeps safely and comfortably.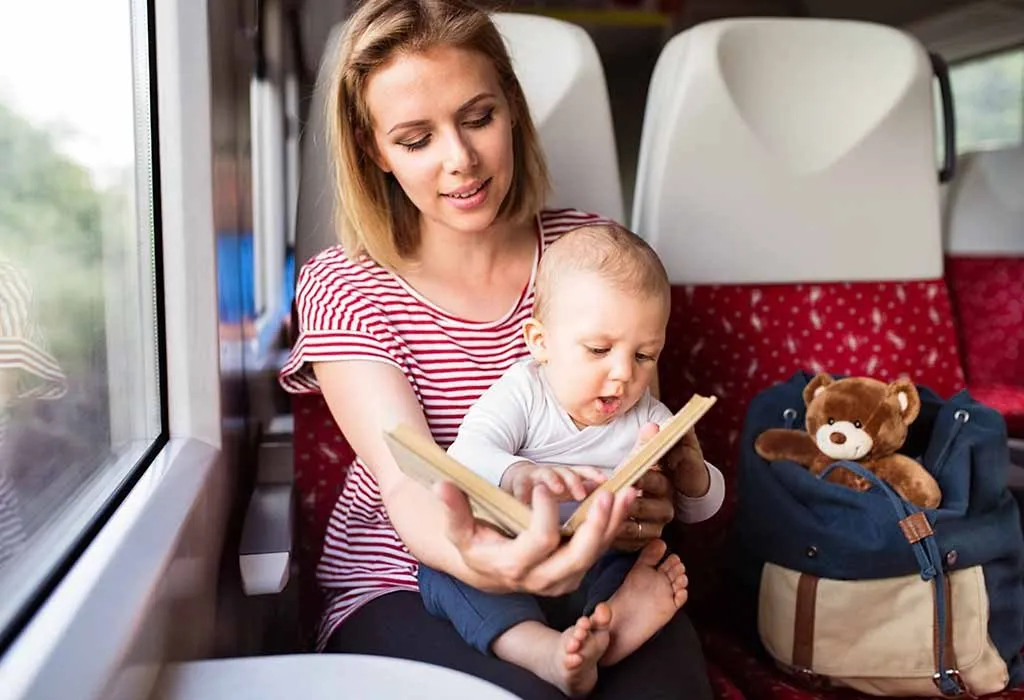 11. Breast Pump, Bottles or Formula
On days where you may be sightseeing or travelling for a long time, you can pump milk and store it to be used when your baby feels hungry or fussy. If you feed your little one formula, prepare some to store for a few hours. Make sure you carry enough bottles. You can also buy a portable steriliser; it will make life super-convenient! You might need a cooling bag if you're travelling in warm weather conditions.
12. Proper Identification
You may often forget this if your baby is still only a few months old, but he needs identification too! Keep photo IDs and relevant documentation handy, especially if you're travelling out of the state of the country.
13. Grooming Tools
Any grooming tools, like a comb, nail clippers, etc. are a necessity while travelling. Also, carry a portable bathtub for your baby if the place you're staying at doesn't have a small area to give him a bath. Remember, babies shouldn't be bathed in regular-sized bathtubs!
14. Moisturiser, Powder and Sunscreen
Skincare doesn't stop on vacation, so carry baby moisturiser and sunscreen, especially if you're going to travel in hot, sunny areas or will be exposed to dust and dirt. Make sure you give your baby a bath at the end of the day as well, so he goes to sleep squeaky clean. A warm bath will also help him go to sleep quicker, so win-win!
15. Books
Reading to your child every day is essential and shouldn't stop even on vacation, so don't break the habit. Carry a couple of books, depending on how long your vacation is and read to your child every night before he sleeps. The plus point, it will help him sleep if reading is a daily ritual, leaving you plenty of time to chill out!
Travelling with your baby is a fun experience since you can watch your munchkin explore the world around him and have a gala time! But if you're one of those parents that constantly worries about your baby, being prepared with everything you might need will help you relax on your holiday too. After all, your little one will only be a baby for a short time, so enjoy these precious moments!
Also Read:
Travelling With an Infant: Things You Must Not Ignore
8 Tips For Travelling With Baby In a Bus
8 Must-Know Tips Before Travelling By Train With Baby
10 Tips for Travelling With Your Baby on a Flight
?>