8 Must-Know Tips Before Taking a Train Journey With Your Baby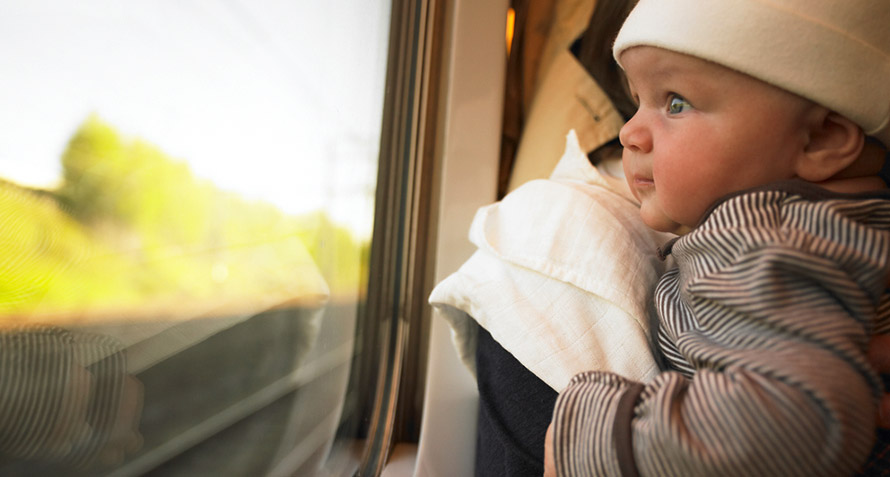 Travelling by train can be a wonderful experience for the soul – yes, even for those of us who like to save time by travelling on flights. True, train journeys can be time-consuming and difficult, but they also expose us to fresh experiences, new people, new places, and inspire creativity and romance. When it comes to train travel with baby, however, it is an entirely different ball game.
There comes a time when we cannot avoid travelling with the baby in public transport. You may have to be somewhere out of town, or go to meet family members. Train journeys with your little darling can seem extremely daunting and worrisome, even to the experienced mother.
We have compiled for you some important tips to simplify the process of travelling with your baby in a train. From preparation to the actual trip, these tricks will help make your journey hassle-free.
1. Try To Book Trains According To Your Baby's Schedule
Little babies can get very cranky if their schedule changes, i.e., if they don't get to feed or sleep as per the time they have become habituated to. While some amount of shuffling of schedules in unavoidable when you are travelling, it is a good idea to try and find a booking time that matches your baby's schedule as much as possible. Also avoid making any major changes in schedule a few days before travelling. For example, if you have been planning to switch to solid foods, hold on till you're back from the trip.
If this is not possible, try to make your baby feel as comfortable as possible around the time you're scheduled to depart for the journey. So, if the time of the train clashes with your baby's feeding time, feed him beforehand so he doesn't get hungry and start crying.
2. Pack All These Essential Items For Your Baby
It doesn't matter if the trip is going to last 2 days or 2 weeks – your baby is still going to need half the household packed in his bag! Travelling by train with baby means you need to pack essential items for the journey, aside from things you will need after reaching the destination. These include:
Rugs, bed-sheets, etc. for your baby to lie down on
Favourite toys to keep the child entertained
Bibs to avoid spills while feeding in a moving train
Nursing shawl/cover to breastfeed in the train
Flask for baby's water
Extra diapers (or potty seat, if required)
Extra pair of clothes and warm clothes if train is air-conditioned
Plastic bags
Medicines for motion sickness and travel-induced digestion problems
3. Prepare and Carry a First-Aid Box For Your Baby
This is a must – keep your baby's first-aid box ready well in advance and never forget to take it along. As a rule, the box should have medicines for fever, cold, congestion, ear infection, nasal saline drops, wipes, thermometer, antiseptics, bandages and cotton. Keep the doctor's phone number handy (and added as a paper slip in the box) in case you need to get in touch during the journey/trip.
4. Discuss The Journey With Your Baby's Paediatrician
A couple of days before you leave, it is a good idea to check with your paediatrician. This is helpful for any last-minute tips or advice that the doctor may have, and to see if there is any vaccination that the baby needs to take. You should also discuss the medicines to be carried on the journey. If your child has a history of allergy, motion sickness or digestion problems, ask the doctor to recommend medication for the trip.
5. Consider Using a Baby Carrier
For a train journey, you can consider wearing your baby in a sling or carrier instead of carrying your baby in a pram. Wearing your baby will help you navigate crowded platforms and stations, without worrying about rolling the pram or searching for elevators. You will get a hands-free experience and also feel more prepared to catch the train, considering the immense crowds that train stations see every single day!
6. Prepare Well For Your Baby's Feeding
Making sure the baby eats well on a train journey can be another massive challenge. If you are breastfeeding (or formula feeding), make sure you carry all your feeding equipment with you – bottles, steriliser, pumps, feeding pillows, bibs, and covers.
If your baby has started on solid foods, some of these make ideal travelling foods:
Fruits like banana, chiku, apples and oranges
Cereal (homemade options like semolina or rice based cereals are good for travel. They can be just mixed with hot water and served)
Homemade cooked food that doesn't spoil quickly, such as thepla, atta ladoo and khakra
Homemade purees (you can freeze them in individual air-tight containers and thaw before feeding)
7. Keep Your Baby Entertained and Comfortable During The Journey
Little ones are easily bored – but they are also easily distracted! If you are travelling with a small baby, you need to prepare in advance various methods to keep him entertained during travel. Some of the options and tips that work well include:
Carrying some of their favourite toys and household objects
Carrying picture books
Playing songs and lullabies on your phone or iPod
Making funny facial expressions
Booking a first-class/second-class ticket if possible to get more space and hence more comfort for you and your baby
Trying to stick to their original schedule for feeding and napping, especially if it's a long journey
8. Finally, Don't Worry Too Much about People's Reactions
If you've kept all the above pointers in mind, you are well prepared for the train journey with your baby. Chances are your journey will be smooth and your baby will have a good time enjoying the new sights and sounds. However, if something goes wrong, your baby starts crying, or there is any kind of a mess, don't take it to heart. You have tried your very best to keep fellow passengers comfortable. But babies are in a growing-up phase and these things will happen. It doesn't reflect on you badly as a mother.