11 Best Baby Blankets and Quilts for Newborns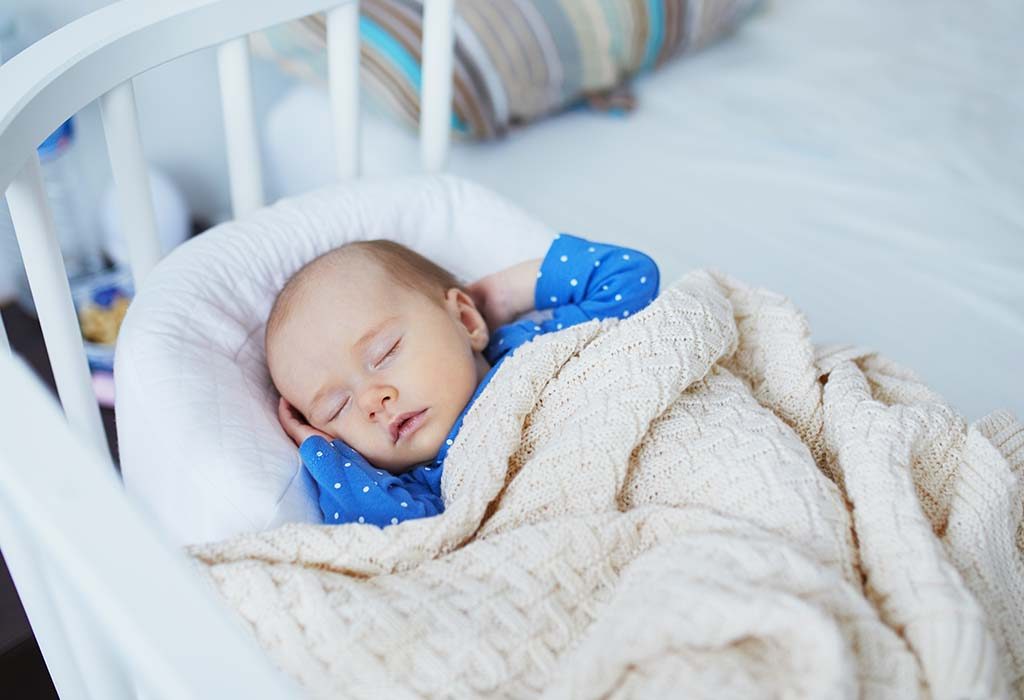 Whether it's keeping your little one snug and warm or simply as decor for the baby room, there's no reason a baby blanket can't do both. When picking the right blanket for your baby, you want to keep in mind certain aspects like texture, softness, weight, pattern, etc. To make your choice easier, we have listed 11 of the best baby blankets and quilts for your munchkin. These are created with care and high-quality standards, so they become your baby's favourite sleeping accessory and stick around even after he has outgrown them.
List of Top 11 Blankets and Quilts for Newborn Babies
There are a variety of popular baby blankets and quilts available in the market, which can make your choice a tough one. This list of the best blankets for newborns will help you choose the best one for your baby.
1. Babyhug Premium Coast Flower Print Cotton Knitted All Seasons Blanket
This vibrant and cosy blanket for your little one will help him sleep comfortably!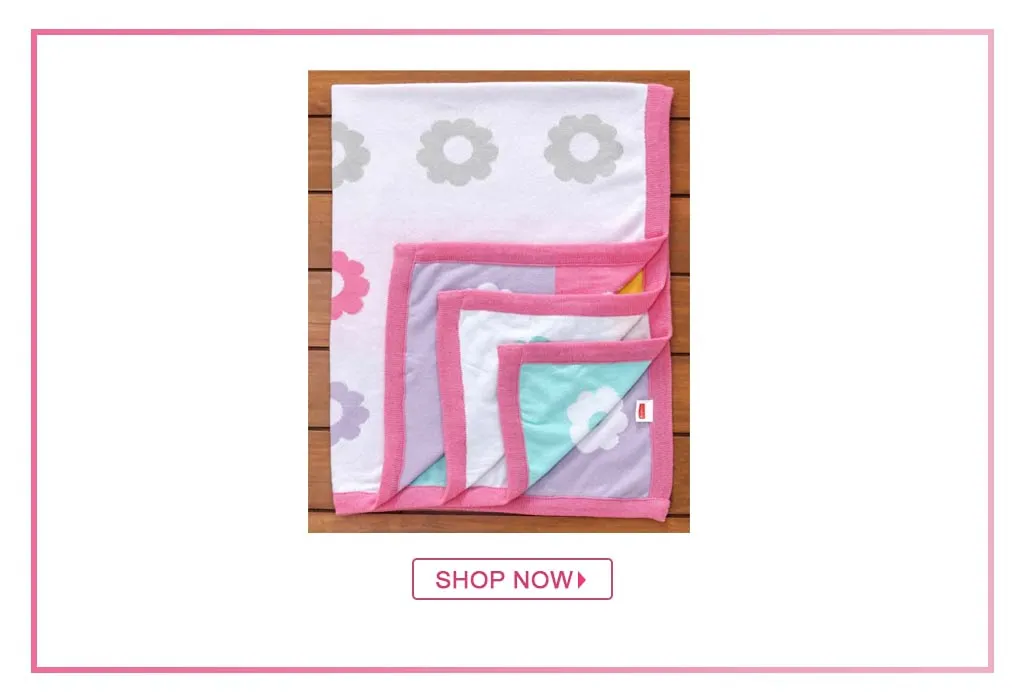 Why You'll Like This
This breathable and colourful blanket by Babyhug is another one in line loved by parents for their little kids. A blanket needs to be super soft for a baby's skin, and this blanket's smooth texture and trendy knitting steals the show. With a sizeable length and all-season comfort, this one tops the chart on our list.
2. Babyhug Premium Reversible Plush Soft & Warm Double Layer Blanket Giraffe Print
This mink fur blanket is super soft and keeps your baby snug and cosy!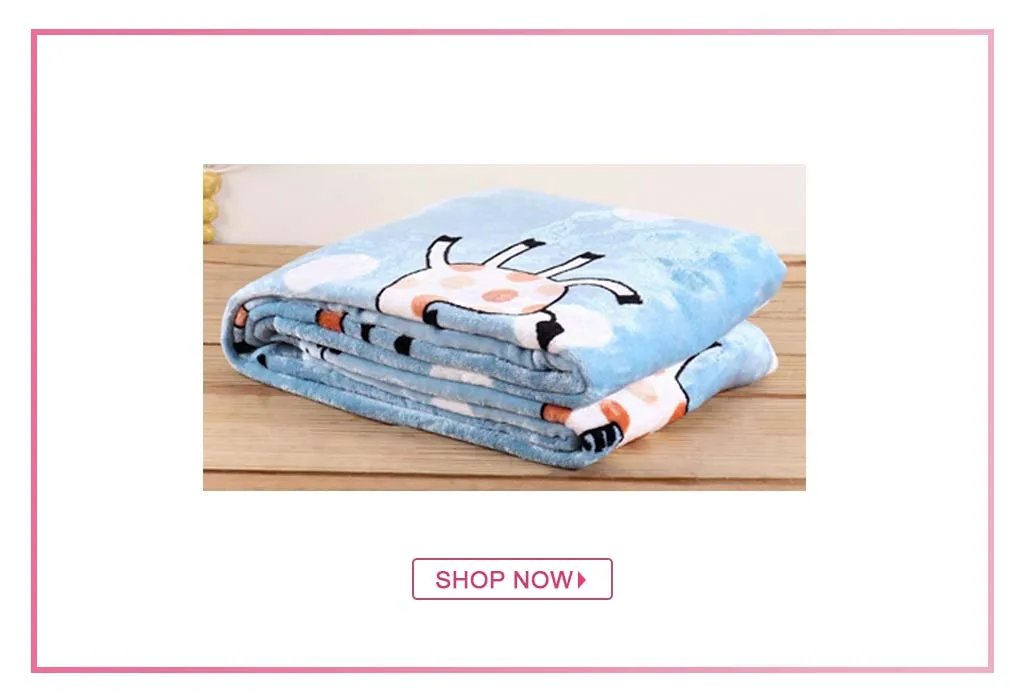 Why You'll Like This
Blankets are popular among kids, and their attractive prints amuse not only kids but also people. This blanket with cute Giraffe prints is very lightweight and reversible, i.e., it can be used both ways. Since it is gentle on babies' skin and does not cause rashes of any kind, it can be a lovely accessory for newborns till the age of 36 months.
3. Babyhug Sherin & Poly Wool All Season Blanket Animal Print
This soft blanket is made up of premium fabric and designed to keep your baby warm and protected!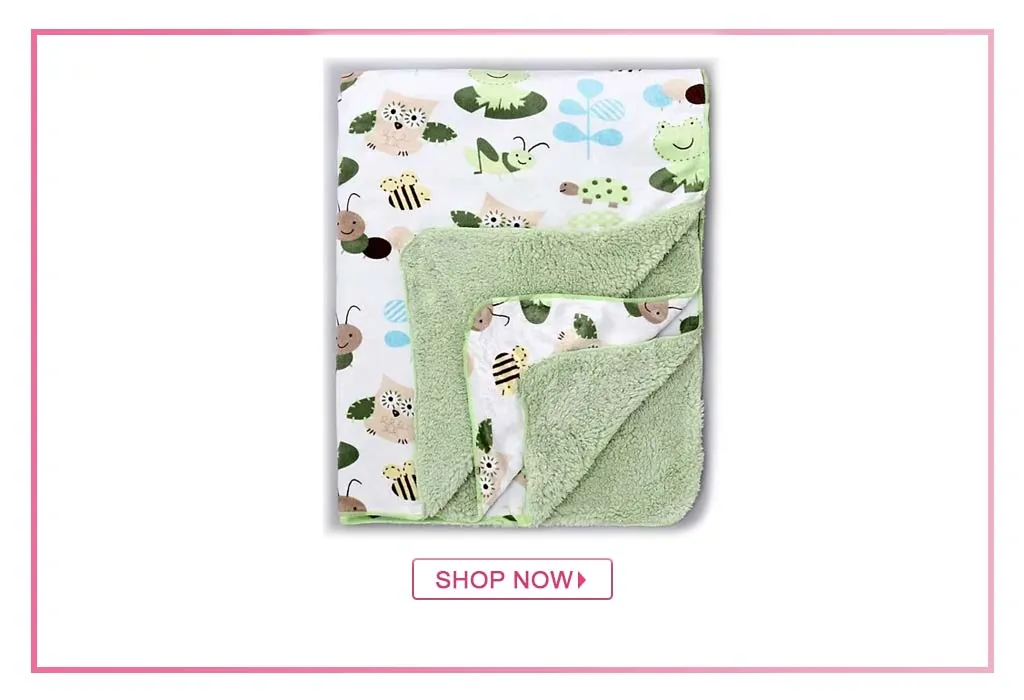 Why You'll Like This
A super-soft blanket, this one is sure to keep your little one warm and comfortable. It is made of soft Sherin and poly-wool and generously sized for swaddling your little one and making him feel comfortable. This blanket by Babyhug is a perfect choice for keeping your baby snug in his pushchair, cot, car seat, or safe in momma and dadda's arms.
4. Mee Mee Cuddle Up Reversible Baby Blanket
This plush blanket is like a hug after a long day at work. Perfect for restful sleep, you might want to snuggle with your kid in this throughout the day.
Why You'll Like This
Perfectly designed to keep your baby warm and cosy, this reversible blanket is all you need for your little munchkin's restful sleep. It is made up of the finest materials that enable kids to breathe easily and offer a soft touch to their delicate skin. Did we tell you about its attractive print? Available in a range of appealing themes and colours, this is sure to be used while nursing, cuddling, or even as a stroller cover.
5. Babyhug Cotton Quilt Owl Print
Well, not to lie, this blanket's vibrant colours and adorable prints has made us go bonkers!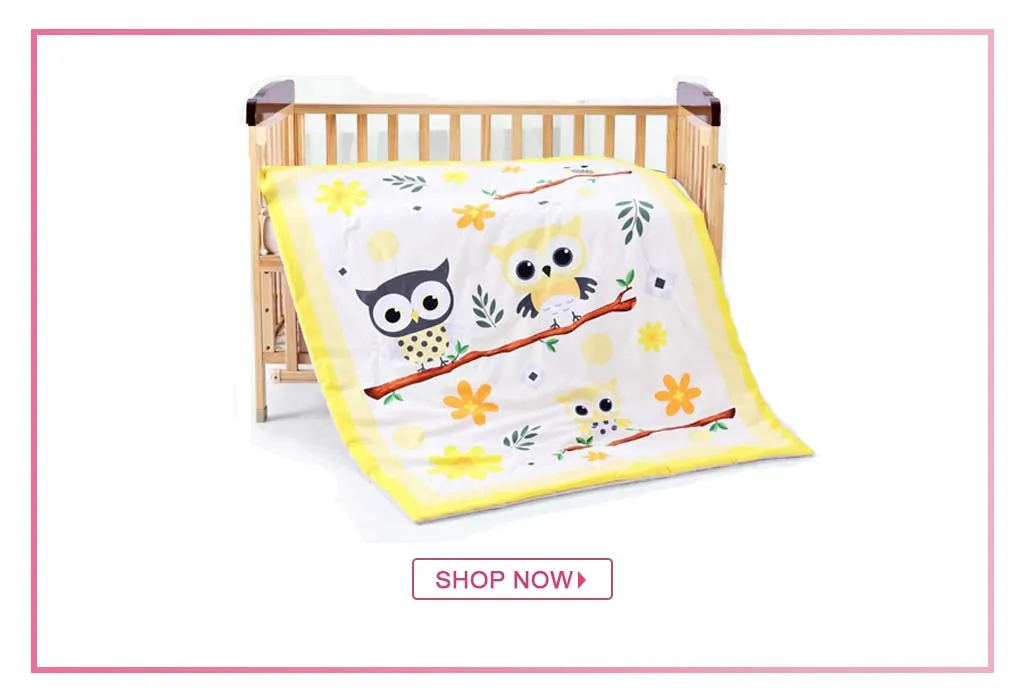 Why You'll Like This
Another blanket selection from Babyhug, this lightweight and snug quilt is made from the finest of cotton with polyester filling. The texture of this quilt is super fine, easy to carry and foldable, and machine washable. It has the softest touch on your baby's delicate skin and keeps him cosy. You will love to snuggle your baby in this multicoloured cute owl print quilt from head to toe.
6. Babyhug Coral All Seasons Blanket
No wonder this blanket is a popular choice among parents looking for a premium yet cosy feel for their tiny tots.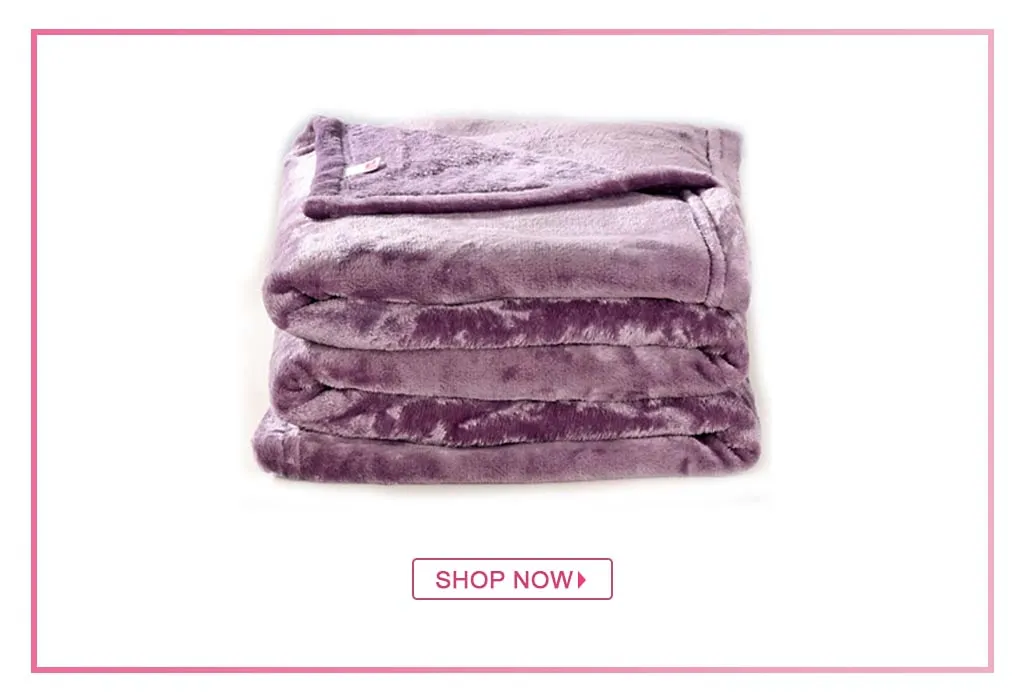 Why You'll Like This
This ultra-soft and generously-sized blanket is a perfect choice for beautiful kids. The blanket is made from a blend of fine-quality fleece material that makes it lightweight and breathable. Easy to wash, this blanket will keep your baby warm and snug from head to toe and will be his cosiest friend throughout the year.
7. Babyhug Single Ply Mink Blanket Bear Print
Super soft on the skin with adorable bear prints, this blanket has the full potential to become your little munchkin's new friend!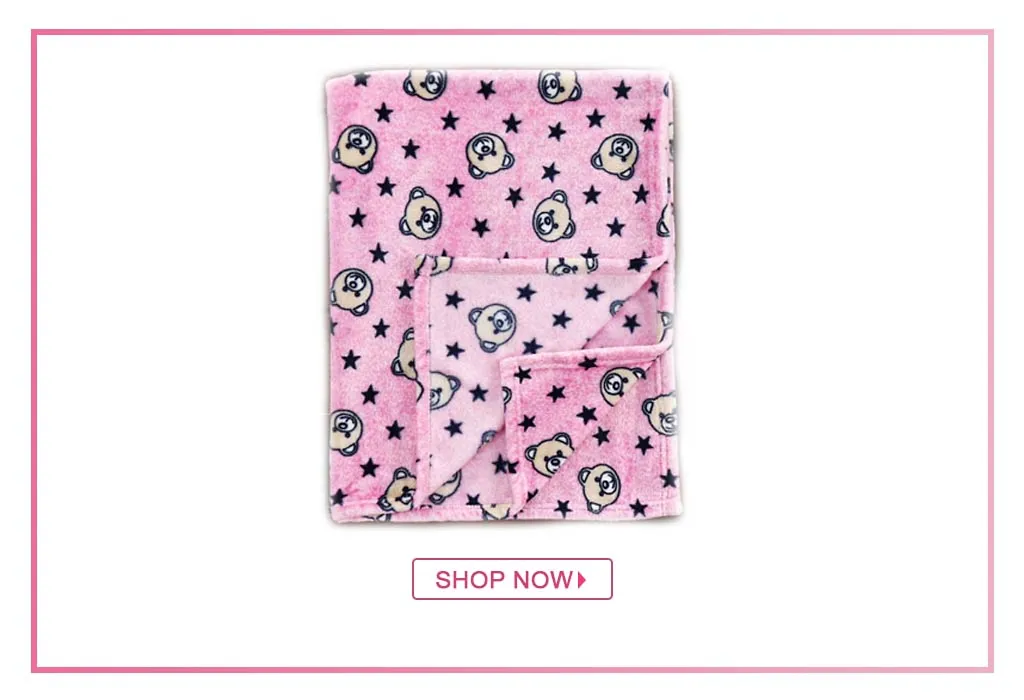 Why You'll Like This
Available in different colours, this Babyhug blanket will keep your little one comfortable and snug in the car seat, cot or pushchair, whether indoors or outdoors. Made up of mink fur, it is lightweight in nature, gentle on touch, and easy to wash. It gives all-around coverage to your baby from head to toe and adds a nice touch to your baby's room. Definitely an optimum choice!
8. Babyhug Premium Cotton Knitted & Fur Blanket
This knitted blanket is a classic addition to your baby's comfort collection and comes in vibrant shades.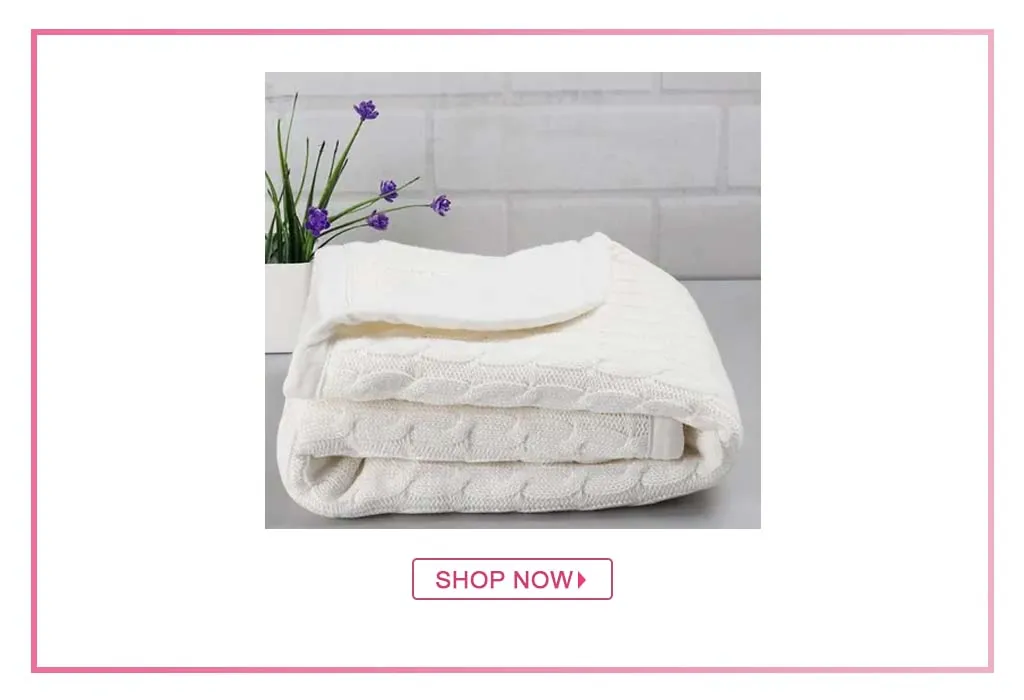 Why You'll Like This
Made of premium cotton and fur, this knitted blanket is generously sized for swaddling your baby into a dreamy sleep. Because of its super-soft texture and refreshing look, the blanket is perfect for use in a car seat or pushchair or as a bedding item.
9. Syga Pure Soft Cotton Blanket Cloud Print
Offering tons of uses, this adorable multipurpose blanket made of superfine cotton is stealing our hearts right away!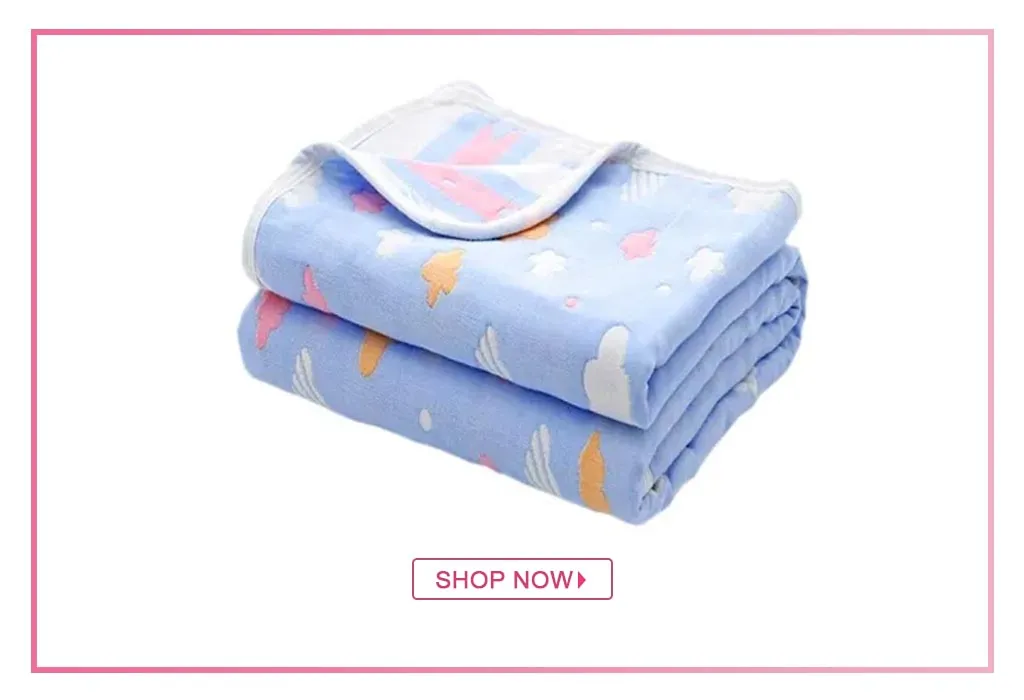 Why You'll Like This
Optimal for your baby's super soft skin, this crib-sized blanket comprises 6 layers of 100% cotton. Thanks to cotton, it is lightweight, hygroscopic, and irritant-free for your munchkin's delicate skin. Not to mention, this multi-purpose blanket is a perfect gift for parents as well, as it can be used as a blanket for strolling, cuddling, and swaddling, and also as a picnic blanket.
10. My Newborn Hooded 2 In 1 Blanket Cum Wrapper Bunny & Bear Design Pack of 2
This super cute cartoon hooded blanket cum wrapper is a must-have for your kid.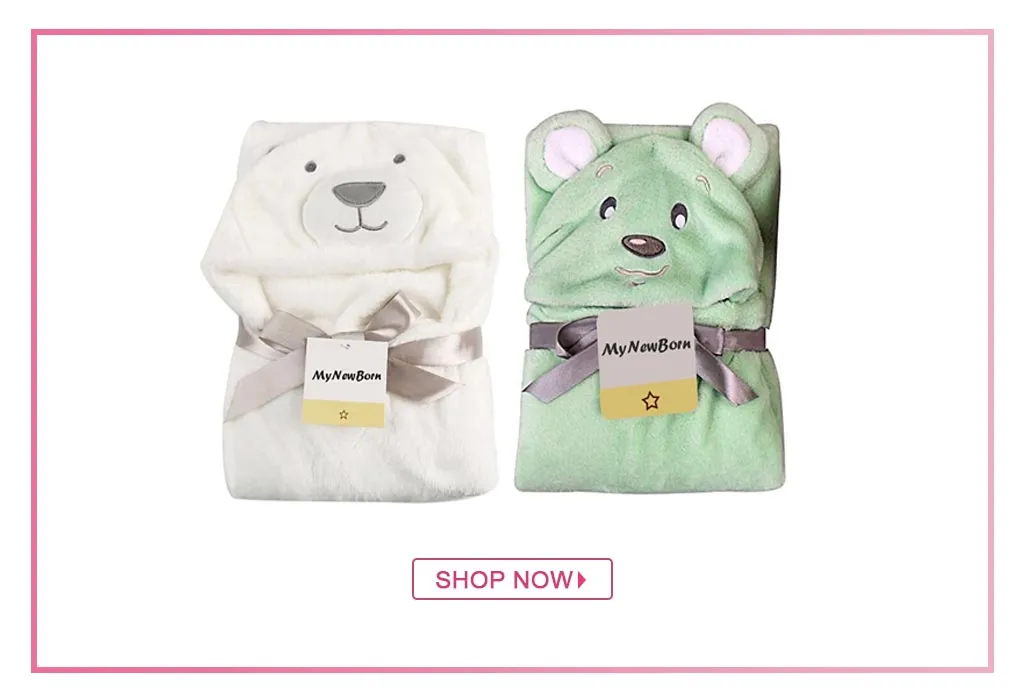 Why You'll Like This
This all-season baby wrap blanket is something you would want to keep in your baby's wardrobe for sure. This vibrant wrapper is excellent for keeping your baby comfortable and snug while travelling. Plus, all-around coverage from foot to head keeps your baby safe from dust and cold breeze. Made of fine-quality flannel, your baby will not feel any irritation and will easily drift into a sound sleep.
11. Zoe 2 Layered Fleece Sherpa Blanket
This super-soft fleece sherpa blanket by Zoe is all you need for your munchkin to have a sound sleep.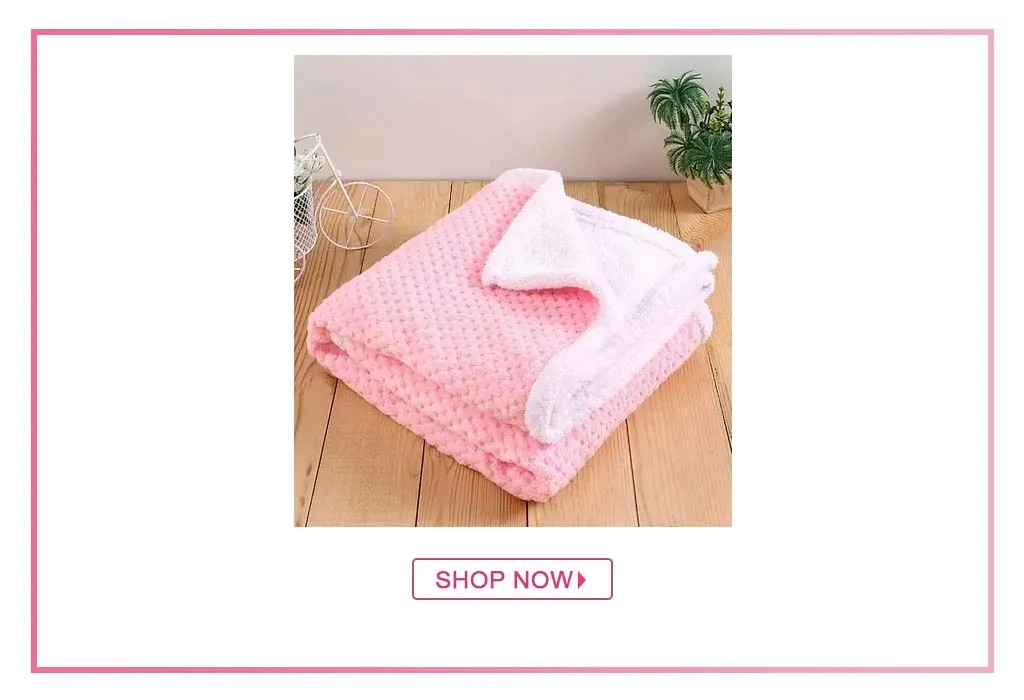 Why You'll Like This
An ultimate choice for your baby's comfort, this two-layered fleece sherpa blanket is a must-have bedding item for your baby. Crafted with care, it has a super-soft texture to keep your baby warm and comfy from head to toe! Its pretty colour is an excellent choice for your little prince and will add a touch of colour to the baby's room. Also to mention, it is easy to wash and all-season purposes.
FAQs on Baby Blankets and Quilts
1. Which is the best fabric for a baby blanket?
The best baby quilts and blankets are usually made of fleece or cotton, or even a mixture of cotton and muslin. These fabrics are light and keep the baby warm. Along with drying fast and being great for sensitive skin, they have a luxurious feel and will help the baby sleep comfortably.
2. What is the difference between baby blankets and quilts?
A quilt usually has multiple layers of fabric, which trap heat and are designed to keep the baby warm. These are not as heavy, but also great for swaddling and sleeping well in a cold environment. Blankets have lesser layers of fabric and are better for warmer environments or short naps. Based on your requirements and the climate where you stay, you can pick one.
There's nothing better than seeing your baby sleep comfortably, feeling snug and warm, and a baby blanket or quilt does just that. These also make for great memorabilia and last for long, so you can take a trip down memory lane when you hold them or re-use them if you are planning for another baby down the line!
You May Also Like:
Best Baby Cots and Cribs for Newborn Baby
Best Baby Sleeping Bags for Newborn Babies
Best Baby Cradles and Bassinets for a Newborn
Also Read:
How to Pick the Perfect Blanket Size for Your Baby
What Is a Receiving Blanket and How to Use It?
How to Wash Blankets at Home Without Ruining Their Fabric