10 Best Baby Sunscreens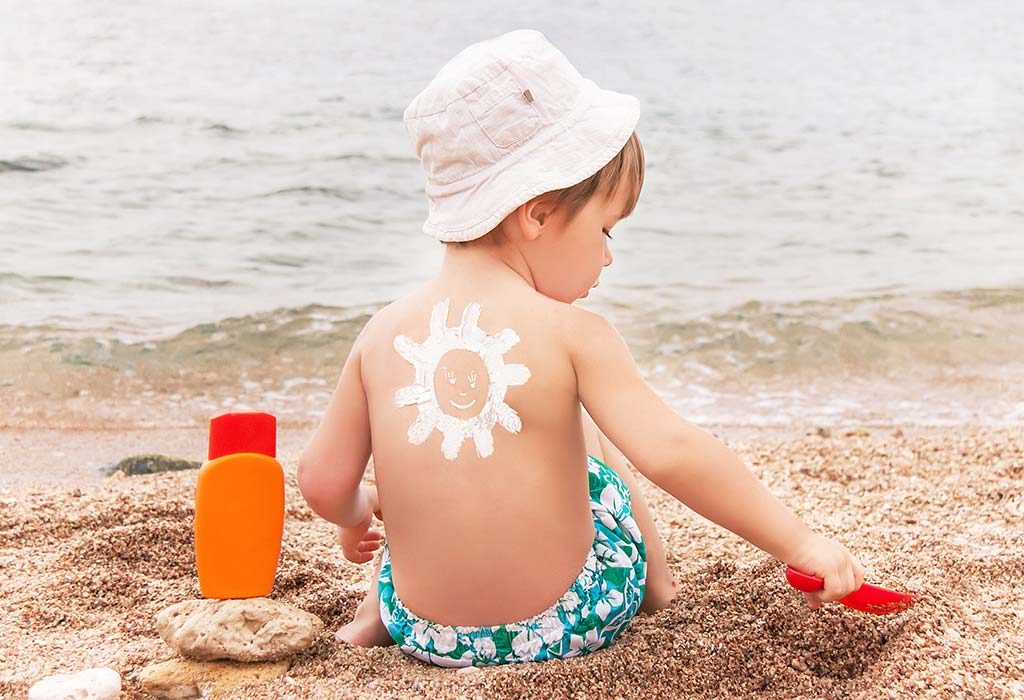 Just like adults, babies, too, get exposed to harmful sun rays, and in order to mitigate the adverse effects of the exposure, it is important that you choose a good sunscreen for your munchkin. If you wish to be thorough on the topic, reading this article may help you get a better understanding of the topic. Read this article and learn about some of the best sunscreen lotions of 2020, and also get acquainted with various other aspects of application.
List of Top 10 Best Sunscreens for Children in India
Here are some top-rated baby sunscreen lotions that you can pick from:
1. Mamaearth Mineral Based Sunscreen For Babies
Infused with natural fragrance, this sunscreen offers deep moisturising properties for your little one.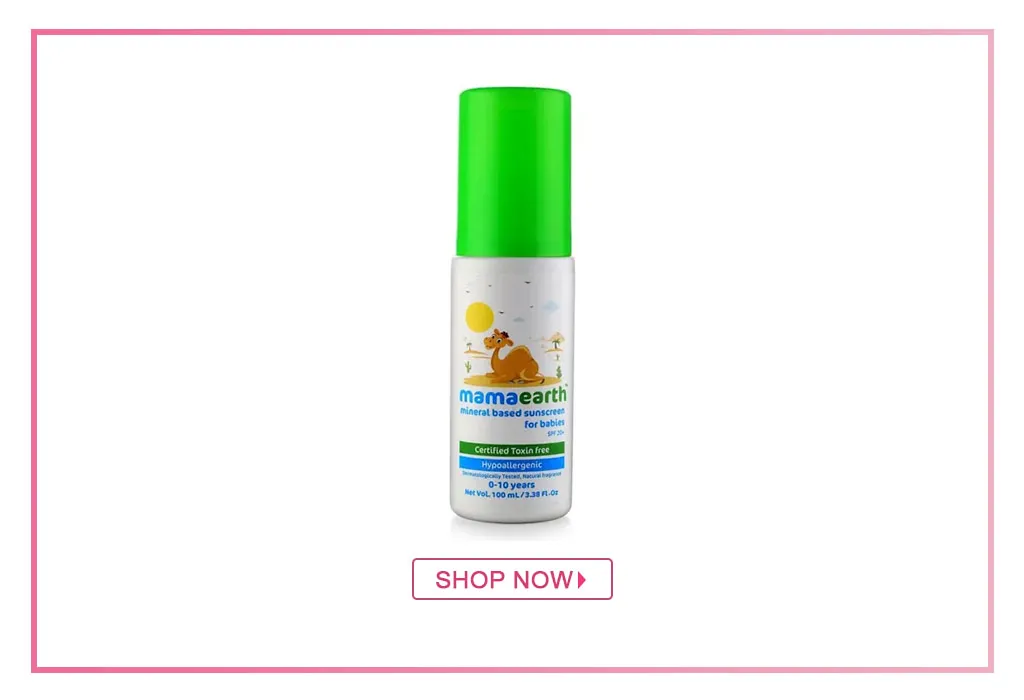 Product Description:
Loaded with the goodness of calendula, this lotion takes extra care of your baby's delicate skin. Zinc oxide helps in providing optimal protection against harsh UVA and UVB rays, while cocoa and shea butter moisturise the little one's skin. This mineral sunscreen for toddler and kids will offer all-day protection, even while splashing in the water.
2. Mother Sparsh Natural Sunscreen
This natural and gentle sunscreen is ideal for your munchkin's skin, especially during the summer months.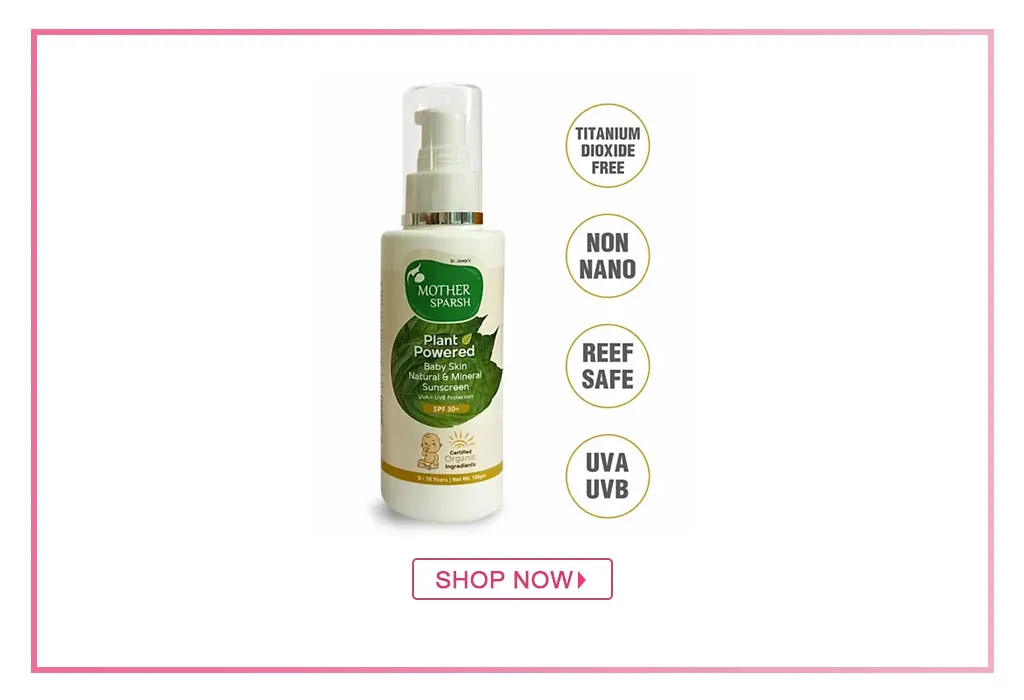 Product Description:
This sunscreen for babies contains zinc oxide minerals that offer protection from the UVA and UVB rays and gets easily absorbed into the skin. The cocoa butter, aloe vera and vitamin E offer deep nourishing benefits to the skin. This sunscreen is suitable for all kids including newborns. The allergen-free fragrance does not cause any allergy or redness and is very gentle on the baby's delicate skin.
3. The Moms Co. Mineral Based Sunscreen
This sunscreen includes a toxin-free combination of titanium dioxide and zinc oxide which is very safe for your baby.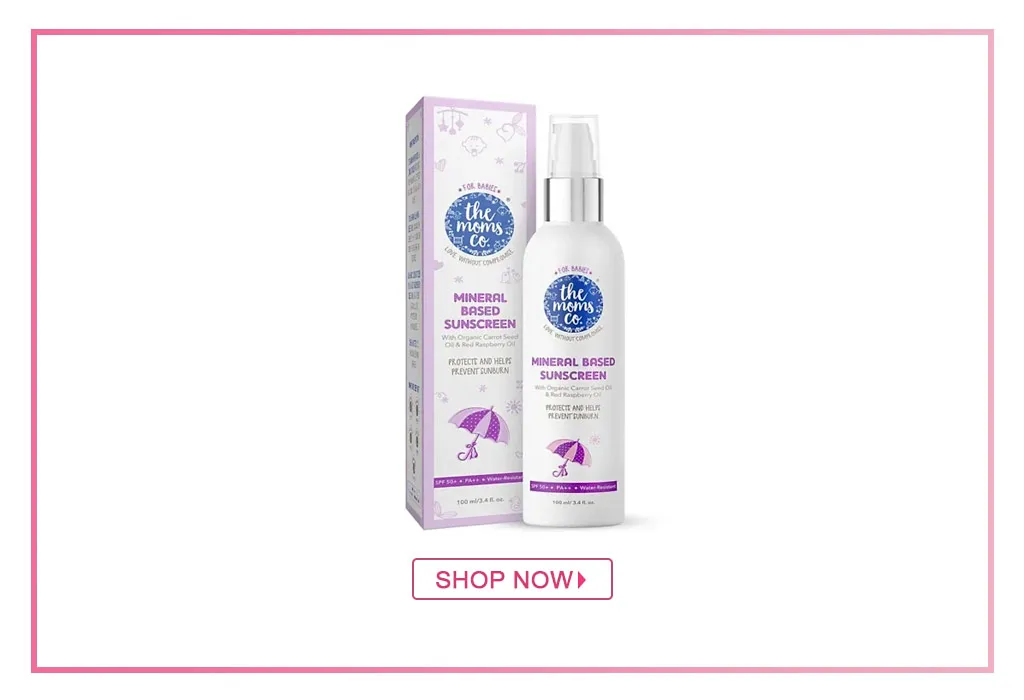 Product Description:
The sunscreen is formulated using high-quality natural ingredients like organic Carrot Seed oil and Red Raspberry oil which protect your baby and helps prevent sunburn, while the shea butter moisturises and soothes the skin. This dermatologically tested formula contains SPF 50+ and is suitable for kids up to three years of age.
4. Biotique Bio Aloe Vera Sun Block Sunscreen SPF 20
This gentle sunscreen formula contains aloe vera as an active ingredient and is 100% natural, being perfect for babies.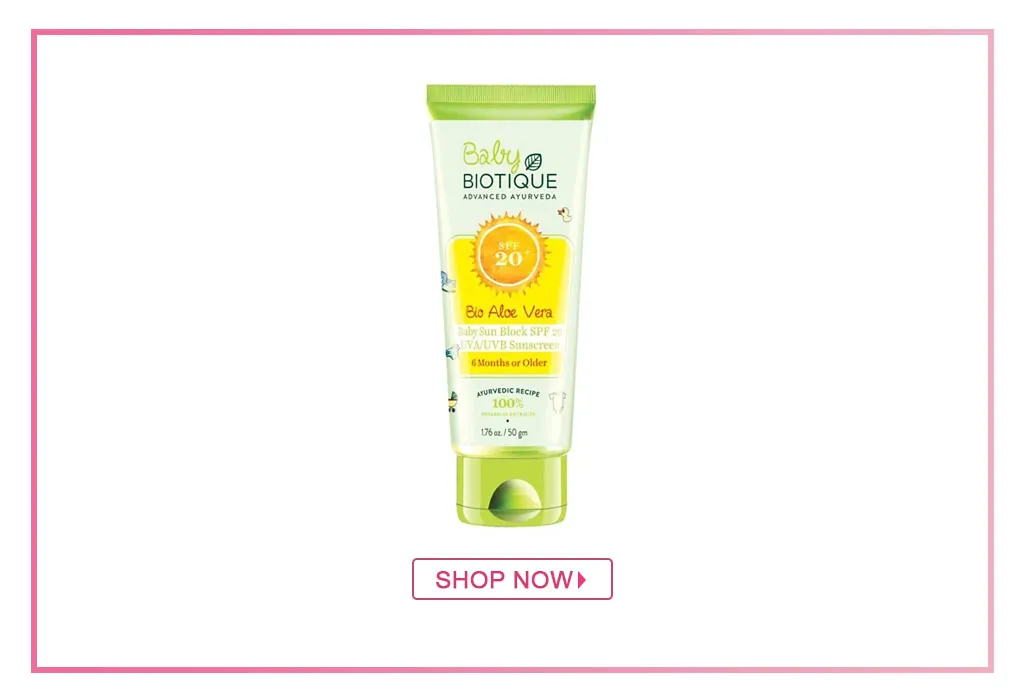 Product Description:
This broad-spectrum ayurvedic lotion contains SPF 20 and offers protection against UVA and UVB rays. The formula is 100% natural and nutrient-rich, packed with aloe vera to keep the skin nourished, supple, and moisturised.
5. Chicco Sun Spray SPF 30
This lotion offers long-lasting protection and is easy to apply because it comes in a spray bottle.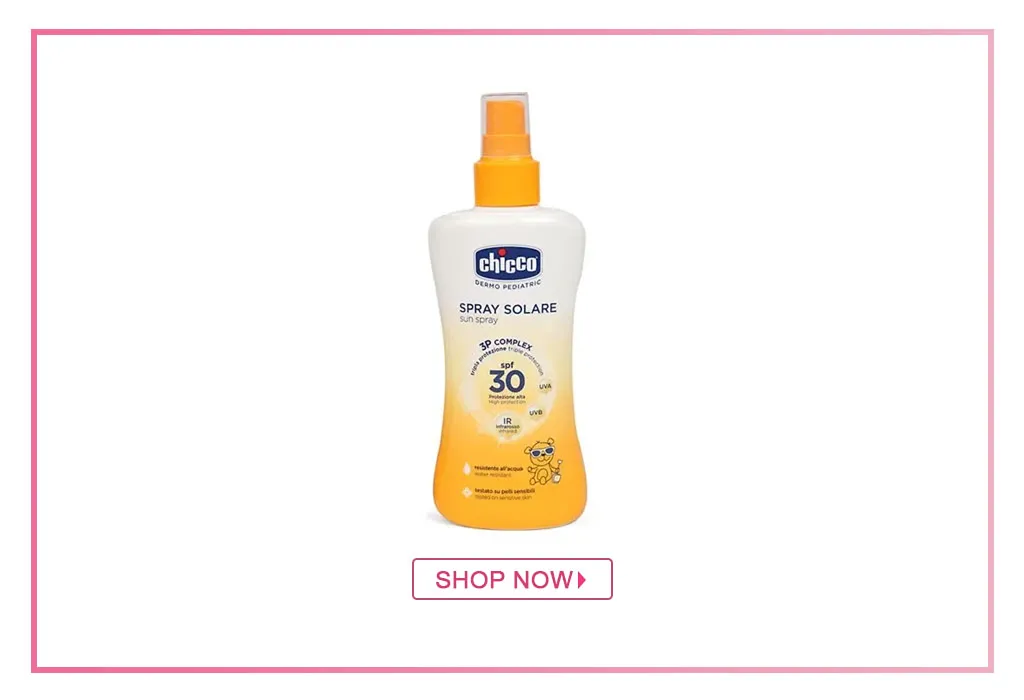 Product Description:
This convenient spray lotion comes with SPF 30 and is easy to apply, along with offering great protection from all kinds of sun rays. Vitamin E and Physalis extract nourish the skin and keep it moisturised.
6. Azafran D'fend SPF 30+ Creme
Power-packed with the goodness of minerals like iron, magnesium and calcium, this sweat and water-resistant formula contains Soya butter extracts that help in soothing the skin while offering sun protection.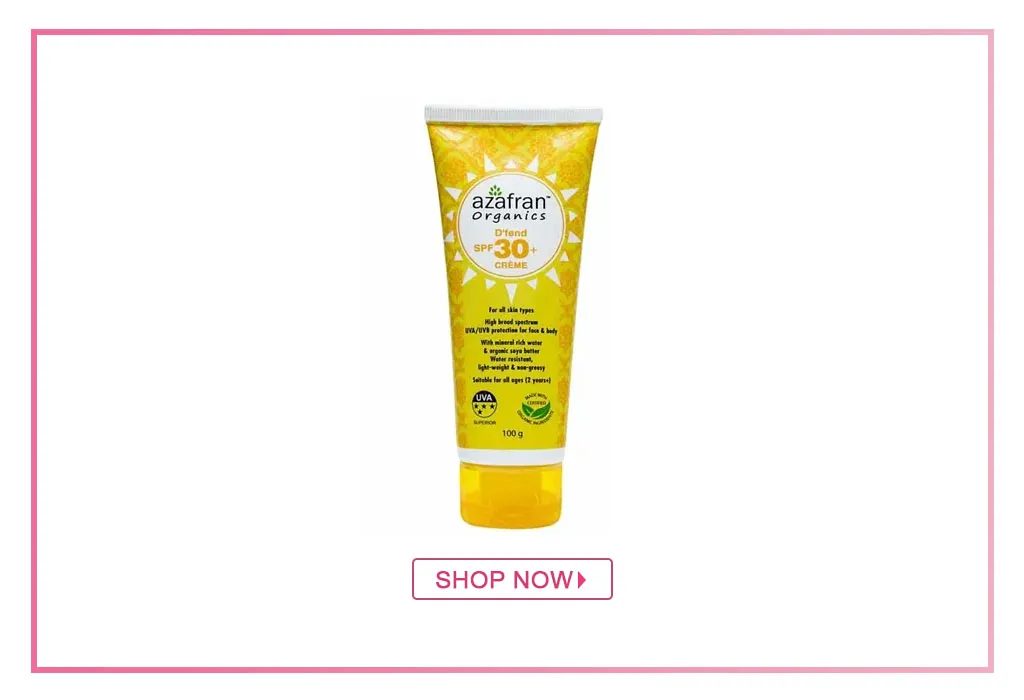 Product Description:
This light-weight formula gets quickly absorbed into the skin, offering broad-spectrum protection against UVA and UVB rays. The water-based cream is non-greasy and offers maximum protection against suntan, sunburn, pigmentation, seasonal damage, etc.
7. Chicco Sun Cream SPF 50
This sunscreen contains SPF 50 and offers optimum sun protection, along with skin-nourishing properties.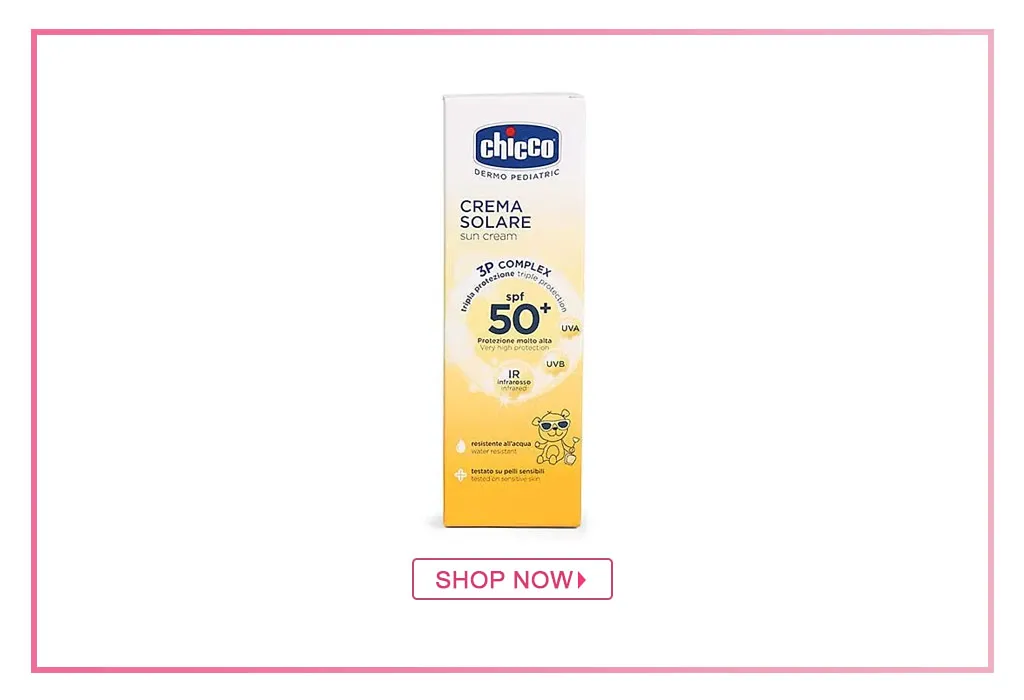 Product Description:
This sunscreen offers protection against UVA and UVB rays, and spreads easily and evenly on the skin, thereby, offering good coverage. The formula contains Vitamin E and Physalis extract, which moisturise and nourish the skin, making the product ideal for kids with dry, flaky, and sensitive skin.
8. Inatur Sun Protection SPF 30 Lotion
This water-resistant sunscreen lotion for babies and kids is clinically proven to protect from the signs of sun damage.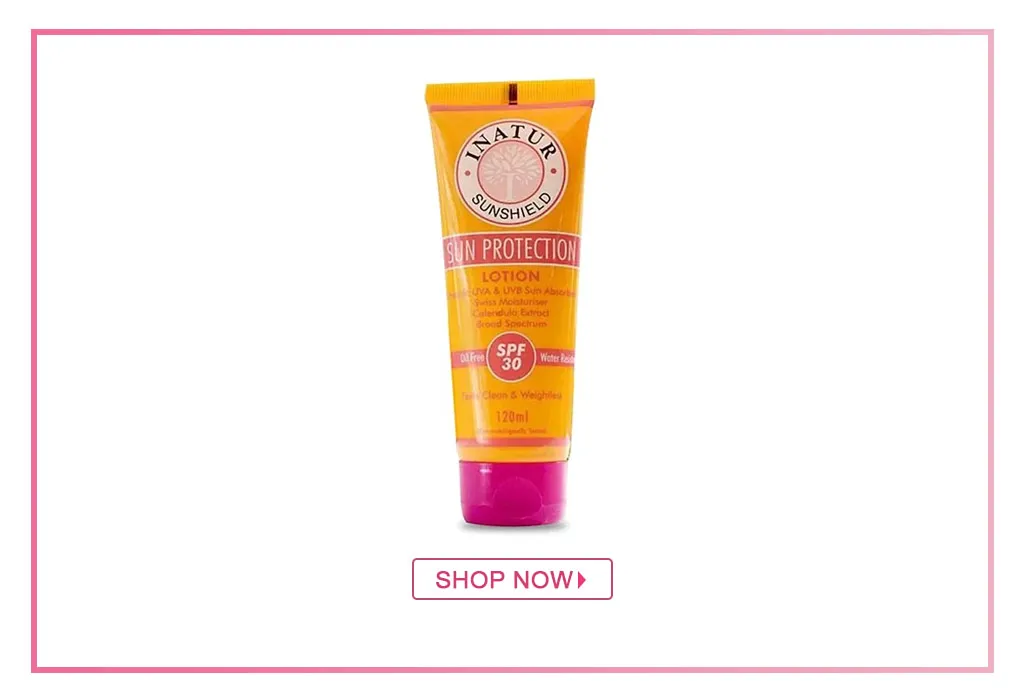 Product Description:
The Calendula extracts in the lotion helps to soothe the baby's skin and also has healing properties, while the Swiss Moisturizers are anti-inflammatory and reduce sunburn. This lotion offers SPF 30 protection and is very gentle on the skin, without causing irritation.
9. BeyBee SPF 50 Baby Sunscreen Lotion for Kids & Newborn
This sunscreen lotion is 100% natural, formulated with natural oils and no added parabens & SLS, thus making it a great option for infants and toddlers.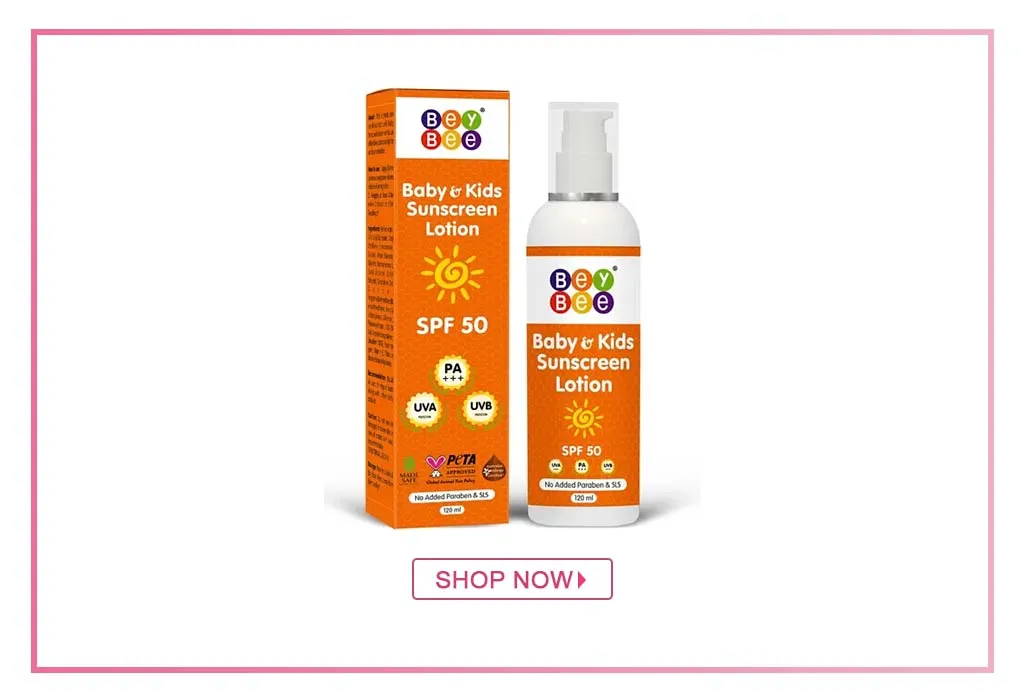 Product Description:
The non-greasy, non-allergenic formula makes it suitable to use the sunscreen lotion for kids or babies anywhere on the body. The sunscreen offers SPF 50 pa+++, as well as protection against UVA and UVB rays.
These are some of our recommendations of sunscreens that you can pick up for your baby.
10. Sebamed Baby Sunscreen Lotion SPF 50 Plus
The sunscreen contains an extremely effective UVA and UVB filter system that reduces sun damage and nourishes the skin.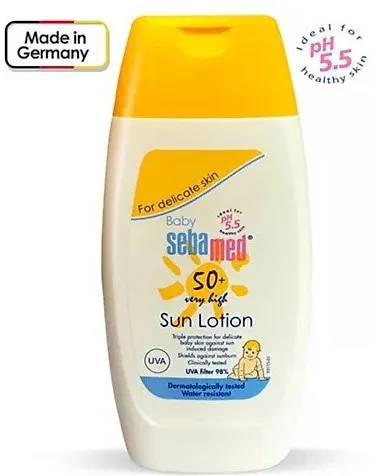 Product Description:
The product is oil-free and alcohol-free, with the formula lending optimum skin protection because it is rich in vitamin E and pro-vitamin B5. This non-greasy lotion does not leave a white residue on the skin and is paraben and paraffin-free.
FAQs on Sunscreens for Children
Are there too many questions boggling you down? Worry no more, as we've answered some of the frequently asked questions, for you:
1. When Can Babies Wear Sunscreen?
Babies have very delicate skin, and thus, need extra care and protection. Therefore, once your baby crosses six months of age, you can use sunscreen for your baby.
2. Should I Apply Sunscreen on My Baby's Head As Well?
Yes, you can apply sunscreen on your baby's head, too, because babies usually have scantier hair growth, and applying sunscreen on the head will protect their exposed scalp, as well.
3. How to Select the Best Sunscreen for Babies?
When it comes to selecting products for your little one, you want nothing but the best. Therefore, when you plan to buy a lotion for your baby, make sure you take a few things into consideration:
Buy a sunscreen that offers both UVA and UVB protection or is a broad-spectrum sunscreen.
Do not buy lotions or creams that have strong fragrances. This especially applies to babies with sensitive skin or eczema.
Choose any sunscreen that has SPF ranging from 15 to 50.
4. Which Ingredients Should Be Avoided in a Child's Sunscreen?
Do not buy any sunscreen that has parabens, para-aminobenzoic acid, oxybenzone and avobenzone, propylene glycol, methylchloroisothiazolinone and methylisothiazolinone, phthalates, or other such chemicals mentioned on its label.
5. Should I Clean My Baby's Skin Before Application?
It is best to apply sunscreen on clean skin. Applying sunscreen after a bath, when the skin is clean and damp, is the ideal way of using sunscreen for babies.
6. Should a Child Wear Sunscreen Every Day?
You should try and avoid harsh sun exposure between 10 am to 4 pm. However, if you have to step out in the sun during this time, you must make sure that you and your child are wearing a sunscreen lotion. Even if you plan to apply sunscreen on a daily basis, there is no harm or side-effects in doing so.
7. How Much Time Before Exposing My Baby to the Sun, Should I Apply Sunscreen?
Ideally, sunscreen for infants or babies should be applied approximately 15 to 30 minutes before you take your baby out in the sun. It helps the lotion to get absorbed into the skin and be ready to protect the skin against sun damage. Again the time lapse after applying the sunscreen may be different for different brands of sunscreen. Therefore, read the label for better information as per the particular product.
8. Is SPF 30 Enough for a Baby?
The best baby sunscreen lotion can contain anywhere from SPF 15 or to SPF 50, and is a good choice for your baby, as it offers good protection against the harmful effects of the sun. However, do not buy SPF higher than 50.
If you have not been using a sunscreen for your baby, it is recommended to do so because it will help in providing protection against the harmful rays of the sun. However, if your baby or kid has very sensitive skin or any other kind of skin condition, it is advised to seek your doctor's advice on the same.
You May Also Like:
10 Best Baby Hair Oils
10 Best Baby Massage Oils
10 Best Baby Powders
16 Best Baby Lotions & Creams
Offers & Deals:
Baby Skin Care Products
Baby Skin Care Brands
Baby Skin Care Offers & Deals
Skin Care Products on Sale
Also Read:
How to Take Care of Baby's Skin in Summer?
Natural Sunscreen for Infants – Benefits and Recipe
How to Treat Sunburn in Babies?