13 Best Breast Pumps for New Moms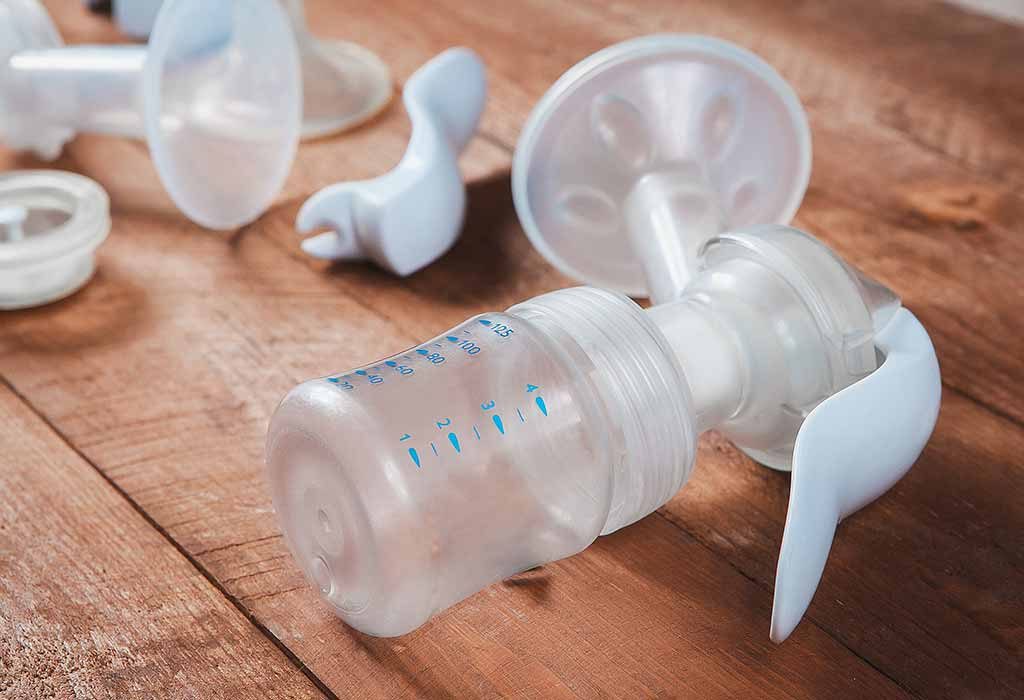 While preparing for your baby's arrival, choosing the best breast pump isn't as fun as picking out cute outfits for your baby, but the right pump can really change your life! Yes, you may receive glowing recommendations from other mothers about the pumps they have used, but what's right for them may not necessarily be right for you. As every mother and baby have different needs which can change along the course of time, it's essential to select the right breast pump depending upon the situation.
Along with allowing you to collect breast milk when you're separated from your baby, pumping also helps you keep up your milk supply. So, it helps to invest in a pump that will do the job really well.
List of Top 13 Electric and Manual Breast Pumps
The right breast pump can make all the difference, and so we've listed the best pumps that you can consider.
1. Babyhug Smart n Silent Electric Breast Pump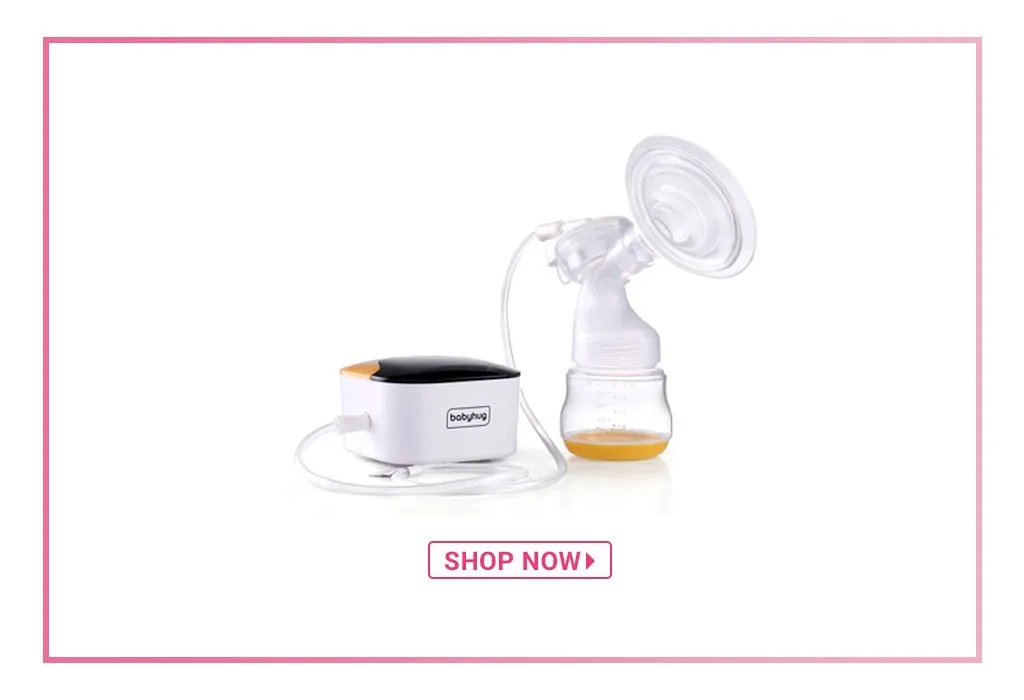 The electric breast pump from Babyhug is the perfect solution for expressing, storing and feeding breast milk any time!
Product Highlights
The Babyhug Smart n Silent Electric Breast Pump comes with a 3-operation mode stimulation and expression, and a special mode to extract the residual milk. The ergonomic shape of the pump and the silent pumping solution that it offers are what makes this the best breast pump available in the market!
2. Babyhug Manual Breast pump With 2 Suction Modes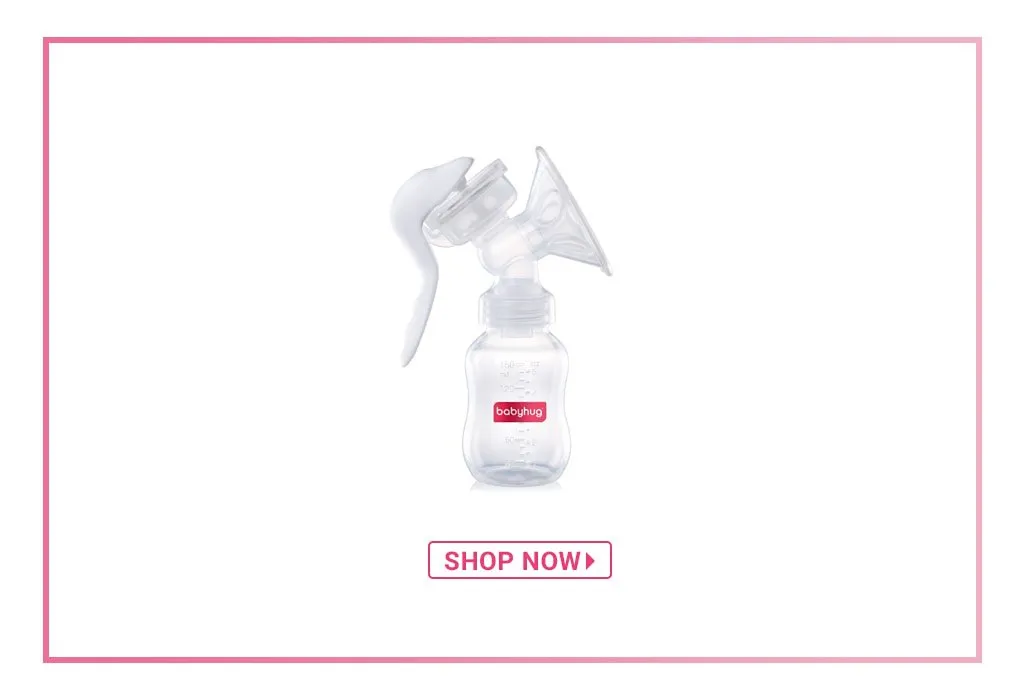 The compact design of the Babyhug Manual Breast Pump makes it easy to carry it anywhere and anytime!
Product Highlights
This product is an economical option if you prefer to pump manually. The two adjustable suction modes enable you to choose as per your requirement and comfort. The unique anti-backflow feature allows the safe working of the pump. The pump comes with a one year warranty from the date of purchase.
3. Avent – Comfort Manual Breast Pump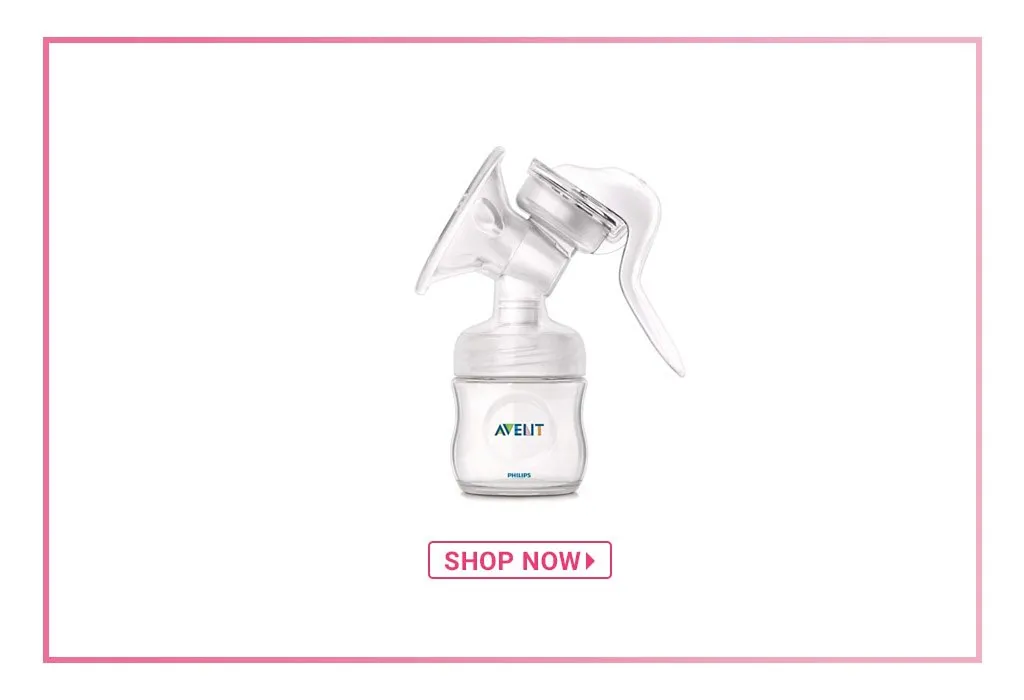 This pump from Avent is the best manual breast pump as it can be used while you sit in a comfortable expressing position without the need to lean forward. This, in turn, promotes a more effortless milk flow.
Product Highlights
During pumping, the device gently mimics your baby's suckling for a natural let-down. As the pump is small and light in weight, it's easy to store and transport, thus making pumping on-the-go effortless and discreet. Now, no more worrying about assembling the pump, as it comes with visual matching parts that help in easy assembly!
4. Babyhug Portable 2 in 1 Electric & Manual Breast Pump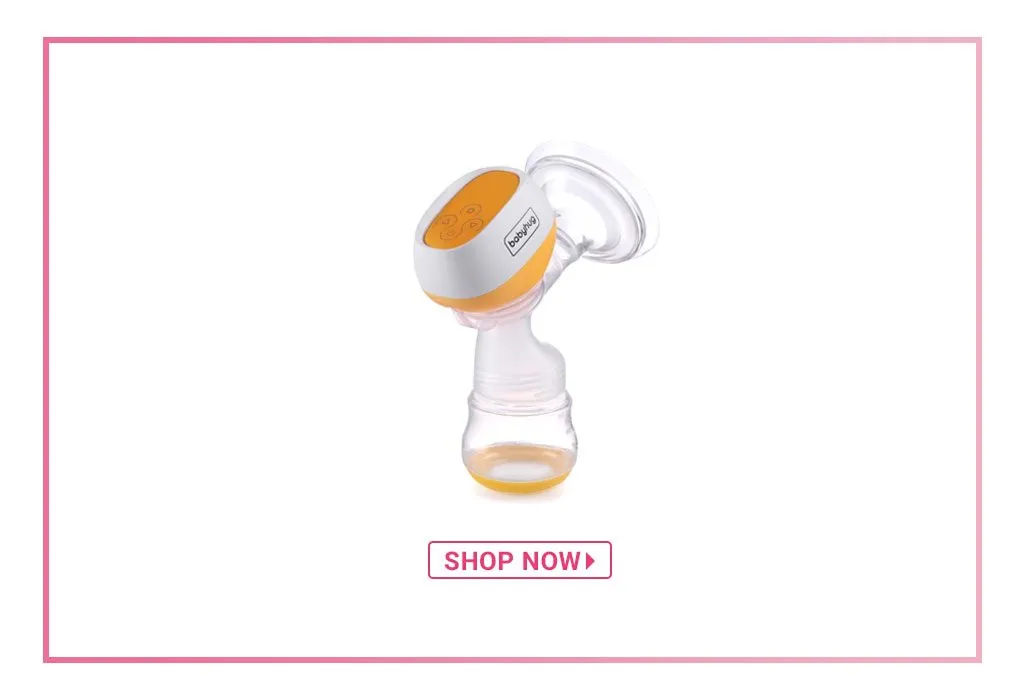 If you're confused about whether to choose an electric pump or a manual pump, then this one is the best breast pump option for you.
Product Highlights
Now no more dragging a heavy breast pump around, as this lightweight and portable pump can be quickly and easily switched from manual to electric pumping and comes equipped with a rechargeable battery! Isn't that great? You can also adjust the milk flow with the nine different suction levels. This is the best breast pumps for new moms, especially if you need to go out but can't get access to a plug socket.
5. Medela – Mini Electric Breast Pump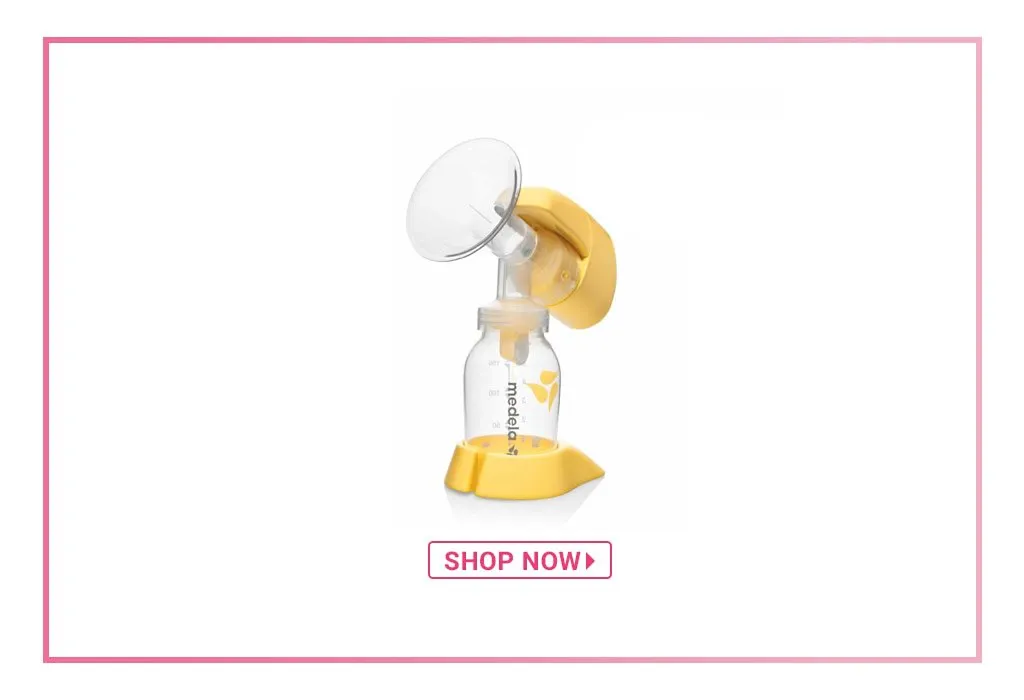 This compact electric breast pump is suitable for nursing mothers who occasionally express.
Product Highlights
The compact design and easy assembly of the pump allows you to conveniently carry it in your handbag so that you can effortlessly pump while on the go! The one-hand operation mechanism enables you to conveniently pump milk as you adjust the vacuum level with the controller. The pump and its parts are made of non-toxic, BPA-free material and are perfectly safe to store breast milk for your little one.
6. Babyhug Manual Breast Pump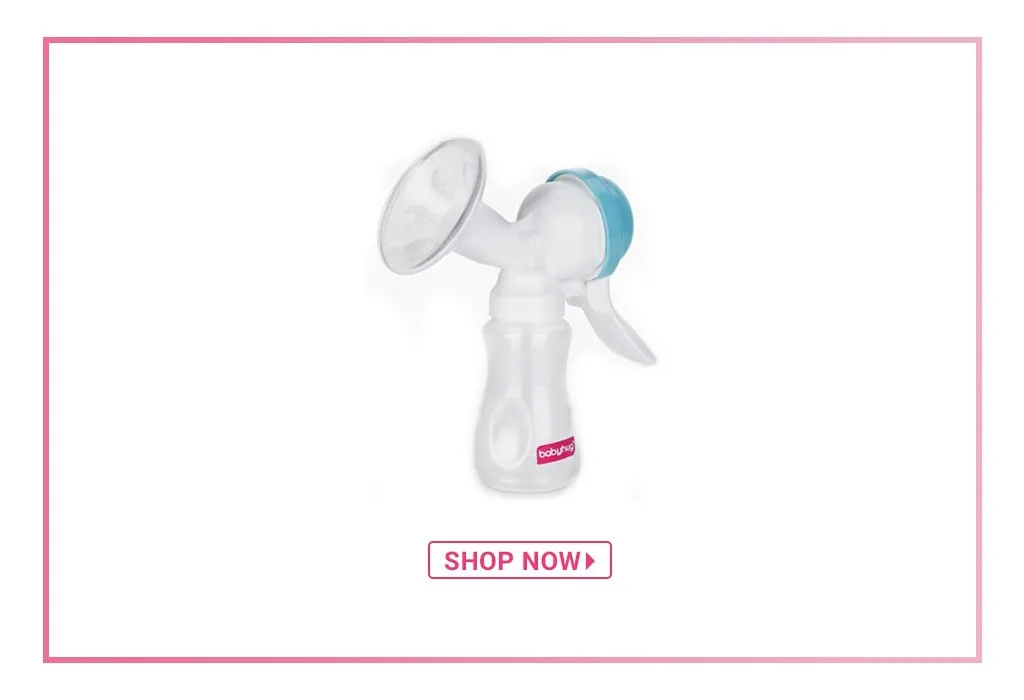 The Babyhug manual breast pump is a no-nonsense pump that works silently and comfortably.
Product Highlights
The pump has an ergonomic design for easy handling and soft silicone breast shields to promote natural suction. Its single-hand operation enables you to go on about with other chores while you pump. It's as hygienic as it can get, as the milk is directly pumped into the bottle that is attached.
7. Medela Swing Flex Single Electric 2-Phase Breast Pump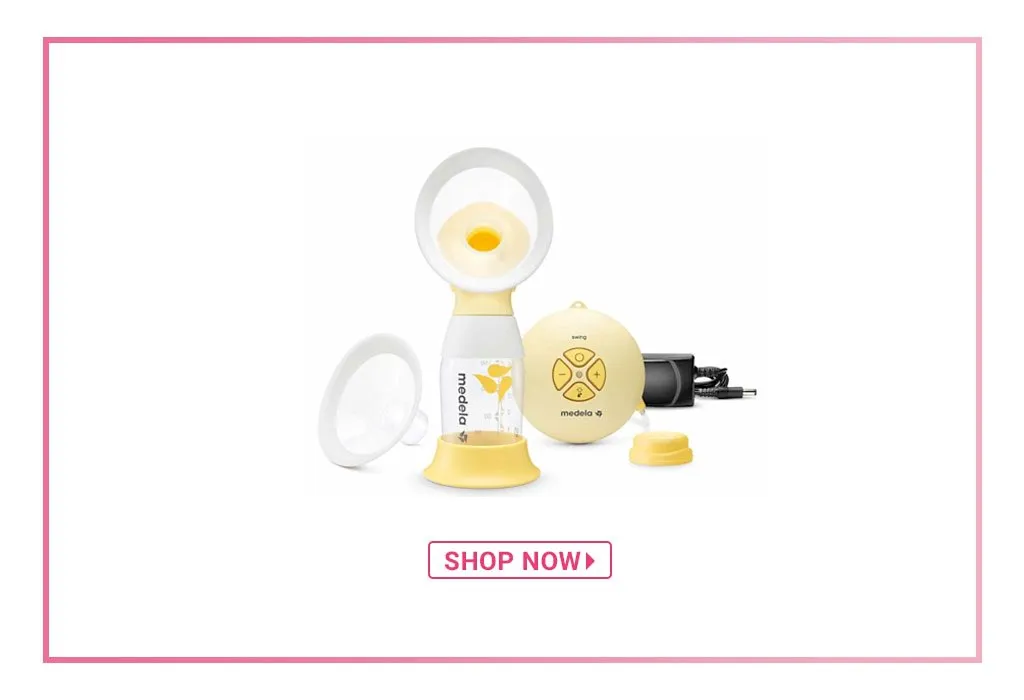 This new Flex technology breast pump has been designed to adapt to fit your breast shape for efficient and comfortable expression of breast milk.
Product Highlights
When your baby latches on to feed, he quickly sucks at first to start the milk flow, then continues more slowly to feed. What the Medela 2-Phase Expression technology does is, it mimics these two rhythms to offer you a more natural-feeling and comfortable pumping experience. It has a simple design and is portable. Cleaning won't be an issue as the pump parts can be easily dismantled, sanitised, and assembled again. The pump has everything that you could ask for, which makes it one of the best electric breast pumps to watch out for!
Pumping
8. Babyhug Premium Silicone Manual Breast Pump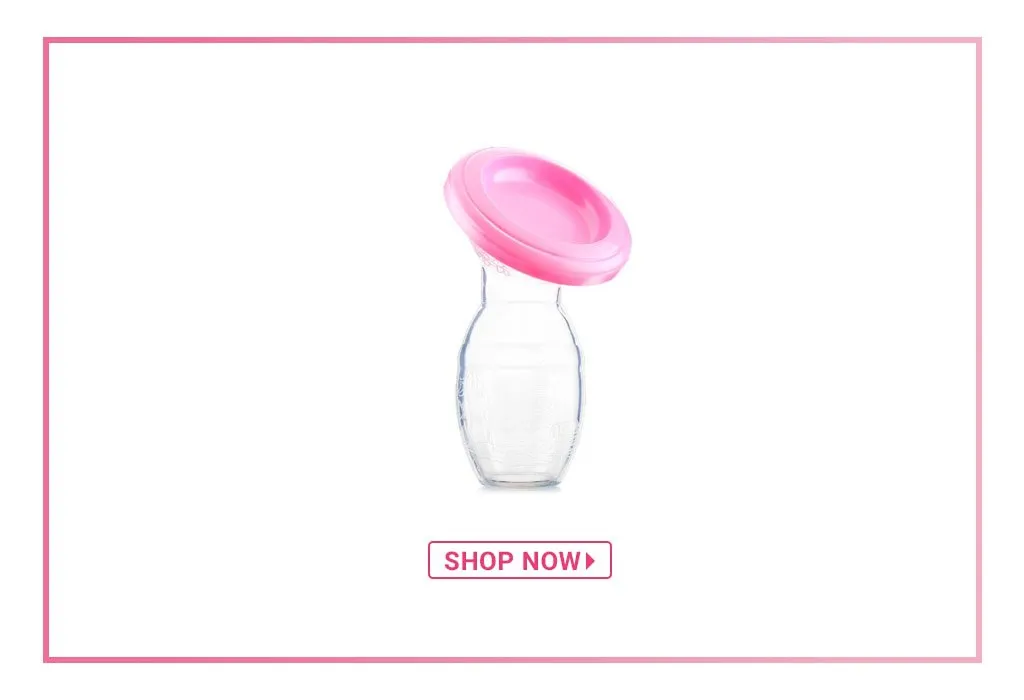 Sometimes, breastfeeding may seem difficult or restricted. For such situations, this manually operated breast pump from Babyhug comes in handy.
Product Highlights
The breast pump is made of high-grade silicone material and is absolutely safe to use. A dust cover is provided to keep the pump protected and safe. No more worrying about cleaning as the pump is is dishwasher safe and easy to sterilise. The pump has a collection capacity of 100 ml which is excellent for its price.
9. Medela Freestyle Double Breast Pump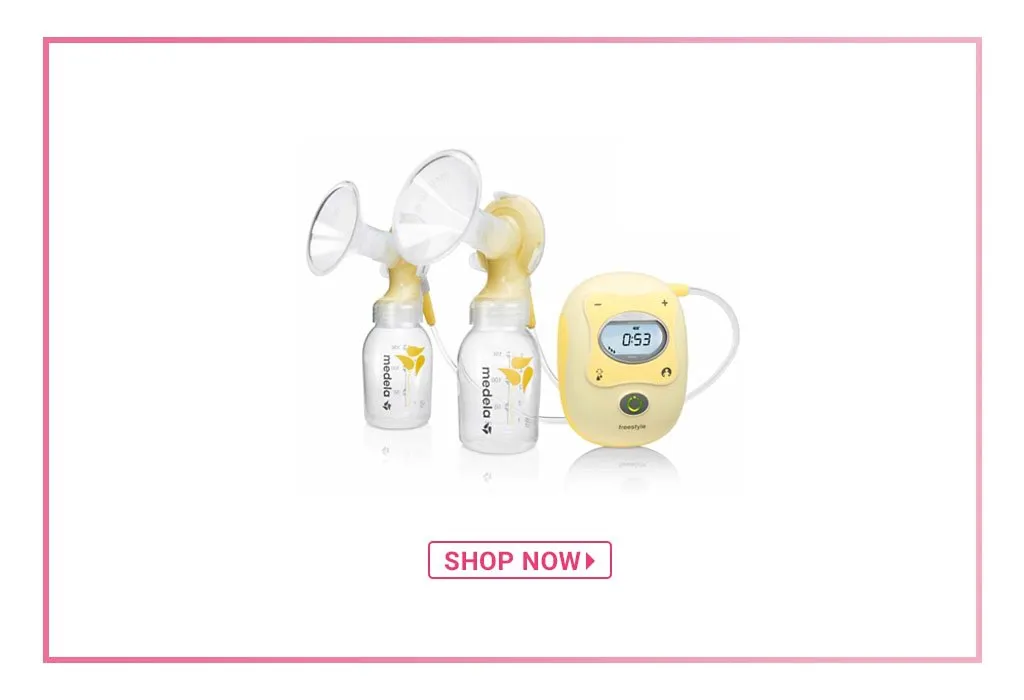 Now, no need to make multiple purchases, as this double electric pump from Medela comes along with a removable cooler bag and an ice pack.
Product Highlights
Considered as one of the best breast pumps for working moms, the Medela Freestyle Double Breast Pump includes features that provide mobility, freedom and flexibility; in short, everything that you're looking for! All you have to do is attach the pumps to your camisole or bra and use the device's digital display monitor, timer, memory and backlight, while you sit back and relax during the pumping session.
10. LuvLap Sunshine Electric Breast Pump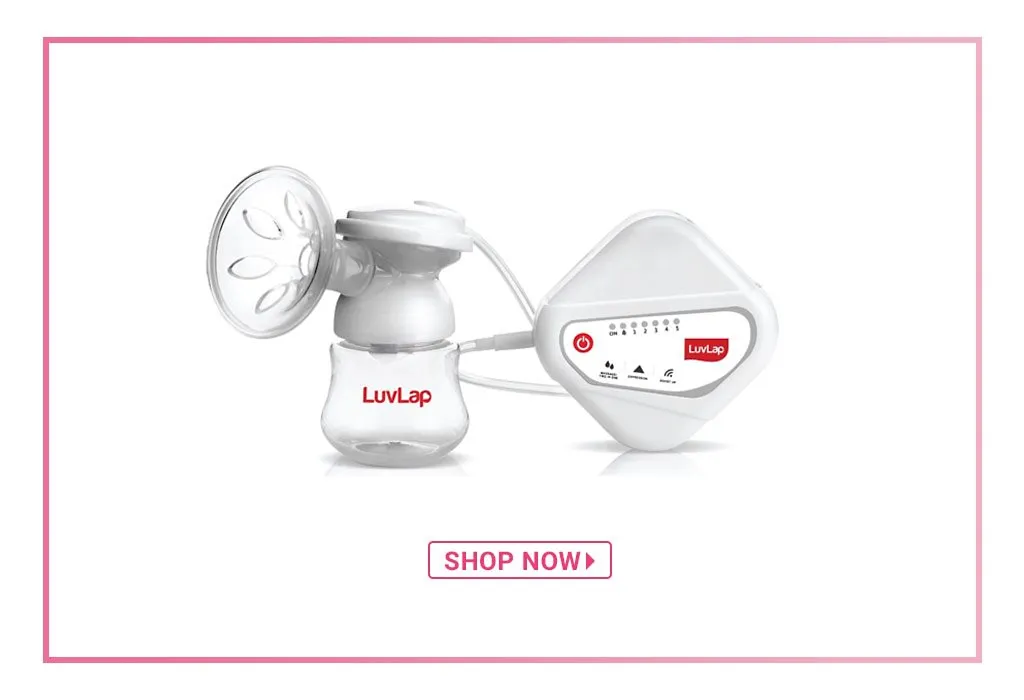 Nursing your little baby just became more convenient and hygienic with the Sunshine electric breast pump from Luvlap.
Product Highlights
The benefit of Luvlap's single electric breast pump is that it's perfect for mothers who have to pump milk frequently and effortlessly. The breast pump's compact design makes it easy to grasp and position on your breast. For extra convenience during transport and storage, you can wrap the tube around the base unit.
11. Medela Swing Maxi Flex Double Electric 2-phase Breast Pump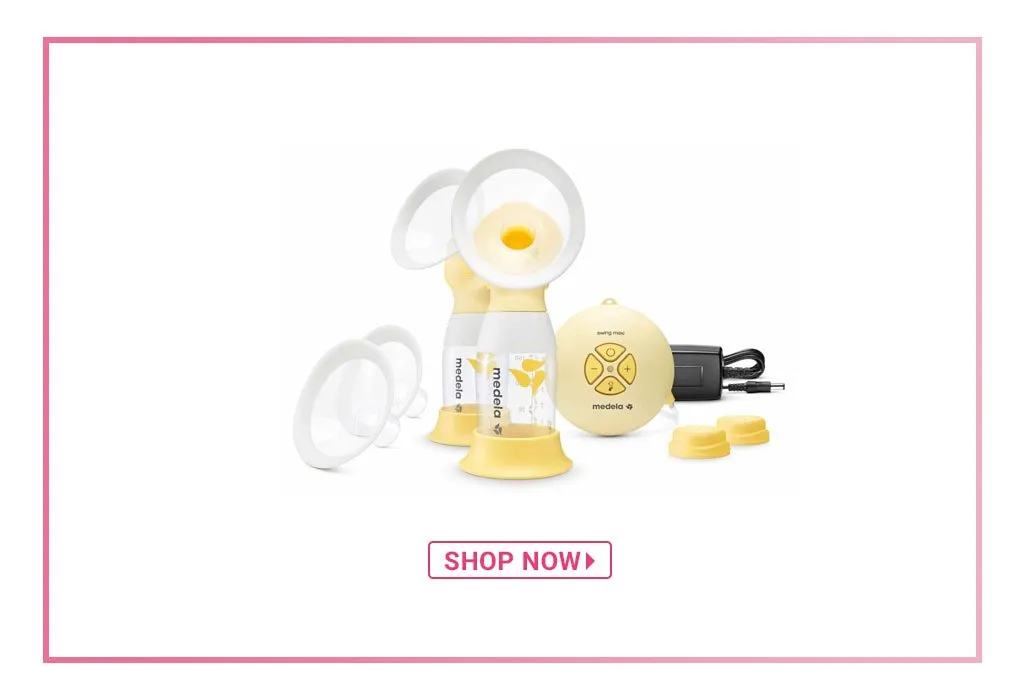 This portable double electric breast pump is ideal whether you are aiming at maintaining your breast milk supply, need help managing breastfeeding issues, or want to spend less time expressing and more time with your baby!
Product Highlights
The pump's 105-degree angle provides an improved fit for better milk flow. No more sitting in an uncomfortable position for optimal milk supply as the device's Overflow Protection system enables you to pump in a position that is comfortable for you.
12. Pigeon Manual Breast Pump Essential Kit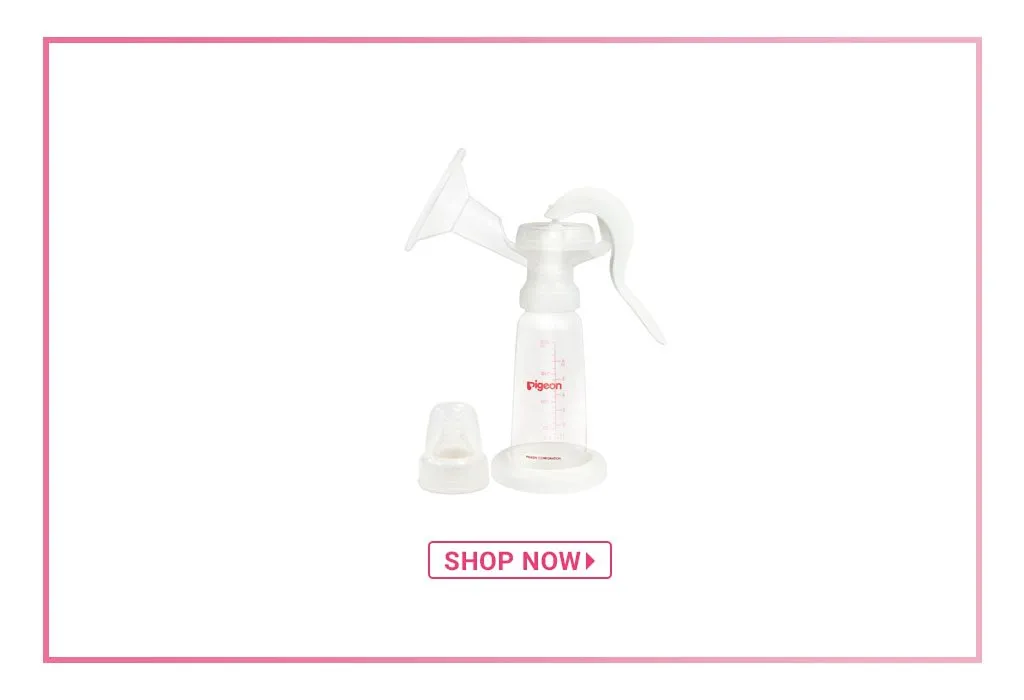 This kit comes with everything you will need to effortlessly and quickly express and store your breast milk.
Product Highlights
The pump's advanced sealing air cushion ensures that it fits you perfectly and you stay comfortable throughout the breastfeeding session. The device's completely adjustable feature imitates a baby's suckling pattern which in turn promotes faster let-down. Because of the silent pumping feature that it offers, you are ensured full privacy during its use!
13. Medela Harmony Manual Breast Pump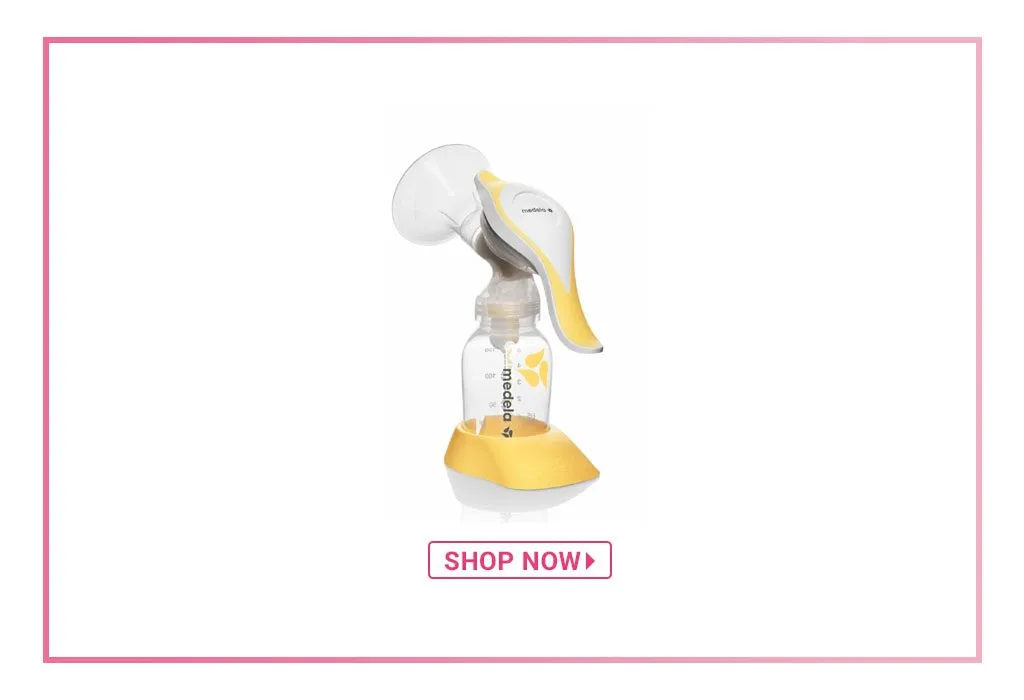 Though you may be using an electric pump, it's always good to have something compact and lightweight on hand like Medela's Harmony manual breast pump.
Product Highlights
The pump's ergonomic design allows for ease of use. The pump parts are simple and easy to take apart to clean. The soft rubber cover on the lever makes pumping easier on your hands, while the pump operates discreetly.
FAQs on Breast Pumps
1. How to clean a breast pump?
Ensure you clean every part of the pump individually with warm and mild soapy water. Check the pump's instruction manual to see if the device is dishwasher-safe. Also, make sure every part is completely air-dried after washing.
2. Which is better – an electric pump or manual pump?
Whether to choose an electric pump or a manual pump will depend on your requirement.
If you're looking for a pump that is light in weight, affordably priced and is going to be used occasionally, then a manual breast pump will be perfect for you. If you're looking for a pump that expresses milk quickly, will be used frequently and does not require much effort, then go for an electric pump.
3. When should a new mom use a breast pump?
A new mother should use a breast pump if her baby is unable to feed directly from the breast or has trouble latching. She can also pump if she has to stay away from the baby and wants to store milk which can be given by the baby's caregiver in her absence.
4. Does using a breast pump harm breasts?
If used incorrectly, then breast pumps can cause pain in the breasts. If the suction is too strong, it can cause trauma to the breast tissues. If you feel some discomfort while pumping, it is recommended that you stop pumping for a while.
5. Does pumping daily reduce the milk supply?
No, daily pumping doesn't reduce the milk supply. This is because nipple stimulation encourages and maintains the breast milk supply, irrespective of whether it comes from your baby or through a breast pump. Syncing your pumping schedule as per your baby's hunger will ensure you aren't out of breast milk supply.
6. How long does pumped breast milk last?
Pumped breast milk usually stays fresh for at least six to eight hours at room temperature. However, if you can manage to refrigerate the milk as soon as possible or place ice packs in contact with the container with the milk, then it can stay fresh up to 24 hours. In the freezer, the milk can stay up to six months at best.
No mother would want to stop feeding nutritious breast milk to their little baby. But some situations like resuming work after maternity leave, travelling, or any medical conditions may pose challenges to directly breastfeeding. You can effortlessly tackle these challenges through the use of the right breast pump. We hope this list helps you select the best feeding pump based on your requirement, frequency of pumping and budget.
You May Also Like:
Best Breast Nipple Shields for New Moms
Best Nursing Pillows for Breastfeeding Moms
Best Disposable and Reusable Breast Pads for Nursing Moms
Also Read:
How to Pump & Store Breast Milk
The Simple Guide to Breast Pumps for a New Mom
Breast Pump Side Effects No One Told You About