7 Best Baby Feeding Spoons and Cutlery Sets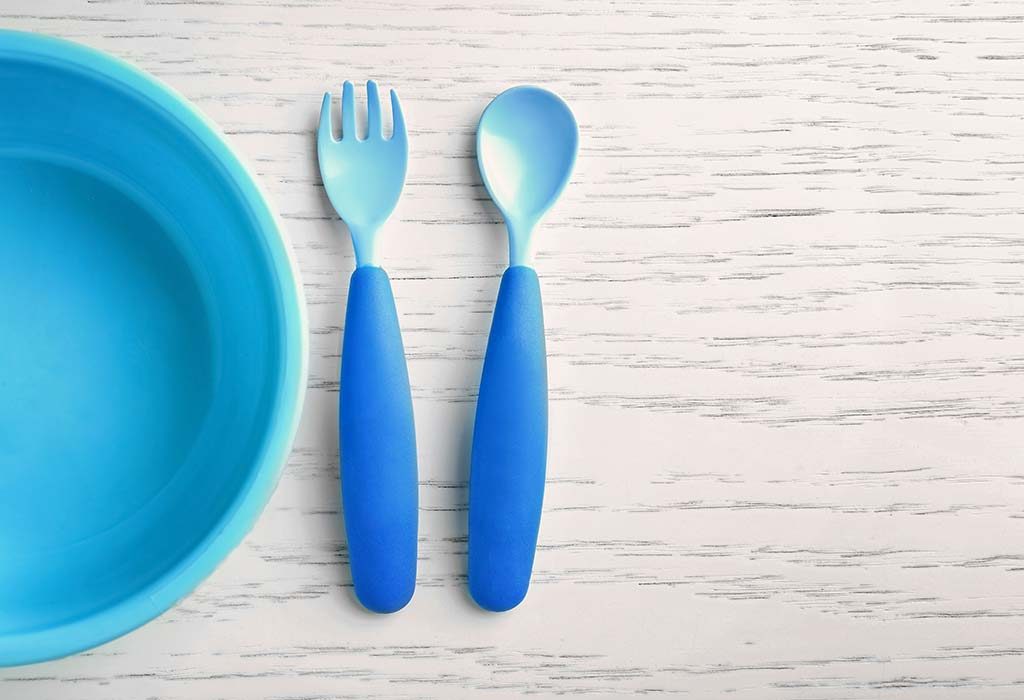 In this Article
One of the most important things that can make weaning comfortable and hygienic for babies is a soft, well-designed feeding spoon. Although a baby's natural instinct is to eat with her hands, it isn't the safest and the healthiest option till she learns to practise good hygiene. Plus, babies need ample time to get used to the new way of feeding. So, when your bundle of joy is ready for solids, you can add some excitement and amusement to her mealtimes with these best weaning spoons.
Top 7 Best Baby Spoons and Forks Sets in India
1. Chicco Soft Silicone Spoon Pack of 2 – Pink
Providing gentle care for your baby's delicate gums, the Chicco Soft Silicone Spoon is the perfect training spoon for her.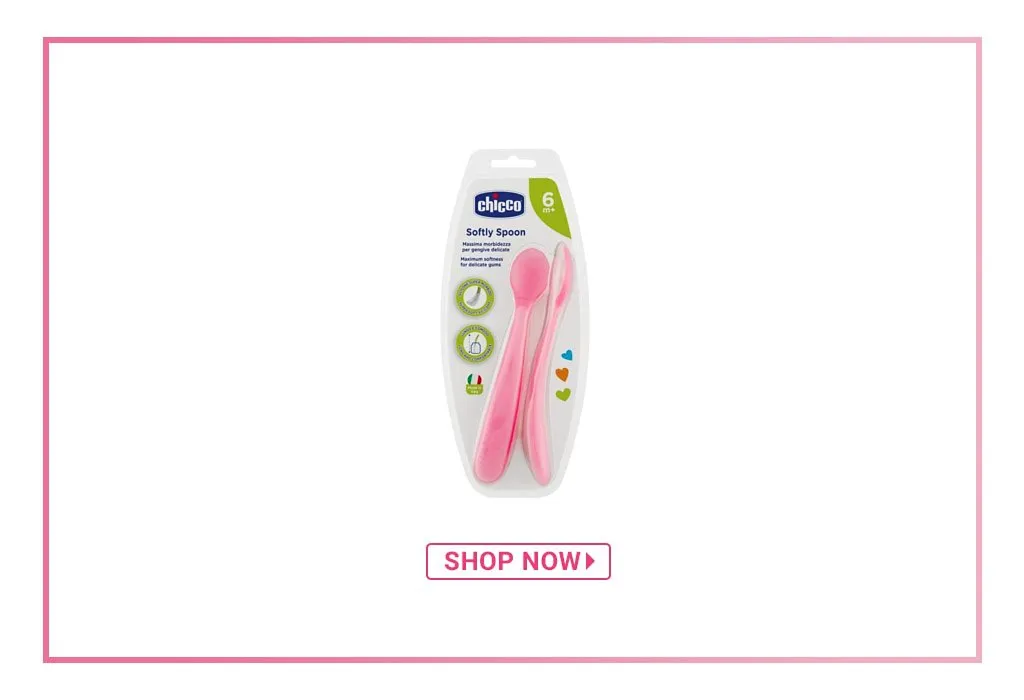 Why Your Baby Will Like it:
With a soft silicone tip, this spoon ensures complete comfort for your baby when you are weaning her onto solids. This baby spoon is BPA-free and has a long, ergonomic handle for a good grip.
2. Mee Mee 3 In 1 Baby Weaning Spoon Set of 2 – Pink Green
With two different sizes, the Mee Mee 3 in 1 Baby Weaning Spoon Set can accommodate the needs of your growing baby.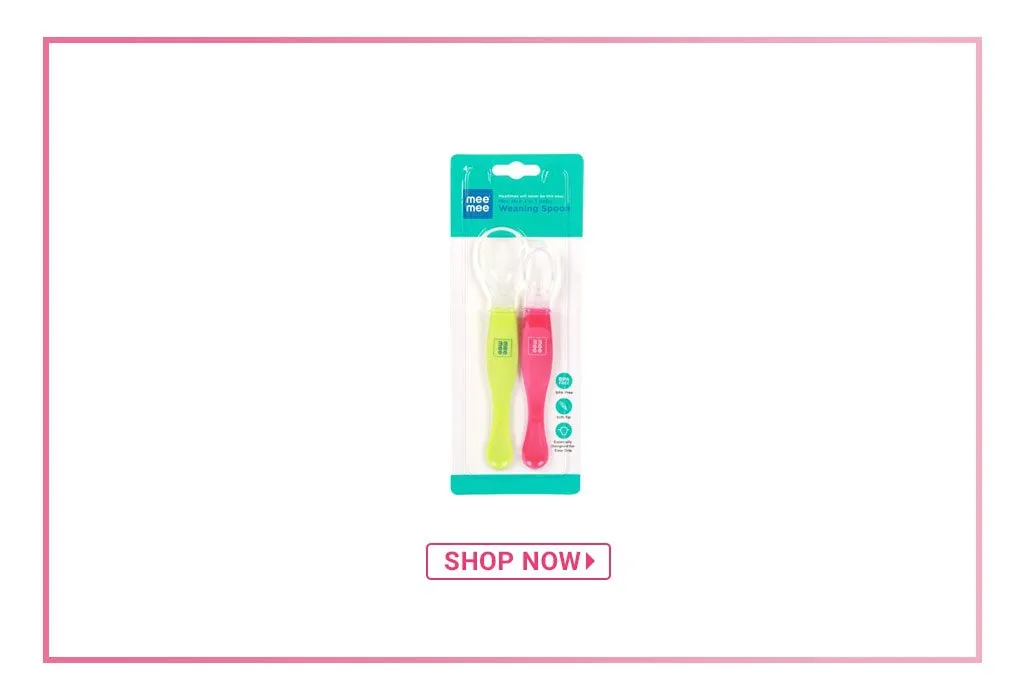 Why Your Baby Will Like it:
Your growing baby will need a bigger spoon sooner than you expect. She can enjoy her mealtime without any discomfort and feel satiated with the right-sized cutlery. And, this Mee Mee spoon set will help you do just that, as it comes with spoons in different sizes, which will help your child eat appropriate morsels as she grows. The spoons have soft, odourless silicone tips and rounded edges that make feeding comfortable and safe for the baby. The product is made with BPA-free plastic and comes with a long, ergonomic handle for good grip and easy feeding.
3. Babyhug Ergo Grip Stainless Steel Spoon & Fork Set – Pink
Do you think your baby is ready to transition to steel cutlery? Take a look at the Babyhug Ergo Grip Stainless Steel Spoon & Fork Set!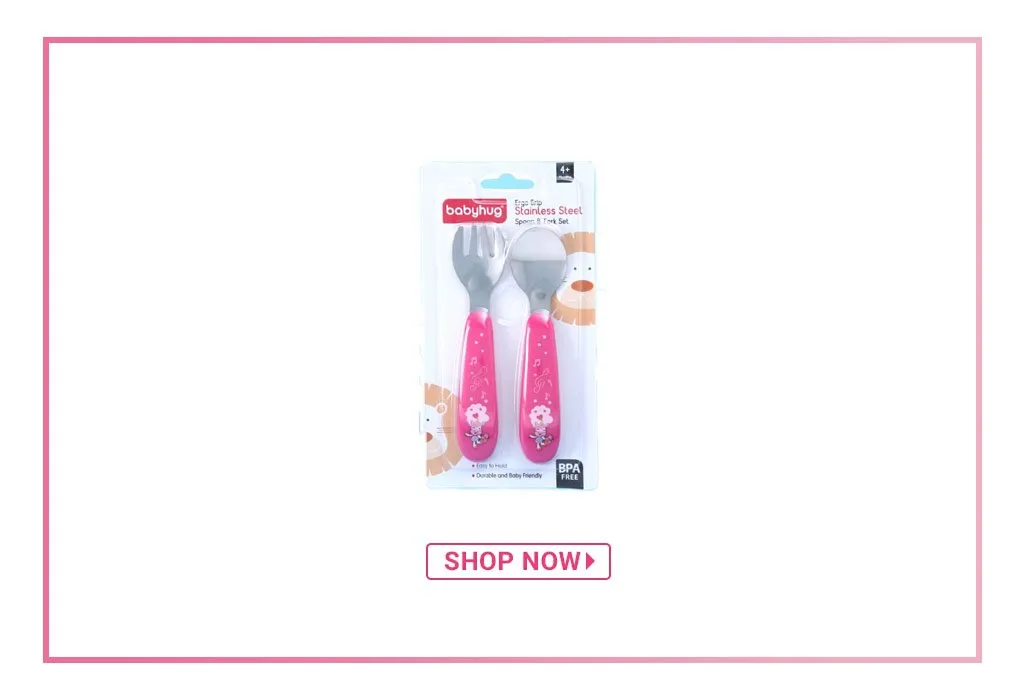 Why Your Baby Will Like it:
There's nothing like steel when it comes to cutlery. It's safe to use, and perfect for your little one if you are not too keen on using spoons in specific materials, especially after your child turns a certain age. The spoon and the fork both have stainless steel tips, and a BPA-free, uniquely designed broad handle to allow your little one to hold it comfortably.
4. Munchkin Feeding Spoon Set of 4
Sometimes, vibrant colours are what you need to make feeding enjoyable for your little one! The Munchkin Feeding Spoon Set might just be what you need.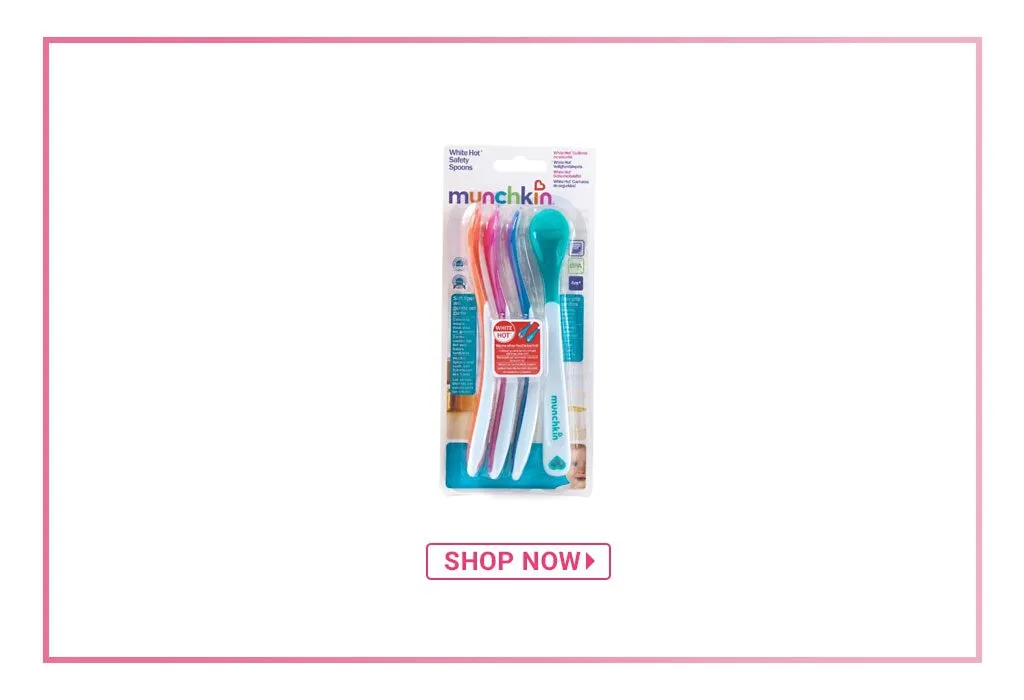 Why Your Baby Will Like it:
This set comes in four different, bright-coloured spoons that can help you make your baby's mealtimes vibrant and stimulating. Your baby will especially like the colour changing tips that turn white when the food is hot. As much she will enjoy this 'magical' sight, it will also help you visually know if the food is at the right temperature, if you are in a hurry. How 'cool' is that!
5. Babyhug Heat Sensitive Spoons Set of 2 – Blue Green
Put some spice in your baby's life by adding variety with the Babyhug heat-sensitive spoons in blue and green colours.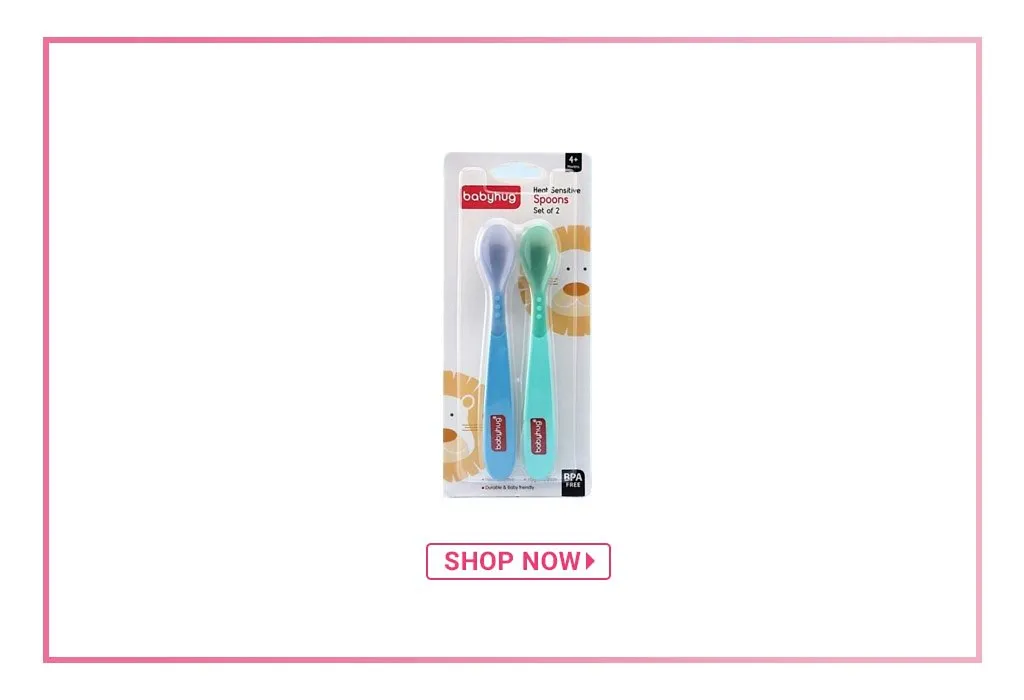 Why Your Baby Will Like it:
Bright-coloured cutlery is always a hit with babies. Your munchkin will particularly like it if you match the spoon's colour with that of the food you are serving. Or, just let her choose her favourite colour for that day's mealtime! These spoons are also heat-sensitive and change colours when the food is hot. They can add an element of surprise for your tiny tot, and help you gauge if the baby food is warm enough.
6. Munchkin Infant Soft Tip Spoons Multicolour – Pack of 6
Do you think your little one is now ready for usual cutlery? Well, your search ends right here!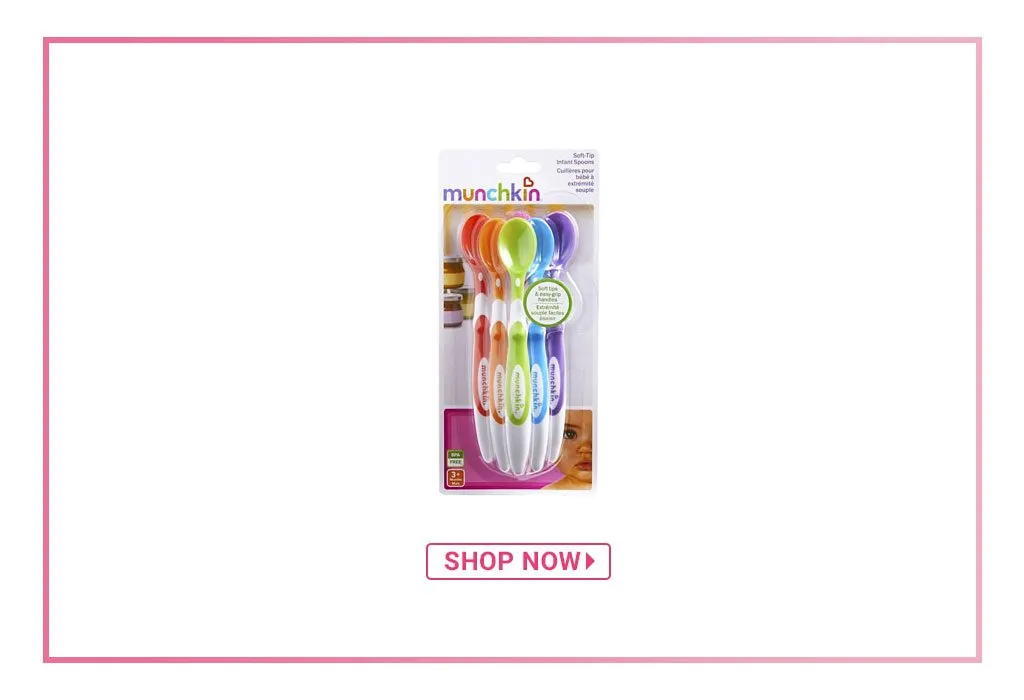 Why Your Baby Will Like it:
Sometimes, no number of baby spoons is enough. The Munchkin Infant Soft Tip Spoon set consists of six spoons in bold colours. Each spoon has a soft and flexible tip that is perfectly designed for your baby's mouth, with a long handle to hold it properly. The spoons are made of non-toxic material and go easy on your baby's gums. It is one of the best infant spoons for weaning babies.
7. Babyhug Dual Scoop Spoons Set of 5
Now, manage between bigger and smaller bites for your little one with the Babyhug Dual Scoop Spoons Set.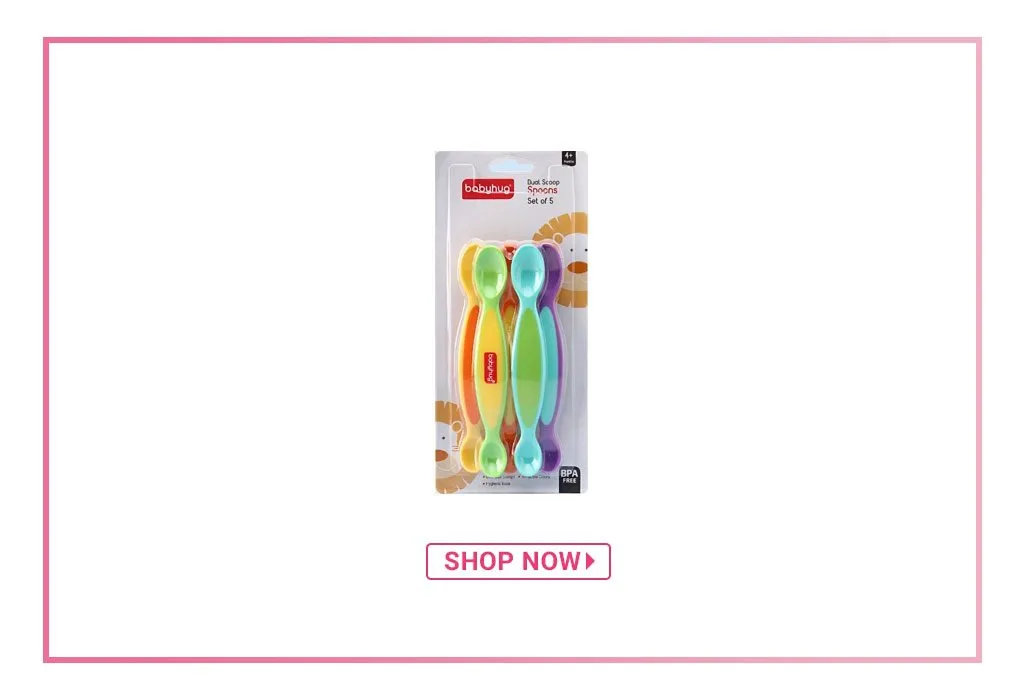 Why Your Baby Will Like it:
Your baby can now eat comfortably without hurting her gums with the Babyhug Dual Scoop Spoons Set. Each spoon has a big and a small scoop that allows you or your little one (if she's eating independently) to manage the size of the bite, ensuring comfort while eating. These are one of the best baby training spoons out there!
This list of the best weaning spoons is sure to put your worries at rest when it comes to choosing cutlery for your baby. Weaning is a delicate process, and therefore, appropriate cutlery is just as important as nutritious foods. Choose the ones that are comfortable to use and easy to clean, and feeding will be fun every single time! Fun fact – parents usually don't realise that their babies can learn to self-feed much earlier than they think! You may want to allow your munchkin to try her hand at self-feeding to help her transition faster.
You May Also Like:
Best Baby Feeding Bowls and Plates
Best Nursing Pillows for Breastfeeding Moms
Also Read:
Finger Food Recipes for Baby
5 Healthy Vegetable Purees for Baby
Best Fruit Purees for Babies