10 Ways to Keep Your Baby Cool in Summer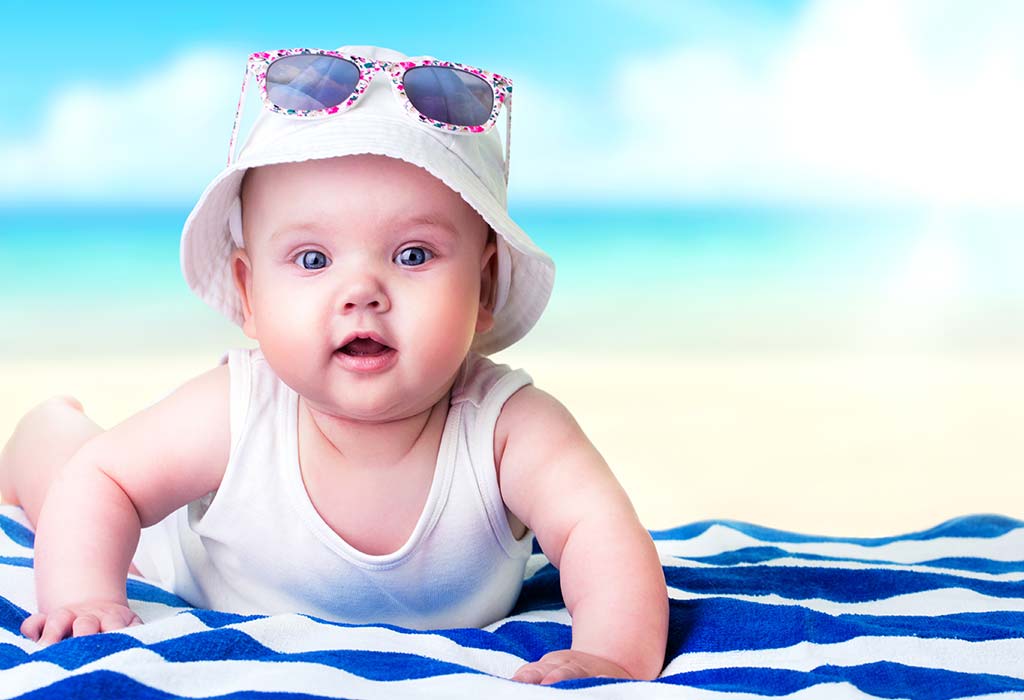 Summer is here, and so is your desire to get outside and enjoy it! But as a new mom, you must be concerned about your baby's safety in the heat. This is a valid concern as babies are sensitive to the smallest levels of water loss. Dehydration in babies can take a serious turn if not addressed immediately. For this reason, knowing how to keep your baby cool in hot weather is really important.
Video:

10 Best Ways to Keep Your Baby Cool in Summer

To ensure your little one stays protected and comfortable during the long, hot summer days, check out these highly effective tips.
Tips to Make Your Baby Comfortable in the Summer Heat
Here are some smart ways to help your baby beat the heat. And the best part? You can do all of these without breaking a sweat!
1. Stay Out of Direct Sunlight
You should always follow one mantra: "Keep your baby out of direct sunlight." Babies are extremely sensitive to heat, and since their immune system is in the development stage, they are not capable of regulating their core body temperature. So, keep your baby covered whenever you go out. One of the best ways to keep your baby out of direct sunlight when you head out of home is a baby stroller. Invest in a stroller that comes with an adjustable sun canopy or shade to give the best protection to your little one. Also, make sure of some important features, like safety standards, age suitability, seat compatibility, etc.
2. Dress Your Baby Smartly
When it's hot outside, loose-fitting, lightweight cotton garments are your best bet as they absorb perspiration better than synthetic fabrics and are gentler to the skin. You can even opt for a light onesie during the summer months. Ditch the layered (however cute they may be) outfits as your baby's comfort is your topmost priority. Remember this good rule of thumb: "Dress your little one the way you're dressed." Now you wouldn't be wearing extra layers of clothing during the summers, would you?
3. Provide Good Ventilation
One major issue with the summer is the stuffy feeling and humidity. This combination is a sure-shot way to make your baby very cranky! To avoid this, ensure your home is well ventilated. Fans help circulate air, so they might be more effective than an air conditioner in getting rid of the stuffiness.
4. Ensure Your Little One Is Hydrated at All Times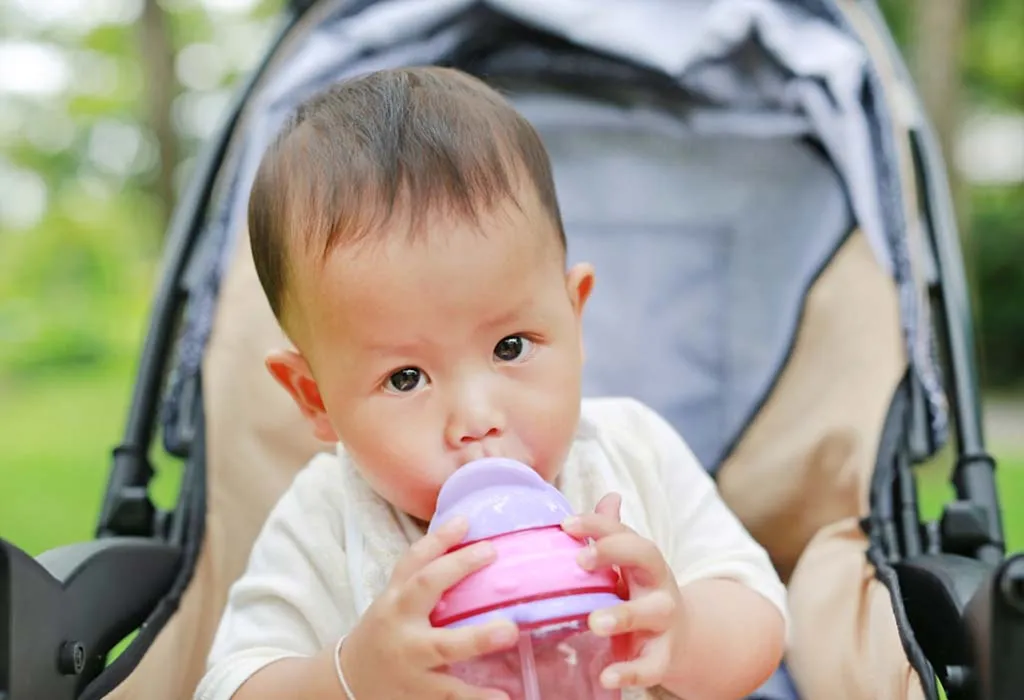 Even if you don't see beads of sweat rolling off your infant's forehead, she can be losing precious fluids in the hot weather. Staying hydrated is the key to keeping cool, particularly during the year's warmest months. And this applies to you, too, if you're breastfeeding your little one. If bottle-feeding or weaning, make sure your baby drinks plenty of cooled boiled water even at night. If your baby has transitioned to using a sipper cup, you can have more than one spout cup or sippy cup and place them at different locations in the house accessible to your baby to encourage her to drink more fluids and stay hydrated.
Pro tip: Do not give your baby anything other than water, like juice, in a sipper as it can lead to tooth decay.
5. Apply Baby-Safe Sunscreen
Before heading out with your baby, you check if all things are in place. Stroller-check, full-sleeve cotton dress-check, summer cap-check! Sunscreen-check? After your little one turns six months old, make sure to apply a suitable amount of sunscreen to your baby's skin. A good-quality sunscreen will give your baby the sun protection she needs. Why? Because babies have delicate skin that burns easily! Reapply the sunscreen every few hours, as it may be effective only for a couple of hours.
When buying sunscreen for your baby, look for active features, like a mineral base, either with zinc oxide or titanium oxide, as these don't require many chemicals to protect the skin. Also, consider sun protection factor (SPF) with a minimum from 15 to 30.
6. Use a Summer-Friendly Baby Carrier
Your body heat and the baby carrier's enclosed space can make your little one hot and bothered within minutes. Choose a carrier made from lightweight fabric rather than a heavy fabric like denim. If your baby's face starts to look flushed, get her out of the carrier at once.
7. Get a Wide-Brimmed Hat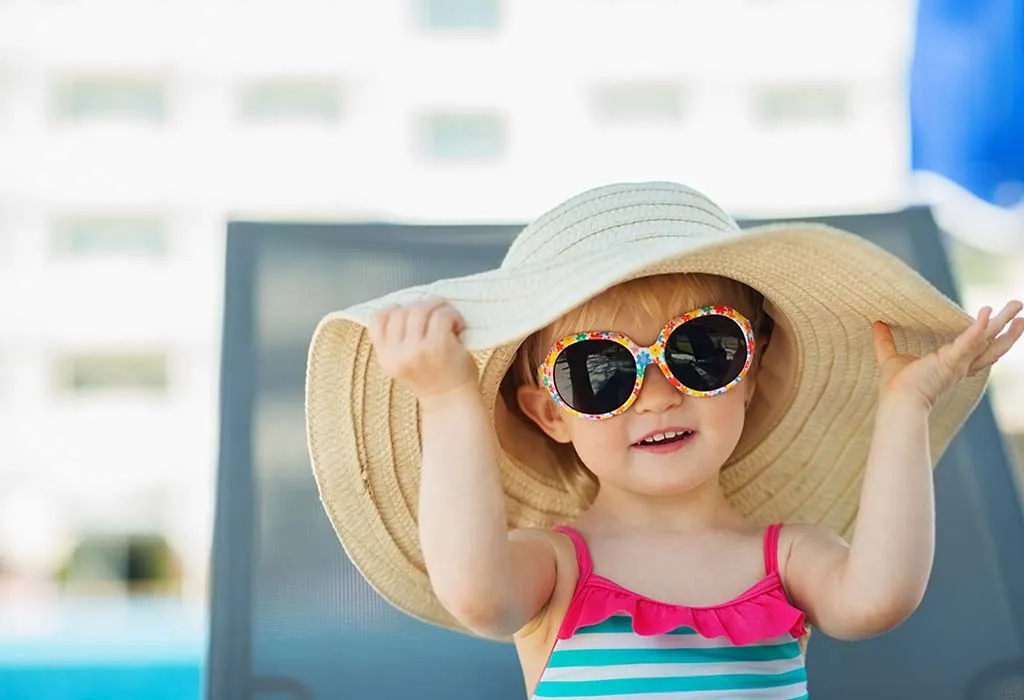 For the short amounts of time that your baby will be playing outside in your garden or even balcony, keep her head protected with a sun hat. Get one with a broad brim to keep the sun off her face. A hat with strings will ensure it stays put and that your baby doesn't fidget and toss it away. Also, make sure that the hat is made of breathable and non-irritable material so that your baby's head doesn't get overheated.
8. Time Outdoor Activities Wisely
The worst time for your baby (and anyone, for that matter) to be outside is between 10 a.m. and 2 p.m. That's when the sun does the most damage to the skin. To be on the safer side, plan outdoor activities prior to or after this timeframe. This has got to be the simplest way to protect your baby from getting heatstroke or severely dehydrated.
9. Apply Talcum Powder
This is an essential part of your baby's skincare routine during summer. The mild fragrance of talcum powder can add oodles of freshness to your little one. Talcum powder refreshes and protects your little one's skin, leaving it soft, supple, and cool without clogging the pores. While applying the powder, keep the powder away from your little one so that she doesn't accidentally inhale any of it.
10. Get an Inflatable Pool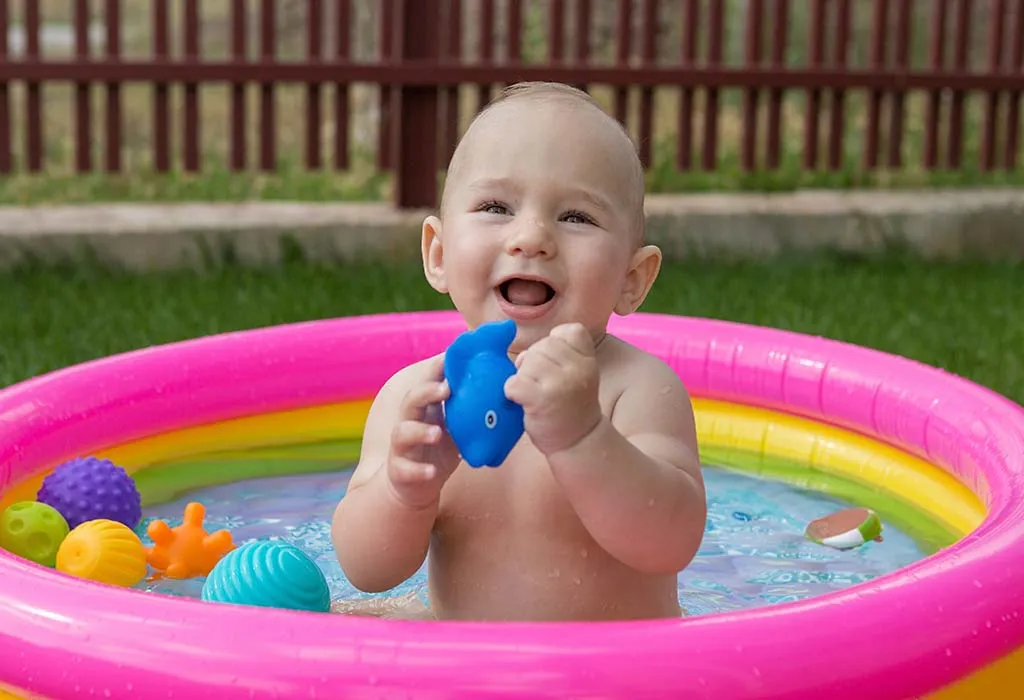 Most babies love splashing around in the water, especially during the summer! Get your baby an inflatable tub and let her enjoy playing in the water. You can get her some bath toys, too, so that she has a gala time in the tub! A tub works better than a sponge bath on a very hot day.
During summer, it's not very easy to beat the heat, especially when you're outside. And with a baby on board, you'll want to take added precautions while spending time under the sun. But that doesn't mean you can't enjoy the warm weather while it's here. Follow these tips to keep your baby cool in summer, and it will all be smooth sailing, even on the hottest day!
Also Read:
Newborn Baby Care Tips in Summer
How to Keep Your Baby Cool and Hydrated in Summers