Different Types of Ride-on Toys for Your Baby and Their Benefits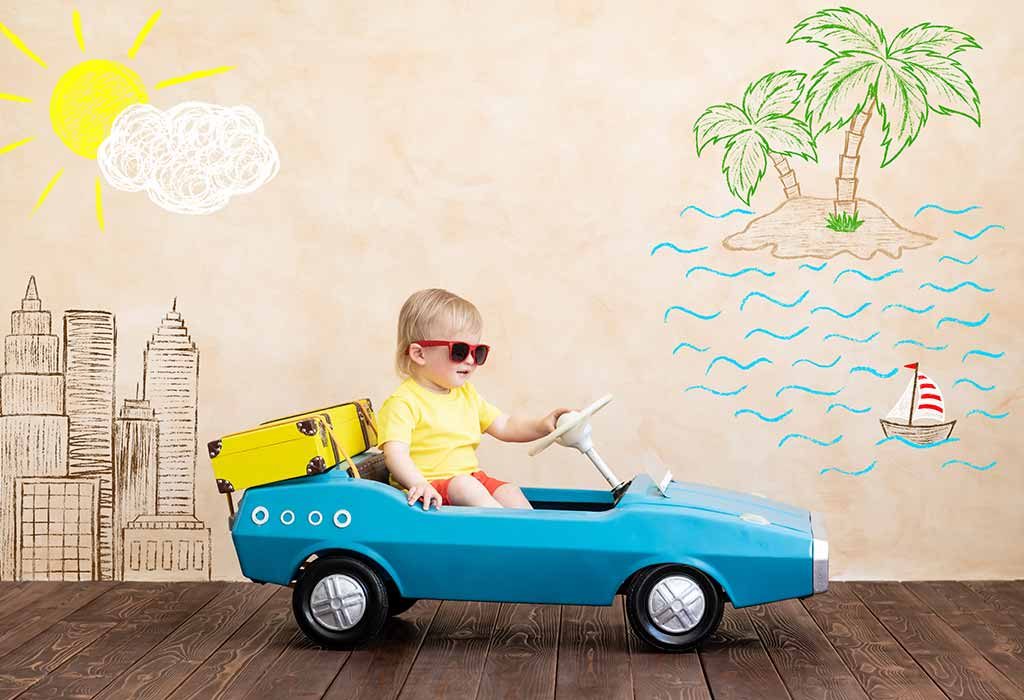 They say walking won't take much time when babies begin to crawl, and running will follow when they begin to walk. But, through their growing years, children need ample boosts of energy and confidence to keep going. Development toys play a vital role here! Therefore toys, such as the ride-on toys, are often recommended to parents because not only do they encourage physical activity, they also fuel the imagination. In this post, we have shared information about the different types of ride-on toys you can consider for your munchkin. Be sure to read till the end to know their benefits, too!
Different Types of Ride-on Toys for Your Baby
Gone are the days of wheelbarrows; now, kids have a wide variety of ride-on toys other than the tricycle or the bicycle. Here's what you can choose from for your ball of energy:
1. Push or Pull Ride-On Toys
As the name suggests, these ride-on toys can be pushed or pulled by a parent or an older sibling. Once the baby's feet touch the ground, she can also push herself around and exercise her leg and core muscles.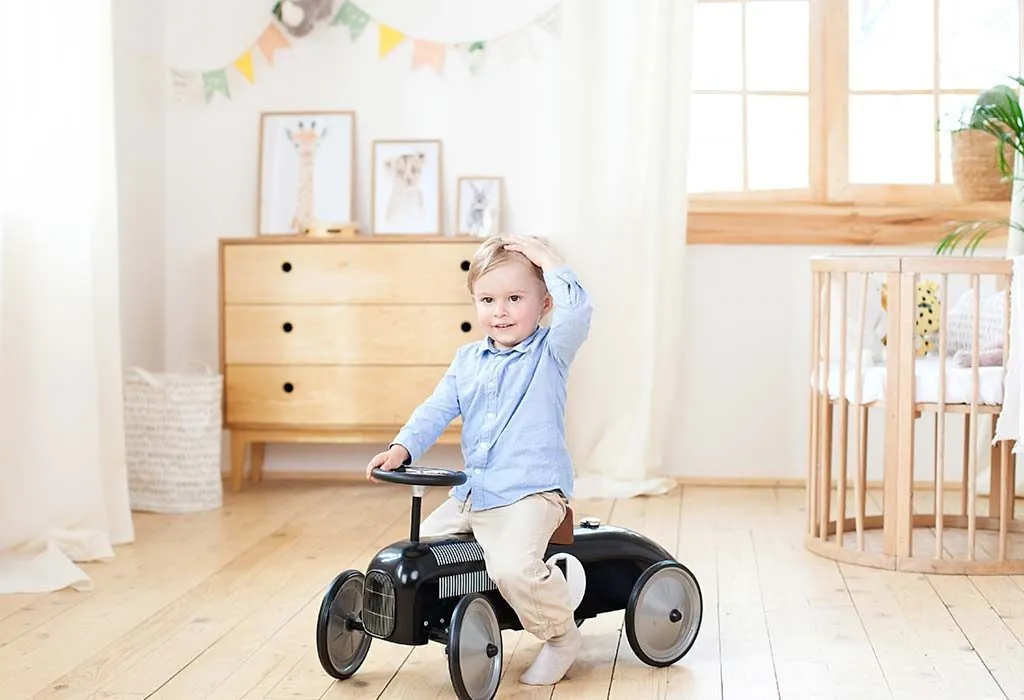 You'll find ample designs in this category of ride-on toys to choose from, right from wagons, buses, vans, trucks, high-end luxury cars and bikes, to animals, and cartoon characters. These toys have wheels and push handles that enable the parents to push/pull and even direct the toy until the baby gets a sense of balance and understands how to manoeuvre around.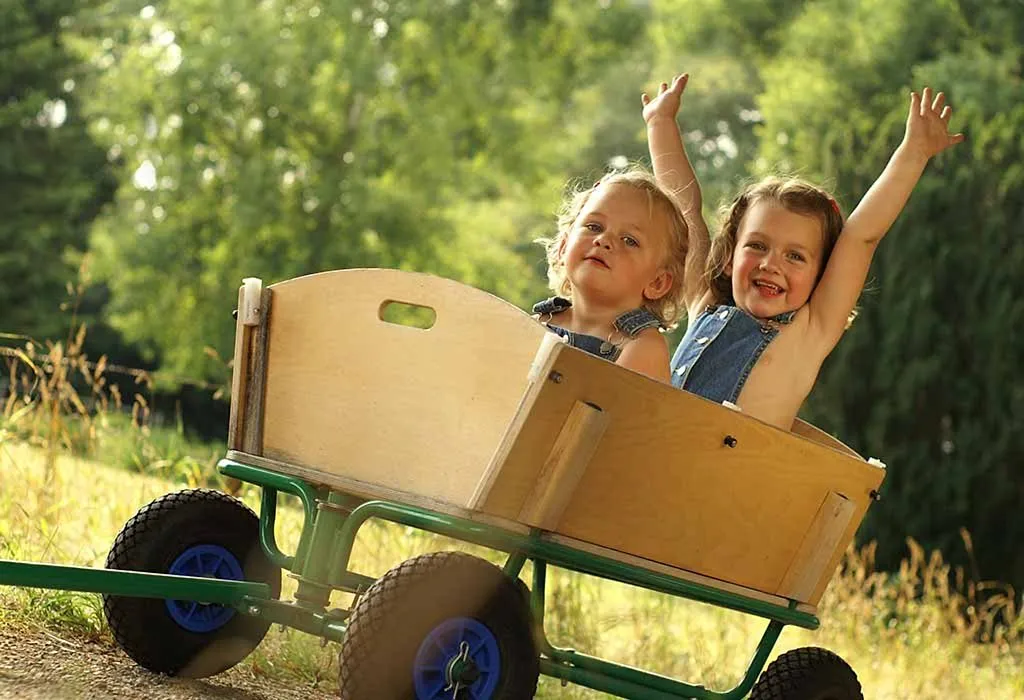 2. Pedal Ride-On Toys
Pedal ride-on toys are nothing but the classic tricycles and bicycles, but at times, even pedal cars and pedal carts/quad bikes are included in here. Now, we know babies under a year old can barely use them, but you can consider these toys for toddlers and older kids.
Begin with a pedal car to build your child's lower body strength. A pedal car, if you look at it carefully, is nothing but a push ride-on toy. Your child will be seated comfortably in the toy and push herself with her feet to move forward.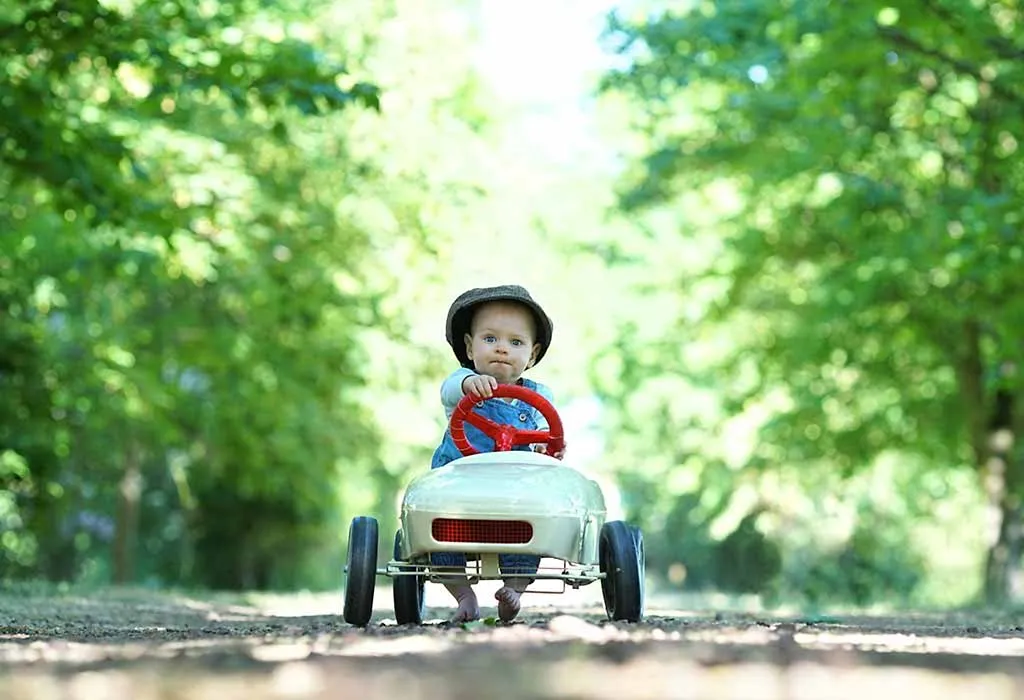 As your little one develops the skill of using the pedal car, you can upgrade to a sturdy, colourful tricycle for her to wheel and steer through the safe spaces around your home. Fun fact – The world's first-ever tricycle was a three-wheeled wheelchair invented by a watchmaker in the 17th century. Now, kids' tricycles are often referred to as 'trikes' and are highly recommended for their physical growth.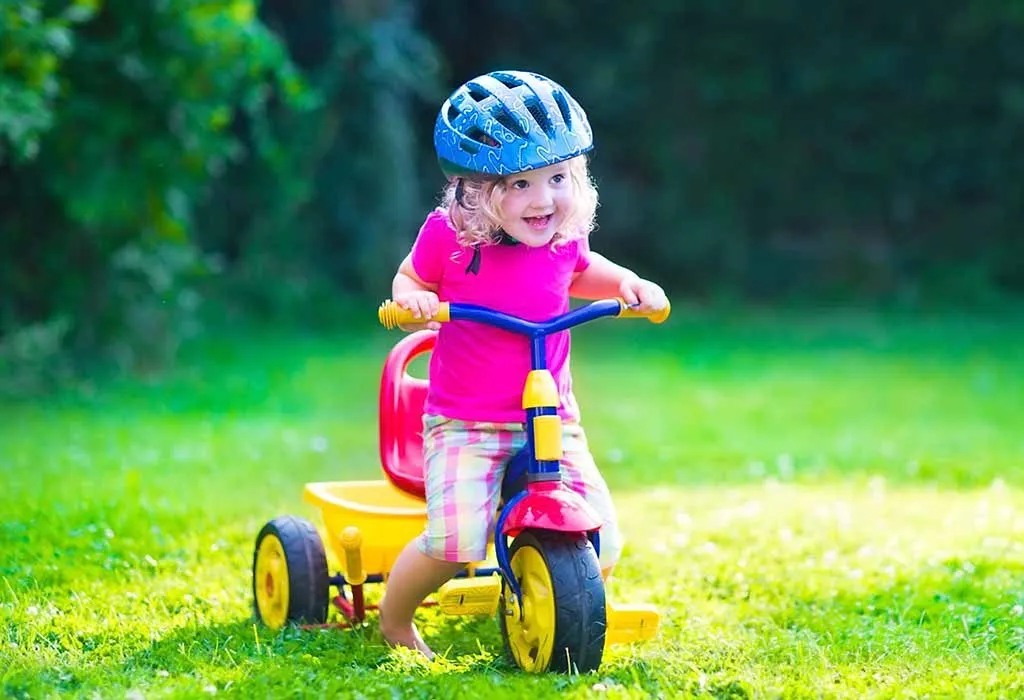 Let's talk about quad bikes now. A quad bike or a pedal cart can be another option for your kid once she is tall enough to reach the pedals, and is capable of steering her way through. It is a great toy for kids who are still unsure about riding a bicycle and need a confidence-boost in that area.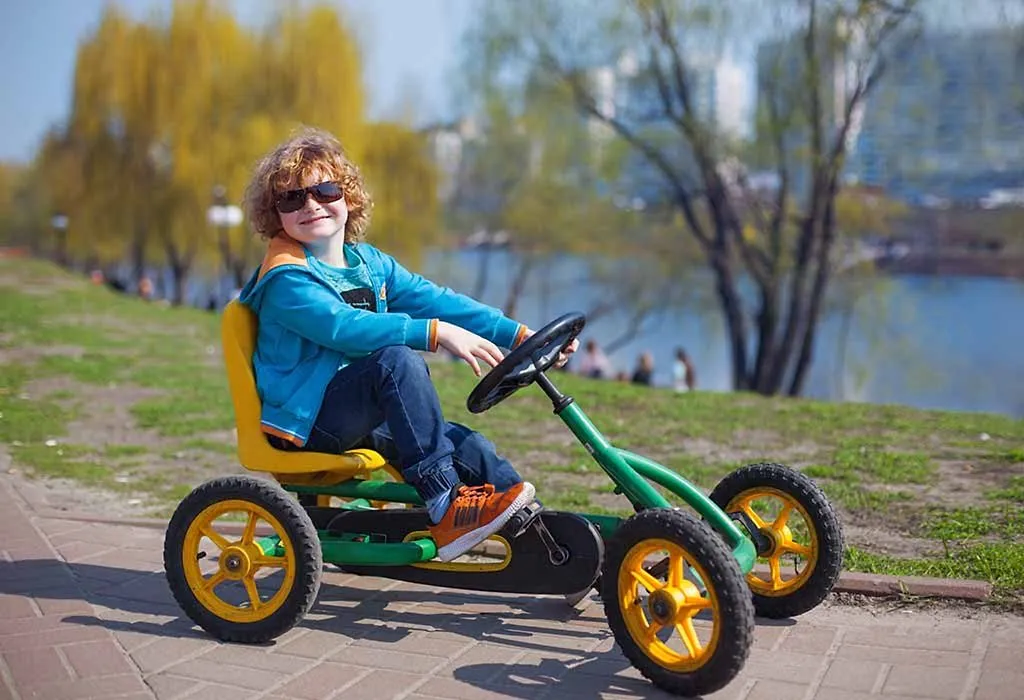 3. Electric Ride-On Toys
One fine day, technology and innovation joined hands in the baby toys department and created a stunning range of electric ride-on toys for kids. These are little, motorised vehicles that can be controlled with remote controls. Some can also be steered/pedalled manually by the child. These toys have gained quite some popularity and are perfect for giving kids the ultimate thrill of driving.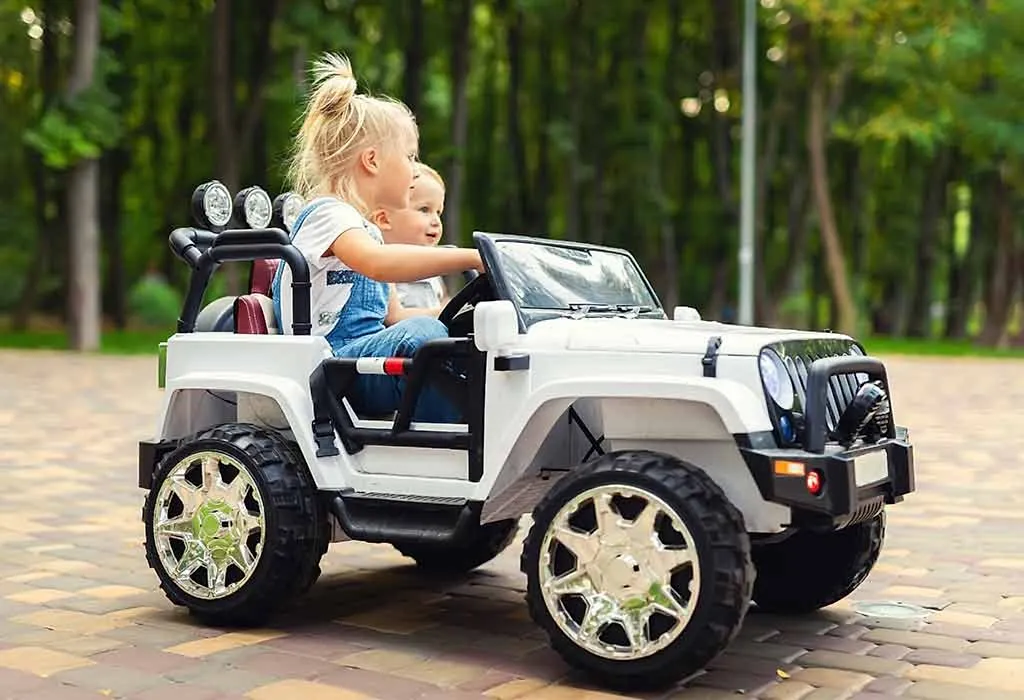 4. Rocker Ride-On Toys
Rocker ride-on toys are the most basic ride-on toys for kids. They are stationary, do not require much space and are quite amusing come to think of it. These toys have developed leaps and bounds and are available in fancy, colourful designs other than the classic wooden rocking horse. Place your baby carefully on it and let her make animal sounds, sing rhymes, ride through an imaginary storm, or even fight bears in make-believe woodlands. It could just be one of the best ways to teach several other things to your munchkin.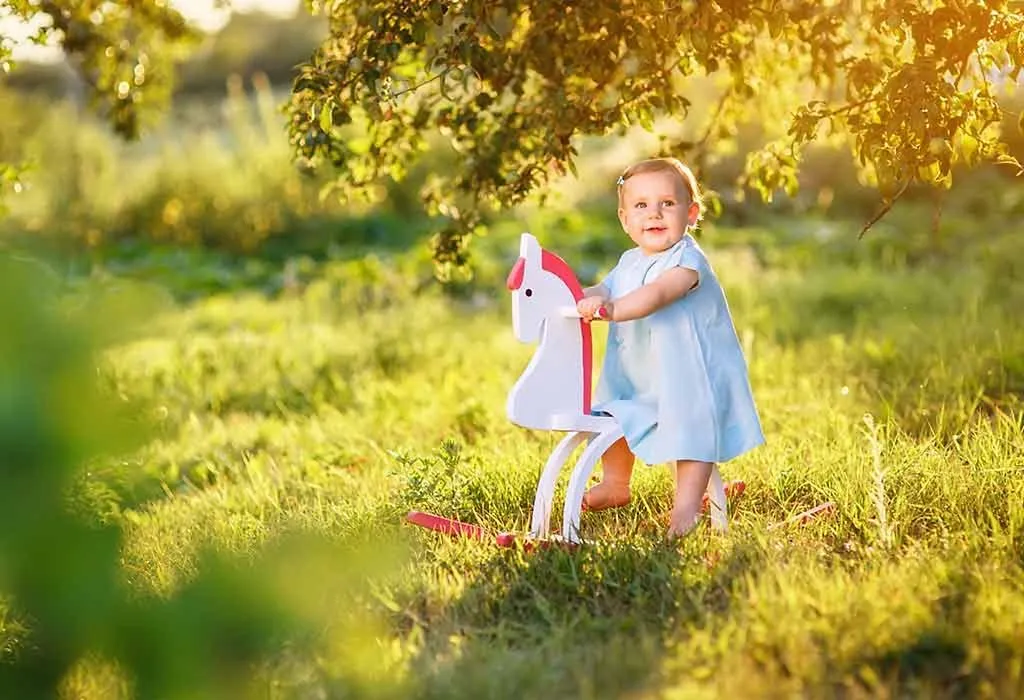 Benefits of Ride-On Toys for Babies
Toys keep babies engaged and entertained to some extent, but that's not all you're looking for in a toy, are you? Every time you pick something for your little one, you are bound to research more on the product to know what benefits it has for your child. To save you the time and energy, we have enlisted some benefits of ride-on toys for kids.
Develop Fine and Gross Motor Skills – Ride-on toys encourage physical activity and help exercise the small and big muscle groups. They thus help strengthen the lower body, mainly the legs and the core and ultimately bring about the development of a sense of balance.
Enhance Spatial-Development Skills – These toys encourage movement, and with movement, your child will bump into a lot of things, but that will eventually enhance her spatial skills and give her a better understanding of space, direction and measurement.
Inculcate Independence and Boost Confidence – Once your tiny tot enjoys the thrill of the movement, she'll probably forget you, even if it is for a few minutes. This inculcates a sense of independence and builds confidence. A rocker ride-on toy also helps in this regard as it is another tool to create an illusion of movement and speed and to promote self-soothing in toddlers and young children.
Encourage Imagination, Exploration and Critical Thinking – Ride-on toys can help foster your child's sense of exploration and adventure, and also stimulate critical thinking. Every time she sets out on a new adventure, watch her stumble upon new discoveries and wait a moment before you pull her away from whatever she has her hands on. This encourages her observation skills, too.
To sum it up, ride-on toys are not just fun; they can be extremely beneficial, too. Look at them as intellectual machines, and it will become easier to know how important they are for children. By getting one of these toys for your munchkin, you'll be giving her an opportunity to explore a new aspect of a healthy and happy childhood.
Also Read:
7 Best Ways To Teach Kids To Ride a Tricycle
7 Amazing Health Benefits of Cycling for Kids