10 Best Baby Teethers & Teething Toys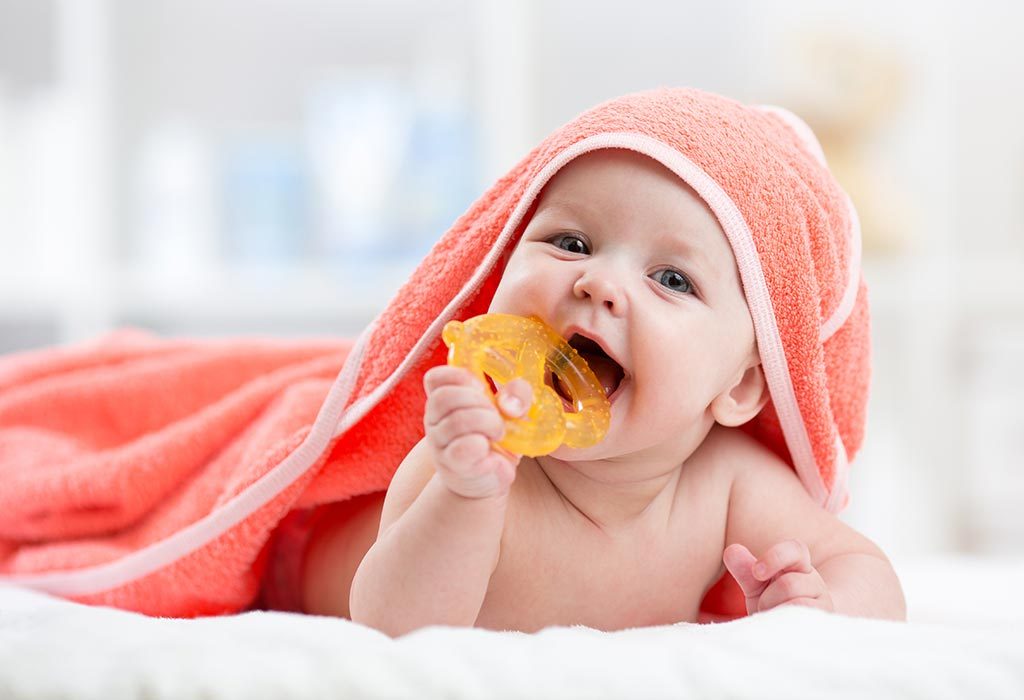 Teething is a significant milestone for a baby. After all, the little one is developing her own little cute set of pearly whites! But it can also be a difficult and painful phase for her. Most babies experience discomfort and turn fussy when they start teething. You may be wondering what the best and most effective ways are to ease your baby's pain during this phase. Enter teething toys or teethers!
While teething, your baby will look for ways to find some solace from the new-tooth pain. She'll want to bite and chomp on anything hard like the furniture, her toys or even her own fingers. Your fingers won't be spared either! Teething toys, in this aspect, are a life-saver and a great alternative. The right one will help your munchkin get through the teething process more comfortably, and we're here to help you find the best teether to do just that!
List of Top 10 Best Baby Teethers & Teething Toys in India
We've rounded up some of the best teething toys that will put an end to those pains.
1. Babyhug Bug Multi-textured Teether With Mild Rattle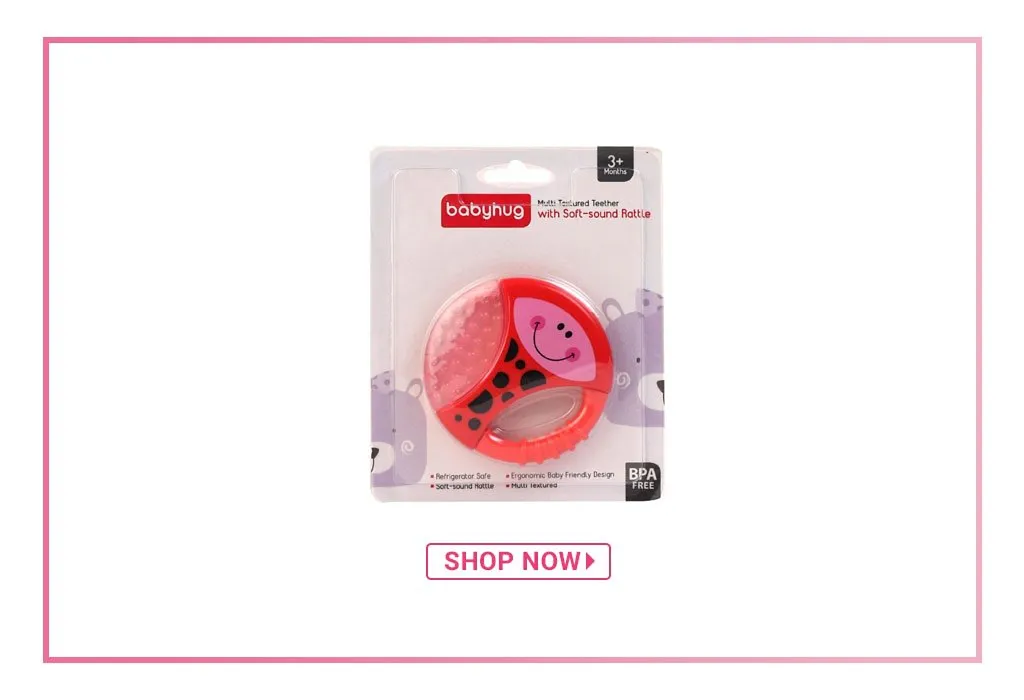 If you're looking for an affordable teether that does the job, this multi-textured, PVC-free teether from Babyhug checks all the boxes!
Product Highlights
The Babyhug Bug Multi-textured Teether is a water-filled teething toy that is designed to soothe and cool your little one's tender gums. You can store the teething toy in a refrigerator for optimal results. The teether's ergonomically design will ensure she has a good grip on it at all times. This is one of the best teething toys for babies as, along with easing your baby's teething pain, it will also keep her engaged with its soft-sound rattle!
2. Mombella Squirrel Silicone Teether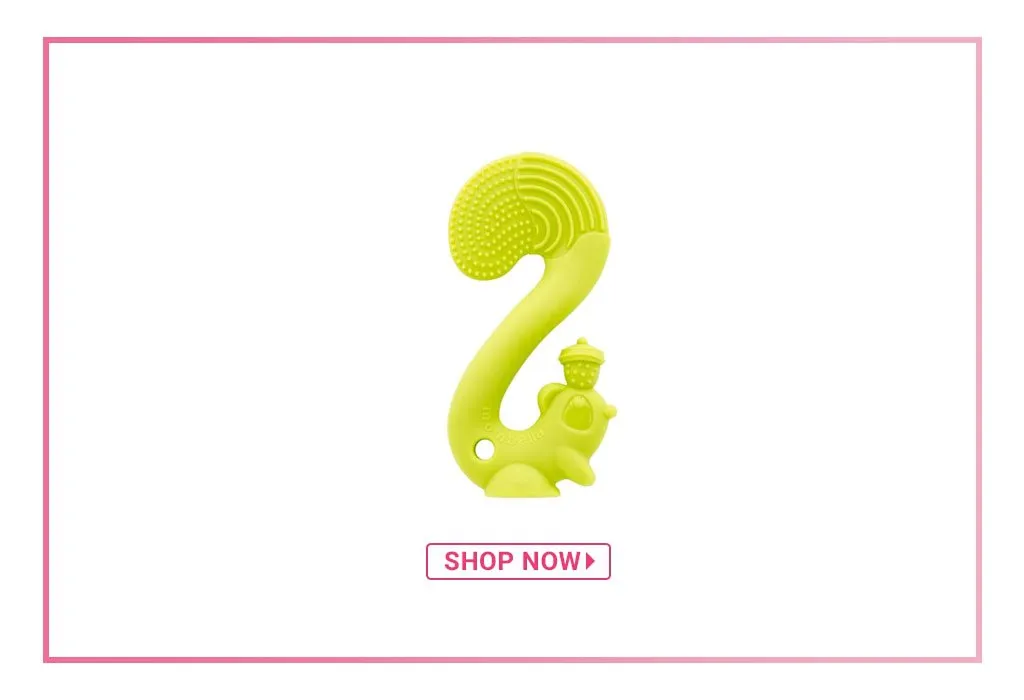 The Mombella Squirrel Silicone Teether is a toy that your baby can safely play with and chew on, during her teething phase.
Product Highlights
This teether is designed in the shape of Squirrel Scrat- a fun character that your baby will adore! The toy's S-shape makes it very easy to grasp too. But that's not all! The toy's textured surface offers an added advantage as it can massage your baby's sore gums to alleviate her teething pain. The teether is very easy to clean as well. You can even sterilize it by steaming it or dunking it in boiling water.
3. Babyhug Handy Ball Rattle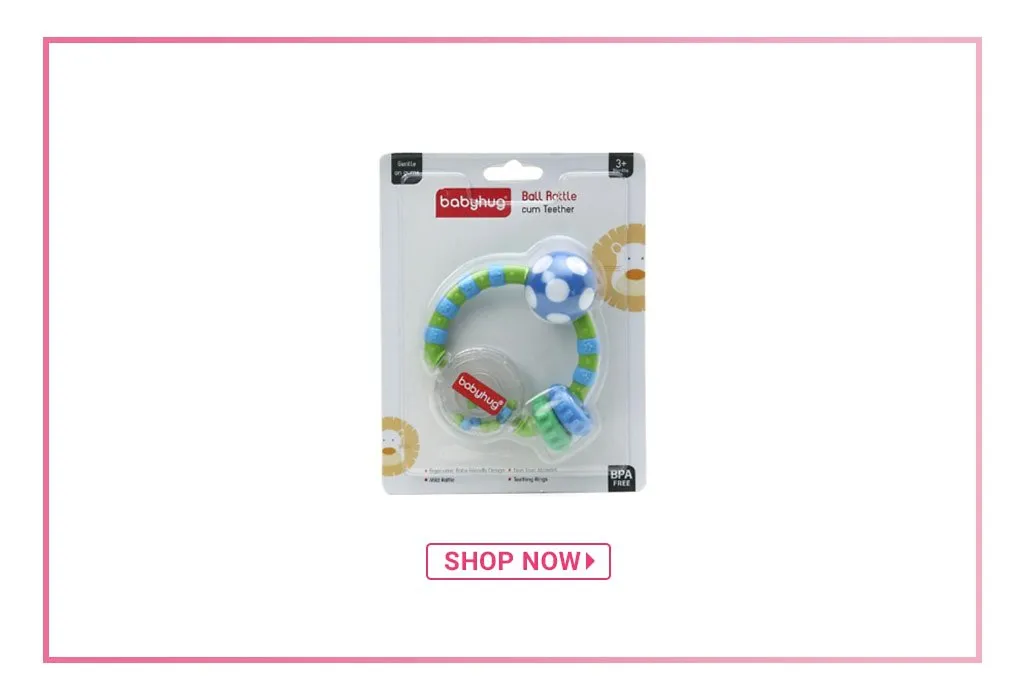 This rattle-teether from Babyhug is the best thing for baby teething! It encourages your baby to grasp and interact with it, which in turn boosts her fine motor skills.
Product Highlights
This cute ball rattle-teether is easy for tiny little hands to hold, making it perfect for babies as young as three months. Plus, it can be chilled in your refrigerator for a cool and soothing treat for irritated gums.
4. Mee Mee Silicone Teether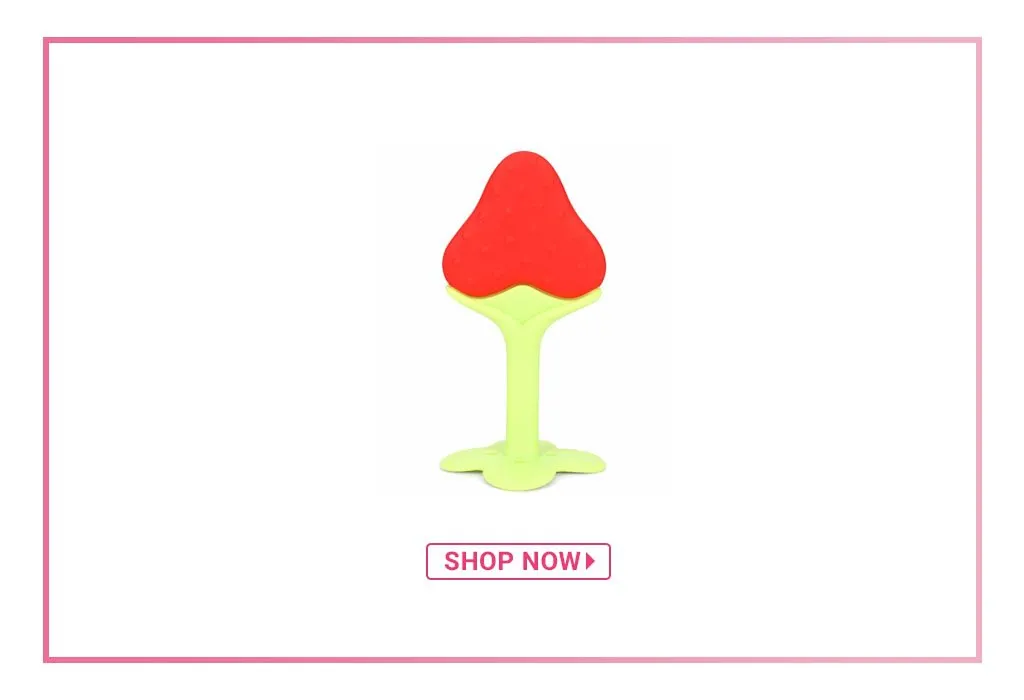 The Mee Mee Silicone Teether is BPA-fee and is carefully made according to the highest safety standards.
Product Highlights
This teether is specially designed for use during the baby's teething phase and is suitable for babies from six months. The fun shape of the teether will keep your baby engaged while you're at peace, knowing exactly what your little one is chewing on! The teether is non-toxic, doesn't have any sharp edges, is easy to hold and doesn't require sterilization. What more could you ask for!
5. Chicco – Soft Relax Teething Ring Set Of 2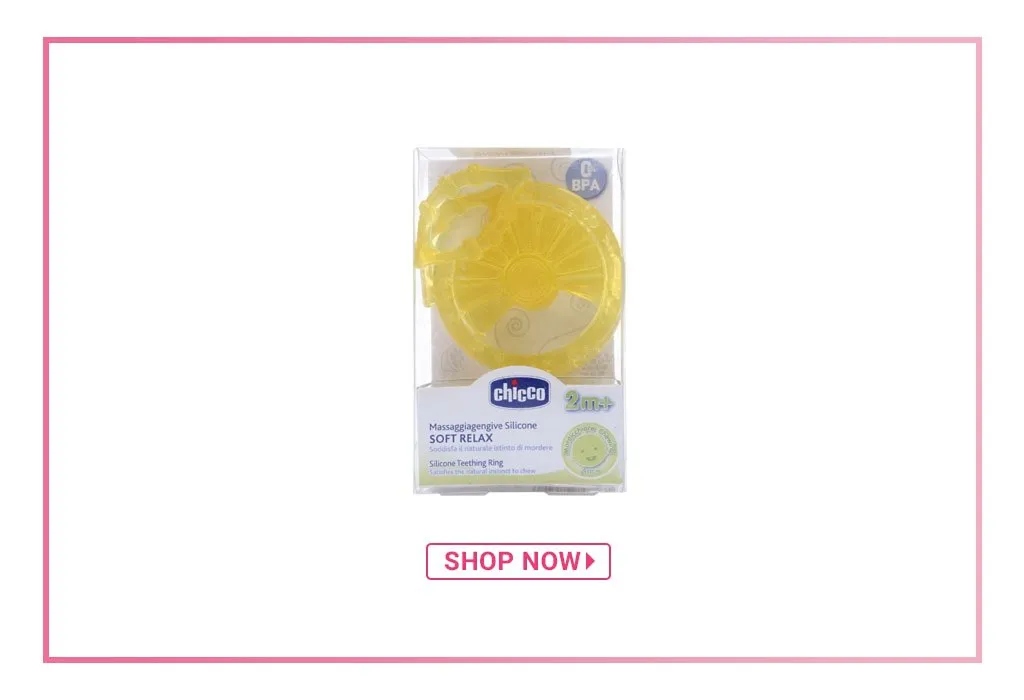 Soothe your baby's sore gums during her teething phase with this set of teether rings!
Product Highlights
The Chicco teething ring is made of extra soft and durable silicone material that aids in relieving the teething discomfort. As your baby bites on the teething ring, it will help reduce her gum tenderness. It makes for an economical buy too, as you'll get a set of two rings in a pack.
6. Mee Mee Multi-Textured Froggy Shaped Silicone Teether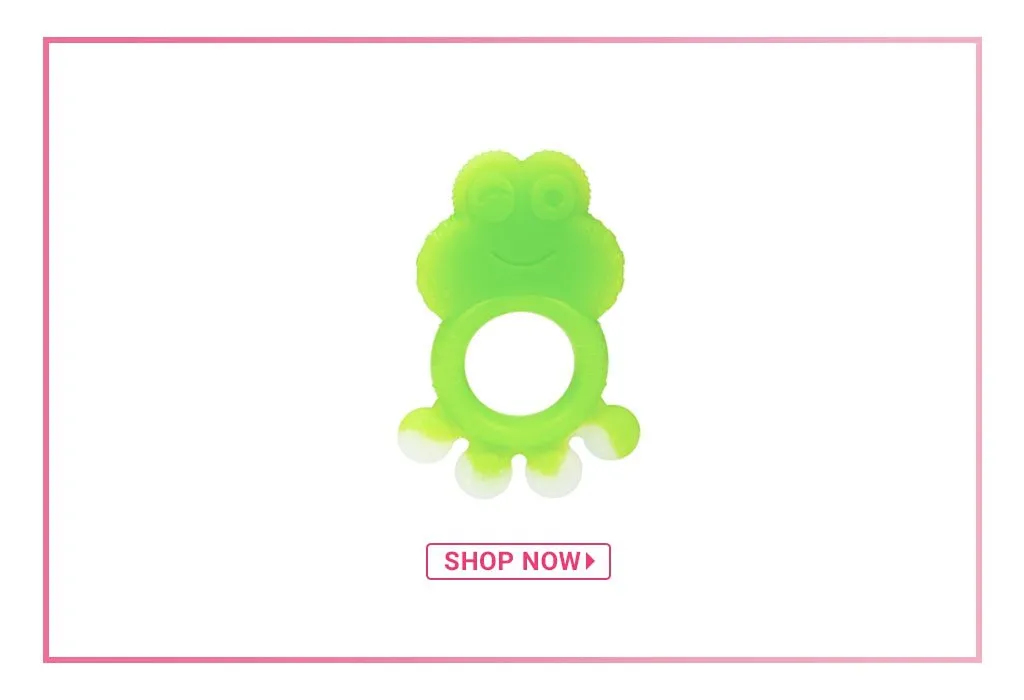 The Mee Mee Silicone Teether is shaped like a frog and has a hole in the centre, so your little baby can find it easy to hold and grasp.
Product Highlights
Made of BPA-free material, this teether is completely safe and non-toxic for your baby to use. It acts like an ice-pack and therefore is more effective in providing a cooling effect after it is refrigerated. Your baby will love playing with this teething toy which has rounded edges and comes in bright and attractive colours.
7. Mombella Dancing Elephant Teething Toy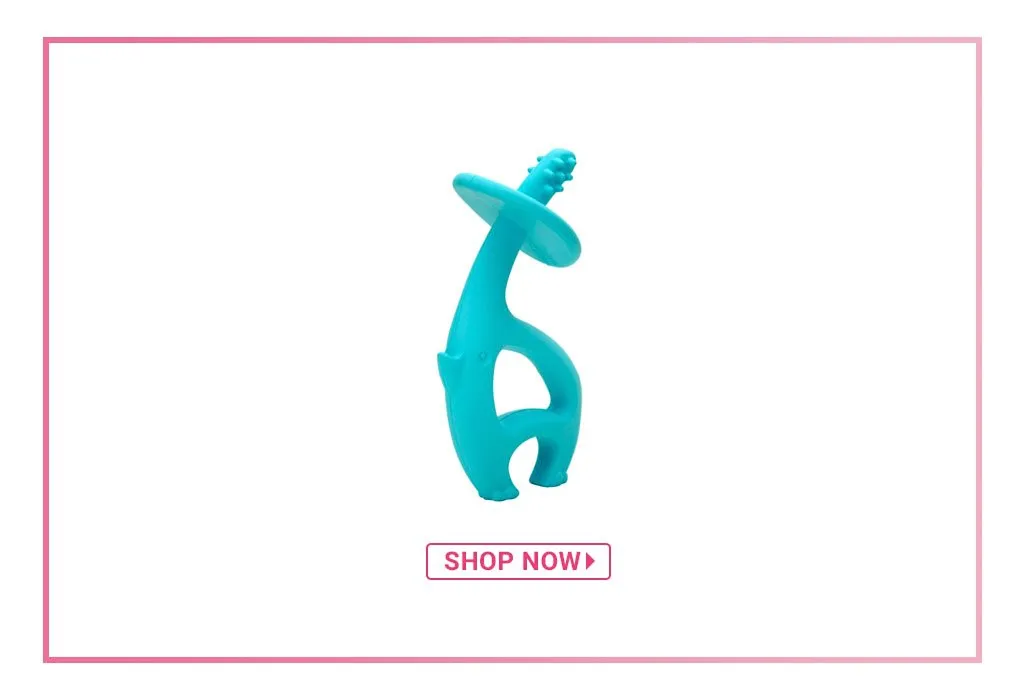 Made of soft food-grade and FDA-approved silicone, the Dancing Elephant Teething Toy is easy for your baby to grasp and play!
Product Highlights
This unique teether features an anti-choke design complete with super soft bumps that massage your baby's budding teeth and sore gums. The textured elephant nose functions as a small toothbrush for soft and delicate gums. You can place it in the refrigerator for a couple of hours before giving it your little one. It is perfect for babies from three months of age.
8. Mee Mee Soft Nipple Baby Pacifier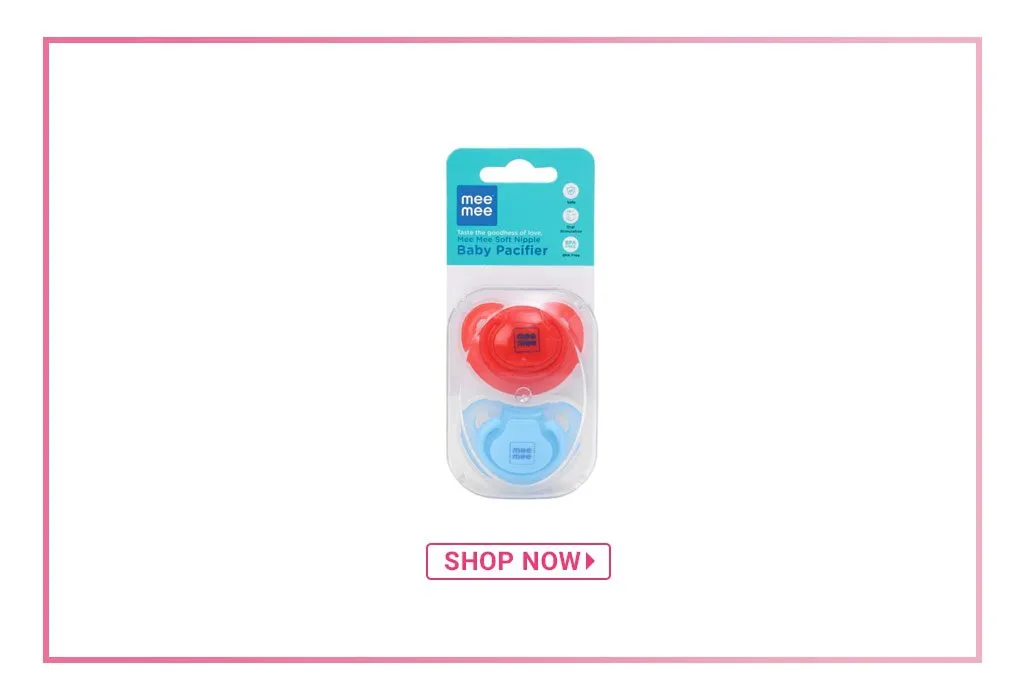 The Mee Mee Soft Nipple Baby Pacifier is ideal for your baby as it helps in her overall oral development while comforting her through the teething phase.
Product Highlights
This no-frills teething toy is made of safe and soft material that is BPA-free. It helps provide relief when your little one is uneasy or not able to fall asleep. It's perfect to use if you need something to distract your baby in between feeding times.
9. Chicco Easy Grasp Keys 3 Pieces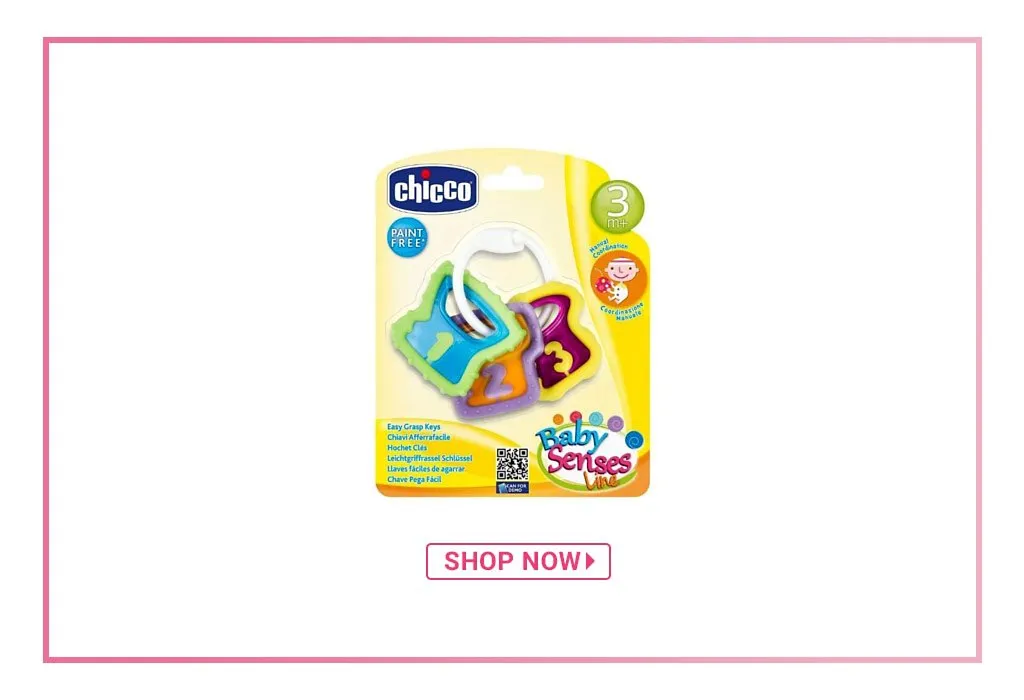 This teether from Chicco provides relief to your teething baby in a fun key form. Not only will she love to munch on this, but she'll also want to touch and feel the teether in her hands.
Product Highlights
The key-shaped pendants, with lovely details and contrasting colours, are bound to grab and hold your child's attention, offering her some distraction from the teething discomfort. The keys are firm for tiny hands to grasp yet gentle for little mouths to chew. It even has these cute numbers on it which will make learning counting fun!
10. Mee Mee Baby Pacifier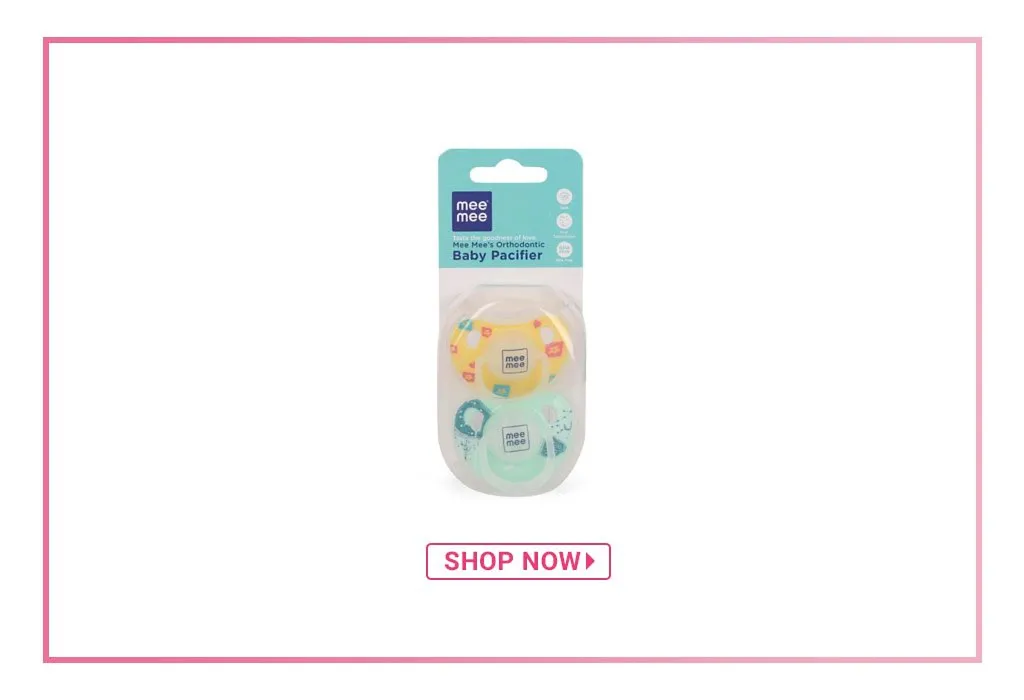 The Mee Mee Baby Orthodontic pacifier is a very good alternative to thumb sucking, which is very common, especially while teething.
Product Highlights
Mee Mee's pacifier is particularly exceptional as it is useful for preventing tongue thrush in your baby. It also acts as a supportive aid in developing her jaw shape and palate. In addition to soothing your baby's teething pains, these features make it one of the best teething products available in the market.
Always supervise your baby while she is using a teether. A teething toy that is too big or too small could be a safety hazard for her. Invest in a teether that can be easily cleaned, and keeps your baby engaged. Even if you're not a first-time parent, you would want a teether that's durable enough to last through your baby's entire round of tooth eruptions!
You May Also Like:
Best Baby Food Feeders
Best Orthodontic Pacifiers and Soothers for Babies
Also Read:
Baby Teething Myths & Facts
Signs & Symptoms of Baby Teething
How to Put a Teething Baby to Sleep