Full-size Baby Swing Buying Guide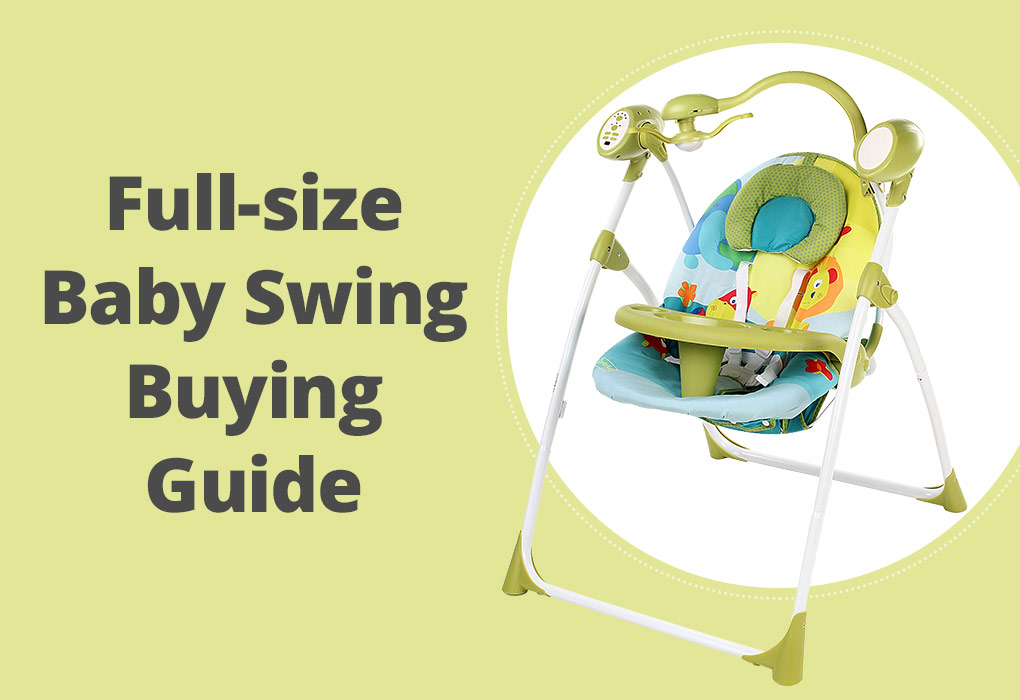 What is a Full-size Swing?
A full-size swing is primarily designed to be used indoors. It offers a sturdy frame and is the most stable among the different types of swings. This makes it quite heavy, and less portable. It comes with a lot of add-on features such as music, mobile toys, dancing lights, etc. Also, with a full-size swing, you have the option of plugging it to the power source, so you don't always have to depend on batteries and get vexed when they get drained out. It can be used for children from birth to up to 1.5 years old, i.e., 2.5 kg to 14 kg.
Features of a Full-size Swing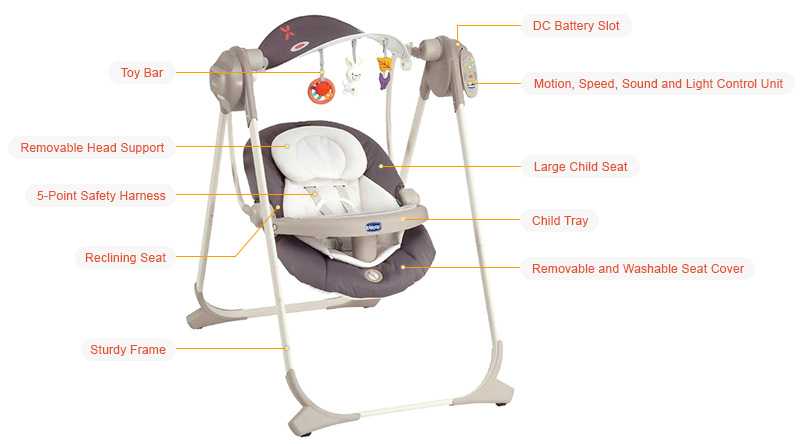 Full-size Swing
The following are some must have and good to have features in a full-size swing:
Must Haves
Large Child Seat: A full-size swing usually boasts of a spacious child seat, which smaller, portable swings cannot offer.
5 – Point Safety Harness: To keep the baby secured in the swing seat.
Sturdy Frame: To ensure even weight distribution of the growing child and allow for some safe movement within the harness.
Motion, Speed, Sound and Light Control Unit: Most baby swings offer a control panel which allows gliding motion, speed, sound and light settings in accordance to your baby's preference.
AC Adapter: For a battery-free operation, frequent battery replacements can be costly.
Reclining Seat: The seat can recline in 2 or 3 positions, depending on whether the baby has just had his feed and wishes to sit up or wishes to sleep.
Removable Head Support: Head support is a must-have feature for infants whose head and neck are still not stable.
Removable and Washable Seat Cover: To maintain hygiene, just in case baby throws up or spills foods and liquids.
Child Tray: A child tray is a handy feature for when you want to place something in front of your baby to eat or play with while swinging slowly.
Mobile Toys with Light: Felt or cloth toys for the baby's entertainment and stimulation.
Good to Haves
Portability: Not all full-size swings come with the portable option, but those that do are definitely good value for money.
Music and Nature Sounds: Provides the baby with a range of soothing lullabies, entertaining tunes and nature sounds.
Toy Bar: To hang soft toys for your baby's entertainment.
Mirror: An attached mirror for self-recognition.
Detachable Seat: To carry the baby with you and keep it by your side.
Canopy: Provides shade if the baby wants to take a nap.
Non-Toxic Fabric: Given the baby's inclination to chew at its seat covers, a non-toxic fabric is essential.
LCD Display: Easily navigate between motion, speed and sound using the integrated LDC control panel.
Built-in MP3 Player: Some models come with built-in MP3 players, so you can play CDs and DVDs to keep babies entertained.
Standard USB Port: Many baby swings provide an option of plugging in your MP3 player or USB device, to play your baby's favourite music while the baby is enjoying the swing.
iPhone, iPad Hook up: To play music and sounds that you think both you and your baby will enjoy.
Pros and Cons of a Full-size Swing
| | |
| --- | --- |
| Pros | Cons |
| Battery-free operation: No need to worry about batteries constantly dying out and the high cost of their replacement. | Too much motor/swing noise: The noise disturbs the baby's sleep pattern. |
| Provides a number of features to keep the babies comfortable and entertained. | The swing slows down as the baby grows older and heavier. |
| Better swinging action. | They can weigh up to 27 kg, rendering them impossible to carry around easily. |
| Provides a number of different movements. | |