Rocker Swing Buying Guide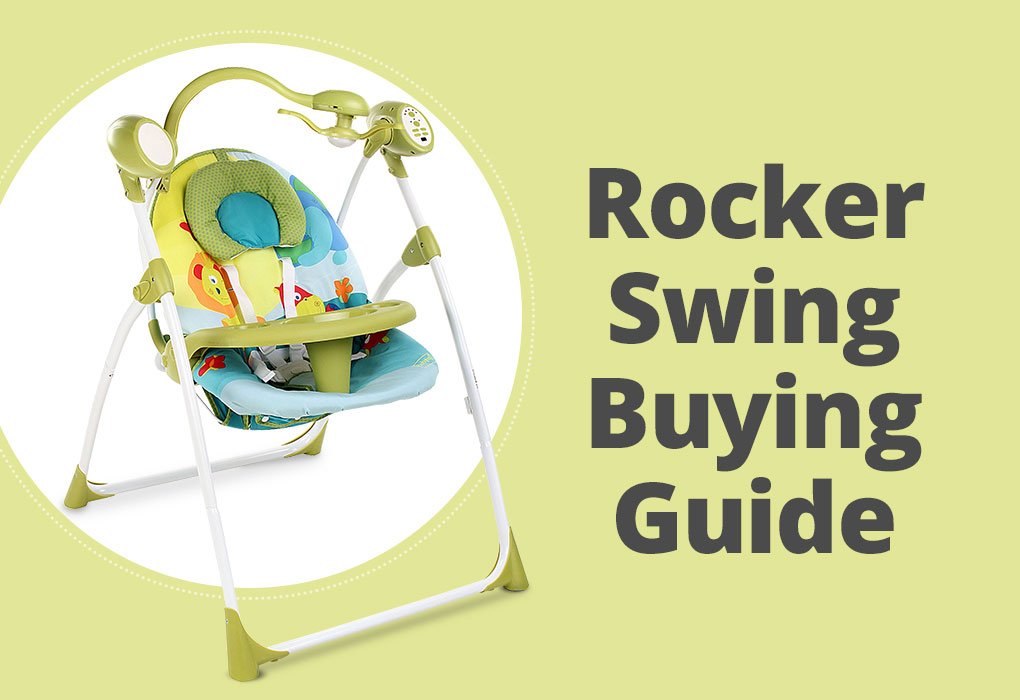 What is a Rocker Swing?
A rocker swing has a detachable seat that can be used as a rocker. The bottom of this fabric seat has a curved support, making a rocking motion possible. When the seat is harnessed onto the swing frame, it can move at various speeds in a swinging motion.
Features of a Rocker Swing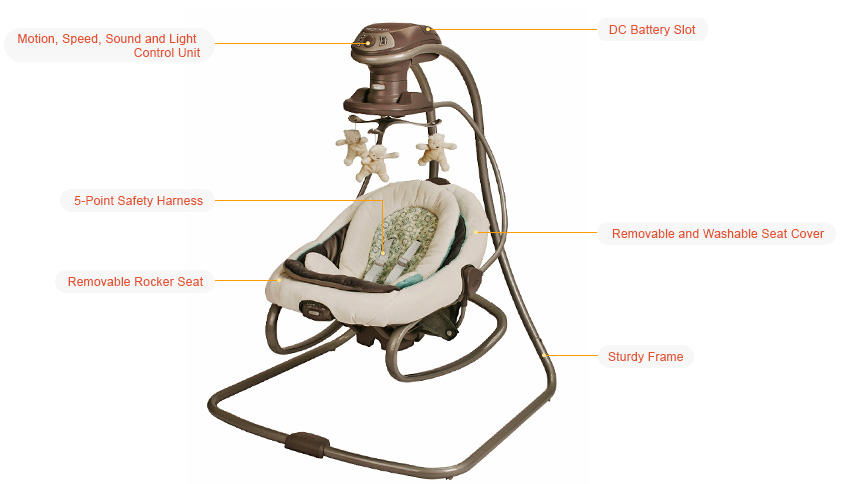 Rocker Swing
Must Haves
Removable Rocker Seat: After detaching from the swing frame, the seat converts into a rocker, as the base of the seat frame allows rocking motion.
DC Battery Slot: The battery-operated swings work cordless and offer portability.
Motion, Speed, Sound and Light Control Unit: Most baby swings offer a control panel which allows motion, speed, sound and light settings in accordance to your baby's preference.
5- point Safety Harness: To keep the baby secured in the swing seat.
Removable and Washable Seat Cover: To maintain hygiene, just in case baby throws up or spills foods and liquids.
Sturdy Frame: To ensure even weight distribution of the growing child and allow for some safe movement within the harness.
Good to Haves
AC Adapter: For a battery-free operation.
Mobile Toys with Light: Felt or cloth toys for the baby's entertainment and stimulation.
Canopy: Provides shade if the baby wants to take a nap.
Pros and Cons of a Rocker Swing
| | |
| --- | --- |
| Pros | Cons |
| Rocker swings offer a versatility of usage – If babies want to swing excitedly, they can swing; if they want to rock gently, they can rock too. | Babies can become increasingly dependent on their rocker swings to go to sleep and relax. |
| They are easy to handle and highly portable. | Their weight specification usually restricts their use. Babies between 2.5 to 11kg can safely rock or swing in them. |
| Built-in music tracks and toy accessories can help babies spend a lot of creative time in their rocker swings. | The swing setting consumes a lot of power and may use up an average set of batteries in about a week's time. |
| Economical buy: A 2-in-1 product – a cradle and a swing. | The constant rocking or swinging motion may calm colicky babies, but they might take longer to develop motor functions if they spend excessive time in their rocker swings. |