10 Best Baby Laundry Detergents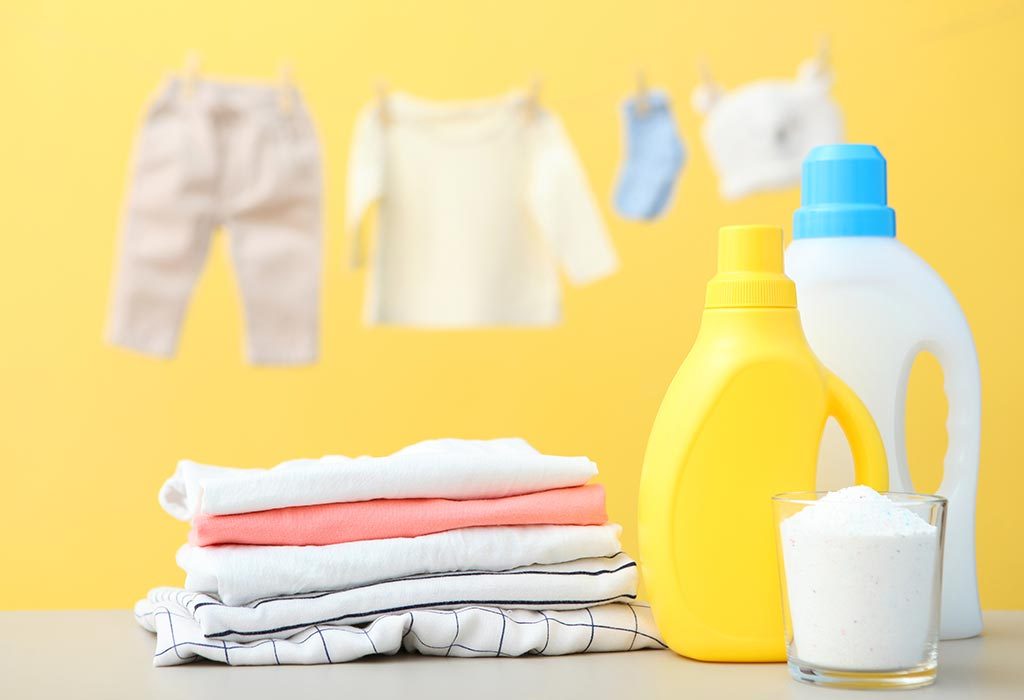 As a new parent, you're definitely accustomed to handling baby rompers, bodysuits, mittens, bonnets, etc. on a daily basis. Baby clothes are surely cute with their tiny sizes and adorable prints, and dressing your little one is, hands down, one of the best parts of parenting. But, we're pretty sure the same can't be said about the endless piles of baby laundry!
Video: 10 Best Baby Laundry Detergents that are Gentle on the skin
Between spit up and foods stains, keeping your baby's clothes clean is no mean feat. You'll need a laundry detergent that gets the work done, but that's also safe on your baby's soft and sensitive skin. If you're not sure where to begin, we've rounded up some of the best detergents for baby clothes to help you find the perfect one.
List of Top 10 Laundry Detergents for Baby Clothes in India
Here are some of the bestselling baby laundry detergents that you can consider.
1. Babyhug Plant Based Disinfectant Liquid Laundry Detergent
Babyhug laundry detergent is the go-to choice for baby detergents due to its natural plant formula, which is mild on your baby's clothes, but tough on stains.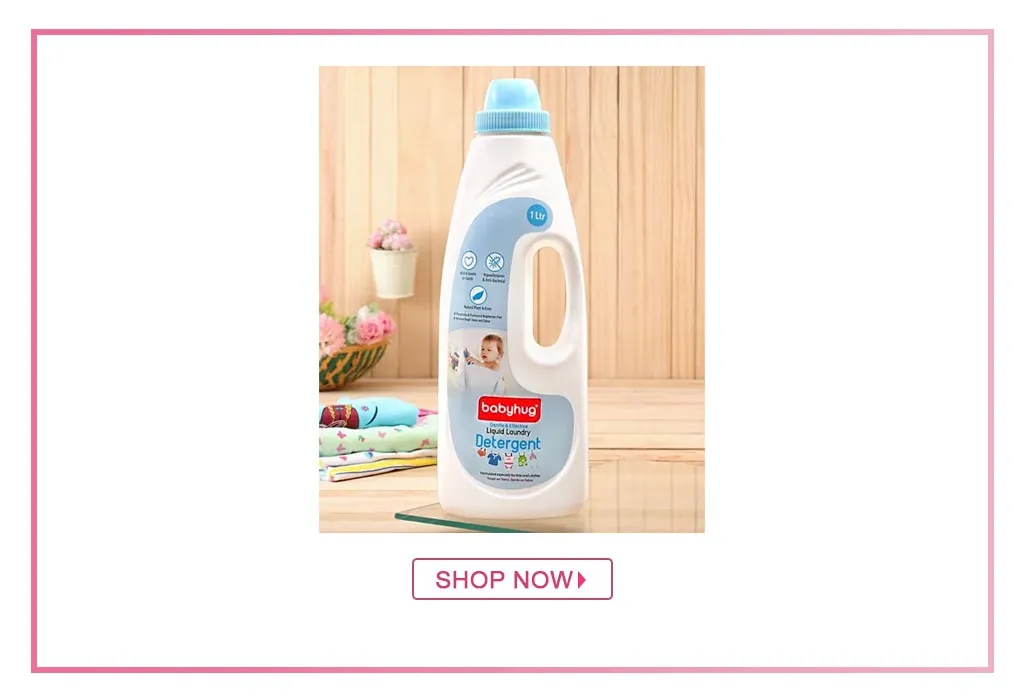 Product Description
This liquid laundry detergent is antibacterial, hypoallergenic and natural. It efficiently and quickly cleans out dirt and grime without affecting the fabric, thus ensuring the fabrics don't cause irritation and other problems on your baby's sensitive skin.
One to two tablespoons of this liquid detergent is enough for one bucket, making it an economical choice!
2. Himalaya Gentle Baby Laundry Wash
The Himalaya laundry detergent is enriched with soap nut extract that is known for its stain removal properties, thus getting rid of stains and odours effectively.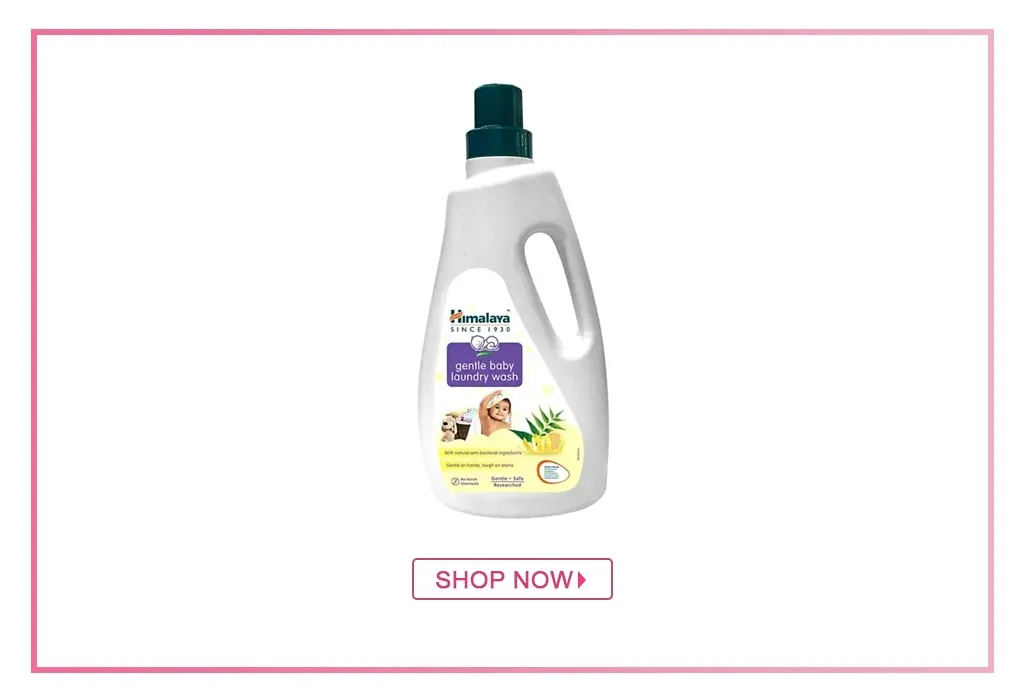 Product Description
The laundry detergent is specially formulated with antibacterial herbal actives and natural clenching agents that are effective but gentle on your baby's clothes. The antibacterial properties of Lemon, Geranium and, Neem effectively sanitize the baby's clothes. This detergent maintains the fabric's softness without leaving any residue.
3. Mee Mee Baby Laundry Detergent
The Mee Mee Baby Laundry Detergent is biodegradable, and hence, is the best option if you're looking for an eco-friendly detergent.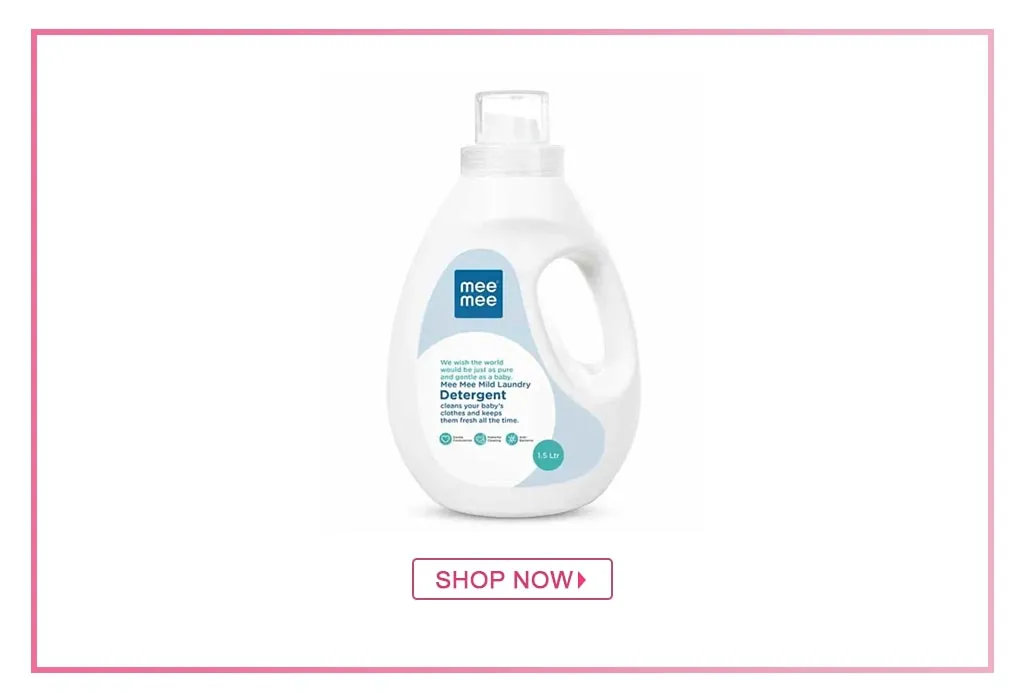 Product Description
This detergent has been specially formulated for washing baby laundry and doesn't contain artificial colours and harsh chemicals. The detergent's antibacterial property keeps your baby protected from harmful bacteria. The detergent produces a whitening effect that keeps the baby's clothes as bright as ever!
4. Mamaearth Plant Based Baby Laundry Liquid Detergent
Mamaearth's plant-based detergent is the perfect solution for your baby's clothes. It is made up of bio-enzymes and a plant-based formula which makes it completely safe for your baby's health.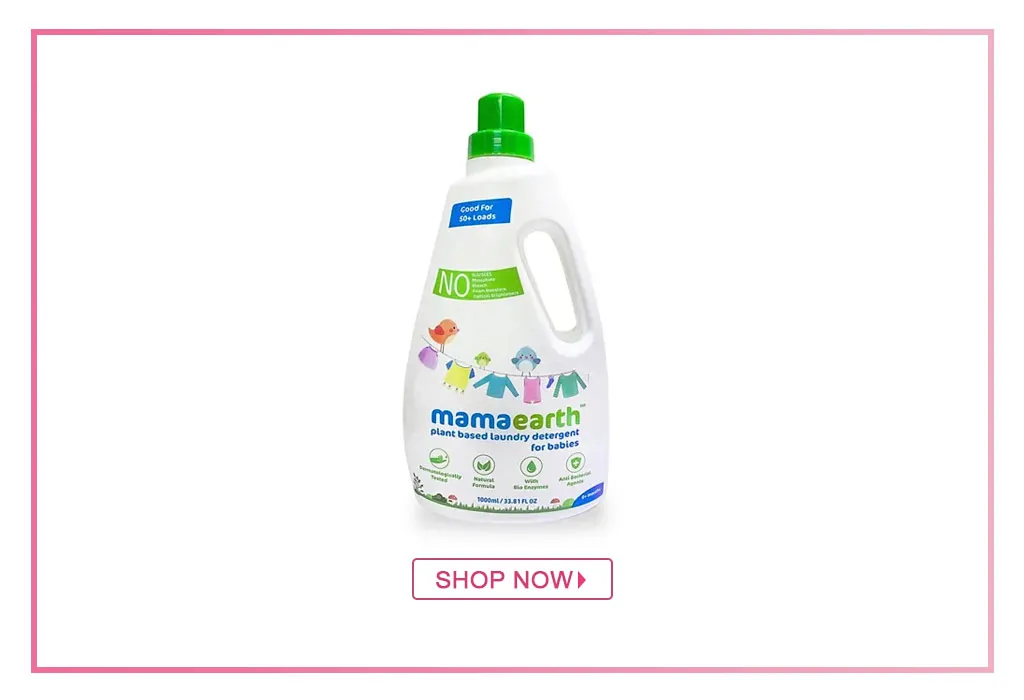 Product Description
It is an antibacterial detergent which ensures that the washing of clothes removes all the disease-causing germs and bacteria. The bio-degradable elements in the detergent do not cause any harm to the environment. It is dermatologically tested and is free from any harmful components such as paraben, sulfates, bleach, and phosphates. The best part about the detergent is that it doesn't leave behind any residue after washing.
5. Pigeon Liquid Laundry Detergent
The Pigeon laundry detergent is formulated from the purest of products that will help wash your baby's clothes with ease.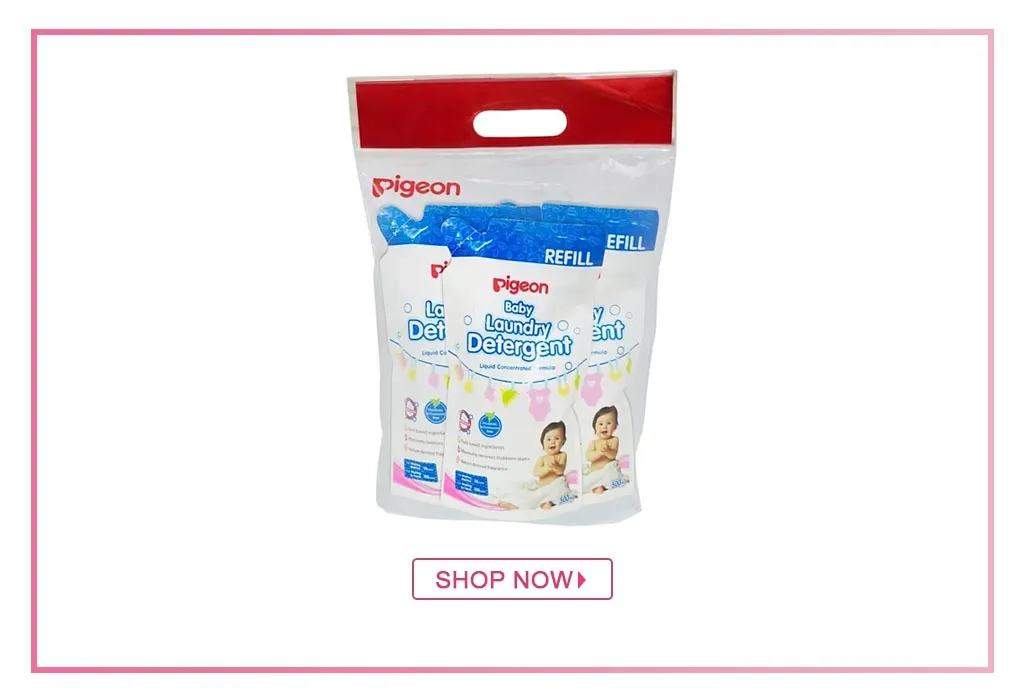 Product Description
The detergent helps remove stubborn stains without any bleaching, thus keeping the colour of your baby's clothes intact. The antibacterial formula kills 99.9% of bacteria on the baby's clothes. It removes all dirt and stains on the clothes effortlessly, leaving them spotlessly clean. The concentrated formula makes the detergent economically-feasible as only a small amount is needed for each wash.
6. Farlin Baby Clothing Detergent
The Farlin Baby Clothing Detergent is specially created keeping your baby's health and hygiene in mind.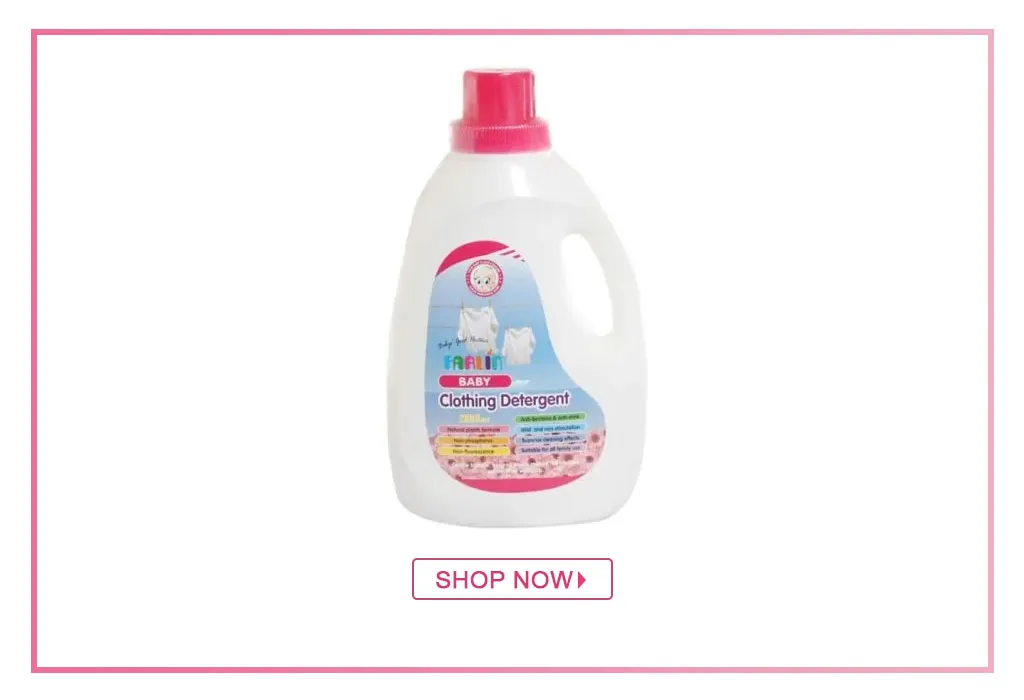 Product Description
The fluorescent and phosphorus-free baby laundry detergent contains a natural plant-based formula that is completely safe for your baby and cleans out tough stains and dirt effectively. The unique anti-stink formula ensures that your baby's clothes smell fresh all day long. The best part about using the detergent is that the clothes don't look worn out even after multiple washes.
7. Mother Sparsh Plant Powered Laundry Liquid Detergent
Mother Sparsh laundry detergent is an organic blend of plant extracts, organic herbs and essential oils which keep the laundry fresh for longer periods of time.
Product Description
With ingredients like Eucalyptus oil, Neem and Aloe Vera extracts, and bio enzymes, this laundry detergent has antibacterial properties that eliminate germs, bacteria and microbes which result out of food spills, dirt or sweat. The detergent is dermatologically tested and has been proven safe for washing your baby's delicate clothes.
8. Rustic Art Little Laundry Powder
The Rustic Art Little Laundry powder is one of the best options in soaps to wash baby clothes if you're looking for a product that is handmade and vegan.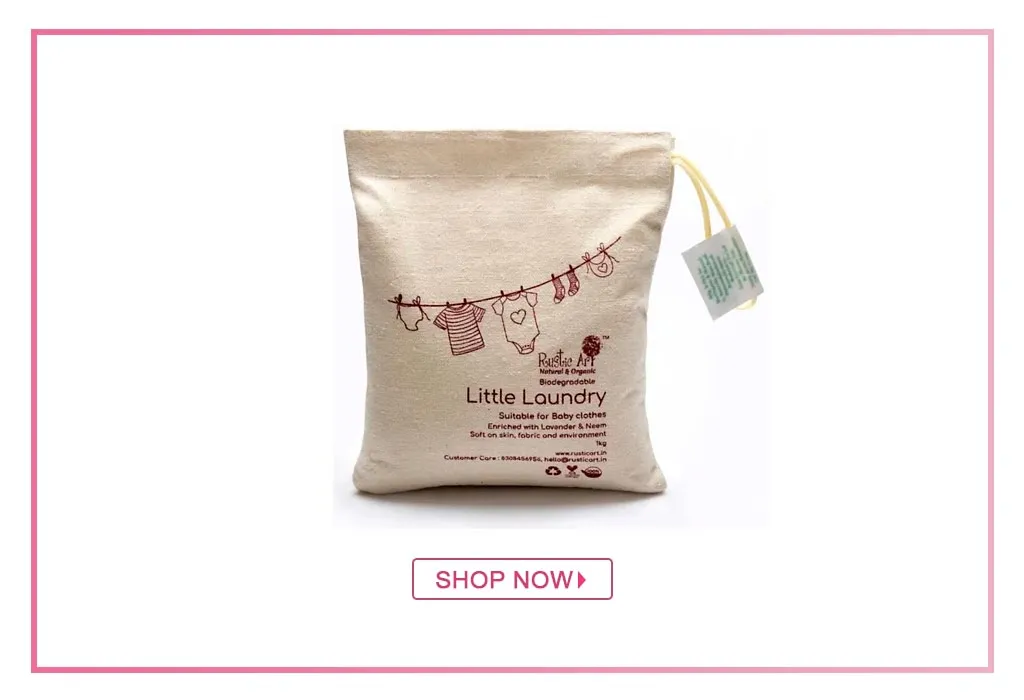 Product Description
The laundry powder contains Lavender essential oil which is known for its anti-fungal property. It has double the quantity of Neem and Coconut extracts which keep the rash-causing bacteria in check. The absence of bleach, artificial brighteners, fillers, fabric softeners, enzymes, fragrance, and foam boosters, is what sets this detergent apart from most laundry detergents available in the market.
9. LuvLap Liquid Laundry Detergent
This is a mild and gentle laundry detergent that eliminates tough stains and prevents the dirt from re-depositing.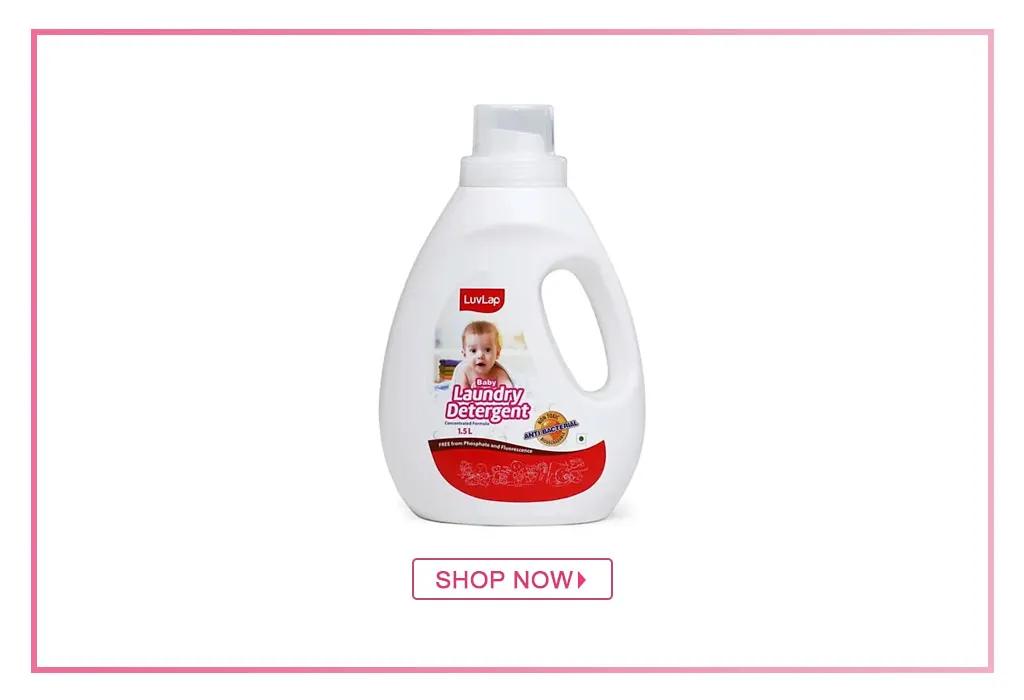 Product Description
The Luvlap baby liquid detergent will leave your little one's clothes bright, soft and fragrant. It is specially formulated with natural ingredients and hence doesn't cause irritations on your baby's skin. The Advance Cationic Softening Factor of the detergent helps the wet clothes give off vapour instantly and thus dry with ease due to the anti-mildew factor.
10. Chicco Laundry Detergent Fresh Spring
This detergent has your back if you're looking for a product that is completely safe to use on your baby's clothing and delicate enough not to cause any skin irritation.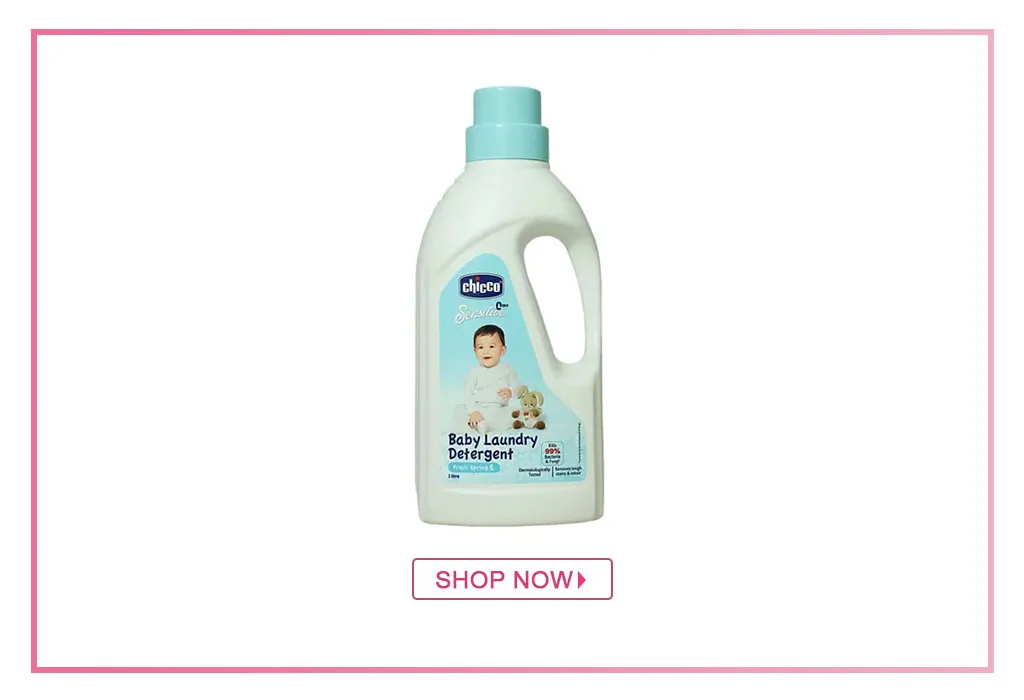 Product Description
The Chicco laundry detergent is dermatologically-tested and is biodegradable in nature. It is free from Fluorescence, Phosphorous, brighteners and colourants. This hypoallergenic detergent doesn't leave any residue after washing. Post wash, you'll be left with baby clothes that are clean and have a delicate fragrance!
FAQs on Baby Detergent
1. Is baby detergent safe for newborn's clothes?
Babies often have strong reactions to dyes and perfumes that are present in traditional laundry detergents. Baby-specific laundry detergents, on the other hand, are free of such harmful phosphates, dyes, phosphates, and chemicals. Thus, baby detergents are safe to use on newborn's clothes and are in fact, critical when washing baby clothes and other items, in order to avoid adverse skin reactions caused by harsh generic detergents.
2. When should you stop using a baby detergent?
It is recommended to use baby laundry detergents for at least a year if your baby has sensitive skin. After that, you can transit to using regular detergents. Even then, ensure that you do not use detergents that are harsh and can damage the fabric of your baby's clothes.
So, these are some of the best detergents to wash your baby's clothes. Select the best option that you feel will suit all your requirements. No matter what detergent you choose, don't forget to follow the instructions on the packaging and also check the label on your baby's clothing for any special washing instructions.
You May Also Like:
10 Best Disinfectant Cleansers for Baby Bottles, Accessories & Vegetables
Also Read:
Washing Your Baby's Clothes – How to do it Rightly
No More Tough Stains on Your Baby's Clothes – Here's How!