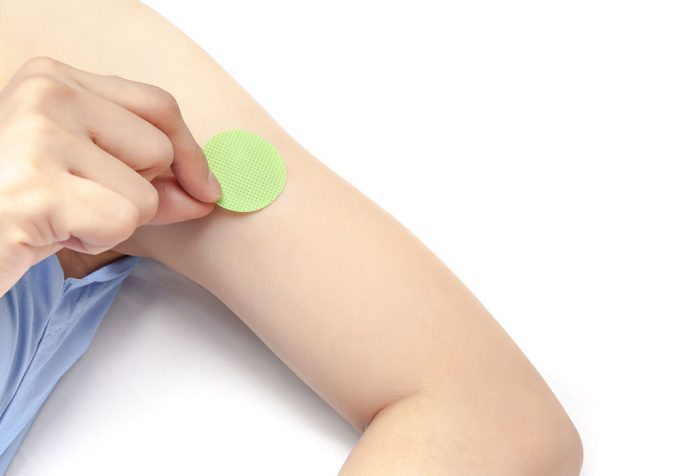 Last Updated on
Dealing with mosquitoes, especially when there are children around, is not an easy task. While you may be at your wits' end searching for a solution, it's important to make an informed decision while selecting a mosquito repellent, as it has to be safe and effective.
Video: 9 Best Mosquito Repellent Patches for Kids
Apart from mosquito repellent lotions and creams, many parents are now turning to mosquito patches that are designed to be stuck on to the child's clothing, cot or stroller. And why not? They're more convenient to apply than the other topical products and easier to take along. Read on, if you have been searching for the best mosquito repellent stickers for kids.
List of Top 10 Mosquito Repellent Patches for Children
Here's our pick of the top ten mosquito patches for toddlers.
1. Babyhug Waterproof Natural Mosquito Repellent Patches
The Babyhug natural mosquito repellent patches are 100% natural and are DEET-free. As they are waterproof, they are ideal for use at outdoor locations like parks and gardens.
Product Description
These patches are 100% safe for the baby and can be used by sticking it on clothes, beds, table, bags, pram, bags, etc. With up to 12 hours protection, these patches safeguard infants, toddlers, kids, and adults against mosquitoes that spread Dengue, Malaria and Chikungunya. The natural plant-based ingredients like Citronella, Eucalyptus and Lemon Grass oils give a fresh and pleasant fragrance while effectively repelling mosquitoes.
2. Good Knight Mosquito Repellent Patches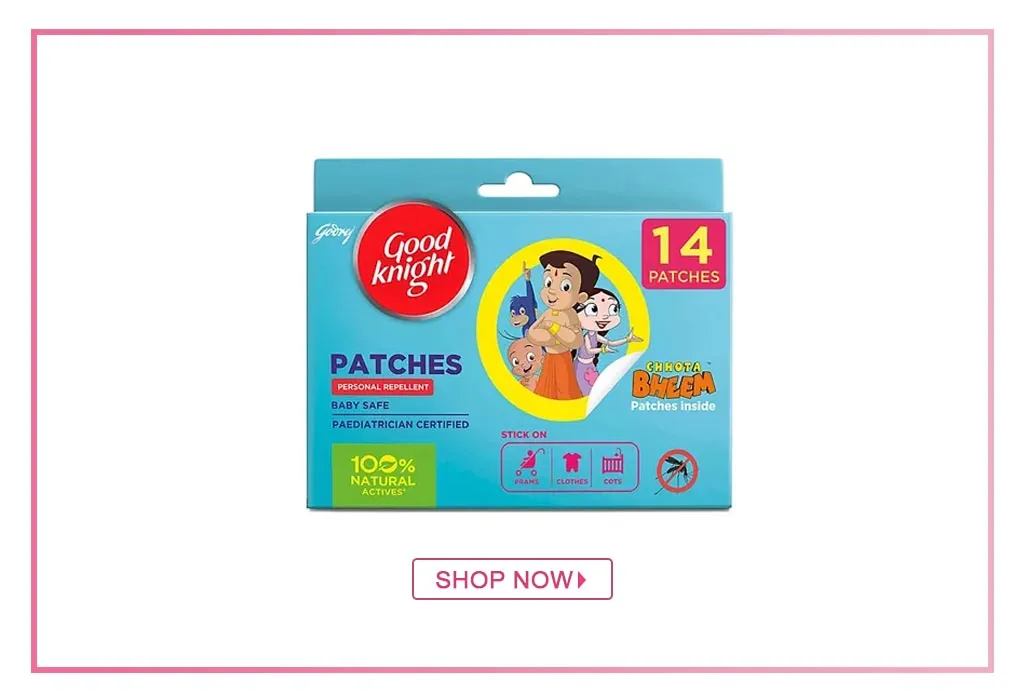 The Good Knight mosquito repellent patches consist of 100% natural active ingredients that are safe for kids. These patches provide protection for up to eight hours outdoors!
Product Description
Loaded with the goodness of pure natural oils, these patches are safe for babies. The superior quality of glue and fabric used in the patch ensures no irritation or stains during removal. For newborns to two-month-old babies, the patch can be applied on prams, strollers or cots. For babies older than two months, the patch can also be applied on clothes as directed.
3. Mamaearth Natural Repellent Mosquito Patches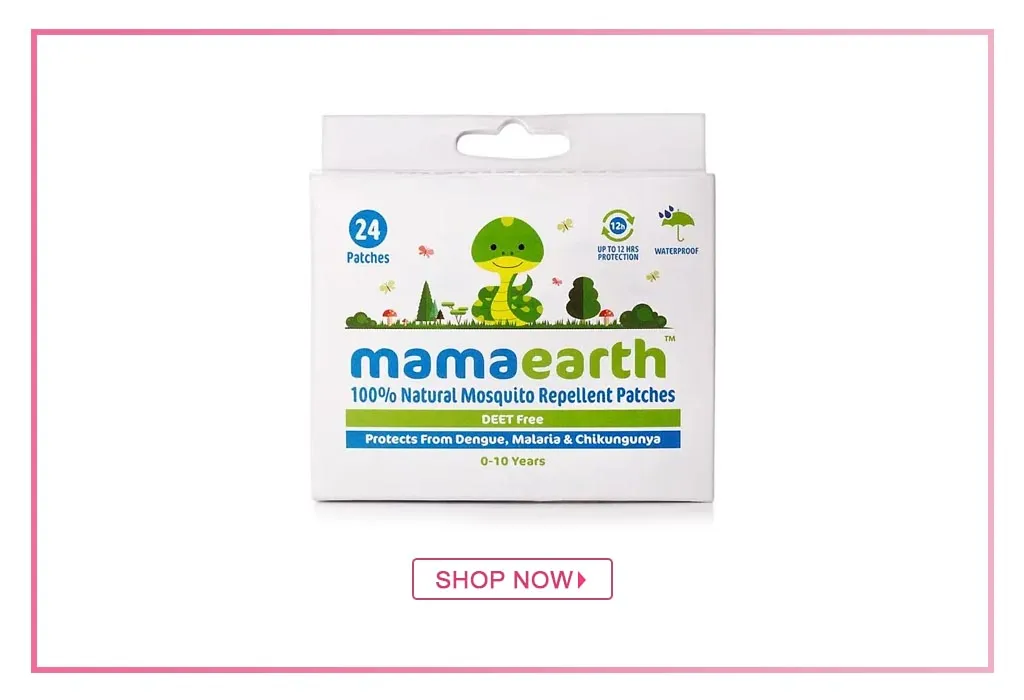 The Mamaearth mosquito repellent patches provide an all-natural defence against Malaria, Dengue, and Chikungunya. This non-toxic feature makes the patches safe for the entire family, including toddlers and babies.
Product Description
The waterproof patches are ideal for outdoor use, and they can be stuck on prams, cots, clothes, etc. With effective protection against mosquitoes for up to 12 hours, these patches are suitable for kids from 0 to ten years of age.
4. Runbugz Mosquito Repellent Patches
Specially designed for children and babies, the Runbugz mosquito repellent patches can be safely stuck on to your kids' clothes to protect them from mosquitoes.
Product Description
These patches are effective in repelling mosquitoes for up to 24 hours, thus making it the perfect choice for parents who are looking for mosquito repellents with long-lasting effects. The patches are available in different attractive colours and designs, which adds to the appeal. The waterproof feature ensures that it's perfect to use for outdoors too.
5. Aringel Second Generation Herbal Mosquito Repellent Patch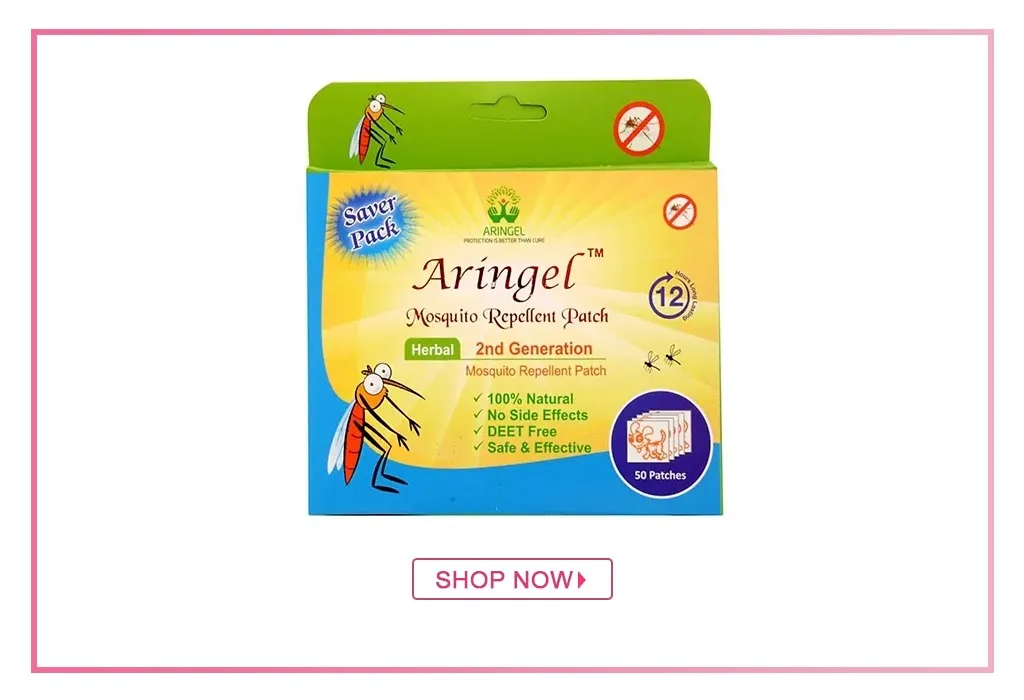 The Aringel mosquito repellent patch is a 100% natural product that offers up to 12 hours of protection against mosquitoes.
Product Description
If you're looking for a non-toxic alternative to messy sprays when it comes to mosquito repellents, then the Aringel patches are a perfect choice. These patches are DEET-free, and thus safe to use for your little one. The natural Citronella oil ensures all-round protection for the wearer.
6. Bodyguard Premium Natural Anti Mosquito Patches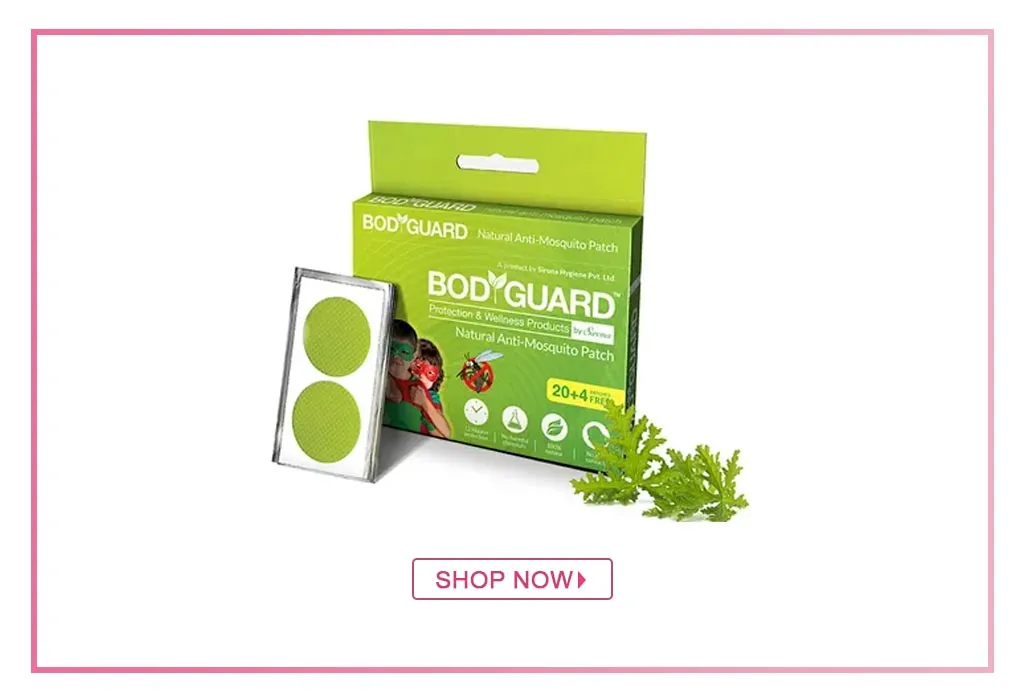 The Bodyguard Premium Mosquito Patches are made in India and are 100% natural and safe for children.
Product Description
These patches are the perfect blend of herbal extracts and mosquito repellent oils like Eucalyptus, Mint and Citronella, and offer protection against mosquitoes for up to 12 hours. As they are free from DEET and other harmful chemicals, they pose no threat when used. If you're looking for a mosquito repellent patch that is easy to use and is perfect for indoor and outdoor activities, then this is one of the best options!
7. LuvLap Natural Mosquito Repellent Patches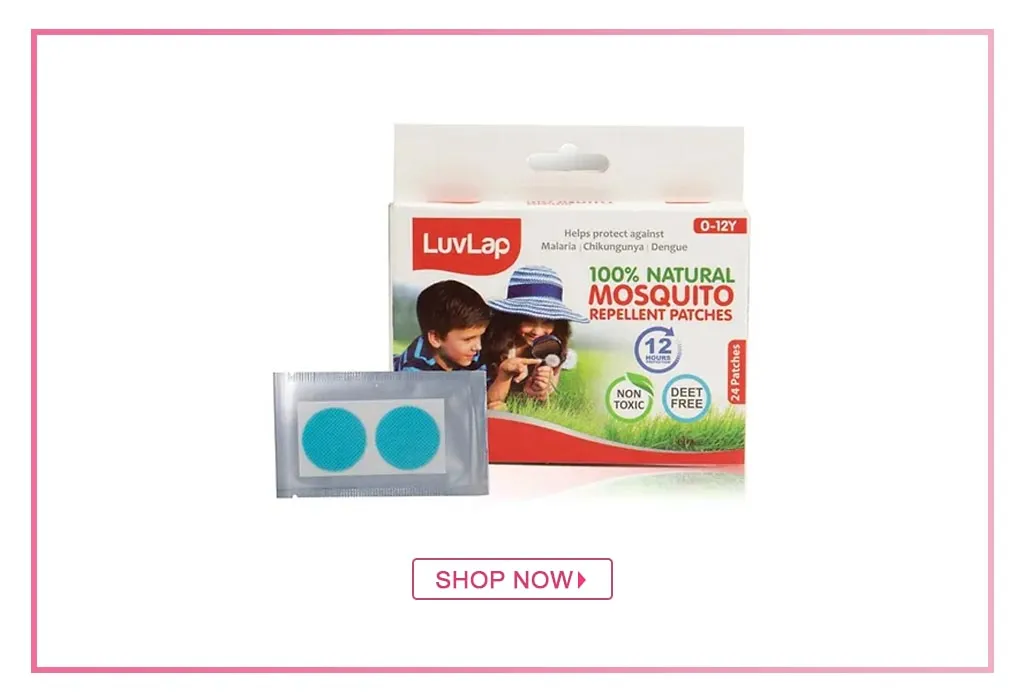 Ensure that your toddler has a fun playtime with LuvLap's Natural Mosquito Repellent patches which offer protection up to 12 hours!
Product Description
The Luvlap mosquito patches are non-toxic and are made from plant-based essential oils like Lemongrass, Eucalyptus and Citronella. This natural formula ensures your baby stays protected from deadly diseases like Dengue, Chikungunya and Malaria. The patches can be stuck on your child's clothes, pram, cot, and schoolbag, making it convenient to use.
8. Safe-O-Kid Ayurvedic Mosquito Repellent Patches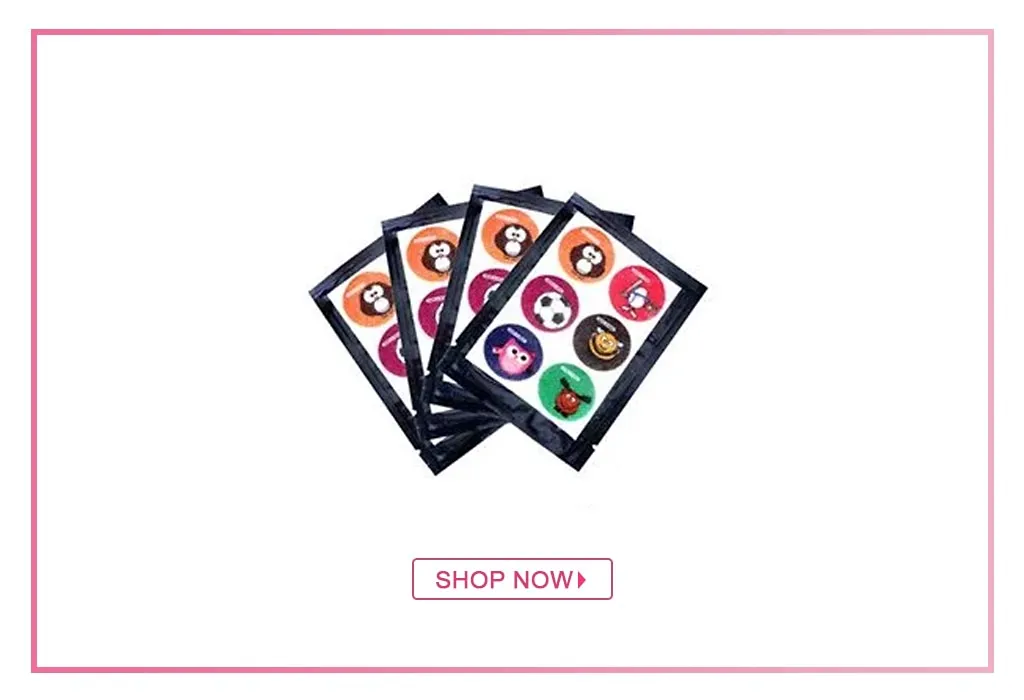 The Safe-O-Kid mosquito patches are designed especially for kids. The USP of these patches is the 'Unique Press & Activate' technology for longer life.
Product Description
The topnotch quality of the adhesive material ensures that while the patches stick well, they don't leave any stains on the fabric when removed. These weather-proof patches come in different attractive designs that make it appealing for children. International experts have given their approval after testing the patches for their zero side effects, and long-lasting protection against mosquitoes.
9. Moskito Safe Scare Away Natural Mosquito Repellent Patches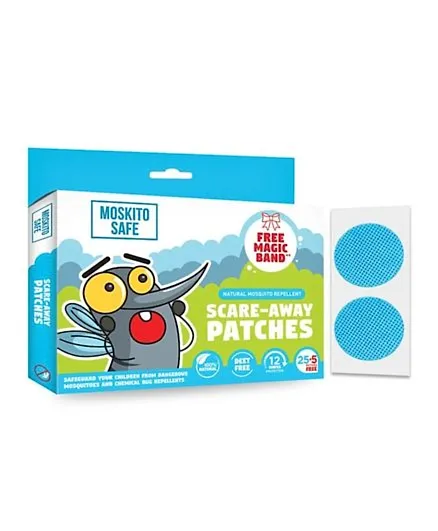 Do away with the fuss of applying mosquito repellent creams, gels or lotions, with the easy to use Moskito Safe Scare Away Patches.
Product Description
These repellent patches are 100% natural and contain active ingredients like Lemongrass oil, Citronella oil, and other essential oils. As they are DEET-free, they are absolutely safe for use. All you have to do is peel off a patch, and stick it wherever you want – on clothes, stroller, bags, and cots.
10. Buddsbuddy Mosquito Repellent Patch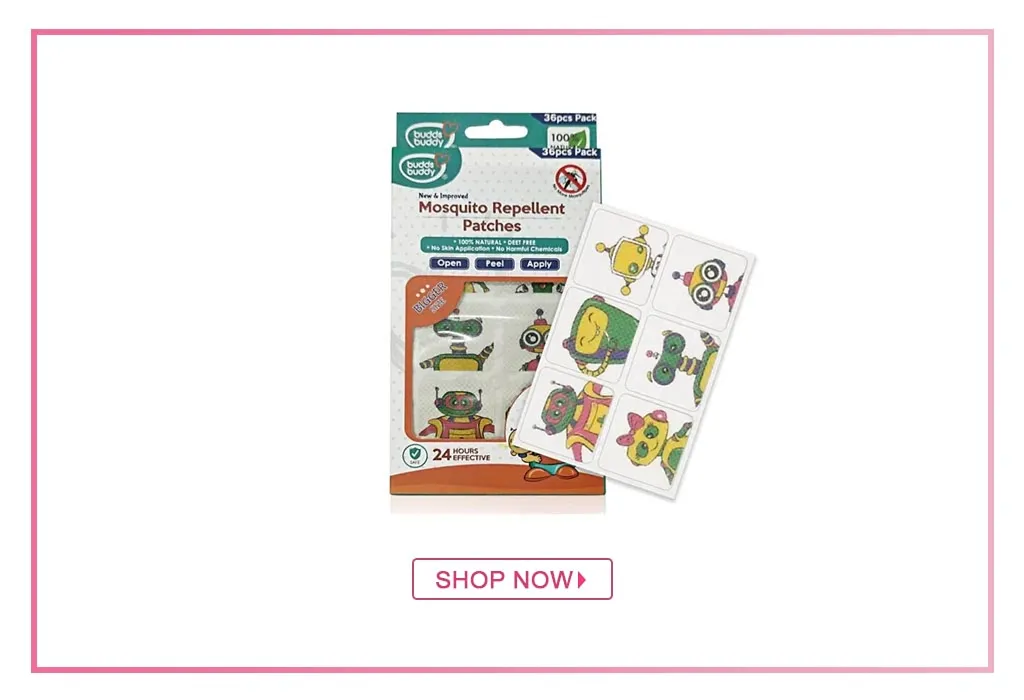 The BuddsBuddy mosquito repellent patch is one of the best options when it comes to protecting your child from harmful mosquitoes.
Product Description
These patches are known to last for up to 12 hours, so there's no need to worry about those pesky mosquitoes after placing the patch wherever you want! As the patches are non-toxic, natural, and have no side effects on your little one's skin, they are a completely safe option to consider. This choice of mosquito repellent is suitable for children from three to six years of age.
FAQs on Mosquito Patches for Babies
1. Is a Mosquito Patch Safe for Babies?
Yes, mosquito patches are safe to use on babies, as they generally have the same ingredients as in lotions. Keep in mind that the patch should never be stuck to the child's skin. It should be stuck to an object that is close to the baby yet far from his reach. It is recommended to use the patch on cots and strollers for babies younger than two years. The best patches to use are those that have natural ingredients like Citronella, Eucalyptus, Lemongrass, etc. in them. Make sure the mosquito repellent patch does not contain any harmful chemicals like DEET, sulphates, parabens, alcohol, or artificial fragrances.
In addition to using a good mosquito repellent patch, there are other things you can do to reduce the chances of your little one getting bitten by mosquitoes. These include covering the skin as much as possible and avoiding places which can be breeding grounds for the mosquitoes.
We hope this article helps you make the right decision while selecting the best mosquito repellent patch that's safe for babies and kids!
You May Also Like:
8 Best Mosquito Repellent Creams and Gels
10 Best Mosquito Repellent Sprays For Kids
Also Read:
10 Effective Remedies to Get Rid of Mosquitoes at Home
5 Ways Mosquito-Borne Diseases Could Harm your Child's Overall Development