7 Best Tricycles for Babies, Toddlers and Kids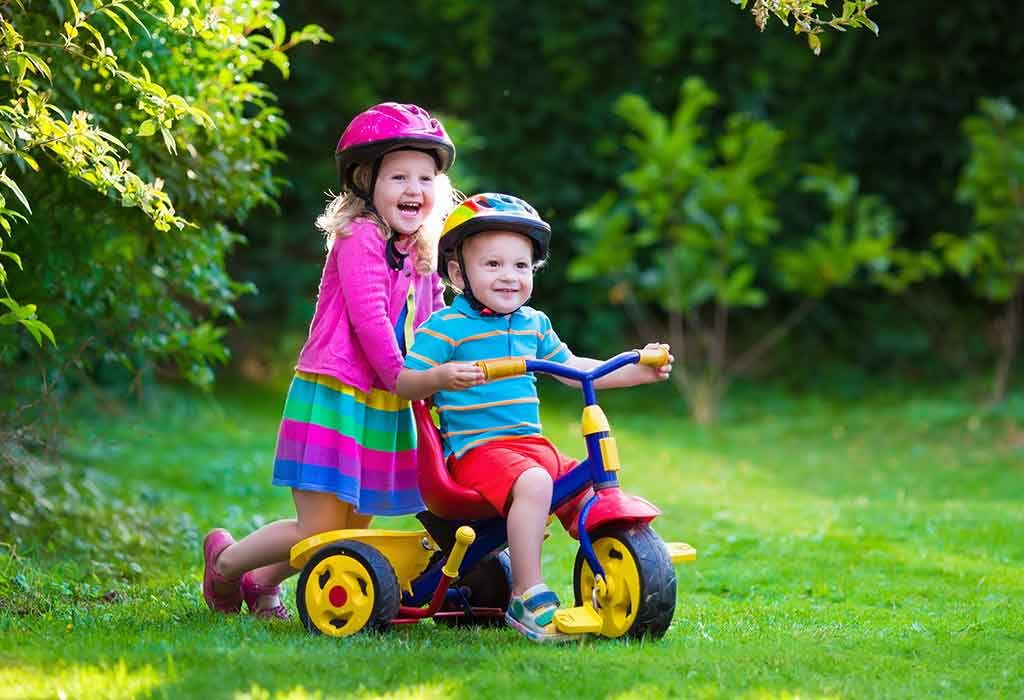 In this Article
Toddlers never stop moving; they're always on the go. And, much sooner than you can expect it, they're all ready for their own set of wheels! That's when a tricycle, or a trike, comes in handy. Tricycles are a fun way to help children build key coordination skills. These trikes are, as you would call it, a 'childhood staple' in many households.
There's something about the stability of trikes, as well as the pedalling that kids love, and they just can't wait to hop on! Toddlers love a tricycle that's colourful and flashy, but for their age, it's vital to have something that's durable and can withstand their boundless energy. However, finding the best tricycles for kids may be easier said than done. You would want the perfect balance between a fun tricycle and one that's also sturdy and safe. Check out our list of the best toddlers tricycles below, and find one that is perfect for your child!
List of Top 7 Tricycles for Toddlers & Kids
We've rounded up some of the best baby tricycles that will help you make the right decision.
1. Babyhug Musical Froggy Tricycle With Front & Rear Basket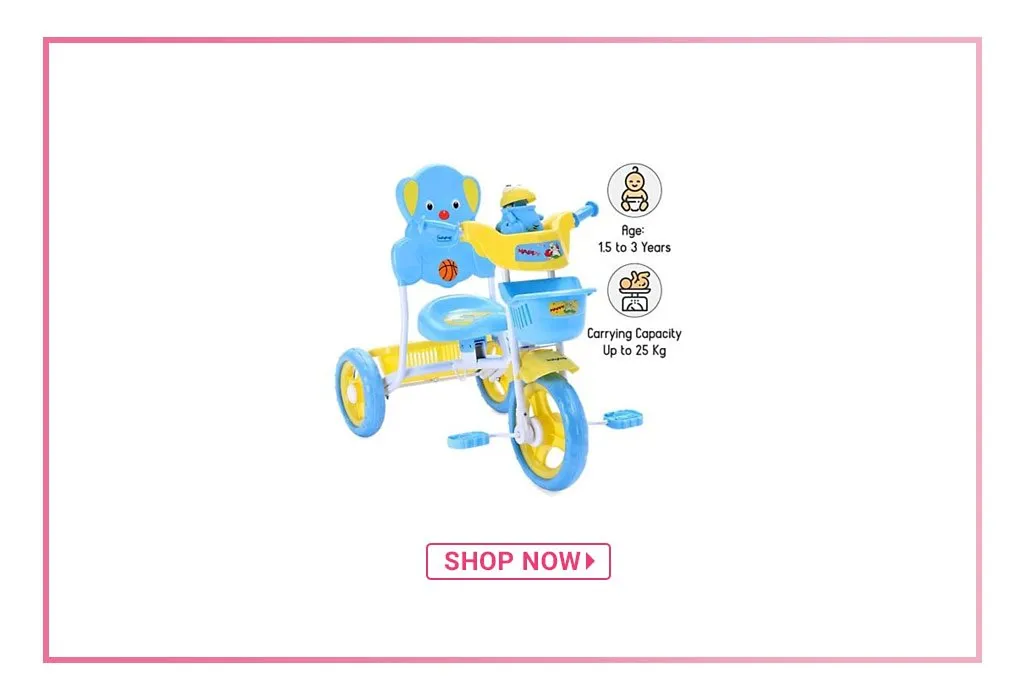 Your child will adore this tricycle, as it comes with a musical toy in the front!
Why You'll Like It
The Babyhug tricycle boasts of a seat with a high backrest, thus ensuring your little one is comfortable at all times. A front basket has been provided to keep your child's toys and other items. But that's not all! The tricycle also has a rear basket, which provides additional storage space. The trike, with its attractive design, is fun and easy to ride for your toddler.
2. Fun Ride Viva Tricycle With Rear Basket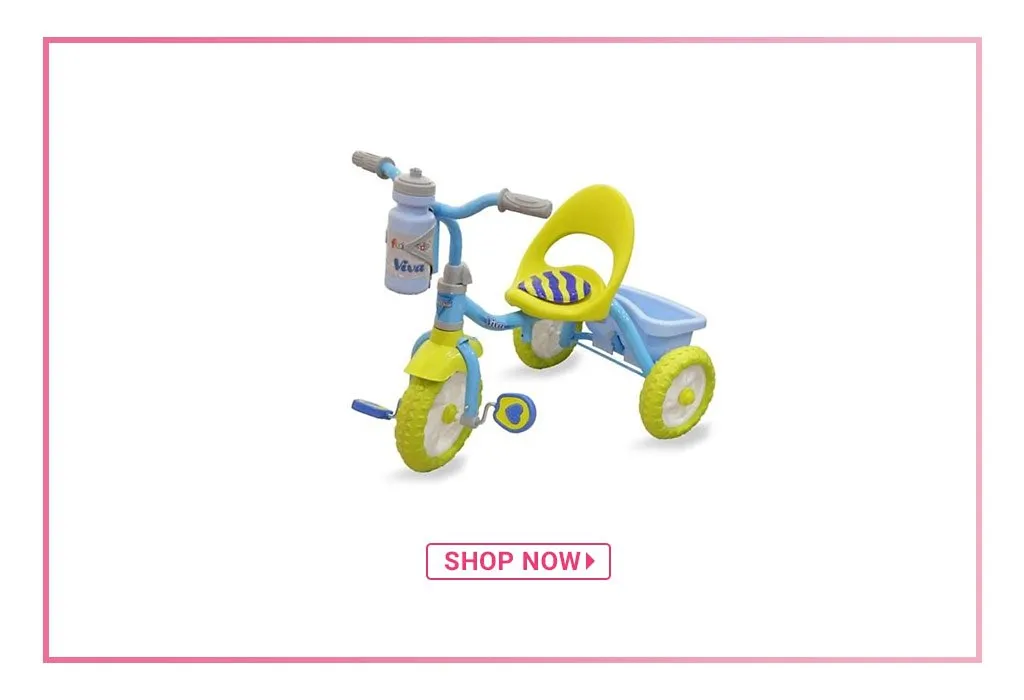 From comfortable handles to a rear basket, the Fun Ride Viva tricycle has everything that a parent is looking for in a trike for their little one!
Why You'll Like It
If you're looking for the best tricycle with large-sized tyres for good stability and balance, then this is one of the best options. Put all your safety concerns to rest, as this tricycle has a high-quality frame which makes it a durable one. A sipper provided at the front of the tricycle will ensure that your munchkin stays hydrated at all times!
3. Babyhug Ranger Tricycle With Rear Storage Basket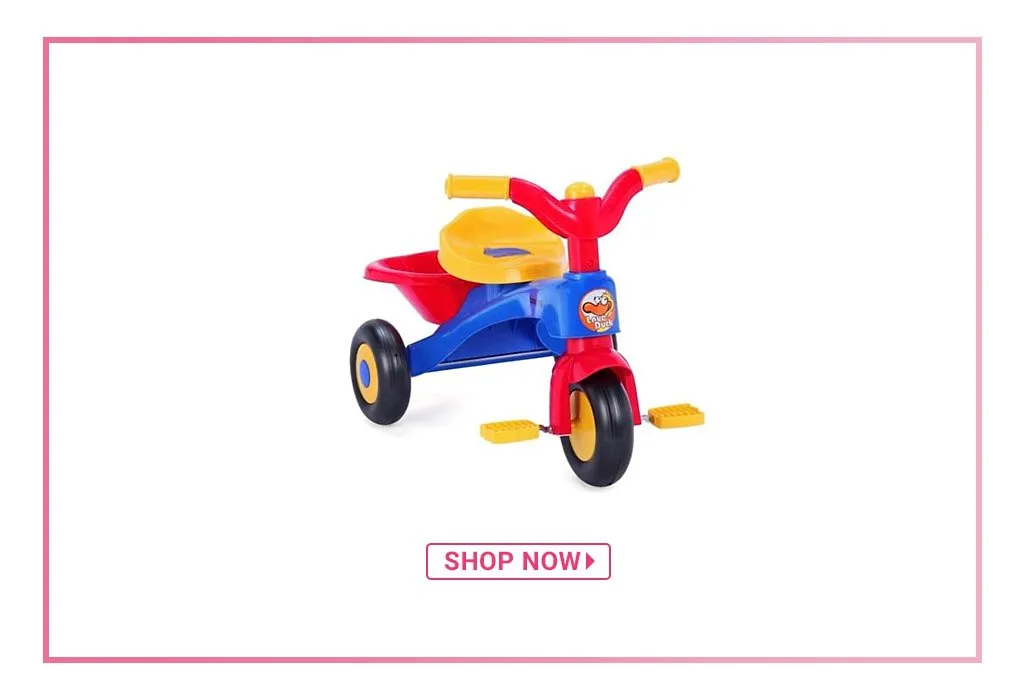 This tricycle is your best choice if you're looking to buy a gift for your little one!
Why You'll Like It
The Babyhug Ranger tricycle has been designed with the utmost care, keeping in mind the baby's comfort. The trike is light in weight, thus making it perfect for both indoor and outdoor playing. The rear storage basket is spacious and perfect for holding your little one's toys or essentials. The tricycle is recommended for babies from one to three years of age.
4. Babyhug Funride Tricycle With Light & Music, & Front-rear Basket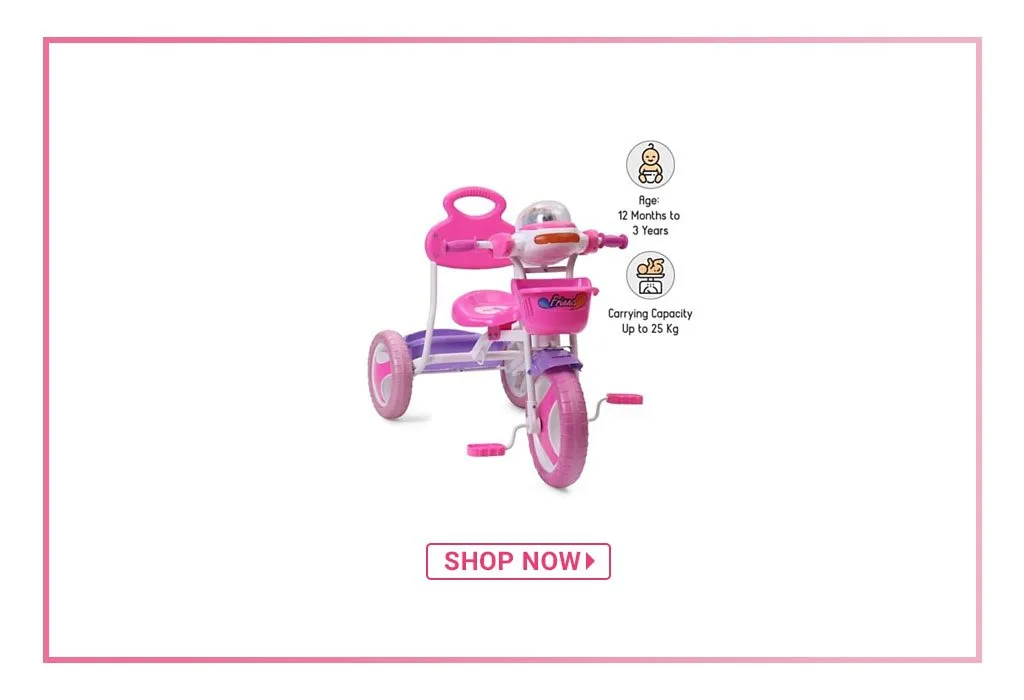 If you're looking for a sturdy and reasonably priced tricycle, the Babyhug Funride tricycle can be your next purchase!
Why You'll Like It
The tricycle comes with battery-operated music function to keep your child entertained while on the go! The trike's sturdy wheels and jumbo front wheel make it really easy to manoeuvre even on uneven and rough surfaces. Opt for this tricycle if you're looking for the best tricycle for a one-year-old!
5. Babyhug Pluto Metal Tricycle With Parent Push Handle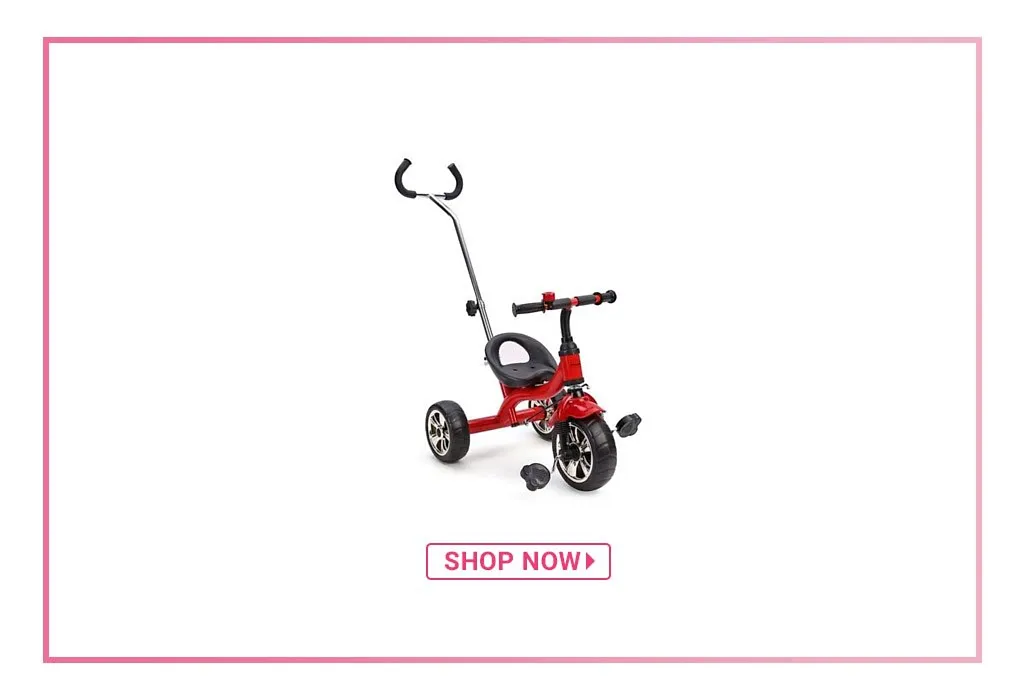 The Babyhug Pluto metal tricycle is one of the best push tricycles you'll find!
Why You'll Like It
One of the main features of this trike is the parent push bar, which enables you to control the tricycle's direction. If you're worried about your child outgrowing his tricycle pretty soon, then you must consider this trike, as it comes with a height-adjustable handle, which is suitable for growing kids. Your child will also love ringing the classic bell on this tricycle!
6. Babyhug Gladiator Metal Tricycle With 360 Degree Rotating Seat & Parent Push Handle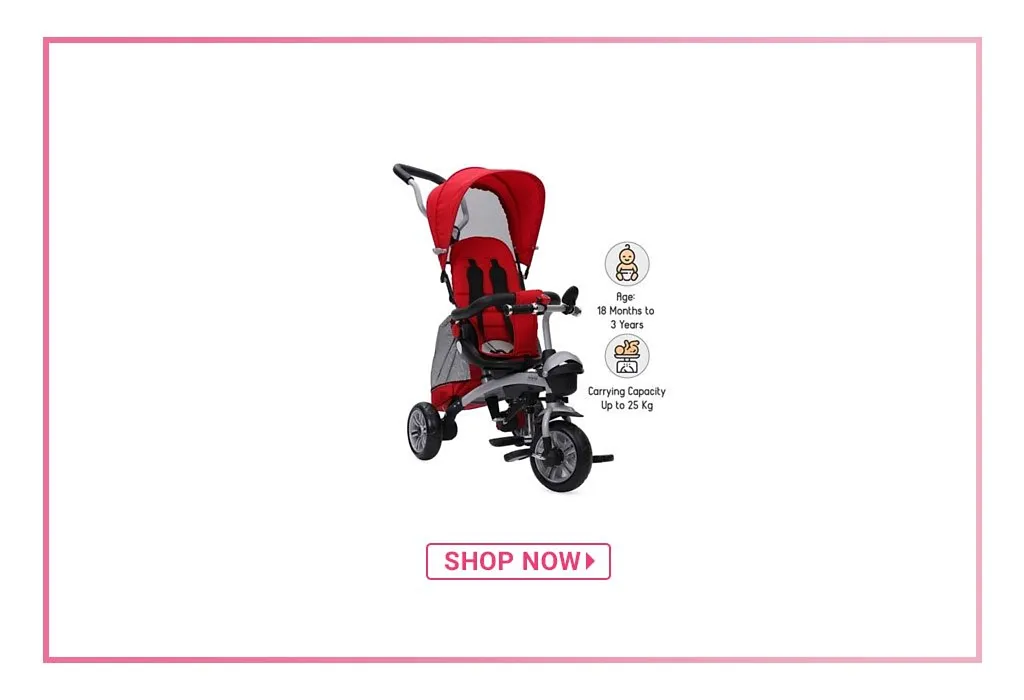 The highlight of this tricycle is that it can also be used as a stroller, making it the best tricycle stroller must-have on every parent's list!
Why You'll Like It
The Babyhug Gladiator metal tricycle comes with an adjustable overhead canopy that offers complete protection against the sun. The large EVA wheels facilitate easy manoeuvring and a smooth ride for your child. Utmost importance has been placed on your little one's safety, as the trike comes with a safety bar to hold on to, and a three-point safety harness.
7. Babyhug Happy Hippo Tricycle With Canopy & Parental Push Bar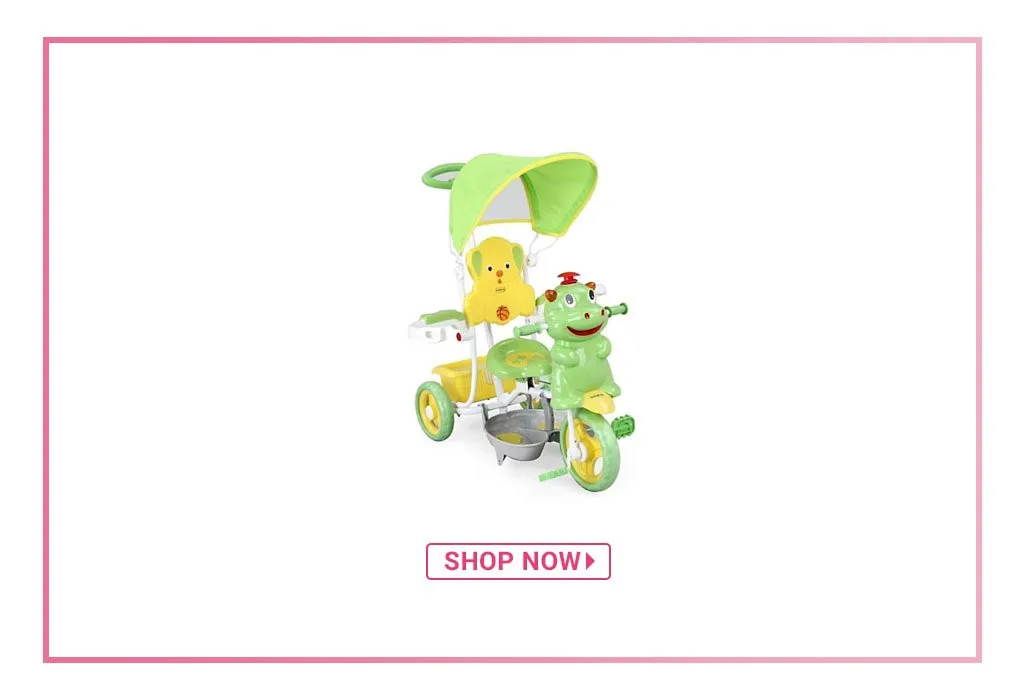 Pamper your toddler, and watch as he zooms everywhere in style with Babyhug's Happy Hippo musical tricycle!
Why You'll Like It
This cute tricycle has an overhead canopy so that your little can enjoy on a sunny day, too! Its mesh window enables you to keep a watch on your child at all times. You can also entertain him with the trike's battery-operated music and lights. A rear storage basket has been provided for keeping toys and other handy items. The tricycle also comes with a footrest, so that your child can rest his feet when tired.
FAQs
1. What is an ideal age for my toddler to ride a trike?
Children can begin to ride tricycles from the age of one up until the age of five. However, as all kids are different, it's important to consider your child's personal development and confidence. Please ensure your child is always supervised by an adult while he's riding the tricycle, and that he's wearing a helmet and safety gear.
2. How is a tricycle different from a bicycle?
A bicycle is a cycle that has two wheels, while a tricycle has three wheels. Your child can ride on a bicycle if he has mastered his riding skills thoroughly. Otherwise, a tricycle will be perfect for him.
3. How does a trike or a tricycle benefit kids?
Riding a tricycle helps develop balance and coordination skills. Kids who spend a lot of time riding tricycles are likely to feel better prepared to get on a bicycle than those who haven't yet learned to steer and pedal. The child can also take the tricycle out to the park, or around the neighbourhood, which is great to practice quick navigation skills. Additionally, as tricycles are easier to balance and ride than the traditional bicycle, the chances of your child getting hurt are much lower.
When your child is ready for a tricycle, check out the best baby trikes given above. We hope you find the best tricycle option for your little one from this list. Remember – safety first, and always have your child wear a helmet!
You May Also Like:
Best Ride-On Toys for Kids
Best Baby Lotions and Creams
Best Face Masks and Face Shields
Also Read:
Things Kids Can Learn By Riding A Tricycle
Best Ways To Teach Kids To Ride a Tricycle
Tips To Consider When Buying a Tricycle