Standard Stroller Buying Guide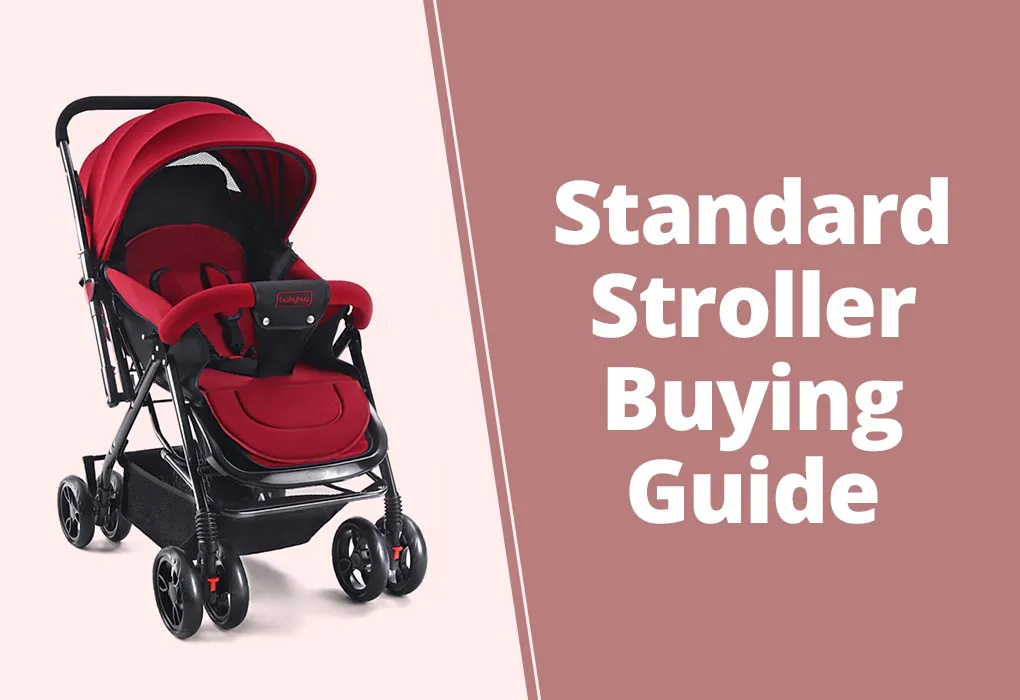 What is a Standard Stroller?
Standard stroller is generally large in size and comes loaded with features. It is quite durable and is designed for everyday use. Many standard strollers are compatible with infant car seats too. The seats are usually wide and cushioned, giving ample space and comfort to your baby. They can serve multiple purposes, such as a travel system, a shopping cart and a high chair. These strollers are the best buy if your use is limited to an evening stroll in the nearby park or shopping mall.
How is a Standard Stroller Useful?
A standard full-size stroller is the big daddy of all the strollers in the market, with the largest number of features available. It is sturdy, easy riding, and comes loaded with baby and parent-friendly features. You can use these strollers right from the baby's initial months up to the time they are too big for it.
Why You Need a Standard Stroller?
You need a standard stroller because-
Your baby is now an 'independent sitter', is curious about all the sights and sounds around and doesn't need to lie in a reclined position anymore in a pram. Outdoor visits in a standard stroller will help your little one to socialize.
Your baby can't walk yet, but is becoming increasingly heavier to carry around. A stroller allows your baby to be secured in a safe carriage while you move around.
Walking can easily tire children. It can put unnecessary strain on their tender feet and legs. Small children can walk only short distances for the first 3-4 years, but that shouldn't stop you from taking them to the mall or for a walk in the park. A stroller is the perfect solution in this case, that provides the child and you with greater mobility, without tiring out your young one.
Standard strollers come with adequate storage space at the bottom, making them ideal shopping companions, while giving your child a safe, comfortable ride.
A standard stroller has the maximum features and is the most comfortable strolling option for your child.
Features List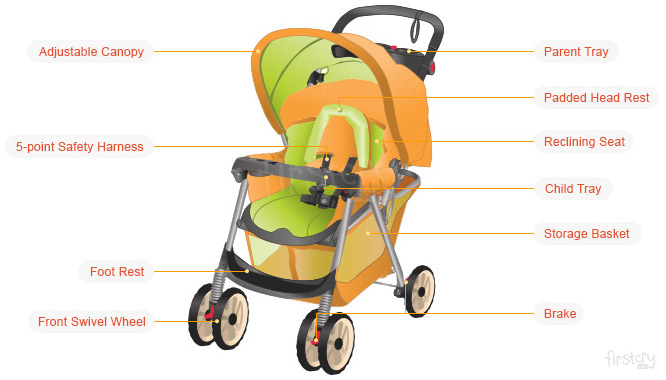 There are a few features to consider when you buy a standard full-size stroller. The 'Must Haves' point to the essential features, while the 'Good to Haves' are add-on features you may or may not choose to install.
Must Haves
An adjustable canopy.
Reclining Seat – Fully reclining position is best for babies who have not developed head and neck support.
3-Wheel System or 4-Wheel System – A 3-wheel pram is lighter and easier to maneuver than a 4 wheel one. This is useful for parents who wish to jog with their newborns in tow. However, the 3-wheel structure makes the pram less sturdy and stable.
Reversible Seat It lets babies enjoy the world or look at you when they are cranky.
Good to Haves
Toy Attachments – To keep your baby entertained.
I-Pad Hookup.
Height-adjustable handle.
Child tray and Parent tray- For easy storage.
Storage Basket – To hold the diaper bag/purse/grocery bags.
A Reversible Handle – That lets babies enjoy the world or look at you when they are cranky.
Pros and Cons of a Standard Stroller
Know the advantages and disadvantages that come with a standard stroller, so you can make an informed buying decision.
| | |
| --- | --- |
| Pros | Cons |
| Comes with plenty of features. | Bulky, feels like moving around furniture. |
| Can be used from childbirth to preschool years. | The stroller might get worn out by the time it reaches toddlerhood and it is not advisable to use a worn out stroller. |
| Is sturdy and very safe for the child. | Assembling can be complex, since there are a lot of parts. Also, moving through narrow doors and spaces would be a problem. |
What to Look for in a Standard Stroller?
We have listed here some pointers you should keep in mind while buying a standard stroller for your bundle of joy-
1. Weight Considerations
Ensure that your baby lies within the recommended weight ranges for the stroller, which usually is up to 22kgs.
2. Adjustability
Check if the seat openings at the front are adjustable, so you can adjust them according to your baby's girth.
3. Transportability
Check if the stroller is relatively easy to fold and fits into your car's rear compartment.
4. Straps
Ensure that the straps are at least 20mm in width.
5. Base
Strollers with wider bases are safer as they prevent children from tipping over when they look out of the sides.
6. Baby Facing Position
Standard strollers will offer you 3 kinds of positions – front facing, rear-facing and reversible.
Rear-facing – These strollers allow children to face you while you are pushing the stroller. This helps with older babies, who are independent enough to sit on their own, but need to face their caregiver for an assurance and protection.
Front-facing – As children grow out of infancy and into toddlerhood, they will be more interested in taking in the surroundings. A front-facing position will help them enjoy their ride in the stroller better.
Reversible – These are strollers where you can change the handle position to make them either front-facing or rear-facing, according to the mood or age of your child.