Jogging Stroller Buying Guide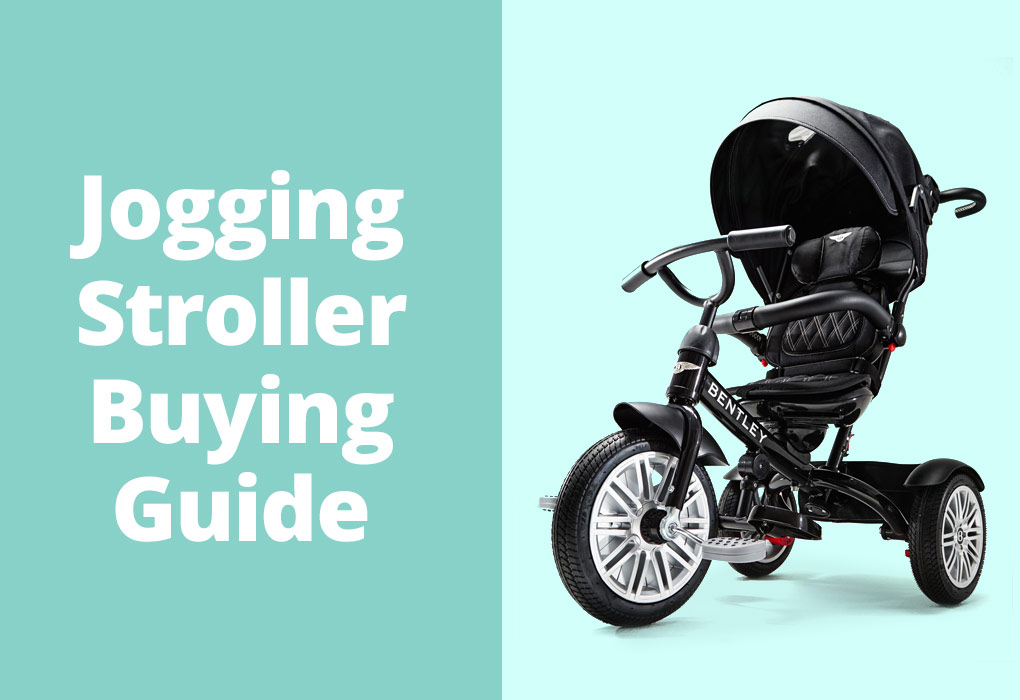 What is a Jogging Stroller?
As the name suggests, jogging stroller is ideal for outdoors. It has three bicycle wheels on a lightweight frame, which makes it sturdy. If you intend to take your child on long walks or uneven trails, or on runs or hikes through the woods, then this is the stroller for you, because it absorbs shocks on rough terrain. In a city environment, jogging strollers can help you navigate over curbs. However, their size and bulk make it difficult to maneuver them up and down the stairs, into elevators, or on crowded supermarket aisles or sidewalks. They also do not fold up as compactly as other models do.
How is a Jogging Stroller Useful?
Traditionally, people have been using a standard stroller to take their child along when they go for a jog. However, with a standard model, you have to be very careful about running surface – you can cover only flat, smooth surfaces, and your baby has to be secured with great care, since the 4-wheel strollers have a tendency to skitter here and there as you run. All these problems are eliminated with a jogging stroller, as it comes with 3 large wheels, shock absorbers and a 5-point harness. These features ensure that your baby stays secure in the stroller, even when you run on rough surfaces.
Why You Need a Jogging Stroller?
You will need a jogging stroller, if –
You want to take your baby out with you for an everyday activity like jogging or brisk walking, and want to make sure that your child is safe as you run.
You are an adventure junkie who likes to go on hikes or treks on rough surfaces, and would like to take your child with you.
Features List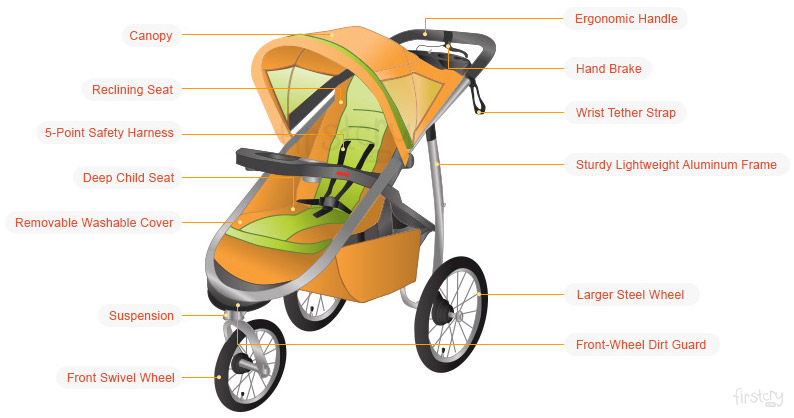 Compiled here are some features you should look for when you buy a jogging stroller. The 'Must Haves' point to the essential features, while the 'Good to Haves' are add-on features you may or may not choose to install.
Must Haves:
Large wheels – for smooth, shock-free ride.
Suspension – Good suspension to provide smooth ride.
Hand Brake.
Tether Strap – Wrist tether strap to control the accidental roll over.
Deep Child Seat – Provides safety in case of collision.
A 5-Point Safety Harness.
Front-Wheel Fender – It keeps dirt, mud, and water from spraying up at the two of you.
Front Swivel Wheel – Some jogging strollers come with swiveling front wheels too, and they are more suitable for a combination of walking and jogging.
Good to Haves
Height adjustable handle.
I- pad hook up.
Reclining Seat – Full-reclining capability in case you plan to run with an infant (although not advised).
A Cup /Bottle Holder.
Removable, Machine Washable Cover.
A Canopy.
Storage Basket.
Pros and Cons of a Jogging Stroller
Know the advantages and disadvantages of a jogging stroller, so you can make an informed buying decision.
| | |
| --- | --- |
| Pros | Cons |
| A fixed front wheel ensures the stroller stays on a straight path when you jog. | A fixed front tire makes the stroller different to turn. |
| Good safety features ensure that your child is safe when you are on the run. | High-end models, although sturdier and safer are difficult to fold and transport. |
| | Low-end models are foldable and easy to carry along, but their safety features might not be up to the mark. |
What to Look for in a Jogging Stroller?
Here are some pointers to keep in mind while buying a jogging stroller for your bundle of joy-
1. Size
Jogging strollers come with 3 wheel sizes – 12″, 16″ and 20″. The 12″ one is more suitable for walks and usage on smoother surfaces, while the 20″ one is suitable for long runs and off-road uses.
2. Alloy or Steel Wheel
Steel wheels might be cheaper, but they are more prone to rust, in case you live in a place that has a salty air.
3. Swiveling Front Wheel
If you are a hardcore jogger, a fixed front wheel will help you keep your baby's stroller on track as you bolt ahead. The swiveling feature is more helpful for people who walk, along with just a little jogging.
4. Suspension and Shock Absorbers
You need to ensure that the stroller has a good quality suspension, so your baby does not get rattled when you are jogging.
5. Tether Straps
You can never be too careful, and tether straps give your child that extra protection against accidents.
6. Frame Construction
Jogging strollers are made of a welded aluminum frame, which makes them sturdy and lightweight.