Here's How a Baby Carrier is Actually Helping Your Baby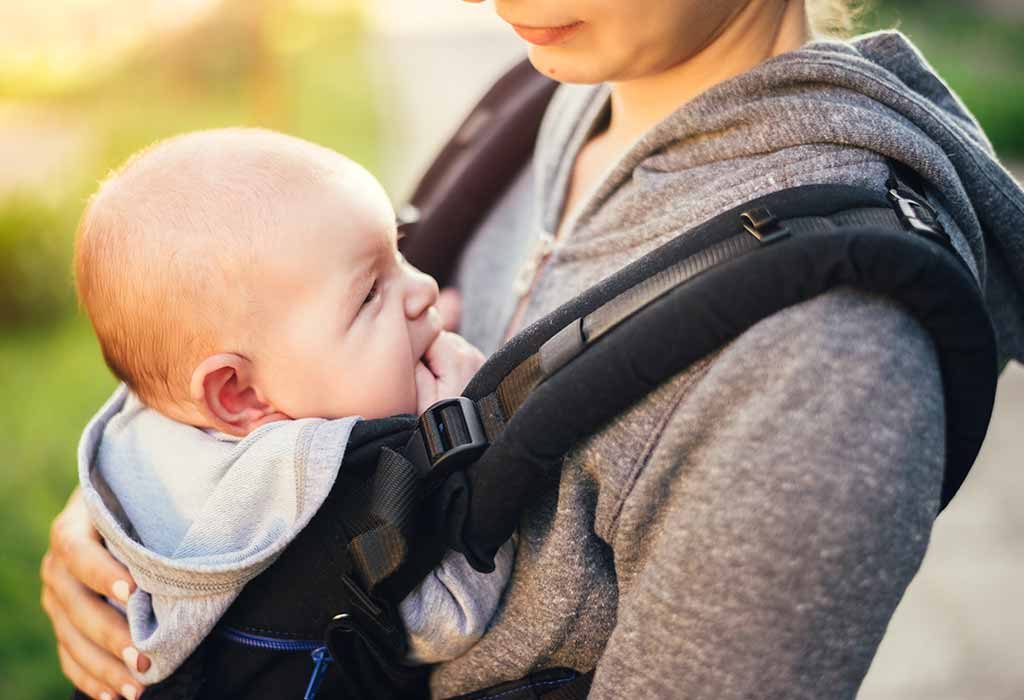 For many years, new mothers have relied on different babywearing contraptions to keep their babies close, and all for a good reason. In recent times, the baby carrier has been gaining popularity in this aspect. If you're carrying your baby along for outings, the best way to take some of the weight off is by using the right baby carrier. These carriers can be handy at home, too – especially if your baby loves to snuggle. It's not surprising to know that in many parts of the world, babywearing is a normal part of daily life!
This article will teach you everything you need to know about the benefits of a baby carrier for your little one, while you stay comfortable and quickly finish your chores while wearing the carrier.
Benefits of a Baby Carrier
The advantages of a baby carrier are many; here are a few.
1. Promotes your baby's physical development
The baby carrier holds your baby's body in a correct and comfortable position, similar to how the womb carries the foetus during pregnancy. The upright carrying helps prevent any physical abnormalities associated with babies who spend a lot of time lying on their backs or tummies such as frog legs, hip dysplasia, or flattened skulls on the sides or back of the baby's head.
2. Enables communication with your baby
When you hold your baby close in a carrier, you become finely attuned to his facial expressions and gestures. Many baby-wearing parents swear that their infants can communicate effectively without crying! Every time your baby is able to let you know that he is hungry, needs his diaper to be changed or is simply bored, without having to cry, his trust in you increases, and his learning is enhanced.
3. Helps to prevent spinal and cranial deformities
There's a high risk of developing cranial and spinal deformities in infants who spend long periods in baby swings and car seats. When you carry your little one properly in a baby carrier, it promotes the proper formation of his postural muscles, cranium, and spine.
4. Makes your toddler feel secure
Carriers can be beneficial for toddlers too as most carriers accommodate children up to 16 or 18 kgs. Your toddler will feel more confident when he knows that he can fall back to the security of the carrier when he feels the need to do so. A ride in the carrier is also known to soothe and calm a child before or after a 'melt-down' occurs.
5. Ensures your baby has fun
Having your baby in the carrier makes conversations easier while you observe his reactions to the world around him. Your baby also has fun when he's up at your eye level, as other people notice and interact with him more.
6. Helps your baby sleep better
Your baby likes to be near you as your mere presence and touch are enough to calm him down and help him relax. As your baby sleeps right next to you in his carrier, it will help him breathe more evenly and peacefully.
7. Is perfect for babies with reflux
An infant with reflux will be comfortable when held upright even while sleeping because gravity helps the stomach contents stay where they belong. Using the right baby carrier means you won't be struggling to keep your baby upright all day long.
8. Helps soothe the baby
Infants who are worn by their parents are known to cry less. The more you use a carrier for your baby, the happier he will be, and the less he will cry. Because of this, your baby will spend more time in a quiet and alert state. That's when he will learn the most!
9. Helps promote cognitive and social development
When your infant spends less time crying, he starts spending more time interacting with his environment. When worn in a carrier, your baby can also hear what you hear or say, see what you see, and is much more involved in your daily life. Having your little one so close to you allows you to touch him more and respond to his cues. All this enhances your baby's social and cognitive development and his overall well-being.
10. Helps your baby enjoy some privacy
No one can resist cuddling a sweet baby. People will often want to touch your baby unnecessarily much to your baby's and your dismay. A baby carrier keeps your baby snuggled in a little protective cocoon, thus keeping germy hands away. It's much easier to reach into a stroller than try to reach to a baby that is on his parent's chest!
Tips to Keep in Mind When Using a Baby Carrier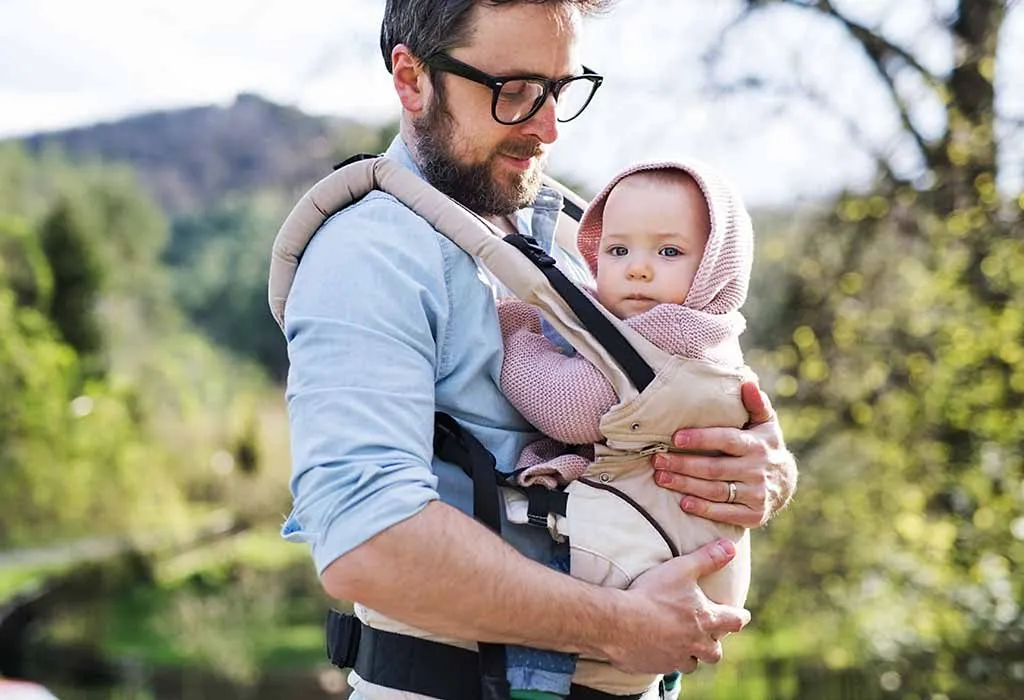 Don't forget to double-check all harnesses and buckles of the carrier, and ensure there is no loose stitching.
Make sure your baby's face is visible at all times, and his chin is not tucked, as this may compress his airway.
Your baby's knees should be at a higher position than his bottom, and his legs should be spread. This ensures that his hips and spine are supported for healthy development.
You will need to wear shoes that are comfortable to walk in. Watch out for uneven surfaces where you could trip.
Avoid using a baby carrier when the weather is hot. This is because your body heat and the carrier could contribute to the increase in your baby's temperature.
Take care when wearing and removing the baby carrier, as this is the time when most falls take place. If possible, let someone else help you with the carrier, or you can even sit on the floor while putting the carrier.
If you have to bend down or lean forward while wearing the baby carrier, make sure you hold on to something that is stable like a wall or a pole.
Don't carry your baby in a front-wearing carrier while you're cooking because of the risk of something hot splashing on your baby or your baby accidentally touching the hot vessels. As far as possible, try to avoid wearing your baby in a carrier while in the kitchen.
Now that you're well-informed about the benefits of a baby carrier, snuggle your baby closer in one, knowing that you are giving him a head start on a healthy life! And if you still haven't got a baby carrier, make sure you explore the different options available and invest in the perfect carrier which is just right for you.
You May Also Like:
Best Baby Swings
Best Baby Carriers
Best Prams & Strollers
Best Baby Bouncer Chairs
Also Read:
Everything You Need to Know about Babywearing
7 Styles of Carrying Babies Which are Not Recommended
Baby Gear Checklist