Double Stroller Buying Guide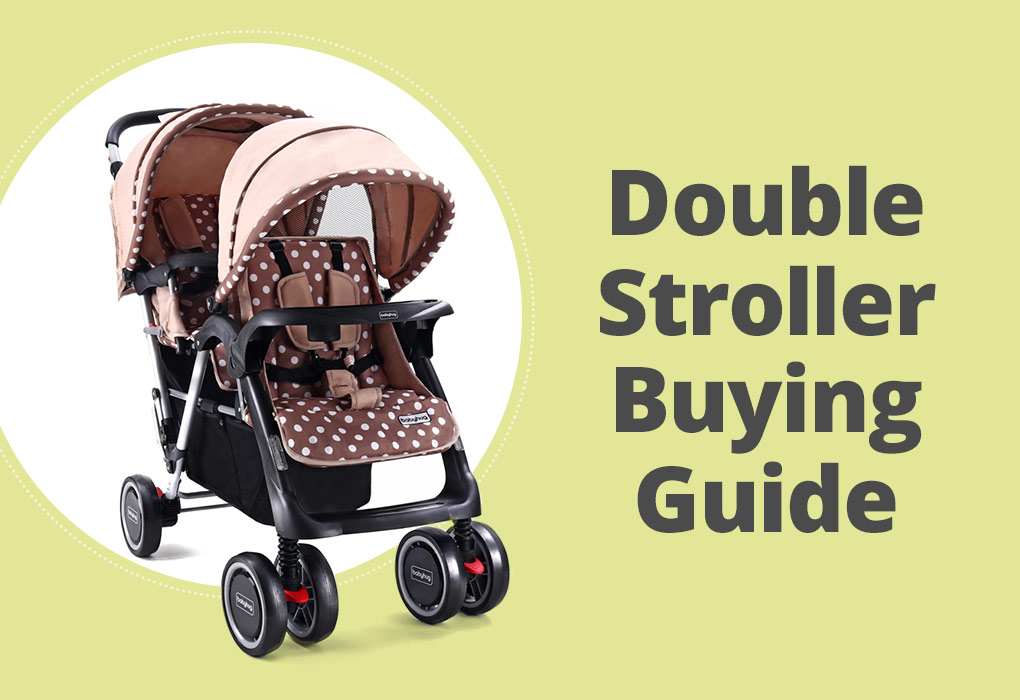 What is a Double Stroller?
Twin stroller or Double stroller is a boon to parents with multiple kids, and come in two models.
1. Side-by-side Model
In side-by-side model, as the name suggests, two or more children can sit side by side. The seats are comfortable for all babies, but it's difficult for parents to maneuver through narrow doors and busy streets.
2. Tandem Model
Tandem strollers sit one child behind the other. Although the rear seat lacks leg space, these strollers are easier for parents to handle.
How is a Double Stroller Useful?
As parents, you understand that while handling a single child is in itself a significant task, handling twins or more children can be quite overwhelming – visiting a mall with three little children in tow is sure to leave you exhausted. In such cases, using a double/twin stroller is highly convenient and provides great relief.
Why You Need a Double Stroller?
You need a double stroller, if –
You have more than one kid in your family and plan to take them all outside together.
You are the only person available to push the stroller. If you were to go for two separate strollers, instead of a double stroller, you'll need another person to push the second stroller.
You have plans to add to the family. Double strollers offer an extra seat for your second child as an add-on accessory, so you don't have to invest in a second stroller.
Features List
Compiled here are some features you should look for when you buy a Double stroller. The 'Must Haves' point to the essential features, while the 'Good to Haves' are add-on features you may or may not choose to install.
Must Haves
An Adjustable Canopy.
Reclining Seat – For multiple reclining positions.
A 5-Point Safety Harness.
Compatibility with infant car seats.
Car Seat Base Adapters – That allow users to attach infant seats directly to the stroller without having to unbuckle the baby.
Rubber or Foam or Air filled tires.
Front Wheel Brake – Lockable front wheels for stability.
Adjustable Footrest.
Storage Basket.
Good to Haves
Toy Attachments – To keep your child entertained.
I-Pad Hookup.
Rubber or Foam height-adjustable handles.
A Cup /Bottle Holder.
Parent Tray – To organize bottles, keys, teething rings, and other accessories.
Child Trays – To give babies a place to eat, while on the go.
Bag Hooks – That can be placed on the front to hold shopping and tote bags, leaving the parent's hands free to push the stroller.
Front Wheel Swivel – Some jogging strollers come with swiveling front wheels too, and they are more suitable for a combination of walking and jogging.
Pros and Cons of a Double stroller
Know the advantages and disadvantages of a Double stroller, so you can make an informed buying decision.
| | |
| --- | --- |
| Pros | Cons |
| Makes managing multiple children infinitely easier. | Large and bulky, difficult to accommodate in a car. |
| Most double strollers can be used in various modes – for a single child, for children of different ages (including infants), and for children of the same age. | The number and quality of features are reduced. |
| Variety of models to suit your lifestyle – side-by-side, tandem, sit-and-stand, etc. | Side by side models are difficult to maneuver through narrow spaces. |
What to Look for in a Double Stroller?
Here are some pointers to keep in mind while buying a double stroller for your twins-
Determine the type of double stroller you are comfortable with side-by-side one or tandem one. Side-by-side would be more suitable when both your children are of the same age, while tandem would be best when they are of different ages.
Keep in mind the weight limit of not just the total stroller, but also that of the individual seats. Some strollers, especially those for children of different ages, allow a higher weight for the front seat and a lower weight for the rear one.
Double strollers come with different features for both the seats, like child tray, bottle holder, etc.
?>