Is Baby Powder Safe to Use on Babies?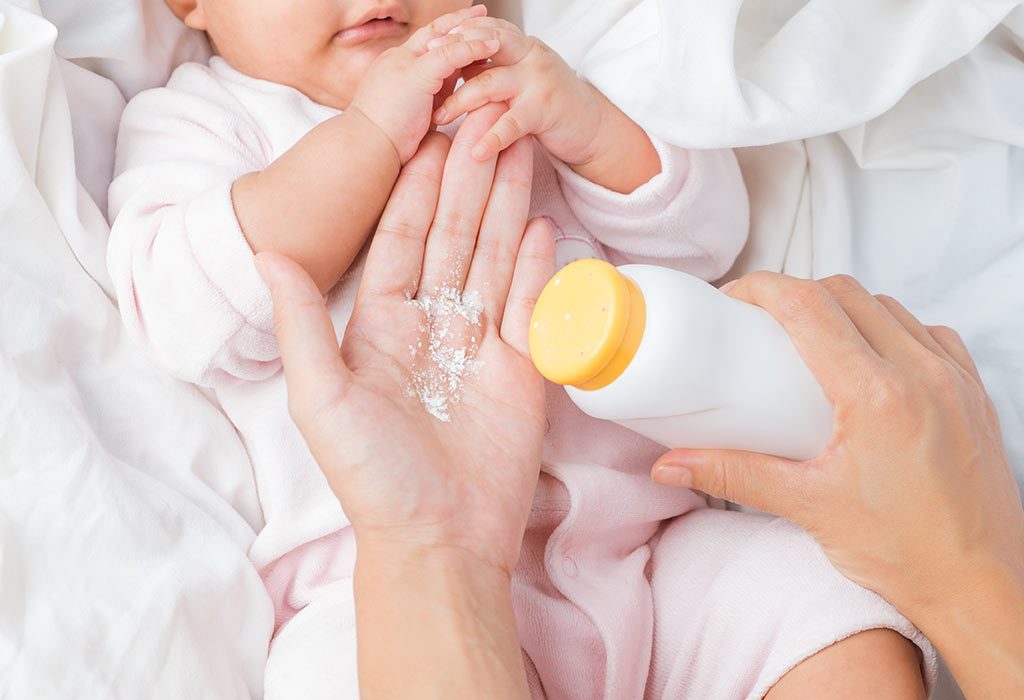 Baby powders absorb moisture and keep the baby comfortable, particularly when the nappy brushes against the skin of a baby. Hence, these powders are preferred by all new moms. It is generally applied directly on the baby's skin, so you should be careful while picking any baby powder. Although baby powders that are approved and certified by the relevant authorities are safe, it is best to use them after reading the instruction on the container.
What is Baby Powder Made of?
A large majority of baby powders are made from talcum and, hence, it is known as talcum powder too. The main ingredient of talcum powder is talc which is a mineral that consists of silicon, magnesium, and oxygen. Due to its moisture-absorbing qualities and ability to reduce friction, talcum is preferred by manufacturers to create baby powders. Some baby powders are also made from corn starch, which is considered to be a safer alternative to talcum. It is made from corn and has larger particles which babies cannot inhale and, hence, parents and paediatricians consider cornstarch baby powder safe.
Are Baby Powders Harmful to Infants?
Babies are prone to inhaling the baby powder that is used on their skin, especially if it has been made from talc. Talcum powder consists of very fine particles which can be inhaled and cause irritation to the baby's delicate lungs. You will have to be especially careful if your baby has any kind of respiratory illness like asthma since, with baby talcum powder, some danger may be possible. As compared to talcum, the cornstarch-based powder has slightly larger particles and hence find it difficult to get airborne. This reduces the chances of inhalation and has excellent absorption qualities too.
Do Infants Need Baby Powder?
As a fact, babies do not need baby powder all over the body. Baby powder absorbs moisture and keeps rashes at bay. In the initial months, your baby's most prominent piece of clothing is going to be the diaper and since it constantly rubs against the delicate skin, it can cause rashes. Make use of baby powder for diaper rash in a prudent manner by using it only where it matters. Apply it on the neck, underarms, and genitals instead of smothering it all over the body. It is best to restrict overuse of baby powder to avoid the harm that it could cause in the long run due to its ingredients. Your brand of baby powder may take away much-needed moisture from the baby's skin which can cause harm in the long run.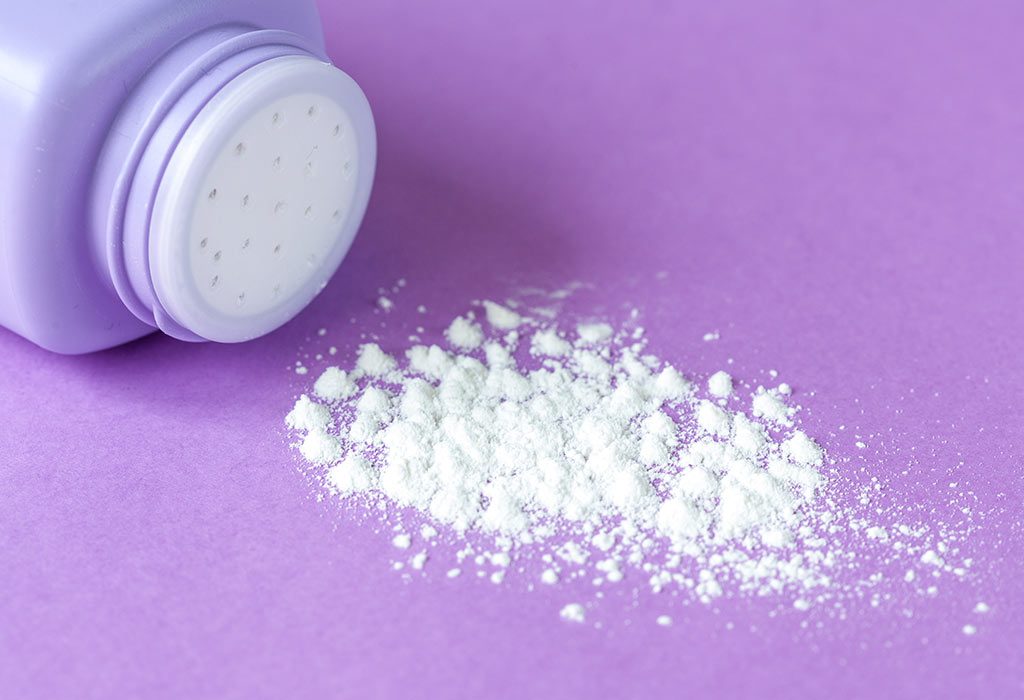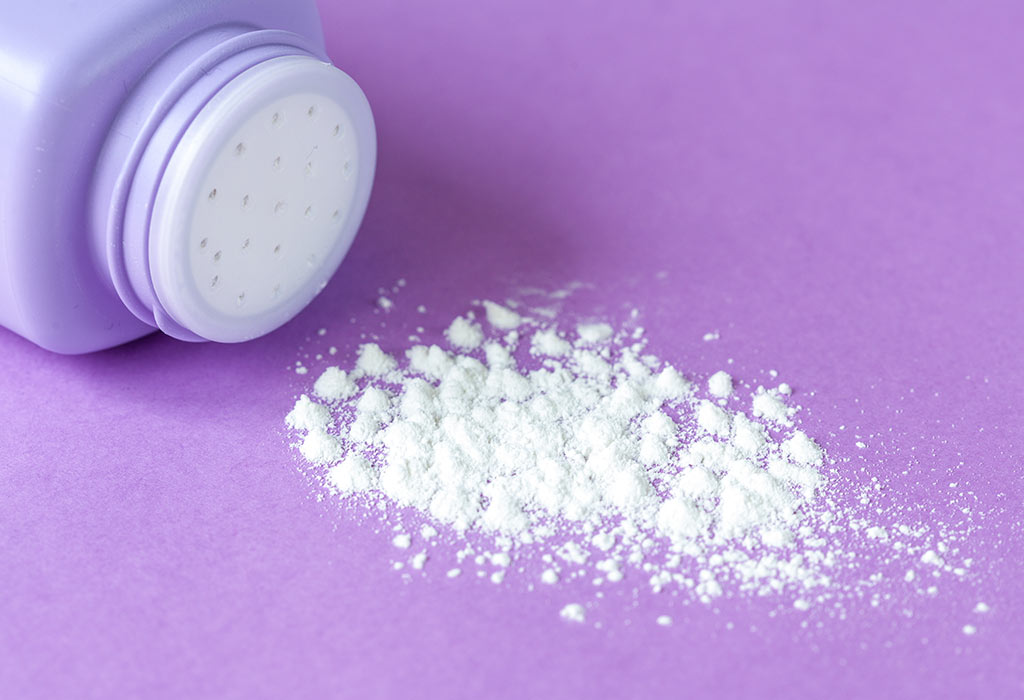 What Kind of Baby Powder is Good for Babies?
There are a number of baby powder brands to choose from and to get the best one for your baby, it is best to carry out a bit of research on your own. Stick to a trusted and reputed brand, to begin with, so you are at least assured of good quality ingredients. Baby powders that have talcum as its base should be avoided as much as possible or at least restrict its use. Baby powders made from corn starch is highly recommended by doctors and paediatricians since its particles are larger and hence difficult to get in the surrounding air.
Cornstarch-based baby powders may be problematic in certain situations, the ingredient may make a Candida caused diaper rash worse. It's probably best to skip the baby powder.
Tips to Remember While Using a Baby Powder
While using baby powder, make sure you choose the right powder and use it in the right way. Here are a few easy-to-remember tips that will help you to do so:
Take some powder on your palm and pat the baby's skin gently with it instead of sprinkling it directly on the baby.
While sprinkling the powder, keep the container away from the baby and take a small quantity on your palm. This will ensure that the baby does not breathe some of it directly and doesn't get any into his eyes.
Using the powder on a baby's face is not a good idea at all, as it can lead to breathing issues. If inhaled, it can also cause lung complications.
Clean any residual powder that accumulates in the skin folds of your baby with a soft cloth to avoid skin infections.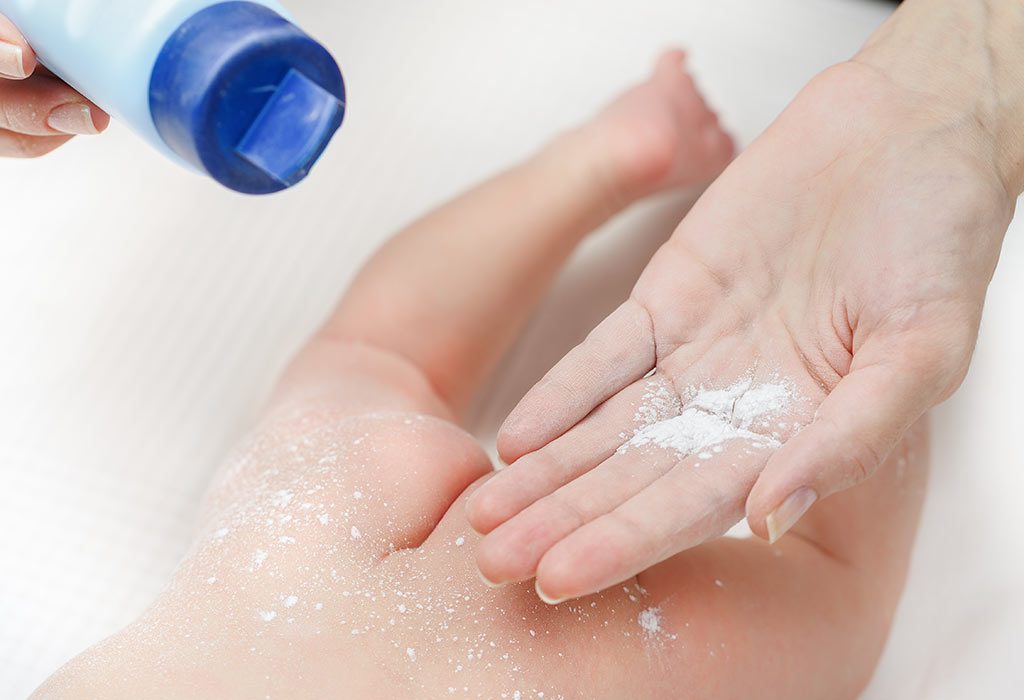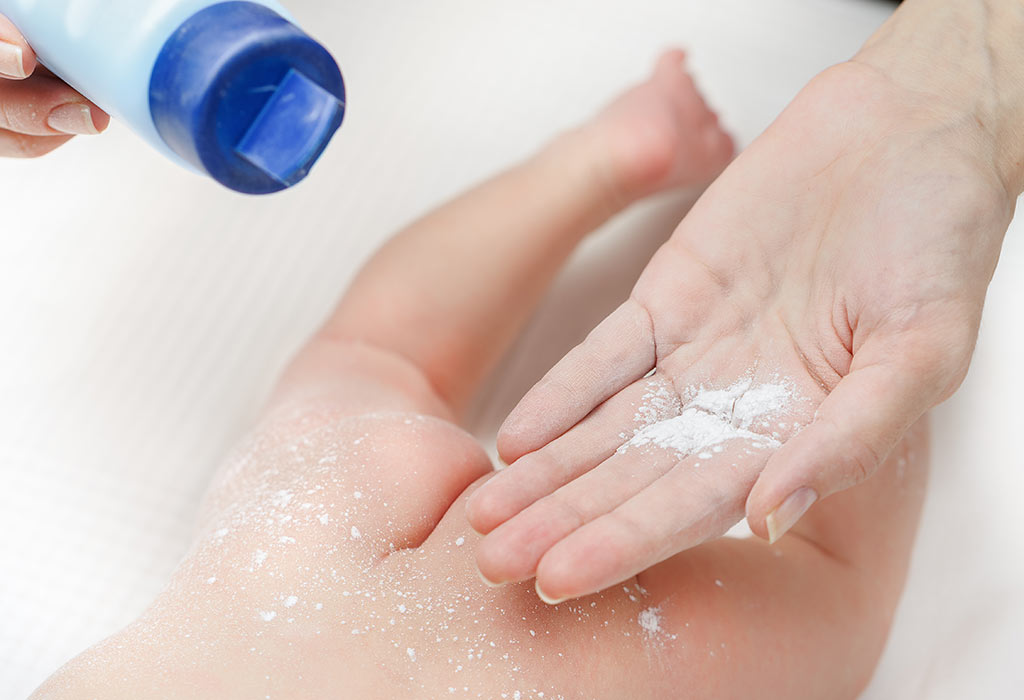 Can You Treat Diaper Rash With Baby Powder?
While baby powder proves to be a useful ally in keeping the baby's skin dry and moisture-free, it does not necessarily treat a diaper rash. Rashes happen if diapers are not changed at the right intervals and the skin doesn't receive fresh air. Disposable diapers can cause irritation to the little one's sensitive skin and lead to allergies. Try a different brand of diaper instead of using baby powder to treat diaper rash, as this will not solve the problem.
What Should You Use Instead of a Baby Powder?
If you are looking for a safe alternative to baby powder, here are a few options you can try and choose the one that suits your baby. Instead of using talcum or corn starch for your baby, You can also use essential oils like lavender or chamomile for babies over three months as both have anti-inflammatory properties. Discontinue use immediately if you notice any rashes.
When you are armed with authentic information about the safety of baby powder for your little one, you can rarely go wrong. Choose baby products smartly, especially those to be applied to the skin or ingested. So, three cheers to dry baby bottoms!
Also Read: Baby Skin Care Tips