The Complete Guide to Your Baby's Skin Care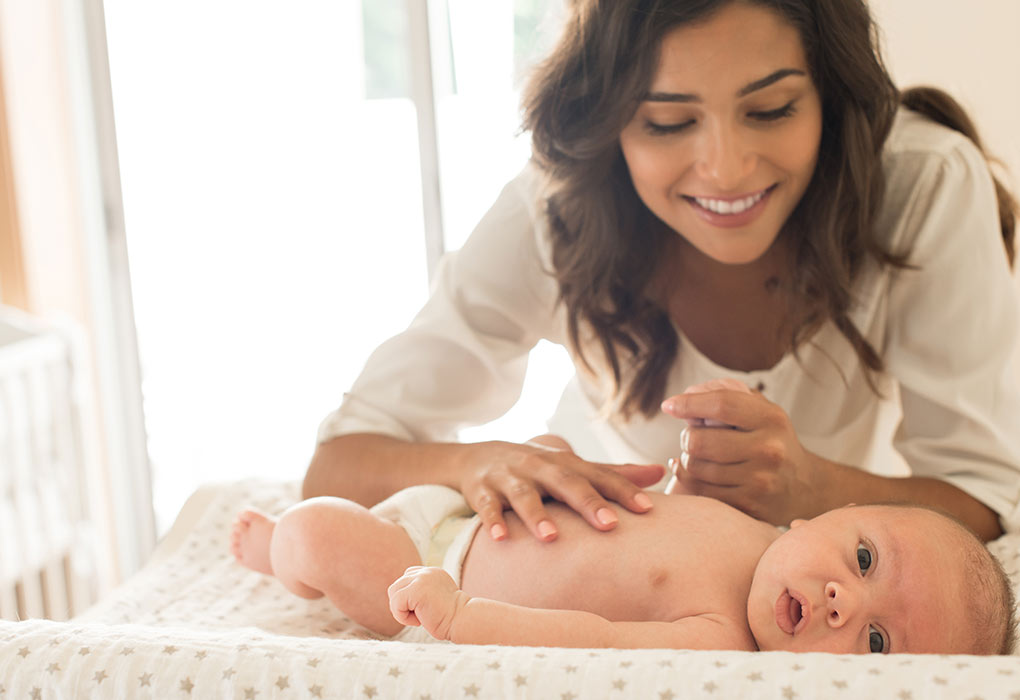 Your baby is finally home, and together the two of you are figuring this new life out one step at a time. Your instinct is working overtime, doing everything to protect your little one's little fingers, toes, hair and skin. However, you have noticed that your baby's skin gets dry too easily and it is causing you some stress.
Baby skin loses moisture a lot faster than adult skin, which is why you need to take little extra care to preserve it and help it develop. This article will tell you everything you need to know about caring for your baby's delicate skin and what you can, should and cannot use on it.
Something to Consider before Caring for your Baby's Skin
It isn't just baby skin that is delicate it is their entire immune system. Harsh chemicals, dyes and fragrances in baby products and clothing can lead to skin rashes, irritation, and even eczema in babies. The good news is that with a little research, you can prevent all of these problems beforehand.
Natural Baby Skin Care – Everything You Need To Know
Did you notice how your baby's skin is wrinkly? This is because it is now adjusting to life outside the womb where moisture is fast depleting.
It also would have had a protective covering called 'vernix' in the first few days after birth. Vernix usually falls off without any need to rub it. Once it is off, your quest for skin care begins. One important thing to remember with baby skin care is that "less is more" stands true.
That "less" is what we're going to touch upon in the below points. These will help you protect your baby's skin, nourish it and prevent dryness that causes irritation to your little angel.
1. Bathe Your Baby Less
Bathing your baby more than three times per week during the first year can remove some of the natural oils that are protecting his skin. This could leave skin drier and more vulnerable to rashes.
Think about it, babies don't really get dirty, do they? Diaper accidents and spit-up can easily be cleaned without a bath.
Give your baby a quick sponge bath on most days. However, on the days you DO bathe your baby make sure you use products that contain zero toxins because you don't want those nasties penetrating into your baby's skin. The Moms Co.Natural Baby Wash is perfect for baby bath time because it contains coconut based mild cleansers that don't aggravate dryness. In fact, it can be used in the first 3 years when your baby's skin is extra-sensitive. It is a soothing, tear-free formula that is great for all that splish-splashing in the tub, without any burning or crying!
2. Steer Clear of Scented Products

Products with fragrance are a big no-no for your baby. They can not only irritate your little one's soft skin but also cause problems with your baby's internal organs. Artificial fragrances are concocted using chemicals that your little one's developing body cannot handle. Using only USDA-certified organic products takes a lot of stress out of your life by providing your baby with only what will nourish and care for his skin.
3. Wash Your Baby's Clothing Before He Wears It
Use only mild, chemical-free detergents specially designed for baby's skin to wash your baby's blankets, clothes, bedding and napkins used. Dyes and chemicals in clothing can also irritate your baby's skin.
4. Moisturize Baby Skin
While babies have dry skin, their bodies also do produce natural oils. However, for some babies, these oil glands take longer to develop. Using a good lotion formulated with only natural, organic ingredients that help keep your baby's skin supple while also forming a protective barrier to keep out environmental irritants.
The Moms Co. Natural Baby Lotion contains only non-toxic ingredients like Apricot oil and Avocado oil, that give your baby's skin the moisture it needs, especially after a bath. Organic Rice Bran oil gives your baby's skin additional hydration and also keeps it protected through the day/night. Give your baby a good rub-down as skin-to-skin contact is a great bonding tool. In addition, it promotes healthy growth and development too by nourishing your baby's skin without any hidden chemicals or toxins; just the goodness of nature!
Common Baby Skin Ailments- How to Prevent and Cure
1. Eczema

Eczema is a dry, red and itchy rash that usually develops on the scalp, face, elbows and behind the baby's knees. Preventing eczema is simple.
Make sure your baby is always dressed only in natural fibres like cotton.
Use an organic baby wash and baby lotion during and post bath time respectively.
Do not neglect your baby's hair. Use a hair wash like The Moms Co. Natural Baby Shampoo which gently cleanses your baby's scalp and is tear-free as well! Formulated with coconut-based cleansers and enriched by a blend of Organic Argan Oil, Organic Moringa Oil and Pro-Vitamin B, you can expect your baby's scalp and hair to be clean and healthy. The formula is also hypo-allergenic, which means you do not have to worry about it reacting with your baby's sensitive skin.
2. Diaper Rash
On an average, a single baby uses 10-12 diapers a day in the first year! While every mother leaves no stone unturned to ensure that her baby gets the utmost care, sometimes little things can go unnoticed.
Sitting in a soaked or soiled diaper for long can lead to diaper rash. Diaper rash can also occur if your baby isn't dried properly after a bath. This leaves moisture trapped between your baby's little skin folds near the genital area. Bacteria and yeast love an environment that's moist and soon small red rashes appear, causing your little one immense discomfort.
To prevent and/or cure diaper rash here's what you can do-
Check your baby's diaper often
Change diapers when they are soiled
Wash the diaper area with a fragrance-free cleanser and do not rub the area.
Use a soft and clean cloth to wipe the area dry.
An effective diaper rash cream goes a long way in healing existing diaper rash. In fact, it is always good practice to use a diaper rash cream after your clean your baby's soiled diaper. A diaper-rash cream must have for every diaper-bag as baby skin is prone to rashes and you don't want your little one to suffer!
Remember that babies on antibiotics can also easily develop diaper-rash so take extra care during this time to prevent it.
Baby Skin Is Best When Mumma's Touch is Around
Your baby loves you so much that everything that comes from you is his comfort, security and stability. His body too reacts well to your gentle touch and scent.
Your touch releases endorphins that help your little one stay happy and comfortable and this, in turn, speeds up the formation of new and healthy cells. See how this works?
A good massage with a baby-safe massage oil before bedtime can do wonders for your baby's skin. It not only helps you and baby bond but also replenishes and any lost oils during the day.
Use The Moms Co. Natural Baby Massage Oil to soak your baby's skin in a rich concoction of 10 nourishing natural oils. Among these are traditional baby care oils like Sesame oil and Almond oil which are high in omega fatty acids and calcium, Organic Wheat Germ oil to moisturise baby skin and Jojoba oil and Chamomile to soothe your baby skin.
A massage with this oil will help strengthen your little ones growing bones and help him sleep much better at night. This means you get some much-needed shut-eye too!
There is no special technique to massage your baby. Here's how you can go about massaging your baby before bed-time-
Warm the oil only slightly or even rub it between your fingers for a little extra warmth.
Then using a gentle yet firm motion rub the oil onto your baby's chest, tummy, arms and legs while talking softly to him. You'll notice how he instantly reacts to your touch with glee.
Use circular motions on your baby's larger areas like tummy and back and more linear strokes on his limbs.
Maintain eye-contact throughout, engaging your little one.
You can also sing and talk to your little one during this time. Your voice is familiar to him from when he was inside the womb so it will only add to his relaxed state of mind.
There you have it! Your baby's skin is well-taken care of with just these simple tips and precautions. Keep your baby products toxin-free and keep your baby's skin and hair well-cared for with your gentle touch and you'll be stress-free! The best part is that your baby will be happier, healthier and definitely softer and more cuddly!