5 Best Baby Swings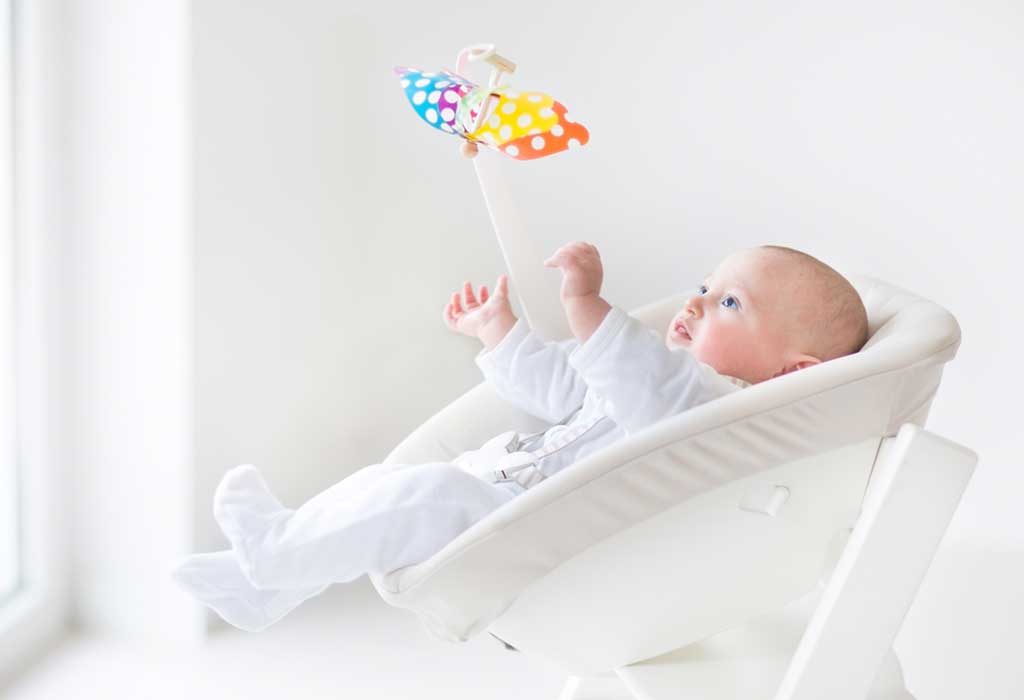 Most parents come to realise soon enough that a swing can make their life much easier when they have to put their baby down to attend to other things such as work, chores or even a shower. Cradling babies and swinging them back and forth is one of the best ways to soothe them down when they're grumpy or annoyed or throwing a tantrum. Here's a list of the best selling baby swings and how to choose them.
List of Top 5 Best Baby Swings, Bouncers, and Rockers in India
There are tons of options in baby swings and it can be difficult for you to choose one if you are not much familiar with baby products. Worry not, browse through these options and take a pick!
1. Babyhug Gaiety Electronic Swing With Timer & 5 Point Safety Harness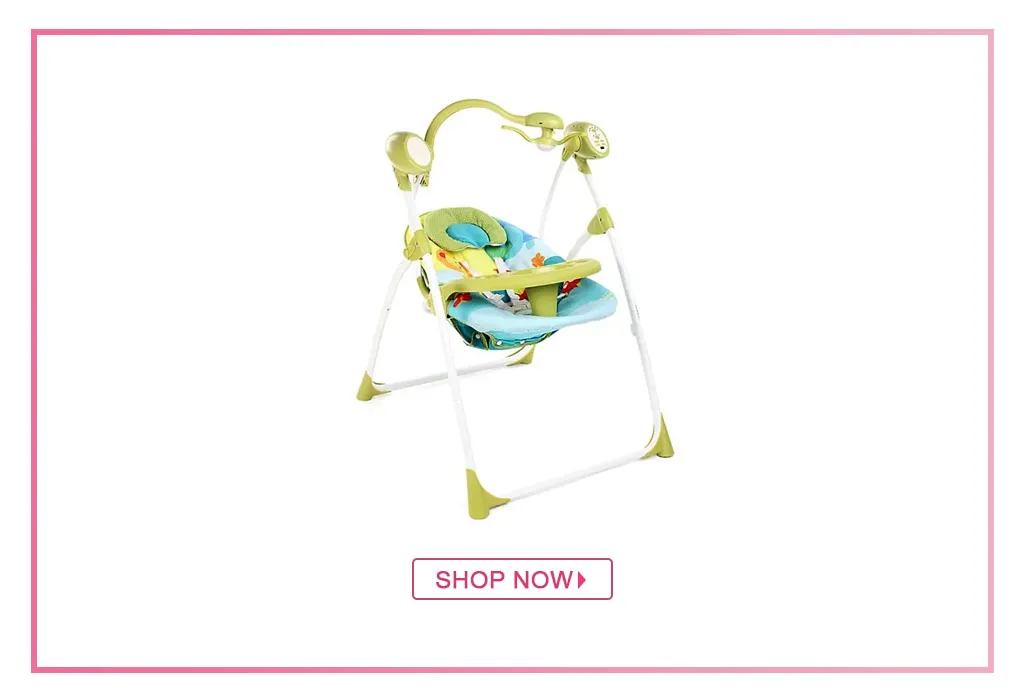 The Babyhug gaiety electronic swing is one of the best swing options you will find today owing to its affordability, design, and safety mechanism. The swing features non-slippery and anti-tipping frame base and comes with a five-point safety harness, which makes it very safe for little ones. It comes with a timer, three reclining options, and has both automatic and full swing mechanism. This Babyhug swing has everything you need to keep your baby entertained. The three plush toys on the toy bar are detachable and the swing features 12 melodies and 5 nature songs. The feeding tray is large and can be detached. This swing can be folded easily. It's one of the safest swings you will find for your little one!
2. Chicco Polly Swing Up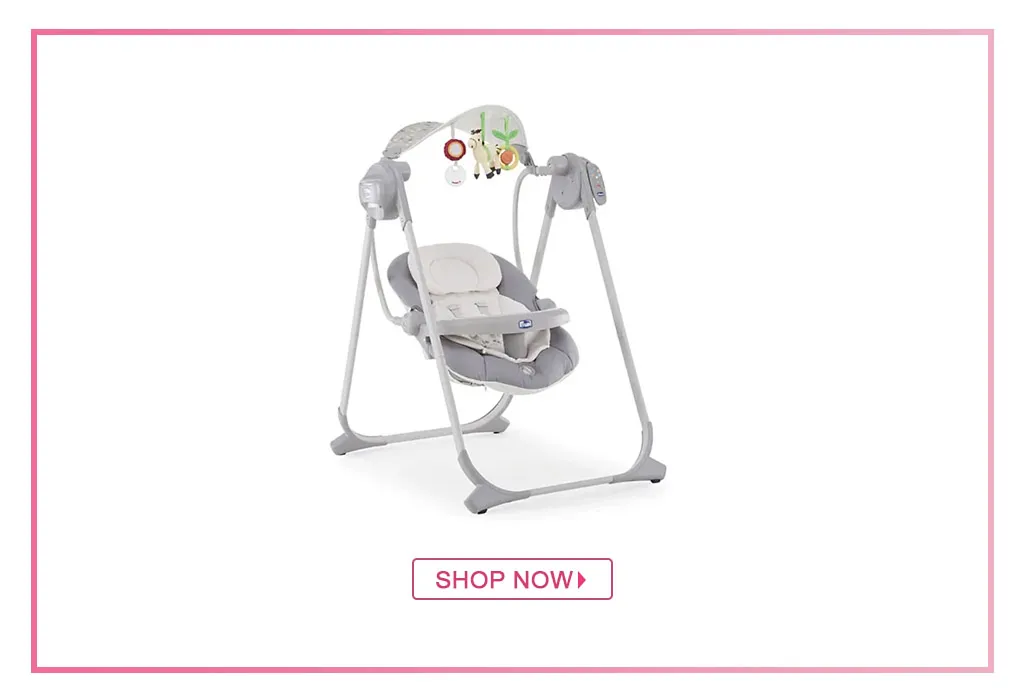 This advanced portable swing for babies by Chicco has all the best features you could expect from a baby swing. It has 4 rocking speeds with a 5-point safety harness and a 2-position reclining seat for the best comfort and safety. Vibrating seats, nature sounds and soothing melodies help make it the best swing for a fussy baby. It can be carried around easily and it keeps your baby entertained and happy the whole time she is awake in the rocker.
3. Babyhug Comfy Bouncer With Music & Calming Vibrations Animal Print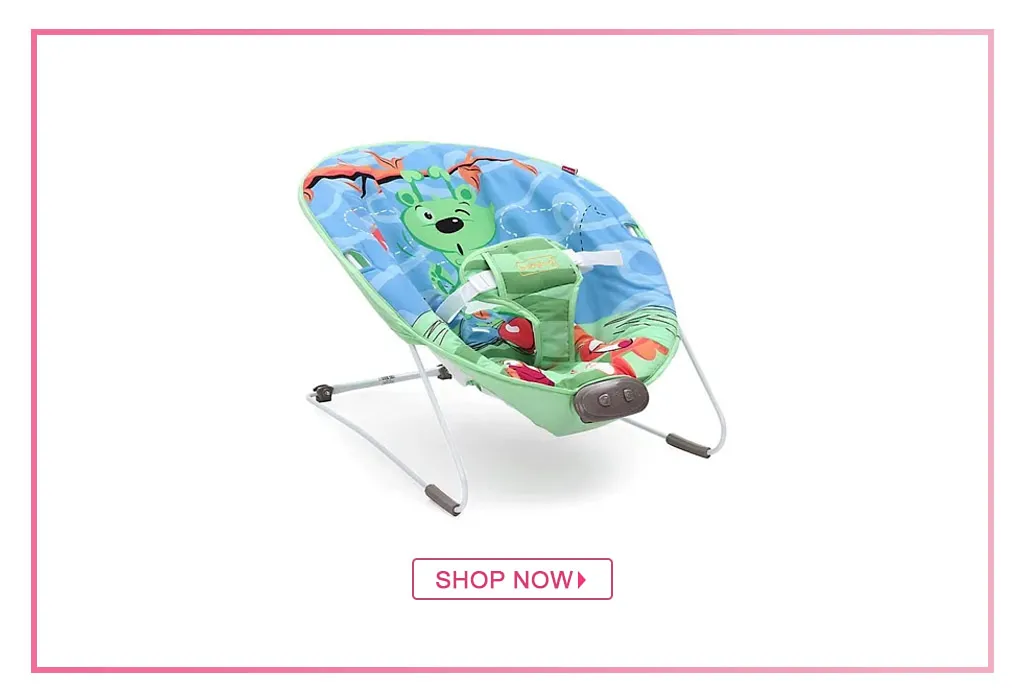 This multicoloured bouncer with animal prints on it is super comfortable for little ones. This bouncer by Babyhug has a strong frame and soft padding which provides extra comfort to babies. Its three-point safety harness will keep your little one securely strapped and prevent him from falling. Packed with comfort and designed to keep your child engaged and at ease. The toy bar has two plush toys which will keep your baby entertained when they are awake and the calming vibrations will help them drift off to sleep when your child is sleepy. The large comfortable seat of this bouncer can carry a baby weighing up to 12 kgs. This comfy bouncer is perfect for babies between 0 and 2 years of age.
4. Fisher Price Infant to Toddler Rocker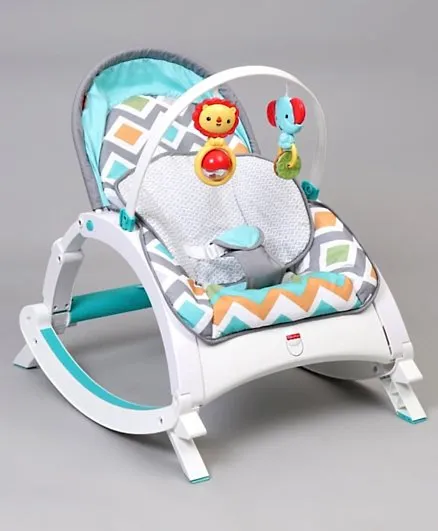 Fisher Price is a durable rocker and can carry babies weighing up to 18 kgs. Designed to calm fussy babies, this rocker is perfect for putting newborns to sleep. This rocker grows with the baby and can be used for multiple purposes. You can feed or play with your baby while making them sit in the rocker. The comfortable vibrations also help soothe newborns and help them sleep peacefully. This baby rocker sleeper can be used from infant to toddler years and it features a three-point safety harness with three reclining positions. The overhead toy bar can be removed when the baby grows old to convert it into an infant seat.
5. Babyhug Opal 3 in 1 Cosy Rocker Cum Sleeper With Mosquito Net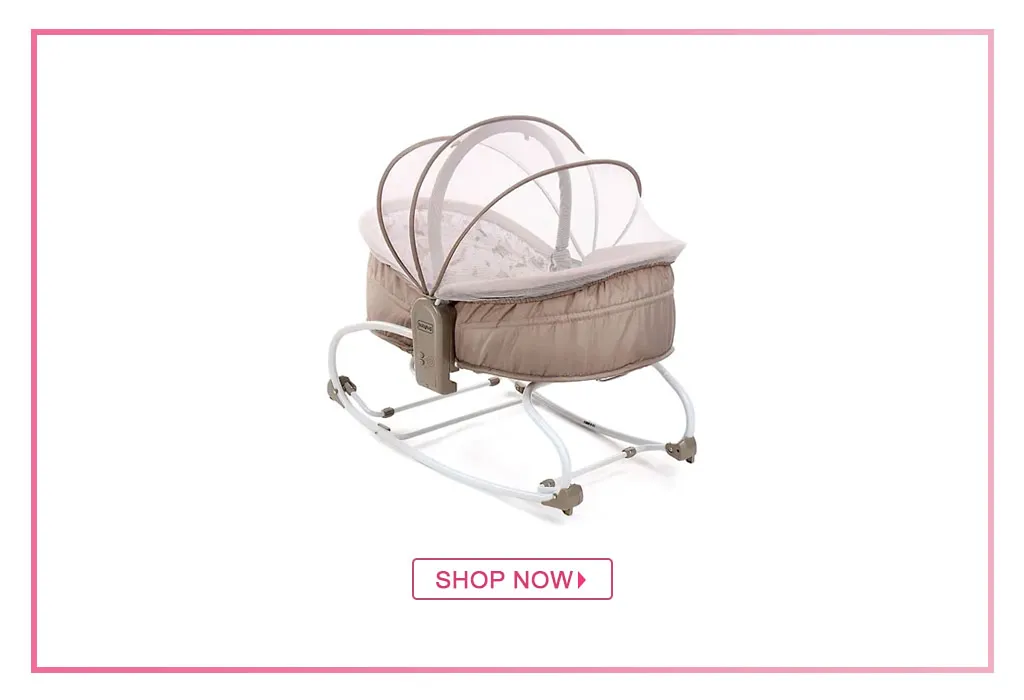 The image of the rocker makes you want to buy it immediately, no? Wait until you read its features! This 3 in 1 rocker cum sleeper is just what you need to soothe your baby. It can be used as a rocker, sleeper, or a bassinet. The soothing melodies and soft vibrations in this rocker will make your little fall asleep and the mosquito net will keep them safe from mosquito and insect bites. The rocker cum sleeper has a three-point safety harness which will keep your baby safe and secure while he is resting in it. It also features three reclining positions; you can recline the backrest to the position of your choice. The toy bar in this rocker cum sleeper is sturdy and attractive and comes with two plush toys. The seat of the cushion is removable and washable. It's everything you need to ensure that your baby sleeps well!
FAQs on Baby Swings
1. What Are the Different Types of Baby Swings?
There are four main types that you need to be aware of:
Bouncer Swings: Bouncers move up and down and are something babies will absolutely love. They're perfect for keeping your baby busy while you're occupied with other things. Bouncers are only good until your baby is in the infant stage.
Jumper Swings: Jumpers have your baby suspended from cords, allowing them to stand, walk or jump around. They are best for very active babies.
Rocker Swings: As the name suggests, they move back and forth similar to a rocking chair. Their main purpose is to soothe babies who are cranky and crying or send them to sleep if they're used to being rocked to sleep in your arms.
Battery Operated Swings: Swings move in all four directions and are suspended from the overhanging structure. They can either be long swings or portable swings that come with overhead toys.
2. Full-size Swing or a Portable- Which One to Choose?
Whether you want to choose full-sized swings or portable ones depends on how much space you have for them and your budget. If you already have a spacious room specifically for your baby, you could opt for a full-sized swing. They tend to be bigger, sturdier and have a wider range of swing. Portable swings are great if you don't have much room for it or you're off vacationing. They run on batteries and can be easily set up.
3. What Should I Look for When Buying a Baby Swing?
Here are some of the things you need to consider before making your purchase of a baby swing:
The height of the swings can be different. Although they're all well-balanced and stable, you may feel safer with a shorter one.
Pick models that have more speed settings. This will let you slow down or speed up based on how your baby likes it.
Seat belts give extra safety, so you should preferably go for a three or five-point harness.
Portability is a good factor to consider if you often travel and need to take your baby with you.
Swings work on both batteries and AC power. While you can run on AC whenever you're home, having one that can switch to a battery will help you on the move.
Your baby will inevitably make the swing dirty, therefore pick one which comes with a removable cover that can be washed. It's easy to clean and maintain.
Ensure the swings are well padded and comfortable so the baby won't cry or object every time you put her in the swing.
The seats need to be adjustable; a swing with a permanently recumbent seating position isn't fun for too long. As your baby grows older, she will prefer to sit upright.
Swings with timers are excellent; they stop when the time runs out.
Preferably go for swings with a metal frame. Plastics degrade or get weaker because of fatigue. A sturdy metal frame can last for years.
Look for all the extra features they offer, such as toys, play music, vibrating seats or a wider range of motion.
4. When to Start and Stop Using Baby Swing?
Your baby can be introduced to swings right from birth to till she is a toddler (12 to 36 months).
5. How Long Can I Leave My Baby in a Swing?
Though there are no hard and fast rules on how long you can let your baby stay in the swing, most experts recommend keeping it as short as possible. It's best to limit the time on it to less than an hour a day. As soon as your baby falls asleep, transfer her to her crib.
The type of swing you need to buy should ideally be decided by how much space you have. Portable swings are great for small spaces, while long swings are wonderful for outdoors.
You May Also Like:
Best Baby Rockers
Best Baby Bouncer Chairs
10 Best Prams & Strollers
10 Best Baby Carriers and Carry Cots
Offers & Deals
Baby Gear Products
Baby Gear Products Brands
Baby Gear Products Offers & Deals
Baby Gear Products on Sale
Also Read:
Should You Allow Your Infant to Sleep in the Swing?
Tips to Buy a Good Infant Cradle
Common Sleep Problems in Babies